How to Convert YouTube Videos to MP4 with High Quality
Have you ever wanted to watch YouTube videos offline? Have you ever wanted to download and save YouTube videos to MP4? If you have, did you make it?

To watch videos on YouTube, you have to connect to the Internet. If we want to watch videos offline or make a backup, generally we need to download them to our computer. But YouTube doesn't allow its users to download any video from it. So, what if we want to save something interesting from YouTube?
Today we are going to share 4 ways with you to solve this problem. You can either use a YouTube to MP4 converter, or record the screen when you watch the video. And at the same time, we will compare these 2 solutions in detail for you to make a better choice.
Part 1. Free Download and Convert YouTube Videos to MP4
If we want to save a video form YouTube, we need to convert its original format to other video formats that are supported by mainstream media players. Otherwise, even though you have downloaded the video from YouTube, you are not able to play it on your computer.
Considering that MP4 is compatible with most devices, this post will take MP4 as the output format.
1. InVideo's YouTube to Mp4 Converter
As a video editor, InVideo also offers an online tool to help you convert your favourite YouTube videos to MP4 in any resolution. It has some video editing features like trimming and cropping as well.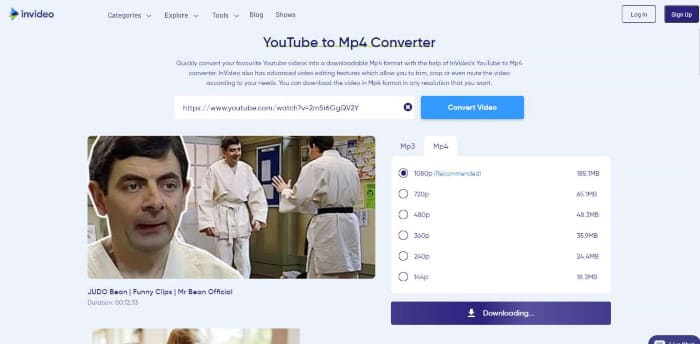 Step 1. Go to YouTube and copy the URL of the YouTube video that you want to download.
Step 2. Navigate to the InVideo's free YouTube to Mp4 converter. Then paste the link and click the button of Convert Video.
Step 3. You can choose the format MP4 and different resolutions before clicking Download.
InVideo's YouTube Converter looks easy to use, but you can only export up to 60 videos per month. What's more, there will be a watermark on your video. When we use InVideo's free video converter, we notice that the downloading is not very stable due to the influence of network status.
2. Free YouTube Download
Free YouTube Download describes itself as the most popular YouTube downloader application since 2006. It allows you to download and convert YouTube videos. So, you can watch them as you want.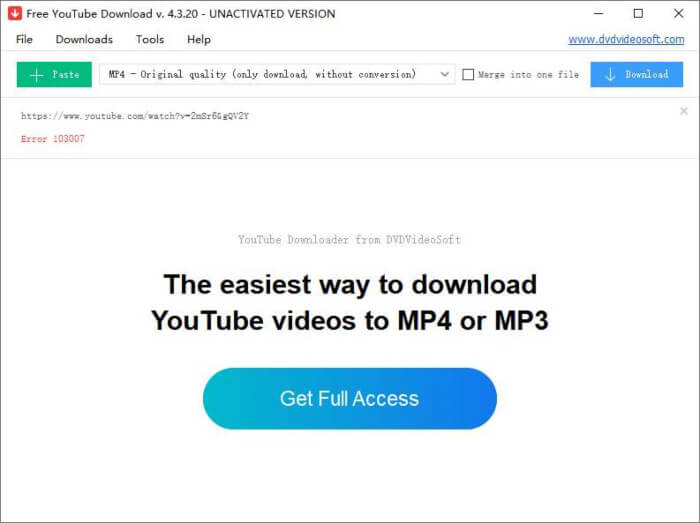 Step 1. Run Free YouTube Download on your computer. And copy YouTube video link from the browser.
Step 2. Click the + Paste button and add the video to the download list.
Step 3. Press Download button.
Actually, it is not free to smoothly download YouTube videos with Free YouTube Download. And when we paste the URL to this software, it keeps reporting error messages.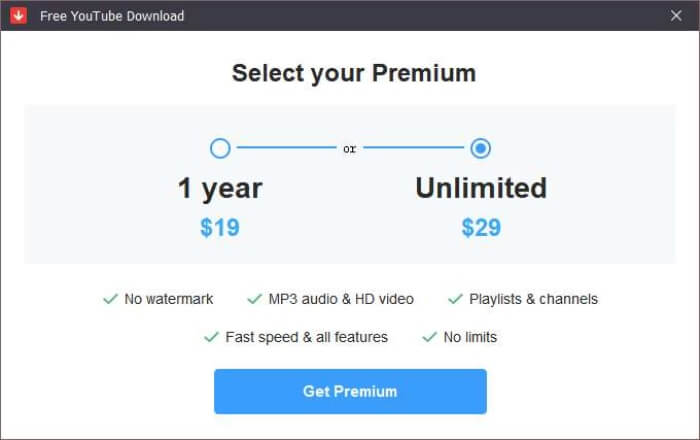 3. VLC Media Player
Maybe you know that VLC also can be a video converter, but you definitely don't know it can download YouTube videos. Here are the steps to use VLC Media Player to save videos to MP4 from YouTube.
Step 1. Before we start, you need to get prepared. Right click the VLC Media Player and open its file location.
Step 2. Find the folder called lua. Then open playlist. You'll see a file called youtube.luac. This is the file that you need to update in order to download YouTube videos.
Step 3. Create a new file on desktop and name it youtube.luac as well. Then open the link below:
http://git.videolan.org/?p=vlc.git;a=blob_plain;f=share/lua/playlist/youtube.lua;hb=HEAD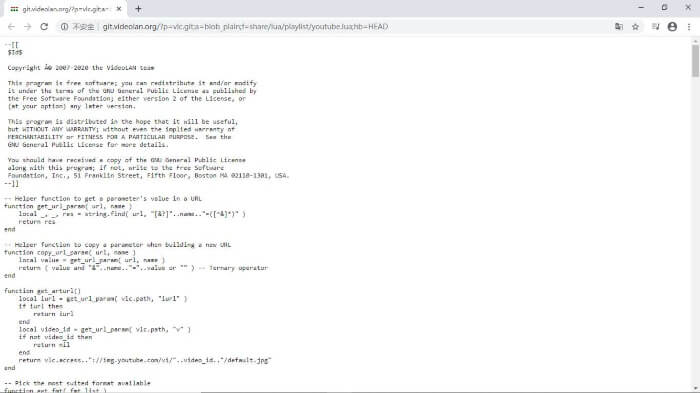 Step 4. Copy all the text on the page. And paste all the text into the file you have created on desktop. Save it. Make sure the file type is All Files instead of TXT.
Step 5. After that, copy the newly created file and overwrite the old youtube.luac file in the playlist folder. Now you are able to open YouTube videos in VLC.
Step 6. Open VLC Media Player and go to Media. Click Open Network Stream.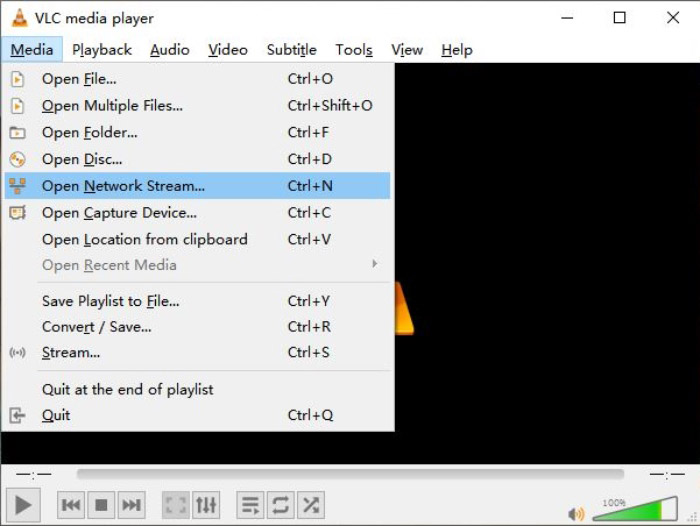 Step 7. Go to YouTube and copy the URL of the YouTube video. Paste it in the text box of VLC. Click Play to open the video in VLC.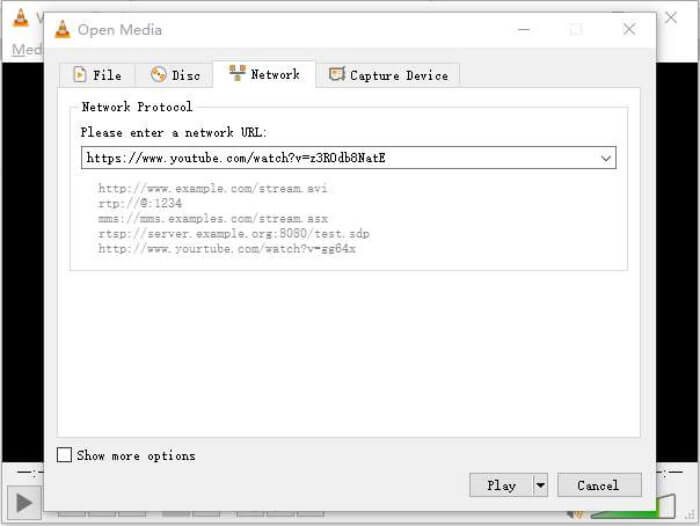 Step 8. Once the video is playing, navigate to Tools and select Codec Information. Copy the URL in the Location text box at the bottom.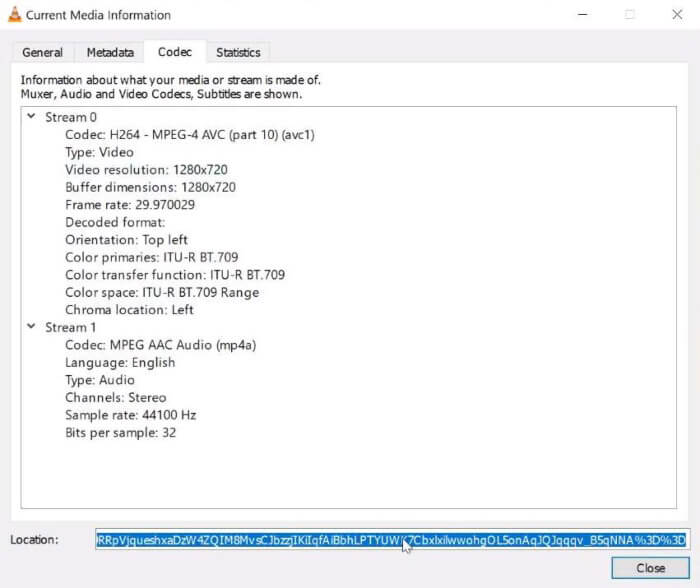 Step 9. Now visit this URL in your browser. Right click the video and choose Save video as.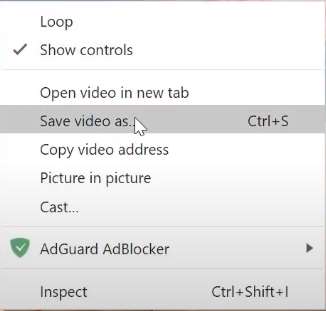 Step 10. Finally, you can save the video as a MP4 file.
Part 2. Free Online Way to Convert YouTube Videos to MP4
Using online YouTube to MP4 Converters proves to be a decent choice. FVC Free Online Video Converter is the best online video converter program that is free to use and works directly from your browser. While using this YouTube to MP4 converter online, no software download, installation or registration is required. Apart from MP4, it enables you to convert the videos from YouTube to other popular video and audio formats, such as MOV, AVI, FLV, MP3, etc. More importantly, there is no restriction on the amount of videos that you want to convert. Free Online Video Converter also lets you choose the video encoder, resolution, frame rate and video bitrate, as well as configure the audio settings including audio encoder, channel, sample rate, and bitrate.
Step 1. Open https://www.free-videoconverter.net/free-online-video-converter/ on your browser. Click Add Files to Convert to download and install the launcher.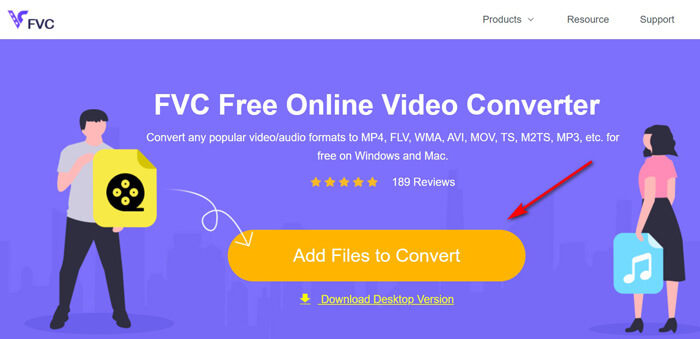 Step 2. Upload your downloaded YouTube video to the program and then choose MP4 as the target format from the Video list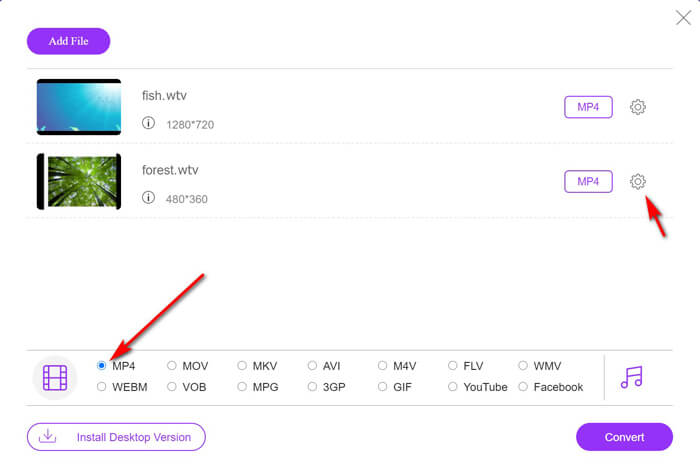 Click the Gear icon to configure more settings for your video file and then click OK to save your changes.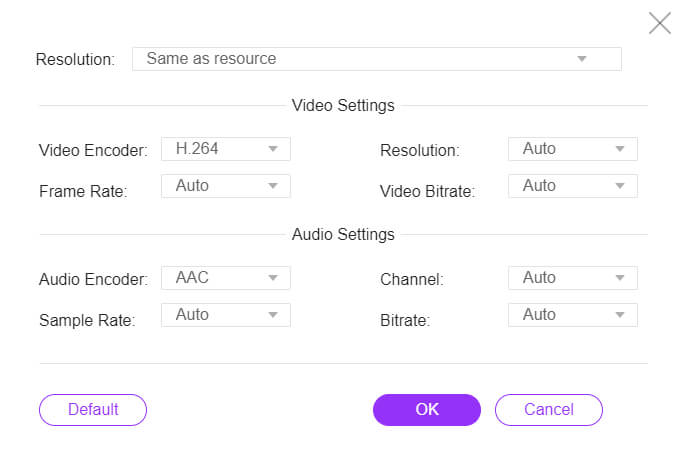 Step 3. Finally, click the Convert button to begin the video conversion process.
Part 3. Record YouTube Videos in MP4 as You like
As you can see, using VLC to download YouTube videos is not that easy. So instead of downloading videos directly, we recommend you use Aiseesoft Screen Recorder to record the screen while watching YouTube.
Features:
1. Record online videos from YouTube, Netflix, Facebook, TED and other sites.
2. Record any video, audio and other activities with real HD image quality.
3. Capture high-quality video with full screen, active window or custom region.
4. Capture sound from system audio card, microphone/speaker, or both.
5. Edit the recorded file and save recording in MP4, MOV, WMV, MP3, AAC, M4A, etc.
Step 1. After installation, run the screen recorder and click Video Recorder to record both video and audio.

Step 2. In the Video Recorder window, you can set the recording area and the sound option. Then click REC to start recording.
Step 3. Play the video you want to save on YouTube. While recording, you can even edit video and add text, line, arrow and specific labels to the captured video. After recording, you can click the Stop button to preview and save the recorded video.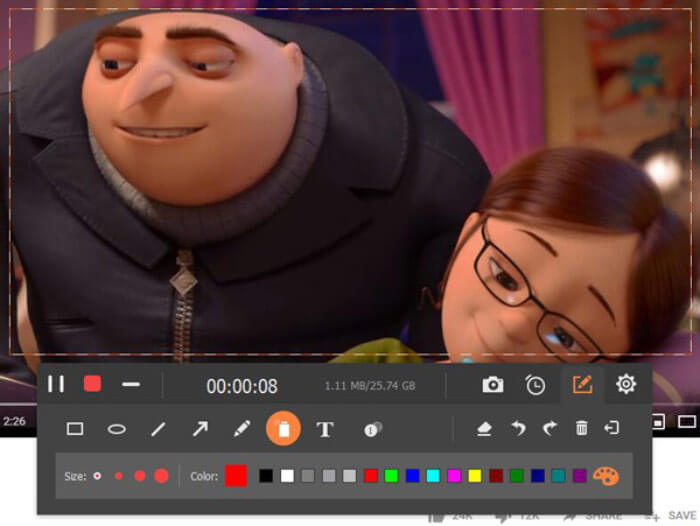 Part 4. FAQs of Saving YouTube Videos to MP4
1. Can I save YouTube videos to MP3?
Most YouTube downloaders allow you to covert YouTube videos to MP3. But if they don't, you can also use FVC Free Online Video Converter to the downloaded YouTube videos to MP3.
2. How to download a YouTube video which is longer than 2 hours?
It may take a long time to download a video that is over 2 hours directly from YouTube. We suggest you record the video while watching. It will save a lot of time.
Conclusion
After using all these methods, we found that recording YouTube videos might be the best and fastest way to save a video from YouTube. Because other converters were more or less influenced by the Internet. So why don't you give Aiseesoft Screen Recorder a try? If you have any question or comment, feel free to let us know.