Thank You!
Your Feedback has been submitted successfully.
3 Quick Steps to Compress Images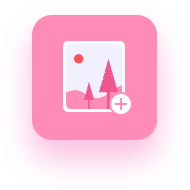 1. Upload images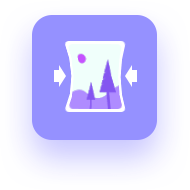 2. Compress automatically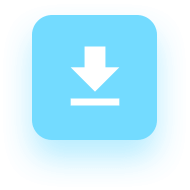 3. Download and check
Compress JPEG/PNG/SVG /GIF Images Smartly
FVC Free Image Compressor is a simple and fast photo compression tool to reduce the size of your photos with the best optimization and compression algorithms, while preserving the best quality resolution. You can compress different types of photos like JPEG, PNG, SVG photos and animated GIFs to smaller size without losing much quality. It achieves the best image compression ration better than other software.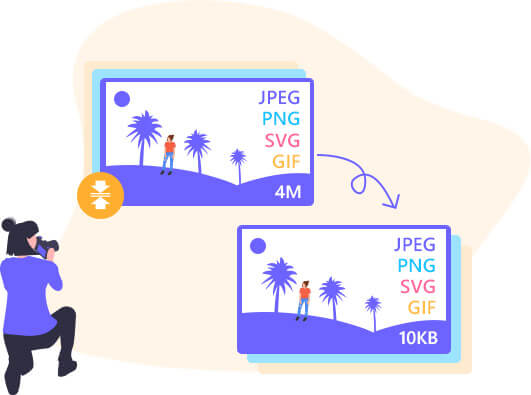 Batch Compress Multiple Images At One Time
This free image compressor supports batch compression that you can resize multiple images at one time after uploading. It lets you shrink images up to 40, max 5MB each. Just drag the images you want to compress into the compression area and the compression will start automatically. After compression, you can download them all and check the compressed PNG images on your computer.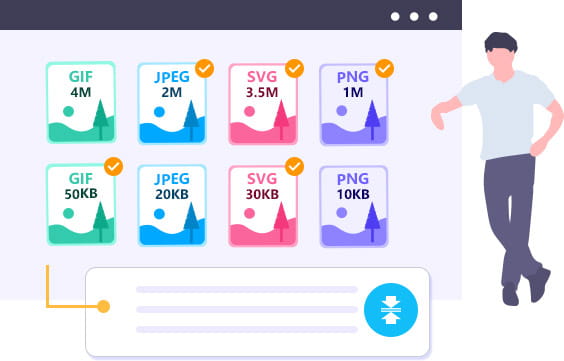 Why Do You Need to Compress Images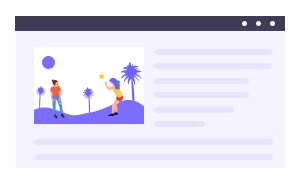 Increase Website Speed
Smaller size images are easier to upload and download on a website page. By minifying images, your web pages will load faster, which will improve the ranking and user experience.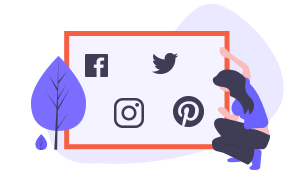 Compress for Sharing
Image formats that use compression make it easy to save images across devices, sharing with friends or printing. You can also post on social media like Instagram, Facebook, Twitter, etc.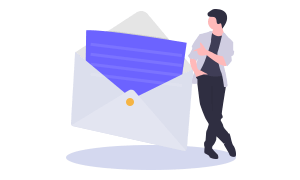 Save Storage Space
This free image compressor lets you to reduce images, for saving more space on your computer, hard drive, flash drive, mobile phone, cloud storage, or share the compressed images via email.
Why Choose FVC Free Image Compressor
Automatic Compression
All the photos you uploaded to this compressor will be compressed automatically.
100% Free
FVC Free Image Compressor is a totally free tool without any charges or extra fees.
Fast & Efficient
The free tool makes the compression fast and efficient, which can be completed in seconds.
High Quality Output
It allows you to save the compressed images with minimal quality loss in an easy way.
No Account Required
This free image compressor doesn't require any registration, login or account at all.
Privacy Protected
All the pictures you uploaded to the server are protected. No one can access them.
Check Supported OS and File Formats
| | |
| --- | --- |
| System Requirements | Supported OS: Windows 11, Windows 10, Windows 8, Windows 7, macOS 10.7 or above Processor: 1GHz Intel/AMD CPU or above RAM: 1G RAM or more |
| Input Image Format | JPEG, PNG, SVG, GIF |
| Output Image Format | PNG |
Frequently Asked Questions
Is this image compressor really free to use?
Of course. FVC Free Image Compressor is 100% free to use. There is no charges or extra fees. You don't have to install any software on your computer.
Does compressed images suffer quality loss?
No. With this free image compressor, your images will be reduced to smaller size while keeping the minimum quality loss. There is nearly no difference between the compressed picture and the original one.
Can I compress multiple images at once?
Yes. With FVC Free Image Compressor, you can shrink mass images up to 40 at one time.
Does this free image compressor work on my Mac?
Yes. This free image compressor works in all browsers. You can compress your JPEG, PNG, SVG or GIF images on Mac, Windows or Linux.