3 Simple Steps to Convert Images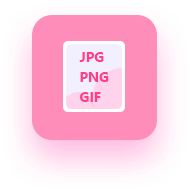 1. Select Output Format
2. Upload Images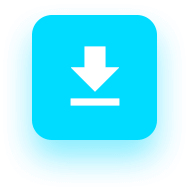 3. Download Converted Images
Convert Any Image File to JPG, PNG, GIF at Ease
FVC Free Image Converter is your best choice to convert image to other formats, like JPG, PNG, and GIF. It can handle all kinds of image formats, such as JPG, JPEG, PNG, GIF, BMP, TIFF, WEBP, ICO, and SVG. So, you don't need to worry that your image files cannot be opened by certain tools or devices anymore. Just simply convert them using this online image converter. Also, it can maintain the great quality of the original photos. There will be no difference between the original picture and the output file after converting.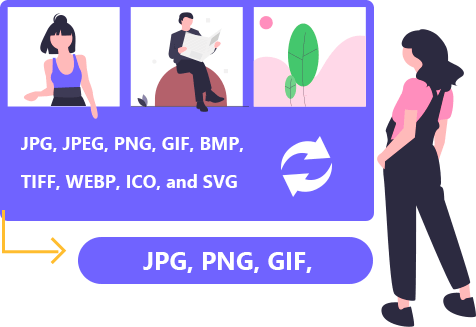 Batch Convert Multiple Photos Simultaneously
Besides, FVC's image file converter support batch conversion, which means you can convert plenty of pictures at the same time. This is much more efficient and convenient, compared with other image format converters on the market. FVC Free Image Converter can deal with up to 40 images at one time. That can save half of your time at least. But please make sure that the image is no more than 5MB.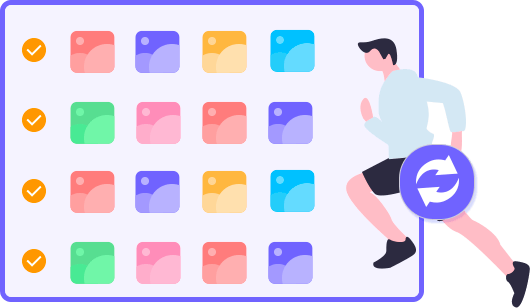 Download All Converted Images with One Click
After converting image to JPG, you can download the converted file to your computer directly. Even if you have converted a bunch of photos at the same time, you can simply try the One-Click to Download feature that FVC Free Image Converter offers. It is able to zip all the files together and download them all at once. After downloading, please unzip the output file and you will get those converted images with the format you want.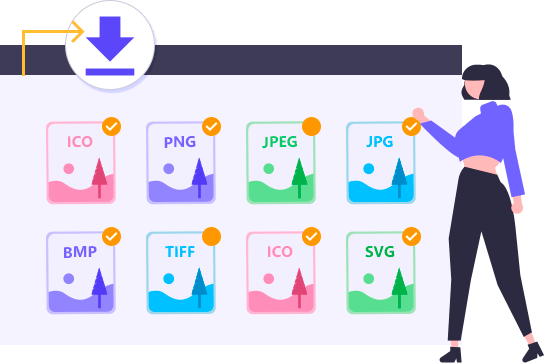 Highlights of FVC Free Image Converter
100% Free
You don' t need to pay a penny to convert images with FVC Free Image Converter.
No Installation
Since this tool is a web-based tool, you don't have to install any program or plug-in.
No Ads
There will be annoying ads while changing image formats using this free tool.
Privacy Protected
We highly respect your privacy. All your information won't be saved after converting.
High Quality
High quality guaranteed. The converted photos will look the same as the original ones.
Easy to Operate
It only takes 3 simple steps to convert pictures using FVC Free Image Converter.
Check Supported OS and File Formats
System Requirements
Supported OS: Windows 11, Windows 10, Windows 8, Windows 7; macOS 10.7 or above
Processor: 1GHz Intel/AMD CPU or above RAM: 1G RAM or more
Input Image Format
JPG, JPEG, PNG, GIF, BMP, TIFF, WEBP, ICO, and SVG
Output Image Format
JPEG, PNG, GIF
FAQs of FVC Free Image Converter
Q1: How do I convert an image to JPG?
You can simply use FVC Free Image Converter to convert any image file to JPG format. First, you need to select JPG as the output format. Then upload the images you want to convert. The conversion will be done in seconds. Once converted, please download the JPG image to your computer.
Q2: Can this tool convert live photos to animated GIF?
Sorry. FVC Free Image Converter doesn't support converting live photos for now. But this feature is coming soon.
Q3: How do I convert low quality photos to high quality?
If you want to convert low quality photos to high quality, then what you need is an image enhancer. Please try FVC Free Image Upscaler. It can help you improve the photo quality perfectly.
Thank You!
Your Feedback has been submitted successfully.