How to Convert MTV to FLV in 2 Incomparable Approaches

Part 1. How to Convert MTV to FLV Offline
Video Converter Ultimate is one of the best MTV to FLV converters. You can change your video format from MTV to FLV in just a few clicks. It allows you to edit and compress MTV videos with the help of this software. This MTV-to-FLV converter is available for use on both Windows and Mac computers, and it is completely free. You can easily convert MTV files to FLV format by downloading and installing the converter app, then importing the videos you want to be converted. For a more in-depth explanation, please refer to the following guide.
Step 1: To start downloading the software, click the Free Download button below this step. After you click it, prepare to install it after a while.
Step 2: After installing the software on your computer, run the software and a window will pop on your screen. The software displays the Converter interface on your screen, ready to import a file.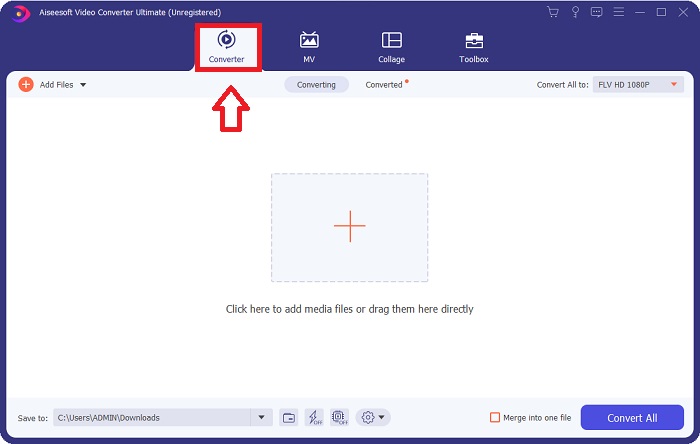 Step 3: To import a file to the software, you must click the + button in the middle of the software's window, or you can simply drag any video files.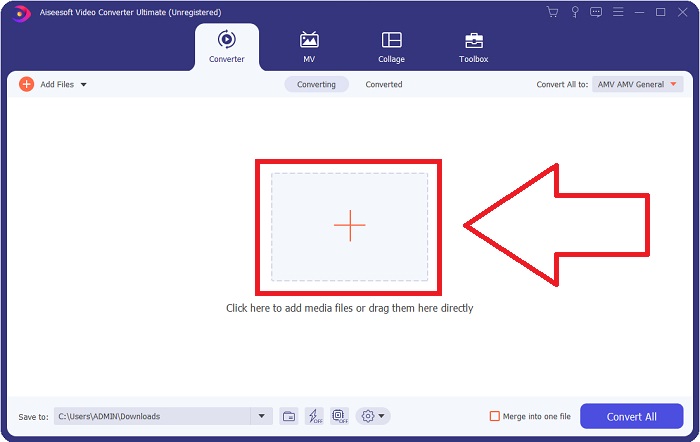 Step 4: It's time for you to choose the FLV video format, located at the right corner of the window near the video output. Click it and navigate the FLV video format and determine which quality you prefer.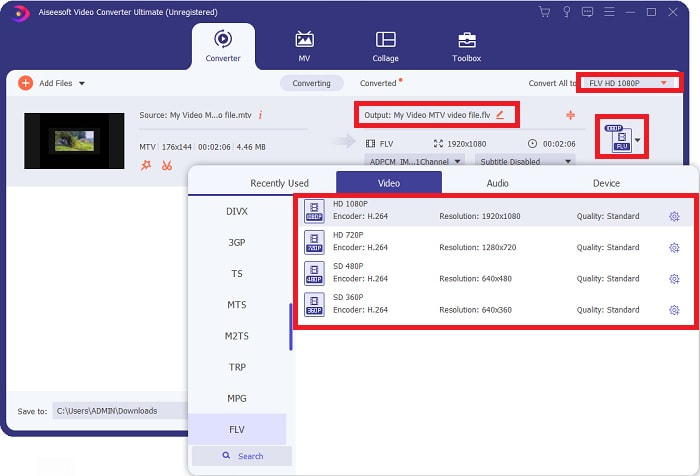 Step 5: You can now convert your file by clicking the Convert All button located at the bottom right corner of the window. And browse the location where you will transfer the converted file by clicking the drop down button near the Save to.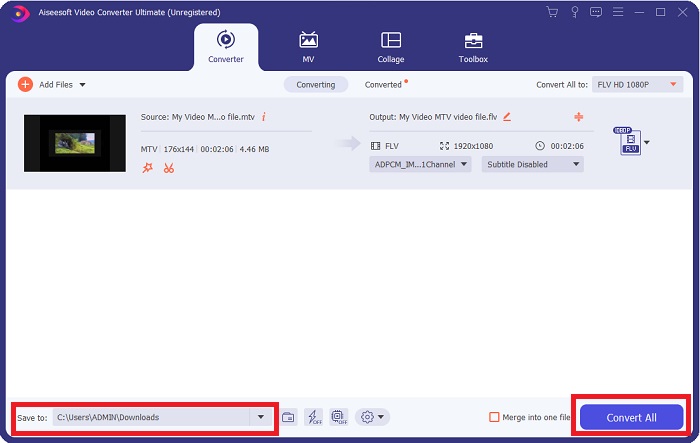 Part 2. How to Convert MTV to FLV Online
Here's a free online tool for you to learn about that can convert MTV to FLV. The Free Video Converter Online can convert video and audio formats such as MP4, WMV, and ASF to various formats. You can restore your high-definition videos to popular file types in just a few clicks while maintaining their original visual quality. Converting multiple videos or audio files at once does not compromise quality. Here are the steps you need to take:
Step 1: Gain access to the main webpage of Free Video Converter Online by clicking this link. After that, you must click the Add Files to Convert button displayed on the main screen to download the launcher that will allow you to operate this online tool. After downloading, click it again to import files from your computer.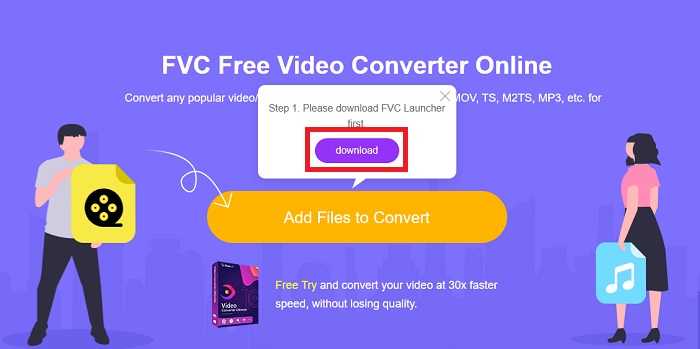 Step 2: Choose the FLV video format from the video format selection located at the bottom part of the window. If you want to know all the specifications of the output video, click the gear icon. Adjust it to your preferred settings and once you finish adjusting, click OK.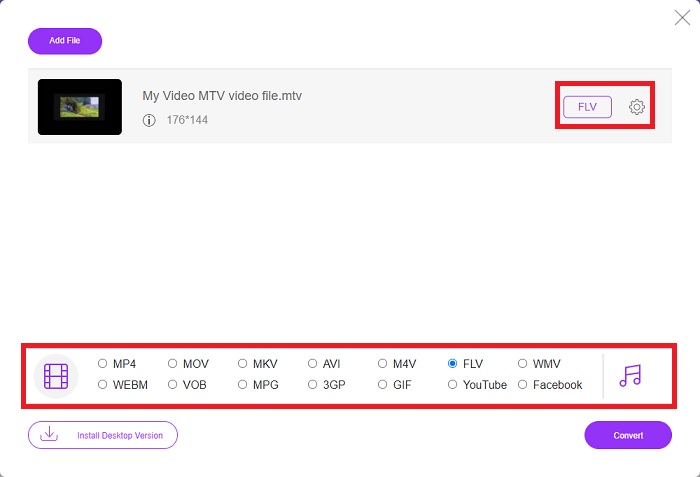 Step 3: Now that you are satisfied with all the adjustments, you can convert your MTV video format to FLV by clicking the Convert button.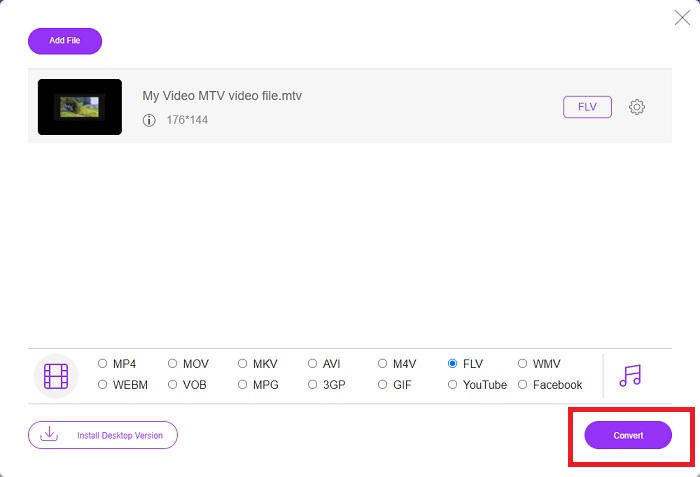 Related:
Part 3. Extended Knowledge about MTV and FLV
Some Chinese portable MP4 video players use vast Knowledge about MTV and FLV Video files in the MTV format to store videos. At a rate of 12 frames per second, it combines MP3 audio with a slew of images. There are some similarities between MTV files and AMV files, but the formatting is slightly different. Several cheap Chinese portable MP4 players do not store or play MP4 videos. MTV videos, on the other hand, are shown. Low-resolution (128x128 pixel) and small-format videos are the norms on MTV (one minute of video is roughly 24 MB of data). Media players don't need much storage space or processing power. to store and play many MTV videos. Even though the MTV format is like the AMV format, which Chinese portable media players also use, the formats differ enough that not every AMV-compatible device or media player can play MTV files.
However, Adobe Systems' Flash Video Format can use for online videos on YouTube, Hulu, Vevo, and many other streaming video services. Except for iOS, almost every operating system can read and view FLV files using Adobe Flash Player (including browser plug-ins) and third-party software. FLV can play on iPhone and Android devices via open-source software and specific browsers. Flash is still causing issues on iOS. Users of the Android version Jellybean can use FLV files. Only FLV player programs can view files with the FLV extension. FLV video screen recording is possible using screen capturing and recording software.
| | | |
| --- | --- | --- |
| File Extension | MTV | FLV |
| File Type | Chinese MP4/MTV Player | Flash Video File |
| Developed By | Robert W. Pittman | Adobe Systems |
| Pros | One of the most significant advantages of the MTV format is its ability to be played on most computers around the world. | FLV format is prevalent on the internet. Thousands of websites utilize it; it provides significantly more features than other video file extensions and produces significantly smaller files than most other video formats. FLV videos are good for displaying decent quality and loading quickly. |
| Cons | Because of its poor sound enhancement capabilities, it has limited picture resolution and cannot display full-screen and full-motion video. | It is necessary to have flash plug-ins installed to play flash file files online. |
| Programs that support/open | ◆ VLC Media Player ◆ AVS Media Player | ◆ VLC Media Player ◆ Adobe Flash Player |
Part 4. FAQs about Converting MTV to FLV
How do I convert MTV to FLV on Mac?
You can make use of the above mentioned Video Converter Ultimate to convert your MTV files to FLV. First, you need to download the software on your Mac, then launch it after the installation. Next, add your files to the program and choose your desired FLV format. In the end, click the Convert All button to start the conversion from MTV to FLV.
How do I open an MTV file?
Some MTV files may not play in the cross-platform VideoLAN or VLC media player or the Windows-only Online Media Technologies AVS media player. The audio portion of some MTV files, for example, can only be played using VLC. MTV videos can be converted to AVI or MP4 using FFmpeg, AnyMP4 Video Converter, or AVS Video Converter from Online Media Technologies, all cross-platform applications (Windows).
Can VLC convert videos to FLV?
Play a video using the VLC Media Player. Select the Convert/Save option from the drop-down menu in the Media tab. .flv video files from the system can be added by clicking the 'Add' button on the Open Media page.
Conclusion
Given all the points stated in this entire article, there are two recommended converters you should consider using, its Free Video Converter Online and the Video Converter Ultimate. As stated above, these two have shown their full potential, and it's better than another converter available online.