Offline and Online Tools in Converting TRP to FLV You Should Know About
TRP is a file format for storing recorded television files. Because few players can handle this file type in its original version, you may need to convert your file to another format before viewing it. To support the conversion of TRP files to FLV files, you'll need to employ the right software tool. Luckily, doing this is much easier by using our software or its online counterpart that will cause you no inconvenience during the whole conversion process. Follow the steps that we will provide to convert your TRP videos to FLV format successfully.

Part 1. Offline Method to Convert TRP to FLV
A TRP file format is mostly uncommon to all video consumers and not frequently used by creators. With this fact, most software and online tools do not support this type of video file. That is why Video Converter Ultimate is one to consider in times of any need to convert videos from one format to another. This software can convert your TRP file to any format of your choice in one click.
This video converter tool provides advanced editing features and has a graphical interface that is simple to use even if you have no technical knowledge or skills. With the help of this application, you can convert files and benefit from super-fast conversion times and high-quality output. Here we provide you the simple steps you must follow:
Step 1: Download the .exe file by clicking the Free Download button below according to what OS you are using. When you finish downloading, open it and start the installation process. Wait for it to finish installing, then launch the software.
Step 2. An interface will appear once the software starts. From there, click the + button in the middle and begin importing the video file you wish to convert or just drag and drop the file.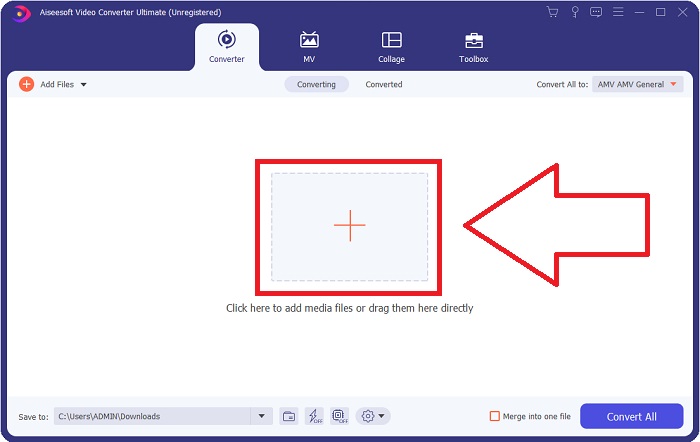 Step 3: You will see the current format of your video's current format on the right side of the file. To choose which format the video will be converted to, click on it, and all the available formats will appear. Look for FLV or just type it in the search bar. There are also video qualities on the right for you.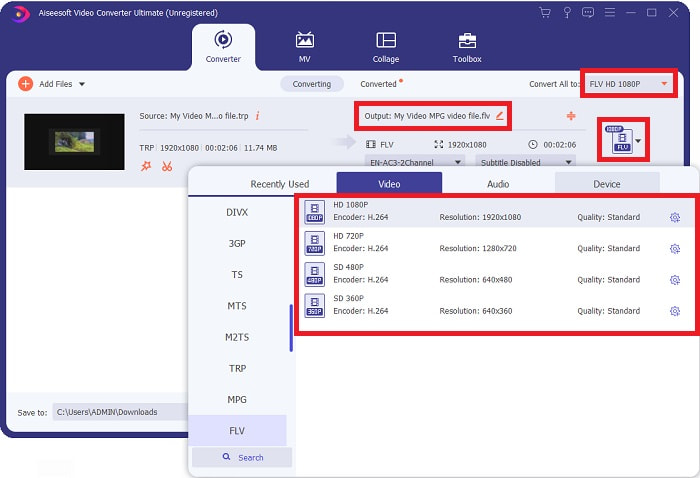 Step 4: For the additional functions we are talking about, click on the gear icon on the right of the video quality you chose, and another interface will appear. From there, you can edit a bunch of video and audio settings that suit your needs. Click the Create New button to keep the changes.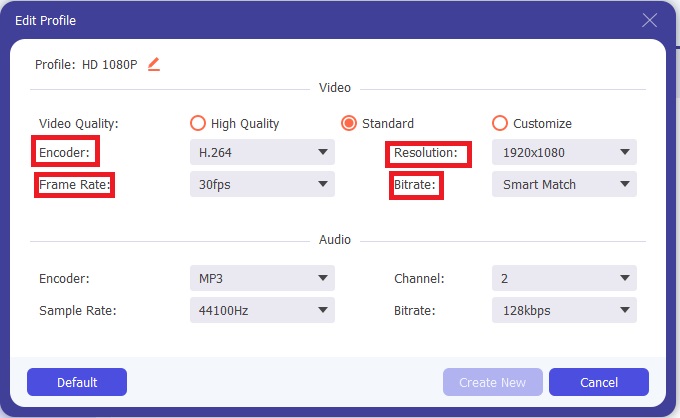 Step 5: Once you finish adjusting with all the editing, click the Convert All button on the bottom right corner of the interface to start the conversion process and wait for it to finish.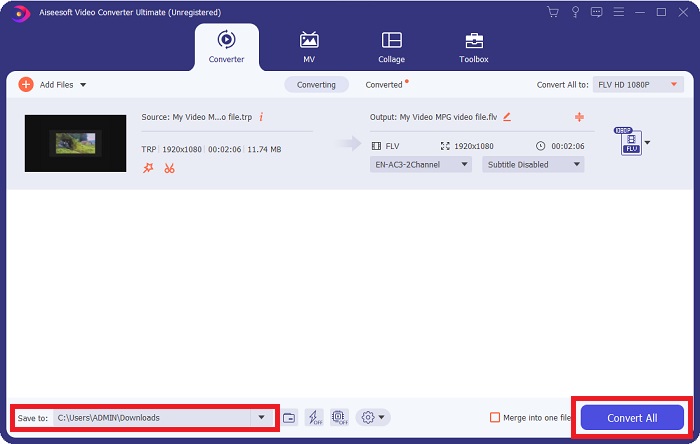 Part 2. Online Method to Convert TRP to FLV
Converting video files is another thing to consider if you want to get the job done by visiting a web tool and not installing the full software. In this case, we also have the online counterpart of the software - FVC Free Video Converter Online. It still provides the additional options on the software but not all the features. However, it still does its purpose in a considerable amount of time needed to do so. To use this web tool, follow the steps below:
Step 1: Go to the converter properly by clicking this link. From there, you can start by downloading the launcher you need to import your files. Click the Add Files to Convert button in the middle of the page to begin the process.
Step 2: Click the said button again and upload the video file you wish to convert. After you import a file, a new interface will appear that shows all the available formats for you to choose. In this case, select FLV.
Step 3: For the additional options, just like in the software itself, click on the gear icon on the right. The video and audio settings will appear to further edit your video in terms of resolution, frame rate, and many more. Once done, click OK to save the changes. Finally, start the conversion process by clicking the Convert button in the lower right corner.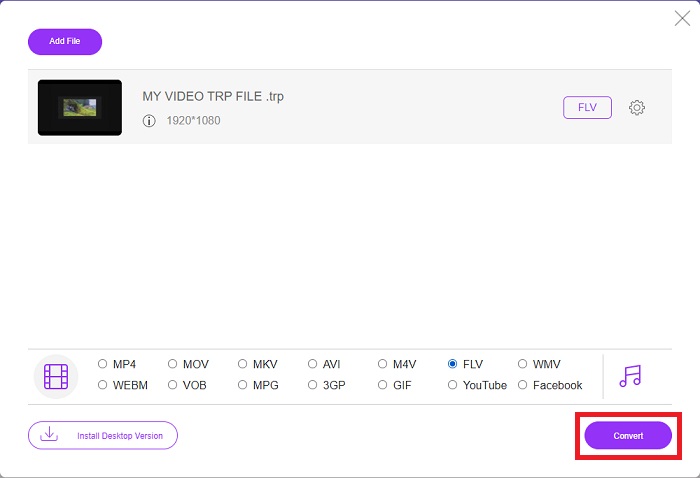 Related:
Part 3. Extended Knowledge of TRP and FLV
To know more about the two formats mentioned, we provide you with brief information as well as a comparison of the two.
TRP files are usually associated with VideoLAN's VLC. The TRP filename extension can collect with MPEG-2 Part 1 holding high definition films. TRP files can contain and store data packets sent as digital video and audio across digital video broadcasting networks, radio frequencies, or linear recording devices like video recorders. Multiple audio and video streams, as well as error-correcting code, are included in a TRP file. Users may also include metadata such as capture time, camera id, and source in the file's contents.
On the other hand, a file with the extension .flv stands for Flash Video. The FLV file extension refers to a video or audio file sent over the internet using Adobe Flash Player or Adobe Air. Flash Video has long been the primary video format for almost all embedded videos on the internet, including videos on YouTube, Hulu, and various other sites. Streaming providers and software developers, on the other hand, have abandoned Flash in favor of HTML5 and other formats since Adobe's formal discontinuation.
| | | |
| --- | --- | --- |
| | TRP | FLV |
| File Extension | .trp | .flv |
| Developer | VideoLAN Project Team | Adobe Systems Incorporated |
| Supporting Programs | ◆ SMPlayer ◆ VLC Media Player ◆ Apple QuickTime Player | ◆ RealPlayer ◆ Apple QuickTime Player ◆ Mplayer ◆ VLC Media Player |
Part 4. FAQs about TRP to FLV Conversion
How to open TRP video format using VLC?
Once the VLC Media Player has been installed on your computer, locate the TRP video file on your hard drive and select it with the right mouse button. Select 'VLC media player' from the 'Open with' drop-down menu. The system will open the video file that will be played from this program as soon as it is launched.
How do I convert an FLV file to Windows Media Player?
You must first select the FLV file that you wish to convert. You can choose WMV as the format to which you want to convert your FLV file. To convert your FLV file, select 'Convert' from the drop-down menu.
Can I play TRP anywhere?
Converting TRP to widely known MP4, AVI, MOV, MKV, FLV, WMV, and other formats is a suggested option if you wish to play TRP files everywhere and on or on any device or media player.
Conclusion
Overall, Video Converter Ultimate and its online tool counterpart is the one you are looking for to get the whole conversion process done while providing all the necessary features you need. It causes no inconvenience, plus it is available at any time of the day if you have the software installed on your desktop. You will never know when you will need a converter like this one, so we recommend using this software for your ease.