Photo Blemish Removers You Must Use to Have Smooth Silky Skin on Images
Have you ever been outside traveling, going on trips, or just a typical day to take a selfie? Most of us are ready to go and take a shoot of ourselves and post it on the web to make it seen by millions of netizens. Sometimes we lose confidence if we have blemishes. A skin breakdown is typical, especially for teenagers. You wouldn't need to be shy about showing it to the world because you aren't alone. Apparently, buying branded beauty products and cosmetics would cost whoppingly hundreds of dollars at a minimum to make us look better.
Instead of purchasing cosmetics, why don't you try to use a filter to remove the blemish? Chin up! Because today we will present the top blemish photo removers you can use on the web, desktop, and even on phones.

Part 1. Best Photo Blemish Remover You Must Have This 2022 [Online & Offline]
To regain your lost confidence, you can depend on the photo editor to remove blemishes on the image you want to post. We enlist the top 5 software that could assist you in making your photo even more beautiful.
FVC Free Watermark Remover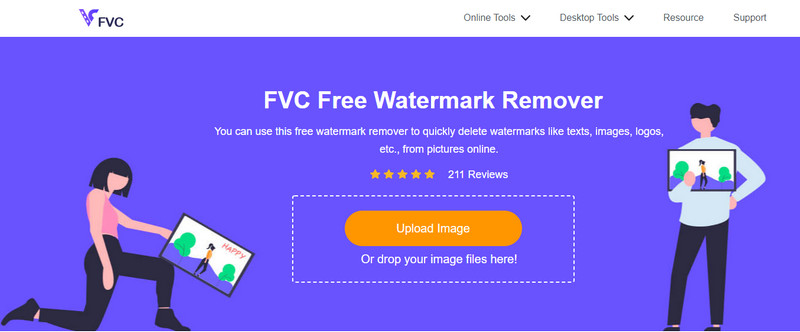 First on our list is the best tool to remove the images' watermarks. Yet, it can also fix the blemishes of your photo, and that is FVC Free Watermark Remover. With this tool, you can get an immediate result once you remove the blemishes on your images. Though there are competitors you can use, it's mainly on removing objects and blemishes is far more effective than others. Turning your blemished image into silky smooth skin is what this tool offers. Also, you wouldn't need to become professional to use an online tool because of its user-friendliness and intuitive interface to make it usable for everyone.
Suppose you want to use the online photo blemish remover. In that case, you can easily click its name, upload the file, highlight the blemishes, remove them, and save it.
Pros
Downloading this tool isn't necessary.
Its speed of removing objects and blemishes is superior.
It is usable for everyone who wants to try this app..
Use the Lasso, Polygonal, or Brush to highlight the blemish you want to remove.
Accessible on different OS without having system requirements.
Cons
You will need an internet connection to use it.
Other premium features for photo editing aren't available.
It does a single job of removing blemishes that are highlighted.
Adobe Photoshop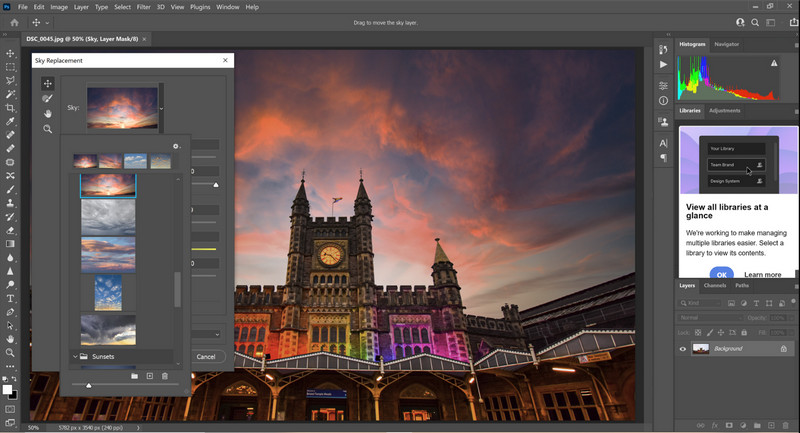 Adobe Photoshop is a rich-featured blemish remover tool for a photo you can download on different platforms. Many know this tool does the work effortlessly on making a beautification adjustment on the images. Most professionals love using this tool to create a magnificent output with its powerful features and functions that you wouldn't find on the other editors on the market. However, it is cumbersome to use this software because of the technicalities of this program. If you are a beginner and want to use it, you will need to spend time getting the hang of this tool, but it will be worth it.
Pros
It is a full-featured and package deal editor you can download.
It supports additional plug-ins to make your editing better.
It is more compact than other image editors you can see on the market.
A free trial is supported.
Cons
Buying this tool could be pricy.
It does have system requirements.
It became unresponsive on low-end devices.
Adobe Lightroom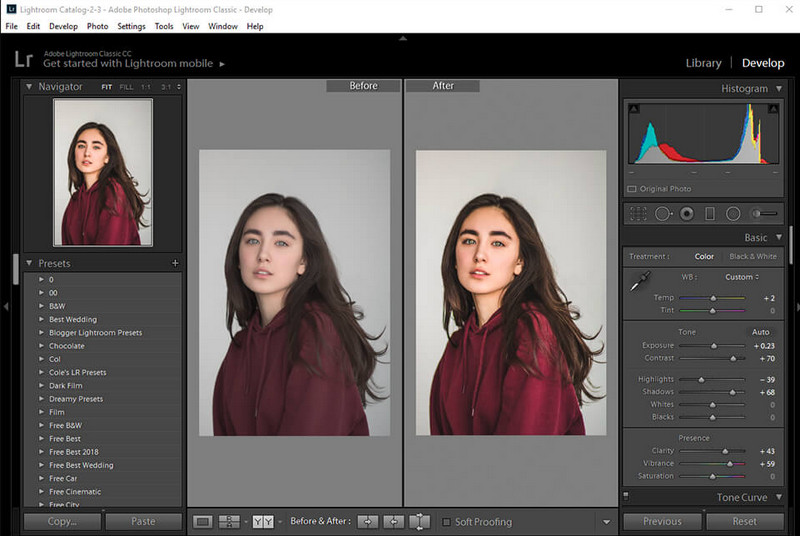 Suppose you need a more straightforward way to remove blemishes than Photoshop. In that case, you must use the other Adobe image product. Adobe Lightroom is a lightweight photo editor to remove blemishes if we were about to compare it to Adobe Photoshop. Even though the tool is less compact than Photoshop, its specialty in removing blemishes is still at the top. With this software, you can deal with more settings and options for your images to make them even better than the raw file. You can also arrange your images aside from this tool's photo editing. If you purchase this tool, you will have a fused feature on your device with a single software.
Pros
Learning how to use it is more straightforward than learning Photoshop.
It is a lightweight image editor you can download on your device.
It supports a large base of presets that aren't available in Photoshop.
A free trial is supported.
Cons
The app could be pricy if you avail it.
You'll need to follow strict system requirements.
piZap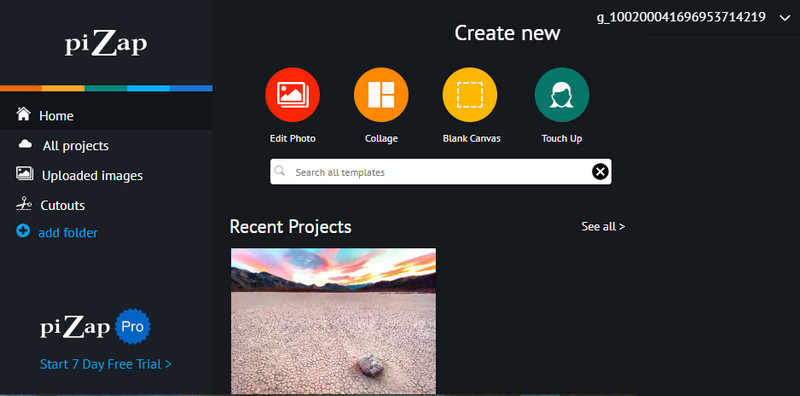 Pizap is another online photo editor to remove blemishes that could assist you with your image problem. This tool can transform your blemished photo into a silky smooth with its features. This online tool is packed with features that could transform images into better ones once you upload them. Everything you will need to edit your images is available here, starting from basic adjustments, filters, graphics, stickers, and more. Before using the tool, you must create an account or log in to your existing account here. Also, there are some ads while using it, and you wouldn't be able to export the image here with high quality if you didn't purchase the pro version.
Pros
You can be creative as you want.
Multiple presets you can use to adjust images.
It is free to access.
Cons
Other filters aren't available on the free version; subscribing or using the 7day trial will do the job.
The free version doesn't support exporting high-quality images.
Part 2. Best Photo Blemish Remover for iPhone and Android You Must Download
Face Blemish Remover- Smooth Sking & Beautify Face for Android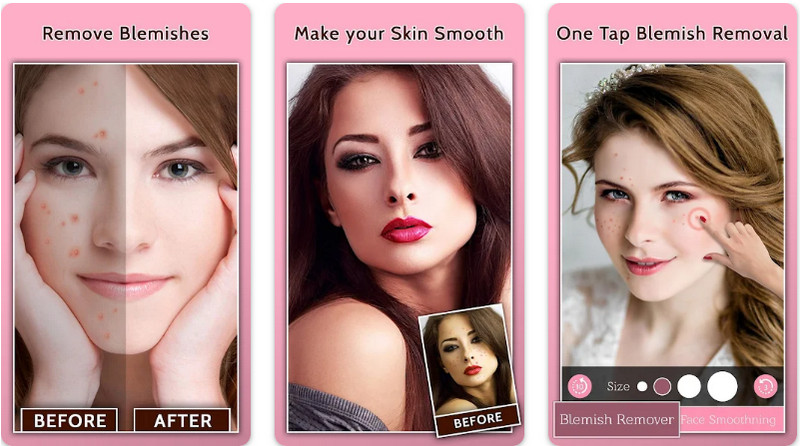 Face Blemish Remover is a free photo blemish remover you can download on Android. You can achieve perfect skin with a few tweaks with this app. If you decide to use this app, you have a photo without blemishes and acne. Also, you can beautify and make skin smoother like what your idol has with its filters. However, before you can use other features, you will need to avail its in-app purchase, and there are ads if you didn't pay for no ads. Nevertheless, it is an excellent app that could help you become more beautiful in less than a minute.
Pros
Free to download on Android devices to remove blemishes on images.
Additional makeup filters are available here.
Automatically add the filters you choose to remove a blemish.
Cons
Ads are peskering this app.
Full features and a premium version need to be purchased.
Blemish editor Pimple Remover 4+ for iOS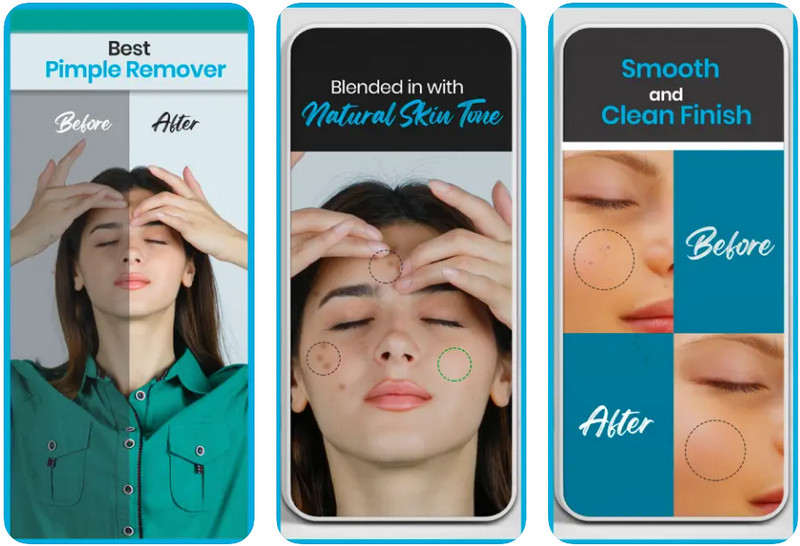 Blemish Editor Pimple Remover 4+ can remove blemishes on iPhone photos for free. This app supports multifunctional image editing features you can use and apply to your image. This app works efficiently on removing the blemishes on the images you have to make them look smoother and better. Its GUI is straight forwards and it does the job effectively. Even though the tool is easy to use, its features are limited. Other than removing the blemishes, this tool wouldn't offer anything else.
Pros
Simple GUI, and it is user-friendly.
Free to download without in-app purchase.
Make your skin smoother with its filter supported.
Cons
Limited features for image editing.
Unavailable on iPad.
Further Reading:
How to Remove B612 Watermark from Your Images
How to Remove the WOW Slider Watermark for Free
Part 3. FAQs on the Photo Blemish Removers
What is the best app I can use to remove blemishes online?
FVC Free Watermark Remover is the most optimal blemish remover that could help you remove the blemishes on your images and have the result immediately. If you want more information about this too, read part 1.
Do I need to remove blemishes on my picture?
Some people would find confidence if they removed the blemishes on their images and posted them on the web. So, if you want to remove the blemishes on your image, you can use the apps we add above.
What is the best way to remove blemishes?
You can prescribe or consult your doctor to know the medications you might need instead of referring too much on the internet. Or, if you don't want, you can use the blemish remover we add in this article; read them thoroughly to find out which tool will befit your needs.
Conclusion
Being confident is what you need the most! Now that you know what blemish photo removers you can use, you will now choose one. We hope the review we did on each helped you know which tool will befit your needs for editing. If this article did help you to know what are the tools to use, kindly give us a rate below.