PicResize Review: Pricing, Features, Advantages, & Alternatives to Use
Picresize is the app you will ever need if you want to do quick yet effective editing to your image. But what makes this online tool better than the other image editor you can download or access on the web? Here, we will review this editor honestly and add a similar software you can use on the web.

Part 1. Picresize Review - Everything You Must Know!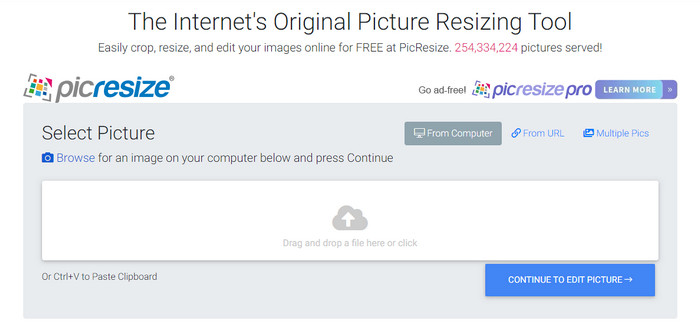 Picresize is a web-based solution you can use to do most basic editings such as cropping, resizing, and enlarging the images in PNG, JPG, BMP, and GIF format. When you process multiple images here and export them, the file will turn into a zip file so that you can have them in a smaller size. In addition to its basic features, you can also add basic effects such as grayscale. Polaroid, warming, etc.
Also, you can add your personalized watermark as a logo, stamp, or text on the image. Recently, the app upgraded its input image support and added HEIC. It may seem great overall, but what are the other things this application has that others don't? These are the critical features of Picresize.com.
Key Features:
◆ It supports the drag and drop function.
◆ It has a compressor and converter that you can use.
◆ The tool works on a website without downloading other installers or files to start using.
◆ You change the output settings based on your preferences.
◆ Add filter, change size and aspect ratio, flip, rotate, and crop the image.
Pros
The tool is free to use, so you wouldn't need to purchase anything before using it.
It has additional features you can use other than resizing.
It doesn't add a watermark at the final output.
You upload images differently, such as pasting, dragging, locating on the computer, or using a URL.
Cons
It can't batch cropping, enlarging, and adding watermark on the free version.
Free version can't edit HEIC file.
There are ads on the website once you visit it.
Steps on How to Use Picresize:
Now that you know what editing features you can do on Picresize images online, we will teach you how to use it. If you are interested in using this software, copy the steps we added below.
Step 1. Open the official website of Picresize and upload the image you want to edit here. After you add it, press Continue to Edit Picture.
Step 2. Start editing your image by cropping, rotating, flipping, resizing, and adding effects. You can start scrolling it down to see what other editing you can do to the image you upload.
Step 3. After you edit the image, choose the final output you want it to be, adjust the parameters if they are needed, and press I'm Done, Resize My Picture!
Part 2. Ultimate Alternative to Picresize Online with the Power of AI
FVC Free Image Upscaler is the ultimate alternative you can use on different web browsers. You have to upscale, unpixelate, remove noise, and do multiple editing to your image that you can't do on Picresize. This software doesn't offer purchasable features, meaning you use and do everything here without any boundaries. Despite being a competitive image editor, we can say at least that you can learn how to use this in less than a minute because of how on-point the tool is made. Do you doubt it? Well, the only way we can think of to prove that you shouldn't doubt this is by doing the steps we add below and seeing the result yourself.
How to Use the FVC Free Image Upscaler:
Step 1. You can click this link to access the main website of the image upscaler.
Step 2. After that, click the Upload Image, and a file folder will show on your display. Locate the image file you want to edit, and press Open to add it.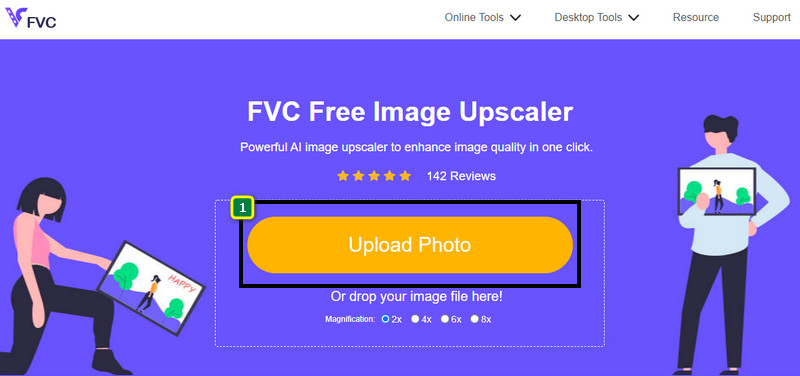 Step 3. On the upper part, choose what type of magnification you want to apply to your image, and select between 2x, 4x, 6x, and 8x.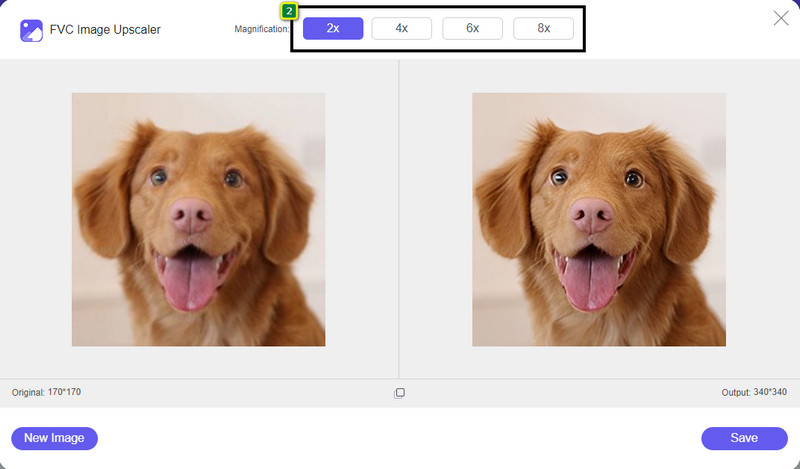 Step 4. Lastly, press Save to process the image you upload and download it on your drive, and the file will be downloaded automatically to your folder.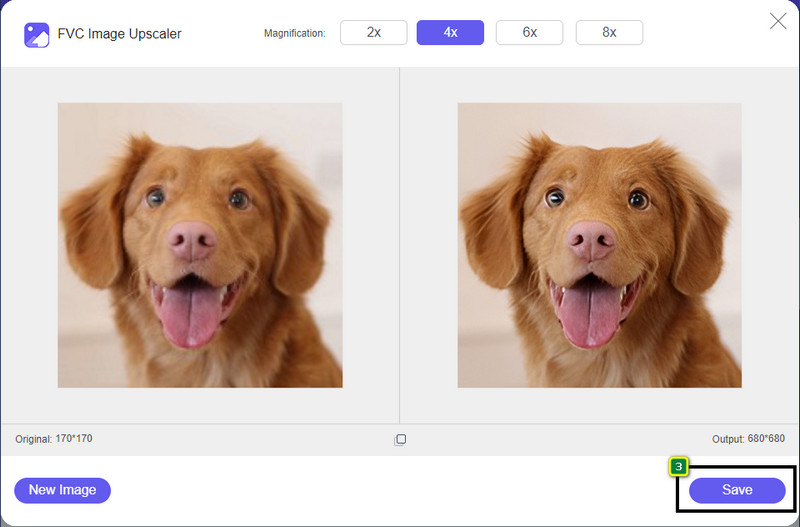 Advantages of Using FVC Free Image Upscaler:
◆ You can use all of its functions and features without paying anything.
◆ It has a powerful AI technology that could trace what the wrongs on the image are.
◆ It is a user-friendly software and website.
◆ It doesn't have any advertisement present when you access it.
◆ It can upscale images up to 8x better than other image upscaler.
Part 3. FAQs about Picresize
How much is the pro version of Picresize?
You can have the premium features that Picresize has for $30, an annual plan. No need to renew every month, for it is available for a year.
Do I need to purchase the Picresize pro?
You will need to purchase its pro version if you want to do batch processing on cropping, resizing, adding watermarks, and the HEIC support. But if you want to use its free version, you will still be able to use it, but the functions are limited to a single file only.
Does Picresize add watermarks on the free version?
Exporting the image, you edit in this image editor won't leave a watermark on the final output even though you are using the free version. So, if you worry if it did leave, the answer is NO!
Why did the image become low quality after editing on Picresize?
After editing the image, you will need to set the quality parameter to the better or best. To avoid making the final output low in quality, you shouldn't select the Good.
Conclusion
Therefore, we conclude that Picresize is capable of making minor adjustments to the image we upload, and it can add effects to it. Even though the ads are bothersome when we access them, it can still be a reliable image editor we may need to edit the image we have. What if you want to upscale the image? Does Picresize have a feature for it? Sadly, it doesn't have, but you can use the alternative we add in part 2, which is the FVC Free Image Upscaler. This software can be an image upscaler tool that you will need to upscale or enlarge any images you have automatically without sacrificing the original quality of the image you upload.
Does this article help you? Share this with anyone who might need to read it so that we can help them like what we did for you. You can continue reading other articles that are related to this topic or other topics below.