2 Free Ways to Compress WMV Files Online
For sharing or uploading your WMV file to YouTube, Facebook, Google Video, or other platforms, you need to compress WMV and reduce its file size. Do you know how to compress WMV files?

Surely you want to compress WMV while still keeping its original image and sound quality. Considering your need, this post like to share 2 simple ways to free compress MKV files online.
Part 1. How to Free Compress WMV File Online
There are lots of video compressing and editing tools offered on the market that can help you compress MKV files with ease. Here we strongly recommend the easy-to-use Free Video Compressor to reduce the file size of your MKV files.
This free online WMV compressor has the capability to compress video in any frequently-used format like WMV, AVI, MP4, FLV, MKV, MOV and more. Besides the common videos, it also enables you to compress 4K UHD and 1080p, 720p HD videos. It is designed with a batch compress feature which allows you to compress two or more MKV files at a time. You can take the following guide to compress MKV free online.
Step 1. Go to the official site of this free online WMV file compressor on your browser. It is compatible with any popular browser including Chrome, Safari, IE, Firefox, and more.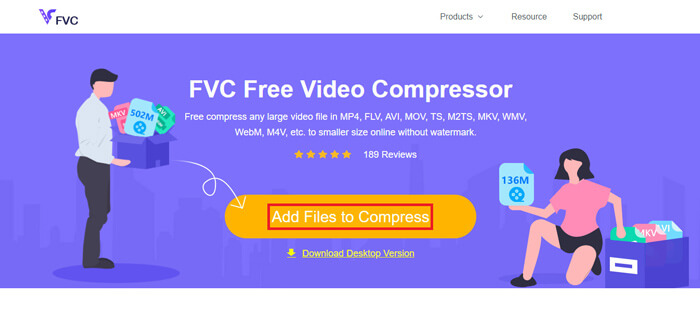 Step 2. Click the Add Files to Compress button to install a small file size launcher for the WMV files compressing. After that, you can select and upload the WMV file you want to compress from the pop-up window.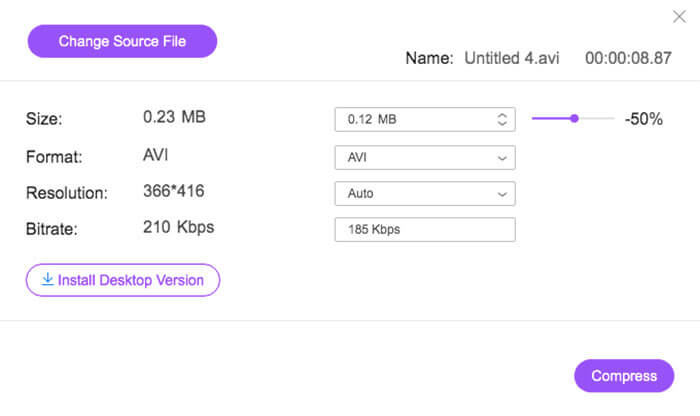 Step 3. You can freely adjust the video resolution, frame rate and bitrate of your WMV video. Meanwhile, you are allowed to select another output format for the compressed file. Then yo can simply click he Compress button to start compressing WMV free online.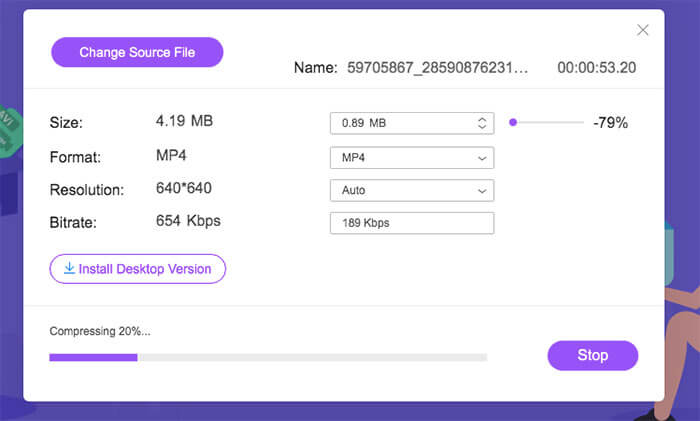 Compared with other online MKV compressing tools, this Free Video Compressor can give you a faster MKV compressing speed. More importantly, it won't add any watermark to your output video.
Part 2. How to Compress WMV Files Online with Clideo
Besides the Free Video Compressor above, you can also rely on the popular Clideo to reduce your MKV file size. It supports many video formats including the WMV, MP4, MOV, VOB, AVI, and more. It is designed with a concise interface which ensures you have a convenient video compressing experience.
Step 1. Open your browser and go to the Clideo official site. When you get there, choose the Compress option.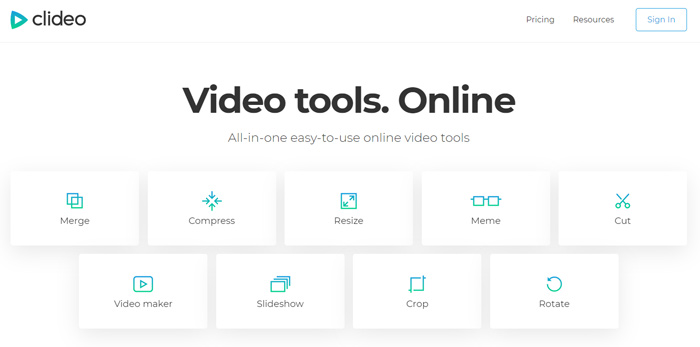 Step 2. When you enter the Compress Video page, you can click the Choose file button to upload your WMV video. Besides the local hard drive, it also allows you to add MKV files through Dropbox, Google Drive or URL. It will take quite a long time to complete the uploading process.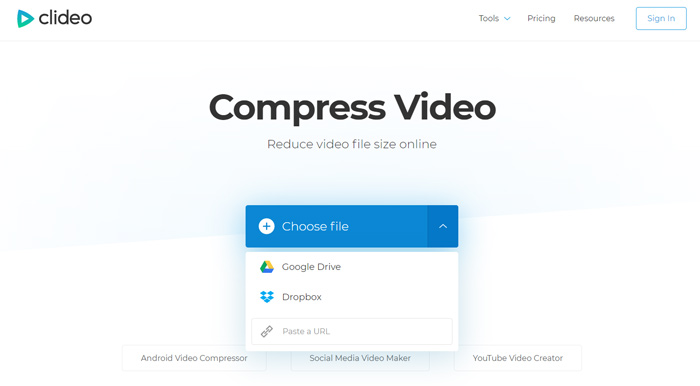 Step 3. This free online WMV compressor will automatically compress the WMV file for you. You can directly preview the compressing result. You need to sign in for more editing. After that, you can click Download button to save the compressed WMV file on your computer.
Clideo will insert a watermark to your compressed WMV file. You need to sign in with Facebook or Google account to remove the watermark.
Part 3. FAQs of Compressing WMV File
Question 1. What does WMV format mean?
Windows Media Video (WMV) is a series of video codecs and corresponding video coding formats which developed by Microsoft. It is a video extension for the ASF container format, Advanced Systems Format. WMV is mainly used for storing videos on Windows.
Question 2. How to free convert WMV to MP4 online?
To free convert a WMV file to MP4, you can rely on the popular video converting software, Free Online Video Converter. It enables you to make the WMV to MP4 conversion without quality loss.
Question 3. Is WMV better than MP4?
Compared with MP4, the biggest advantage of WMV is its small file size. In general, One WMV file is smaller than the similar MP4 file. Because of that, a WMV file will cost fewer resources on your machine and can be better shared over network, email or social media platforms. But you can't simply say that WMV is better than MP4. MP4 format can be supported by more devices, media players and editors.
Question 4. Is WMV still used?
As it mentioned above, WMV format is designed by Microsoft and widely used in Windows. It takes small file size with better compression than MP4. So till now, WMV is still popular for online video streaming.