GIF Compression – How to Compress Animated GIF into Small File Size
You can see Animated GIFs in many cases, such as Facebook, Twitter, WhatsApp and many other websites. Its small file size and loop animations make GIF popular. It is true that GIF takes smaller storage space than common video formats. However, you still need to compress GIF to reduce the file size. Thus, you can optimize the webpage loading speed and file sharing speed.

If you want to display GIF animations and shorten its loading time, you can compress and optimize GIFs as the followings show. Here're many workable suggestions to reduce animated GIF image file size. You can compress GIF to 1MB or even smaller here.
Part 1: How to Compress GIF Online for Free
No matter how many GIF files you want to compress, or how large your animated GIF size is, you can get a satisfying solution here. FVC Free Video Compressor can compress GIF files for free on your Windows and Mac computer. Its batch compression support and 30x faster compression speed can defeat most online compressors. What's more, you can set the GIF compression ratio through a simple slider. Thus, you can get more flexible controls to compress large GIF animated files. Before compressing and resizing GIFs online, here're the main features of the online free file compressor.
1. Compress GIF under 1MB with customizable compression ratio.
2. No file size limit or watermark.
3. Batch GIF compression support.
4. Adjust GIF parameters to convert and compress GIF online.
5. 30x faster speed than other online free video compressors.
Step 1: Open FVC Free Video Compressor on your browser. Click Add Files to Compress in the main interface. Click Download to install its launcher first.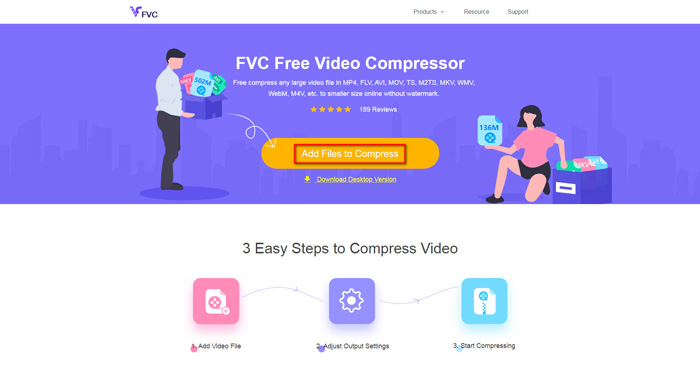 Step 2: Import your animated GIF into the online compressor. Move the Size slider to shrink GIF file size. Moreover, you can change the output format and other parameters.
Step 3: Click Compress and set the destination folder. You can get the compressed GIF files in a short time.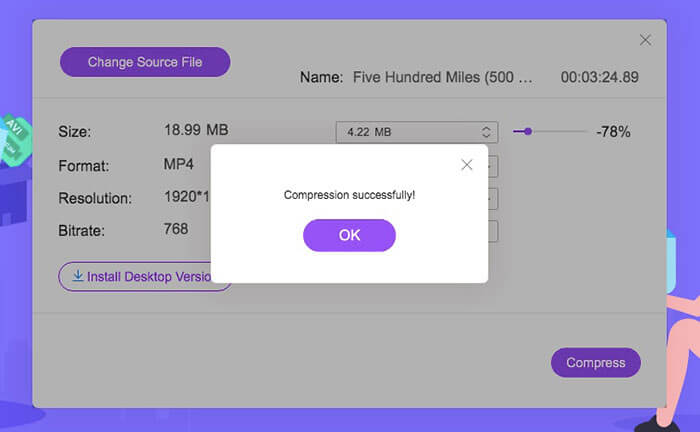 Click here to learn about how to convert MP4 to GIF
Part 2: How to Compress and Reduce GIF File Size with Photoshop
In spite of the online GIF compressors, you can use Photoshop to optimize GIF animations. Photoshop is a good tool to compress GIF size on your computer. If you subscribe to Photoshop, you can try the following GIF compression tips as well.
1. Trim the GIF animation
Step 1: Open Photoshop.
Step 2: Choose Timeline from the Window list.
Step 3: Enable the Loop Playback option from the right-click menu.
Step 4: Trim the GIF animation file below to remove unwanted parts.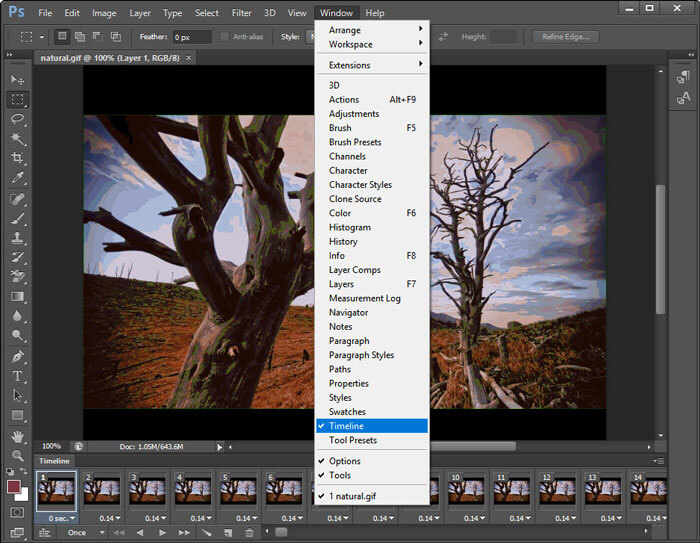 2. Reduce image size
Step 1: Run Photoshop. Select Image Size from the Image list on the top.
Step 2: You can get an Image Size window. Change the width and height to compress GIF file.
Step 3: Click OK to save changes.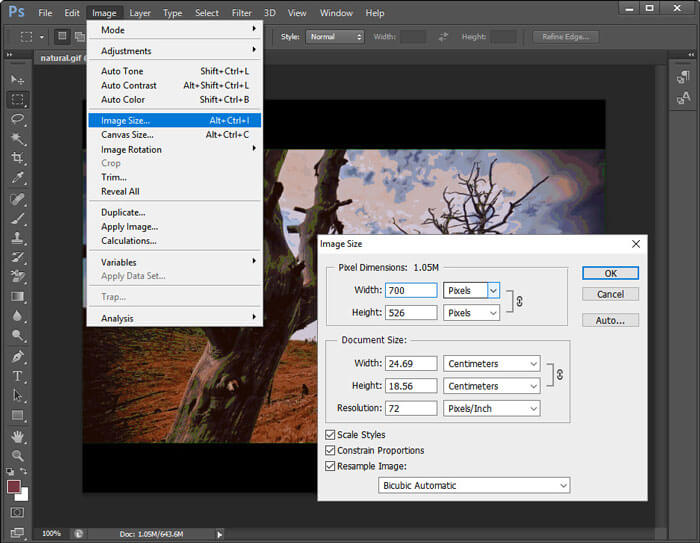 3. Use Save for Web option
Step 1: Import your GIF file into Photoshop.
Step 2: Unfold the File list, choose Export followed by Save for Web.
Step 3: Adjust image size, quality and other options in the Save for Web window.
Step 4: Click OK to reduce GIF file size with Photoshop.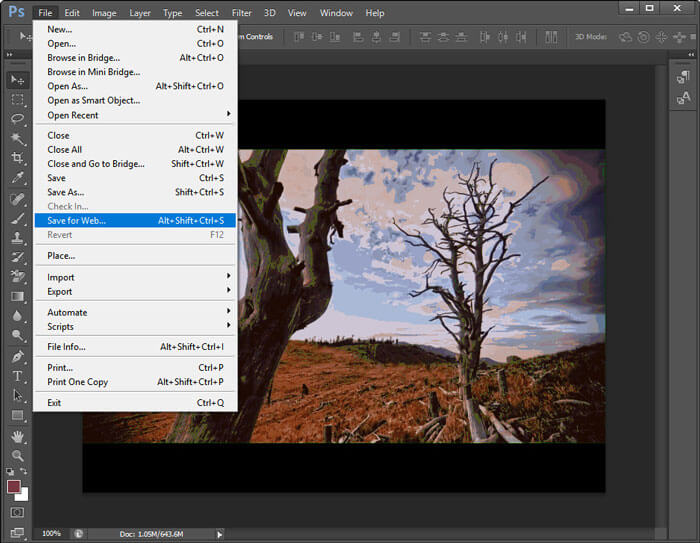 4. Reduce the number of frames
Step 1: Open your animated GIF in Photoshop.
Step 2: Delete some frames in the timeline.
Step 3: Select all remaining frames. You need to increase the duration manually.
Step 4: Save the new version of the GIF animation. The compressed GIF file size is smaller than the original.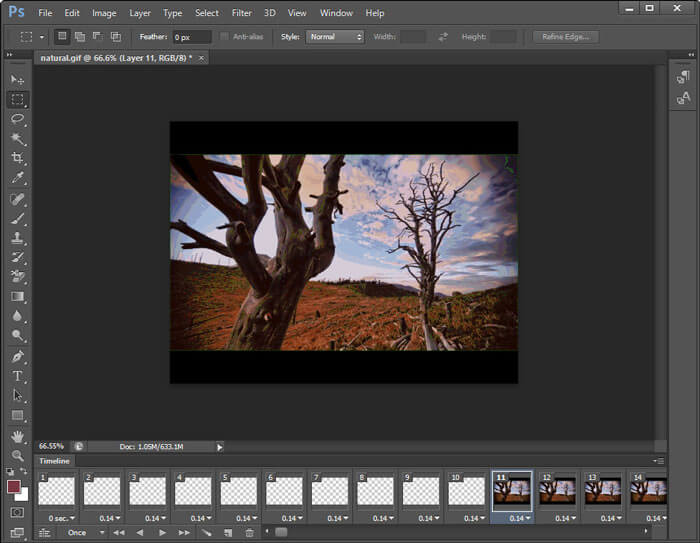 5. Optimize GIF parameters
You can make your GIF file smaller by reducing the amount of colors. The maximum color amount is 256. If your GIF animation is not very large, you can reduce to 64 colors or even less. Though the GIF quality is not as good as the original one. Just go to the Save for Web window and unfold the Colors list to make changes.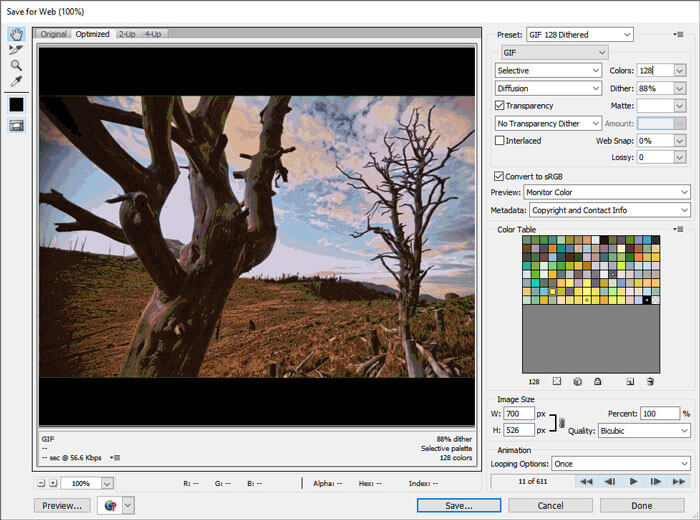 Moreover, you can reduce the GIF file size with dithering, perceptual, selective, adaptive, restrictive, transparency, interlaced and other options. All options in the Save for Web window can help you compress animated GIF files.
Part 3: FAQs of Compressing GIF
What is GIF compression algorithm?
The GIF format uses the LZW compression algorithm. This GIF compression algorithm constructs a color table. Each color can be matched to a pixel. Thus, images with large areas of colors can be compressed into small-sizes GIFs.
How to compress GIF on Android?
You can use online compressors to compress GIFs on Android. Or you can use Gif mini to crop and compress GIF files as well. Moreover, you can reduce frames and add text before exporting. This GIF compressor apk can be your GIF compressor, editor and viewer.
How to compress GIF on iPhone?
To resize large GIFs on your iOS device, you can use YouCompress, Shortpixel, Compress-Or-Die and more. Just upload your GIF file, and then optimize GIF with lossy compression. In addition, you can use GIF maker and editor apps to edit GIFs and shrink file sizes as well, such as GifArt, HipGif, Slowmographer, etc.
In conclusion, you can compress GIF for speed with the above solutions. It is not a big deal to compress a large GIF under 1MB, 100KB, 50 KB or even smaller. You can trim, crop and adjust settings to reduce GIF file size. If you have any other suggestions for GIF compression, you can share with us in the comments below.