Offline and Online Conversion Process: The Best Way to Convert OGV to FLV
When using OGV videos, this lossy file compression video format may irritate you since they blur after the adjustments. However, things will improve if you convert OGV to FLV format first before sharing online; the only challenge will be finding an easy-to-use yet powerful video converter program. Fortunately, we have the best one for offline and online usage to easily convert OGV to FLV file format. Just follow the steps provided in this article for your convenience.

Part 1. How to Convert OGV to FLV with Ease [Offline]
To be honest, there are a lot of video converters available online, but only a handful of them can support an OGV conversion. Since the said format is not common to most video consumers, converters do not mind including them in their file format support. For this reason, is where Video Converter Ultimate comes in handy. It completely supports OGV input and enables you to convert OGV video files to FLV formats quickly. It's also worth noting that it can transform your OGV videos and edit them with practical tools. Everything you need is in Video Converter Ultimate. Hence, we provide you the most straightforward steps for you to follow:
Step 1: Before you can use the software, you must install it first on your desktop. You can do this by clicking one of the Free Download buttons below, depending on the OS that you use. Wait for the .exe or .dmg file to finish downloading, and once done, open it to start the installation process. Finally, you can launch the software right after finishing by clicking Start Now.
Step 2: Once the window has a pop-up, you will find yourself in an interface with a + button in the middle. To import the video file you wish to convert, click on it or drag and drop the file itself to the program.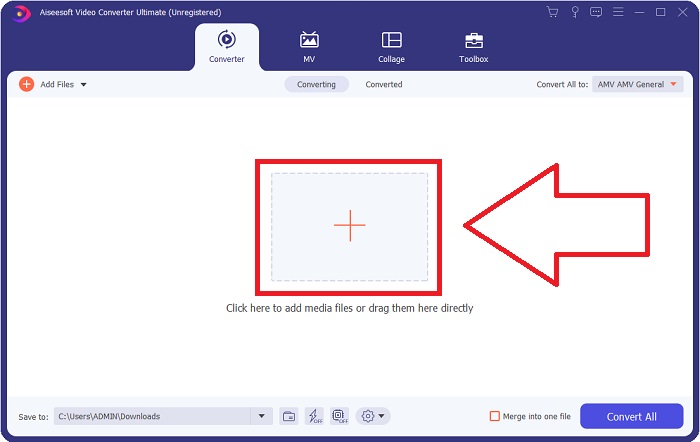 Step 3: On the right, it shows you the current file format of your video is. Click on it, and it will show you all the formats you can choose. In this case, scroll down and select FLV, or you can just search it in the search bar below. Now on the right side of the tab, you can also choose which video quality you want for your converted file.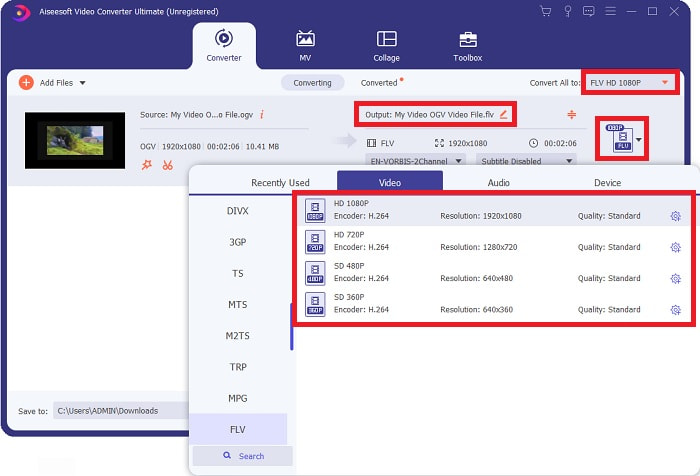 Step 4: If you are looking for more options, you can find those by clicking the gear icon beside your selected video quality. With this, you can further edit the video resolution and other options like frame rate, sample rate, bitrate, and encoder. Once satisfied, just click the Create New button on the bottom right corner to save the changes.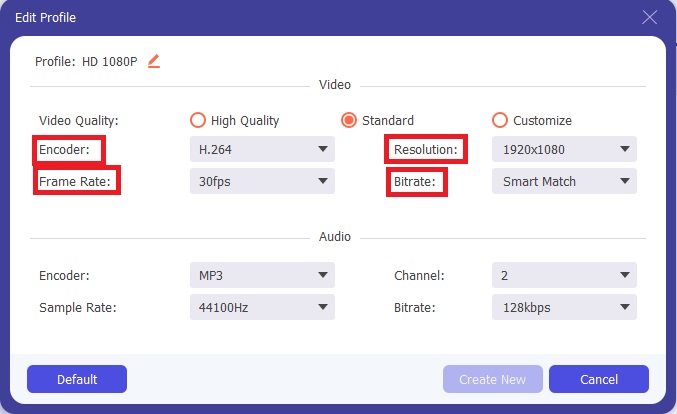 Step 5: When you finish with all the adjustments, you can start the conversion properly by clicking the Convert All button on the lower right corner, waiting for it to finish.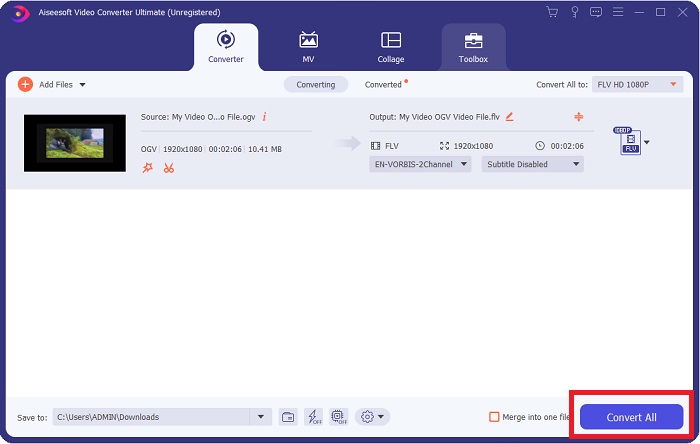 Part 2. Another Method Available to Convert OGV to FLV [Online]
If time does not permit and you need to convert your OGV file to FLV as quickly as possible, you need not worry because we still got you covered. You can use the online counterpart of the said software while still providing you utmost convenience following a smooth process of conversion. FVC Free Video Converter Online is a web tool that can easily turn OGV files into FLV and still offer the exact resolution and audio quality options. To use it, here are the steps you need to follow:
Step 1: Click this link, and it will redirect you to the online converter itself. In the middle of the page, there is a button saying Add Files to Convert. You have to click it to download the launcher; you need to import the video file you wish to convert.
Step 2: Once you have finished, you can now upload your file by clicking once again the said button. An interface will appear if the upload is successful. From there, you can now select FLV among the other formats offered at the bottom of the window.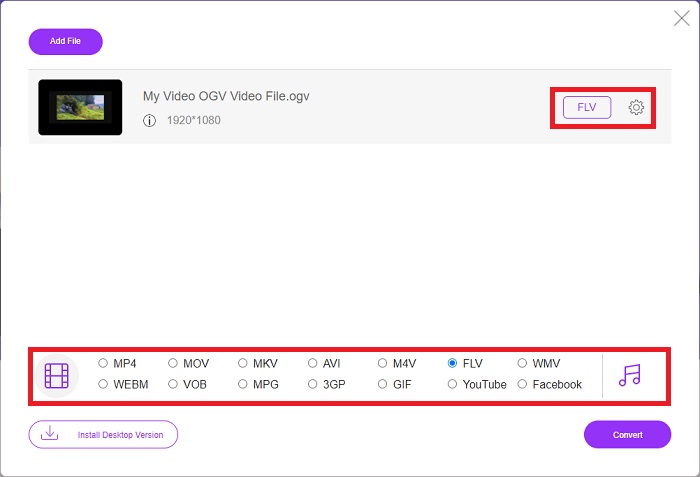 Step 3: Similarly, you can also find a gear icon on the far right in which you can further edit your video. By clicking it, you can find the video and audio settings for you to edit the encoders, resolution, frame rate, and more. Click OK and click the Convert button on the bottom right corner to start the conversion process.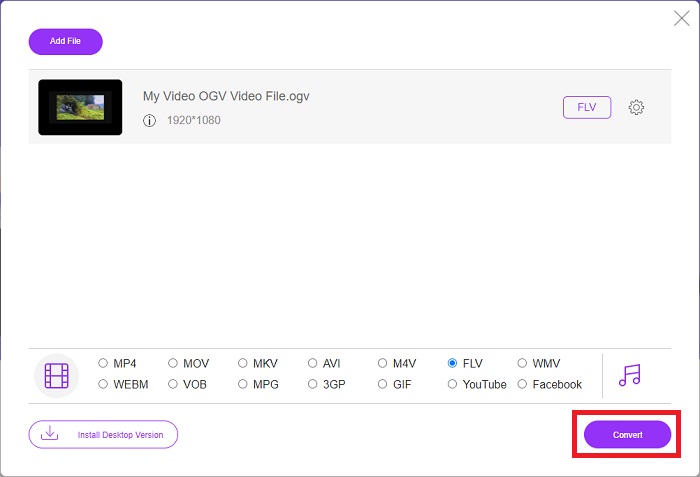 Part 3. Extended Knowledge About OGV and FLV
If you want to know more about the two files being compared, here we provide you with all the necessary information you might want to read:
The Ogg Vorbis video encoding method can most usually link with files having the .ogv file extension. Ogg Vorbis is an open-source, non-patented audio compression format. The container format for audio, video, and information files is known as Ogg, while the audio compression technology Vorbis is named after. The OGV file format is a container for video files. Video streams linked with one or more video codecs, such as Theora and DivX, may be found in OGV files. Users may play the recorded material inside the content file on several media devices using these files.
On the other hand, a video file stored in the Adobe Flash Video (FLV) container format is an FLV file. Adobe Flash Player mainly uses it to offer online video content such as movies and TV episodes. Also, it is essential to note that it is an open format supported by a variety of non-Adobe/Macromedia apps. For a more specific comparison of the two, we made a table just for you.
| | | |
| --- | --- | --- |
| | Ogg Vorbis (OGV) | Adobe Flash Video (FLV) |
| File Extension | .ogv | .flv |
| Developer | Xiph.Org Foundation | Adobe Systems Incorporated |
| Supporting Programs | MPlayer Classic, VLC Media Player, Jriver Media Center, MPUI | RealPlayer, Apple QuickTime Player, Mplayer, VLC Media Player |
| Advantages | OGG has the benefit of being patent-free, generally acknowledged, and natively supported by most browsers. As a result, if you want to upload a movie to your website, this format is a good option. | The beauty of Flash is that it can assist websites that want to incorporate motion and interactive content. The procedure is straightforward and, in the end, may have a significant impact. Everyone also utilized Flash for rudimentary games in its prime. |
| Disadvantages | Despite its widespread use, the OGG video format has a few drawbacks. Safari and Internet Explorer, for example, only partly support it; thus, users may not correctly view your video in these browsers. | The disadvantage, of course, is that the FLV format has become more unpopular in recent years. FLV content creation may take a long time and be expensive. Another disadvantage is that Flash material cannot be played on iOS devices, severely limiting its ability to attract new followers. |
Part 4. FAQs about OGV and FLV Conversion
Are OGG and OGV the same?
It is a suitable subset of the Ogg video media type video/Ogg with the file extension. ogv. Other Ogg apps utilize the file extension. ogv with the media type application/ogg since. ogx is a superset of video/ogg.
Is FLV's quality better than MP4?
MP4 is said to contain high-quality video and audio digital coding. The public's opinion on FLV is less clear, although the benefits and drawbacks of FLV can seldom focus on the file format's quality. With higher degrees of compression, MP4 has less loss of quality. Here you can check the ways to convert FLV files to MP4.
Is FLV lossless or lossy like OGV?
The FLV file format for Flash Video supports two versions of the screen share (Screen video) codec, which is a screencast encoding method. These formats are based on bitmap tiles and are lossy when color depths are reduced and compressed using Zlib.
Conclusion
Regardless of how much time you have in converting your video files, both the software and its online tool counterpart will deliver the most convenient to you. So, in short terms, Video Convert Ultimate and Free Video Converter are the ones that must be the first thing you think of when it comes to video conversion for you to save time browsing the internet and finding the best one. Here, we hand the best to you.