2 Quick Ways to Shrink Large OGV Files [ Free & Online ]
OGV files are often used for playing webpage video content using the HTML5 < video > tag. When you are going to send large OGV files to partners, clients, or friends, compressing those files becomes incredibly useful. Since there are many file size limitations of many email and file transfer platforms, compressed videos can greatly prevent the file transfer failure, at least in most cases. So, we'll take a look at two online ways to compress your OGV files and make them smaller in this post.

Part 1. Online Way to Compress OGV Files with an OGV Compressor
Free Video Compressor is a popular and useful free online OGV compressor tool available for users. Unlike many other common free online tools, Free Video Compressor comes without restrictions on either the number or size of the files uploaded. More importantly, there will be no watermark on your exported video files. Also, it allows you to compress MP4, AVI, WMV, MOV, and many other common video files without destroying quality.
How to Compress OGV Files using Free Video Compressor
Step 1. Go to the online OGV video compressor website by entering https://www.free-videoconverter.net/free-video-compressor/.
Step 2. Locate and click Add Files to Compress button, and then download its launcher to activate the service. In the window that pops up, go and find your OGV files and hit Open to confirm.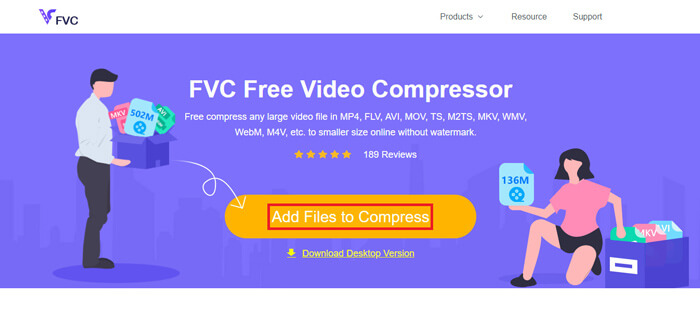 Step 3. Next, you should define the compression settings to make the file smaller. You can set the size of your video, change the resolution, select the bitrate, and more.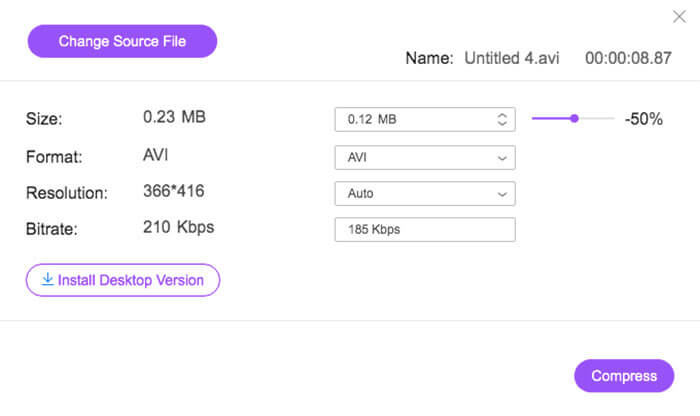 Step 4. Hit on the Compress button to commence the process. After it's finished, the file will be downloaded to your computer automatically.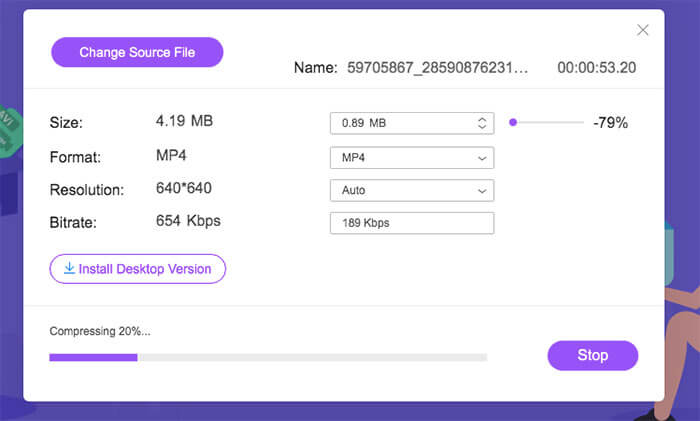 Besides, this free video compressor can help you solve other video compression issues. Just check the following articles:
How to Compress a Video for Email
How to Compress AVCHD Video Files for Free on Windows and Mac
Part 2. How to Compress and Optimize an OGV File with Clideo
Clideo is a free all-in-one video toolkit. It works with all popular formats and compress fast and doesn't require any downloading. It allows you to compress an OGV file up to 500MB for free, but it doesn't have a quantity limit. Now you can follow the steps below to reduce your OGV file size.
Step 1. Visit https://clideo.com/compress-video and then hit on the Choose file button.
Step 2. Upload an OGV file you want to compress from your computer. You can also select the file from Dropbox or Google Drive by clicking the blue downward arrow.
Step 3. When the file is uploaded, the tool will start processing the video. The processing time depends on the size of the video.
Step 4. Once the compression is over, you can see the initial file size and the compressed one. Now, you can preview the result to make sure it looks good. If you're satisfied with it, you can click on the Download button to save it to your device or cloud storage.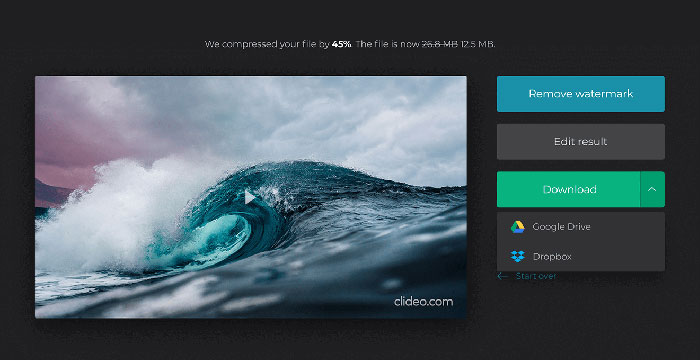 Part 3. FAQs of Compressing OGV Files
What is an OGV file?
An OGV file is a video file saved in the Xiph.Org open source Ogg container format. It contains video streams that may use one or more different codecs, such as Theora, Dirac, or Daala. OGV files can be played using a variety of media players.
How does OGV compression work?
When it comes to OGV file compression, it is interframe compression that leads to reducing the file size by removing the similarities that occur between the video frames.
How do I compress the MP4 to OGV format?
You can use the above-mentioned tool - Free Video Compressor to compress your MP4 files to OGV. Or you can choose a video converter application to help you make it.
Conclusion
The above online methods can help you compress shrink an OGV video efficiently. Which one did you prefer to use? You can share your recommendations in the comments below!