How to Compress MOV Files on Windows, Mac, iPhone and Android
MOV is a proprietary Apple file format, which can be called as the QuickTime file format. You can convert video to QuickTime MOV format to fix the incompatibility issue. However, videos in MOV format are always in large file sizes. Is it possible to compress large MOV videos without losing quality? Of course, the answer is Yes. You can convert QuickTime MOV videos into small file sizes with 4 different ways. The following 4 MOV video compression ways are completely free and safe to use.

Part 1: How to Batch Compress MOV Files for Free
If you want to compress a 1GB video to 10MB, you can turn to FVC Free Video Compressor for help. What if you need to compress multiple 1GB large videos at the same time? Well, FVC Free Video Compressor can also be your reliable solution. The batch compressing support allows users to compress unlimited MOV files at the same time on Mac and Windows browsers.
There is no watermark or hidden purchases. You can get 30x faster compression speed to compress QuickTime video files quickly. With the wide support of media formats, you can convert QuickTime MOV files to other formats with ease. Here're the main reasons why it can be your best MOV video compressor.
1. Batch compress MOV files.
2. Control MOV video compression ratio freely.
3. No watermark attached in the output MOV QuickTime video.
4. 30x faster speed than other video compressors.
5. 100% free to use.
6. No ads, popups, spyware or malware.
Step 1: Open the online video compressor. Click Add File to Compress. In the popping-up notification, click Download to install a launcher quickly.
Step 2: Browse and add MOV files into this free video compressor online. You can adjust the slider next to Size to control how small your MOV video file is.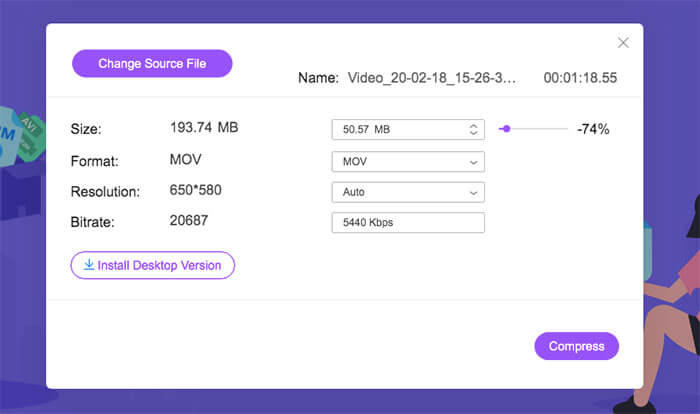 Step 3: Unfold the Resolution list to change video resolution. It is also a workable way to make your MOV video smaller.
Step 4: Click Compress on the lower right corner. Set the output folder and click Open. At last, wait until the QuickTime MOV compression completes.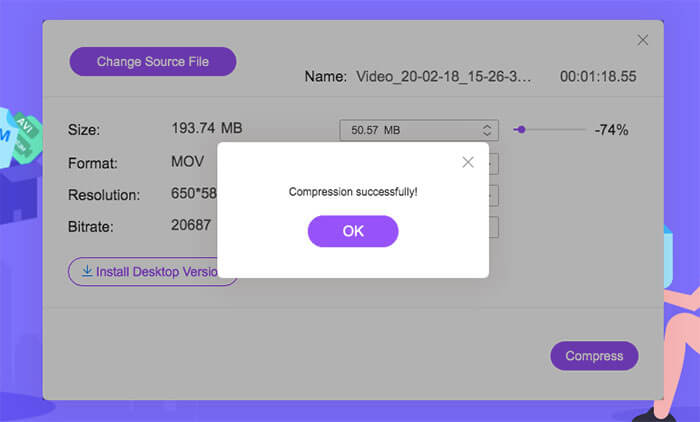 Part 2: How to Compress a MOV File with iMovie
If you installed iMovie on your computer, you can make your QuickTime MOV video smaller as well. iMovie is free to use on Apple iPhone, iPad and Mac. So you can compress MOV videos on Mac and make video edits for free by using iMovie.
Step 1: Open iMovie. Click Import Movies to add your MOV video into iMovie.
Step 2: Choose Share from the File list. Then select File… from its submenu.
Step 3: There will be a new window in iMovie. You can reduce MOV file size with Resolution, Quality and Compress.
Step 4: Click Next to confirm. Enter the file name and output folder. At last, click Save to downloaded your compressed QuickTime video. (Convert your QuickTime video to MP4 here)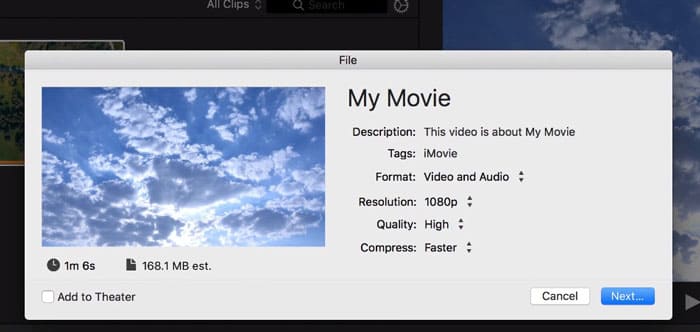 Part 3: How to Compress MOV Files on iPhone
Just as above mentioned, you can compress a MOV video file on iPhone with iMovie app. Or you can use other tricks to make your MOV video smaller than before.
1. Use an online video compressor to compress QuickTime video online.
2. Use a video compressor app. For example, you can use Video Compress – Shrink Vids to compress .mov on iPhone for free.
3. If you use iPhone to capture videos, you can go to Settings and find Camera. Choose a lower profile in Record Video and Record Slo-mo options.
Part 4: How to Compress MOV Files on Android
Then how about compressing MOV videos on your Android phone or tablet? Is there any good video size reducer app to shrink video that are too big on Android? To compress MOV files for free on Android, you can use Video Compressor, VidTrim and Youcut. These are top-rated video compressor apk in Google Play Store.
Moreover, you can convert MOV to MP4 or FLV format to compress videos on Android. If you don't mind, you can crop MOV video and delete unwanted parts. Obviously, a MOV video with a smaller display screen is definitely smaller than before.
Part 5: FAQs of Compressing MOV Video Files
Can you compress a video for YouTube without losing quality?
Yes. If your video is longer than 12 hours, or larger than 128GB, you need to reduce video size manually. Or YouTube will encode it with H.264 codec. But a large YouTube video takes more time to load and upload. So you can use FVC Free Video Compressor or iMovie to reduce the MB size of a MOV video.
Can you compress 1GB MOV video to 10MB?
Yes. You need to choose a video file compressor that can adjust video compression rate. Because most online video compressors make a MOV video file smaller of 40% or so. To compress a really large video, you can click the Down arrow on the right side of Size in FVC Free Video Compressor.
How to compress MOV files for email?
You should compress QuickTime MOV videos no more than 25MB. No matter you use a video compressor app or online free video compressor, just reduce MOV smaller than 25MB.
That's all to compress MOV files for free on your computer or mobile phone. No maximum file size limit or watermark. You can feel free to compress videos in MOV, MP4 and other formats. If you have any questions or suggestions, you can feel free to contact us.