5 Best Ways to Fix QuickTime Doesn't Open MOV File
I believe most people would think that the most suitable media player to play MOV video files must be QuickTime Player. Unfortunately, just as it happened to you, QuickTime Player cannot open MOV files sometimes. When this happens, you are likely to see the notice that QuickTime Player failed to open ***.mov. What is going wrong? The player or the MOV video file? Read this post to learn more about 5 methods to fix QuickTime Player can't open MOV files.

Part 1: 4 Ways to Fix QuickTime Player Cannot Player MOV Files
Method 1: Update QuickTime Player to the Latest Version
The first solution worth trying is to update your QuickTime Player to the latest version, especially when it's already outdated. This will enhance it with new features and possibly codec compatibility.
Step 1: Open QuickTime Player and click on the Help tab at the top of the interface.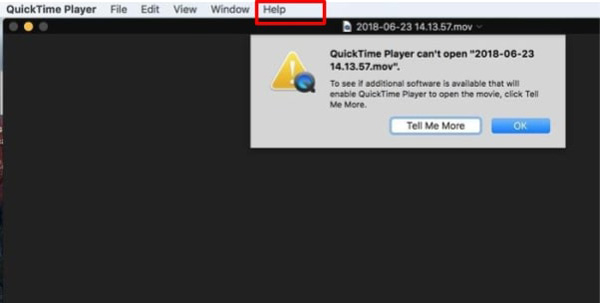 Step 2: Click the Update Existing Software button, then just finish the whole updating process following the given instructions.
Step 3: When the updating is completely finished, launch QuickTime Player again and try opening the MOV file in it.
Method 2: Convert the MOV File to MP4
A file with the MOV extension may use various codecs. If your QuickTime Player does not support this codec, it goes without saying that QuickTime cannot open the MOV file. You can try converting the MOV file to MP4 or other formats which are more widely supported.
Step 1: Open your web browser and go to https://www.free-videoconverter.net/free-online-video-converter/ for FVC Free Online Video Converter, then click Add Files to Convert in the middle of the webpage.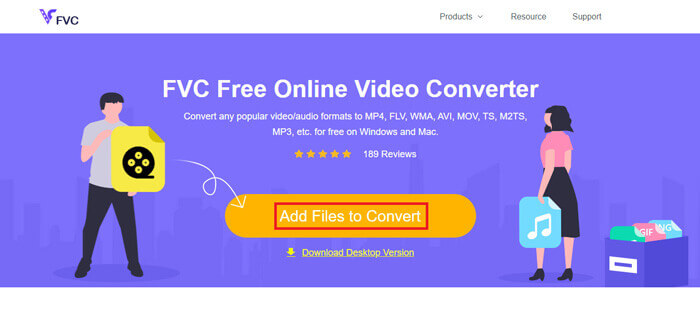 Step 2: Now the online program should pop up. You need to click the Add File button and import the MOV file which cannot to open in QuickTime Player.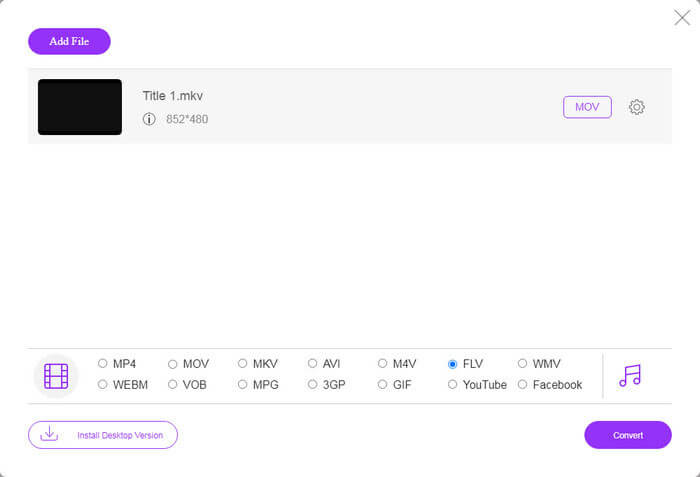 Step 3: In the lower part of the online tool's interface, select MP4 as the target format, then click the Convert button in the bottom right corner to convert the MOV file to MP4.
Step 4: Try opening the exported MP4 video in QuickTime Player.
Method 3: Reopen QuickTime Player and Try Again
Sometimes, a program can be partly crashed and can't operate normally. It won't repair itself automatically unless you restart it thoroughly.
On Windows
Step 1: Right-click on the taskbar at the bottom of your screen, then open Task Manager.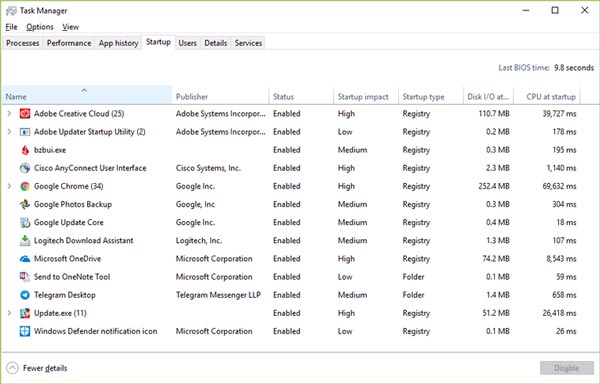 Step 2: Find the process QuickTime Player and single click to select it, then click the Disable button in the bottom right corner of the task manager interface.
Step 3: Launch QuickTime Player and open the MOV file again.
On Mac
Step 1: Enter the Applications and open Utilities, then launch Activity Monitor.
Step 2: On the Process Name list, find the QuickTime Player process and click to select it, then use the Quit Process button in the top left corner to kill it.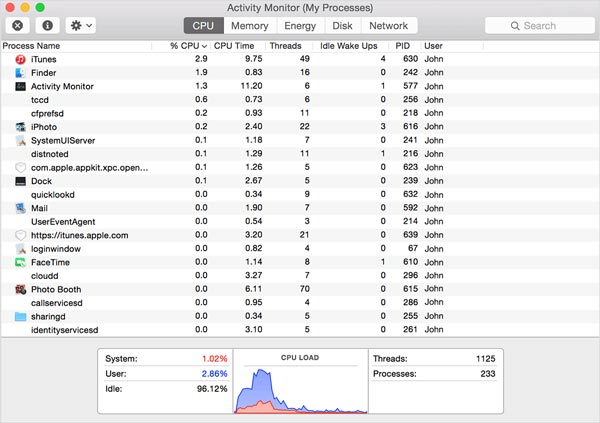 Step 3: Run QuickTime Player again and try opening the MOV file.
Method 4: Reboot the Computer and Try Again.
Rebooting to a computer is like drinking water to a human, for they both cure many problems somehow. Usually, it's just something wrong with the operating system but it's not worth your effort to figure it out. After rebooting the device, the problem that QuickTime can't play MOV might be gone.
Part 2: Best Alternative to QuickTime to Play MOV Files
Since your QuickTime cannot play your MOV files on hand, why not try some other media players? FVC Free Video Player is the most time-saving choice for you. With it, you will not confront codec problems anymore. The most important point is that you don't need to download or install before you use it.
Key Features:
1. Compatible with MOV and hundreds of other popular video formats.
2. Play 3D and 4K UHD videos without any hassle.
3. Supports optional audio tracks and subtitles.
4. Play videos of all kinds smoothly.
Steps to Use Free Video Player to Play MOV Video Files
Step 1: Open your web browser and go to https://www.free-videoconverter.net/free-video-player/ for the FVC Free Video Player, then click the Play Now button to launch the player.

Step 2: When you see the program interface, click Open File and import the MOV file.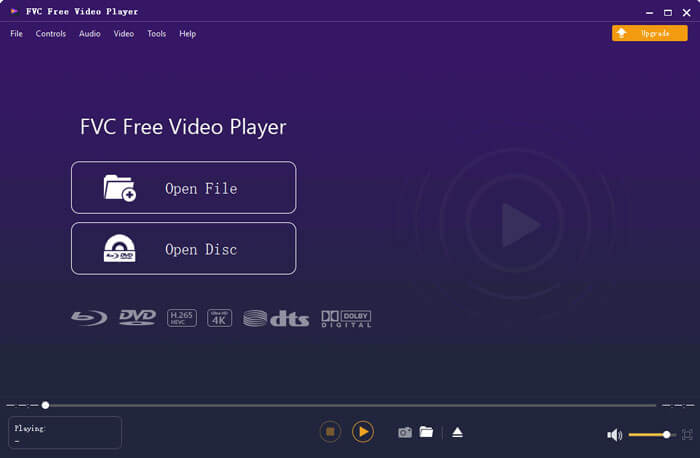 Step 3: The video should start playing automatically.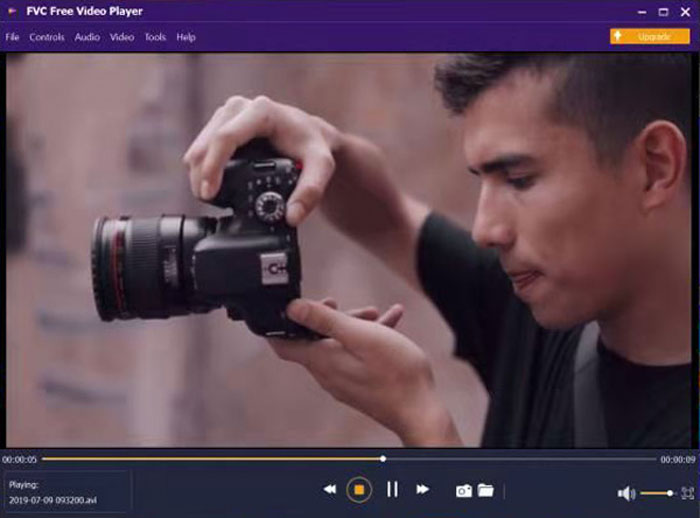 Part 3: FAQs about QuickTime Can't Play MOV Files
1. What video formats can QuickTime play?
QuickTime can play a number of video and audio formats including MOV, MP4, MP4, MKV, M4V, MPEG-2, MPEG-1, AVI, DV, M4A, M4B, M4P, MP3, AIFF, WAV, etc. If your QuickTime Player not working, you can click here to have a check.
2. What is a MOV file?
A MOV file is a media file saved in QuickTime File Format (QTFF), a container format that stores video, audio, subtitle, and metadata. MOV files usually store movies or other types of videos. Many MOV files store movies using MPEG-4 codec so they are quite similar to MP4 files. To open MOV files, you can use MOV players to enjoy your videos.
3. What are the differences between MP4 and MOV?
MP4 is a universal standard, while MOV is more aimed to playback in QuickTime Player. Moreover, MP4 is usually more compressed and is relatively smaller, while MOV is often in higher quality and larger.
Conclusion
In this post, we talked about 5 effective ways to fix QuickTime cannot play MOV files. You can try restarting the player and the computer, or update the software to the latest version if there is any. Converting the MOV file to other formats like MP4 is also workable when there is a codec problem. The last but also the best solution is to use FVC Free Video Player to play the MOV file.