How to Record Screen with Audio on Mac Using QuickTime on Mac and PC
There is much pre-installed software on your Mac, and QuickTime Player is one of them. If you only regard QuickTime Player as a media player for Mac computer, then you are wrong. There are some hidden features in it, and screen recording is one of them.

Whether you want to capture what is playing on your screen, or record a screen from your camera, QuickTime Player can easily make it.
Apart from the video screen recording, it also lets you record audio on Mac.
That said: You can record a video screen with audio on Mac.
This detailed tutorial shows you how to start a screen recording with audio on Mac.
Part 1. QuickTime Screen Recording with Audio on Mac
It is easy to start a screen recording on Mac. Things get tricky when you want to record Mac screen with audio.
No worry, and here we will show you how to record Mac video with audio.
Step 1. Start QuickTime recording
The process starts with opening QuickTime Player on your Mac.
1. Go to File, and select New Screen Recording or New Movie Recording from the menu bar.
New Screen Recording: It will record anything that is happening on your Mac desktop with audio from the microphone or not.
New Movie Recording: It will record screen from camera with audio from microphone and speaker on Mac.
Here, we choose New Screen Recording.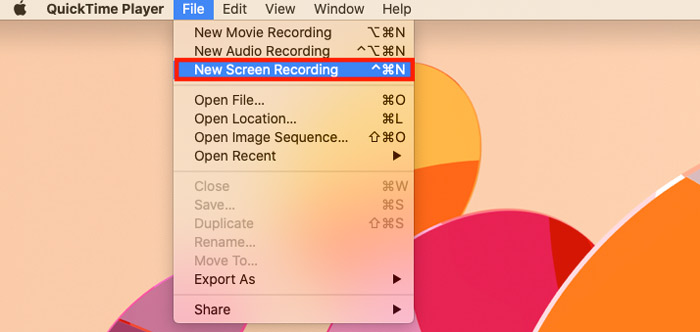 2. A Screen Recording prompt will appear. Here you should make the recording settings by clicking the Options menu:
Microphone: Choose Microphone or none to record screen with or without audio. If popped up, just allow QuickTime to access microphone.
Options: Choose Show Mouse Clicks or not.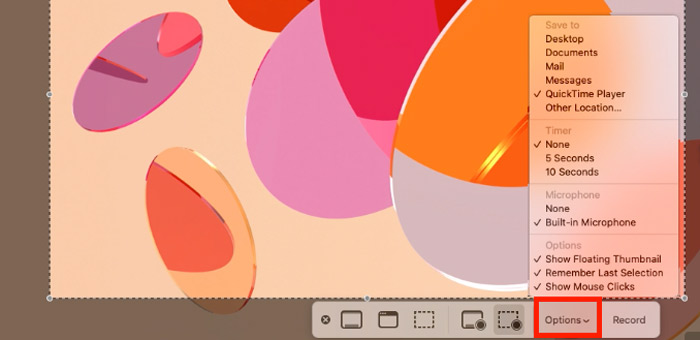 Recording area: Click Record Entire Screen to record the whole screen, or click Record Selected Portion to drag to record the select the area of the screen you want to record.

Step 2. Record Mac screen with audio
When everything is done, just click the Record button to start recording your Mac screen. In the recording area, any screen that is playing will be captured with QuickTime.

Step 3. Pause and stop QuickTime recording
New Screen Recording does not support a pause recording, and to finish the screen recording, you can find the Stop button in the menu bar, which will be to the left of the Wi-Fi button.

Step 4. Export QuickTime screen recording
While stopping the QuickTime screen recording, it will direct you into the preview window, where you can play the screen recording by clicking the play button.
To export the screen recording, you should click File in the menu bar, click Save, then name your video recording, and find a location to store it on Mac as MOV (Learn it here to convert QuickTime as MP4.).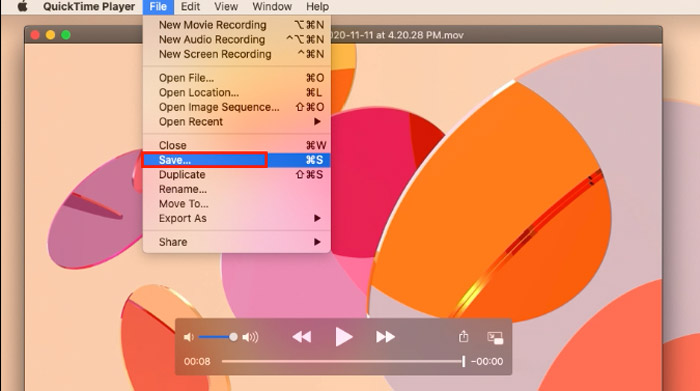 To save the QuickTime Screen Recording in high-quality, you should click File, and select Export As to choose 720p.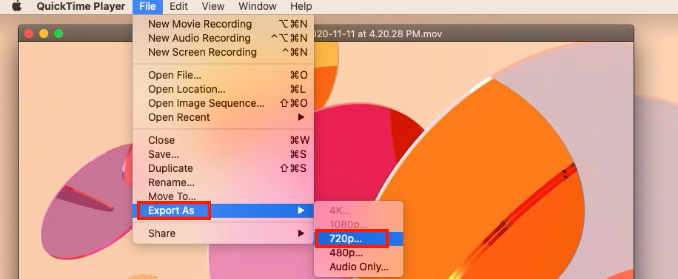 That's all it takes to make a quick recording of your Mac screen with audio on Mac.
Part 2. Troubleshooting of QuickTime Screen Recording
How do I change the FPS in QuickTime screen recording?
Generally speaking, there are no official settings for changing QuickTime screen recording frame rate. The usual recording frame rate is 30 FPS, but you can improve it to 60 FPS by changing the display scale.
Click on the Apple menu, select System Preferences, click Displays, select the Display tab, tick the Scaled option, select Larger Text, and finally, click OK to save the changes.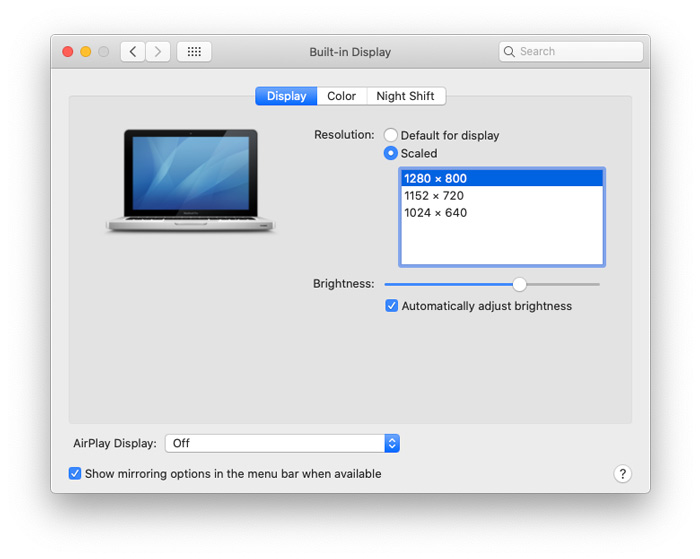 No sound on QuickTime screen recording, and how to fix it?
To fix screen recording no sound on QuickTime, you can do:
1. Make sure you have enabled audio volumed up.
2. Confirm that you have select Microphone recording by following step 1 in part 1 in this post.
3. Allow QuickTime to access the microphone. (Click on the

Apple

menu, open

System Preferences

, click

Security & Privacy

, navigate the

Privacy

tab, scroll down and select

Microphone

from the left pane, and tick the box of

QuickTime Player

.)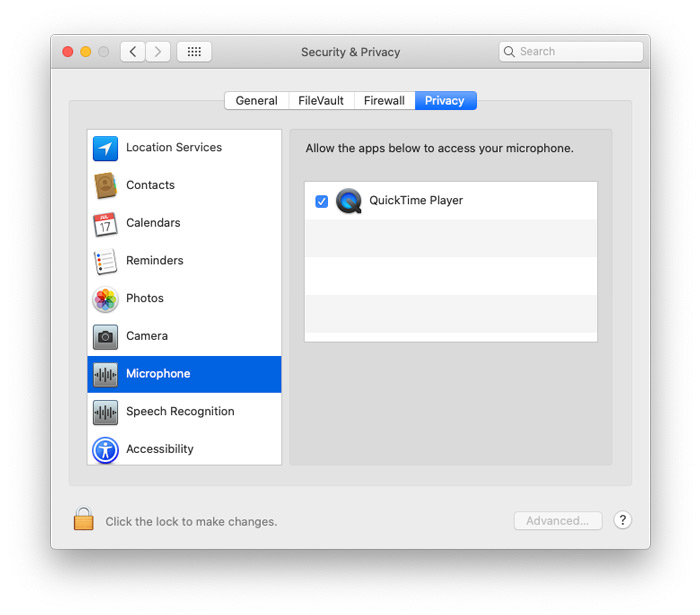 How do I crop a screen recording in QuickTime?
To cut a screen recording in QuickTime,
1. You just need to open the video recording firstly, then click

Edit

from the top menu bar.
2. Select

Trim

from the drop-down menu.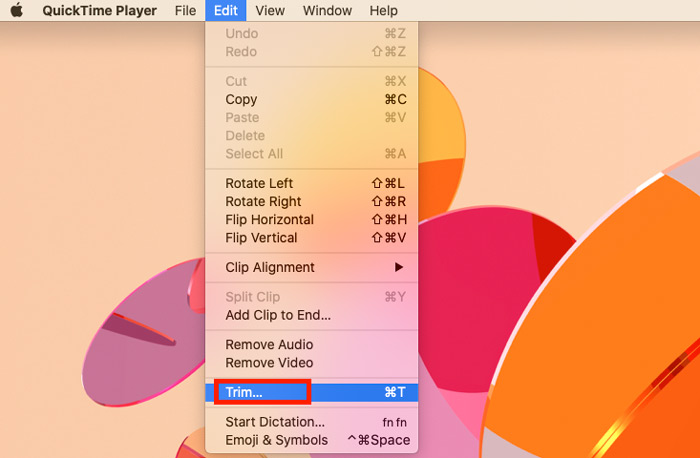 3. Then drag the handle to set the starting and ending point. Everything inside the yellow bars will remain.
4. Click

Trim

to on the right to preview your video by selecting the play icon.
5. Follow step 4 in part 1 to save the cropped screen recording in QuickTime.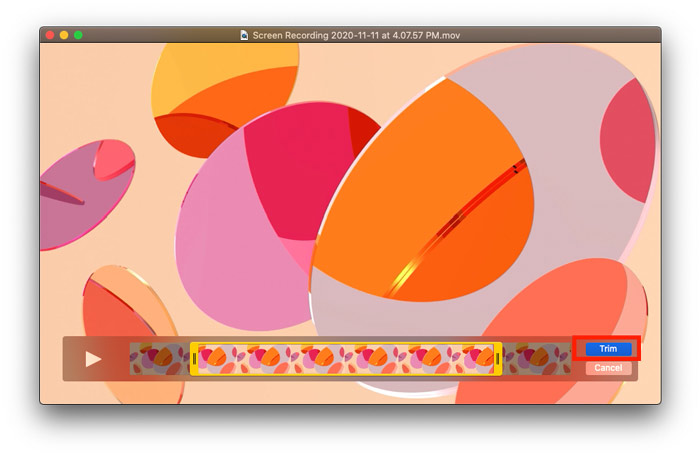 Part 3. QuickTime Screen Recording on PC
It is easy to use QuickTime to record a screen on Mac. However, once QuickTime Screen Recording is not working, or you want to record a screen on a Windows computer, QuickTime is not the solution.
Here, Free Online Screen Recorder can solve all the problems, and provides you an easier way.
Free Online Screen Recorder is a web capture software, which can record any screen that is playing on your PC and Mac with audio. Whether you want to save online videos from YouTube, Facebook, etc., or grasp music from SoundCloud, Pandora, even record gameplay to upload on Twitch, this magic tool is the key.
• Record video, screen, and audio on Windows 10/8/7 and macOS.
• Record from camera to create a picture-in-picture recording.
• Record sound from microphone and speaker from computer.
• Record as long as your PC storage running up without limits.
• Real-time editing while recording a screen.
Follow the simple steps mentioned below to know how to start a screen recording on Windows here.
Step 1. Launch the free online screen recording software on the web through your browser.
Follow the on-screen instructions to download and install a launcher, which can record and save your recording directly without extra steps.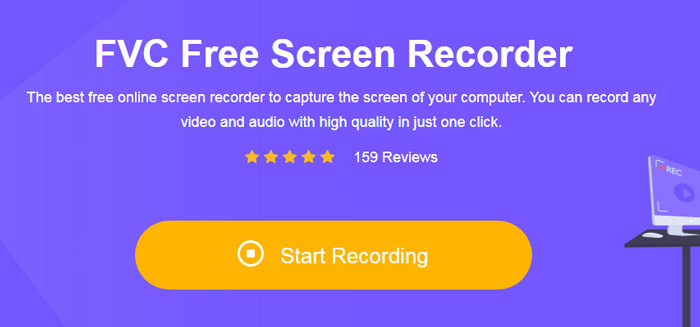 Step 2. Drag your mouse to select the recording portion. Besides, toggle on Speaker, Microphone, or Camera optionally to record the sound and camera you need.

Step 3. Click REC to start a screen recording. While recording, click the edit button in the floating bar to draw a shape, add text, and apply other effects into this program.

Step 4. To end the recording, just click the stop button, and it will export and download the screen recording to your computer automatically.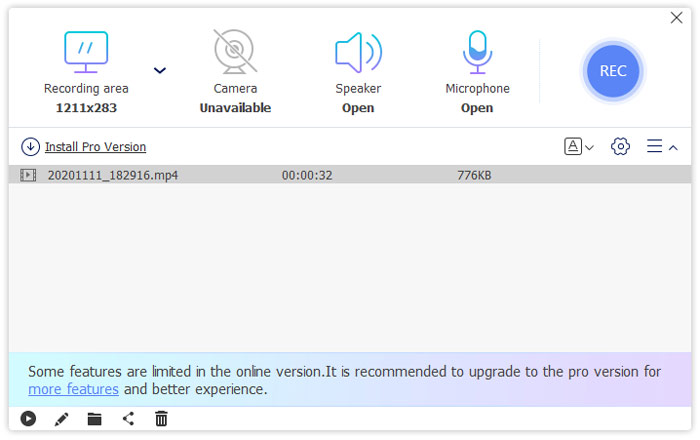 Part 4. FAQs QuickTime Screen Recording
Can you screen record with QuickTime on Windows?
No. QuickTime for Windows is no longer supported by Apple. To record a screen a Windows screen, you need a professional screen recorder for Windows.
Does QuickTime Screen Recording record audio?
Yes. QuickTime Screen Recording records audio from microphone, but it does not record internal audio from your Mac computer. QuickTime Movie Recording can record both internal audio and microphone sounds unless you play audio on Mac while recording from camera. Besides, you can download the third-party software, Soundflower, which can be built-in QuickTime and start an internal audio recording from Mac.
How do I make QuickTime screen recording smaller?
While exporting a QuickTime screen recording file, you can make the file size smaller by choosing a lower resolution as 480p, 720p, instead of 1080p.
Conclusion
QuickTime is a free media player and a screen recording program on Mac. With it, you can record Mac screen with audio from microphone. However, QuickTime Player is not available for Windows users. To record Windows screen, you can use Free Online Screen Recorder, which is a web recorder to capture screen with audio from speaker and microphone.
Now, it comes to your turn.
Do you think QuickTime is an easy screen recording tool?
What software are you using to record PC screen?
Do you have other problems while recording the Mac screen with QuickTime?
Let me know by leaving your comments.