How to Change MOV Files Metadata on Mac with Steps Effortlessly
We all know that MOV is one of the top-notch formats you can ideally use on video playback on your Apple devices and for editing. But what makes MOV unique? It supports a video compression that is preferably used by pro. Although it can store multiple elements on a single file, it is still possible that the MOV can have mixed-up tags that could lead to a problem. It would help to edit them accordingly to have proper metadata to fix it immediately. With the helpful tool, this task is a piece of cake. So today, we will present the best ways to edit MOV file metadata instantly.

Part 1. How to Edit MOV Metadata with the Ultimate Tag Editor on Mac
FVC Video Converter Ultimate is your one-stop solution regarding this metadata problem that supports more than 1000+ formats on Mac and Windows. With this tool, you can instantly remove, edit or add the metadata on your MOV file. What's more? You can do multiple edits on your MOV, such as cutting, trimming, merging, cropping, and a thousand more, even if you are not a pro on editing. Indeed, it is impressive to have this tool by your side, and there are many more things you can do with this tool within a few clicks away. But today, we present to you the detailed instruction we've added that you can follow to edit your MOV files metadata successfully.
Step 1. You can attain the ultimate converter on your Mac or Windows by tapping the download button below. Proceed to the installation process by clicking the file you've downloaded, and click Start Now to launch the tool immediately.
Step 2. The tool's interface will show on your display; go to the Toolbox part and open the Media Metadata Editor.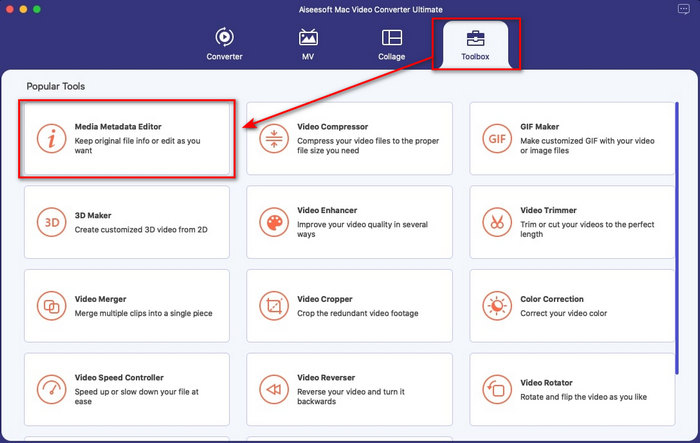 Step 3. Once you've already opened the editor, a mini window will show; tap the + button to open a folder on where you can locate the file, and to insert it click Open.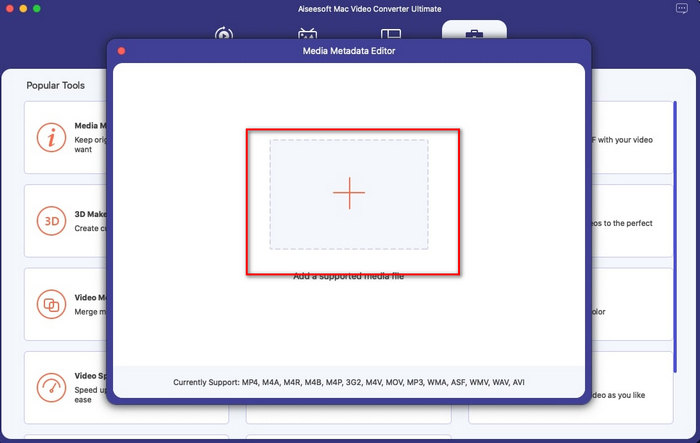 Step 4. This time you can now add, edit or remove the tags on your MOV file here in the text box. If you've finished it all, click the Save button. You have now edited the metadata on your MOV files as quickly as that.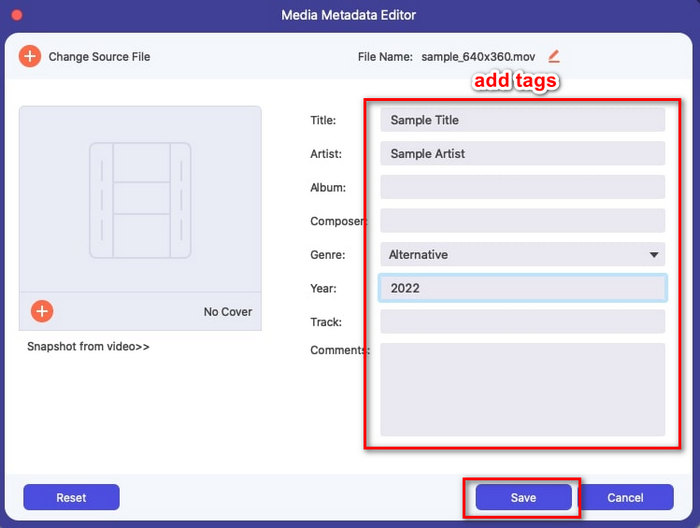 Related:
Part 2. 3 of the Best MOV Tag Editors to Change MOV Metadata
VLC Media Player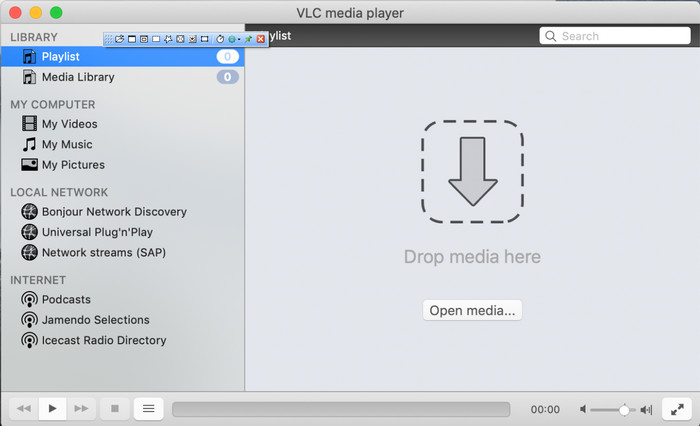 VLC Media Player is a famous media player available on Mac and Windows. Although it can play different video formats, it can change the metadata of your media file, like on MOV. Moreover, if you want to view your file's metadata, you can easily use this to view it. However, it is not as effective as the other dedicated metadata editor you can use on Mac or Windows. Yet, it is still doable with the media player to edit the MOV file metadata.
Step 1. Download the media player on the official website of the VLC, then open it.
Step 2. Press Command + I on your keyboard, and the media information will show where you can add or delete the metadata of your MOV file.
Step 3. Click Save Metadata if you've done applying the tags on your MOV.
iTunes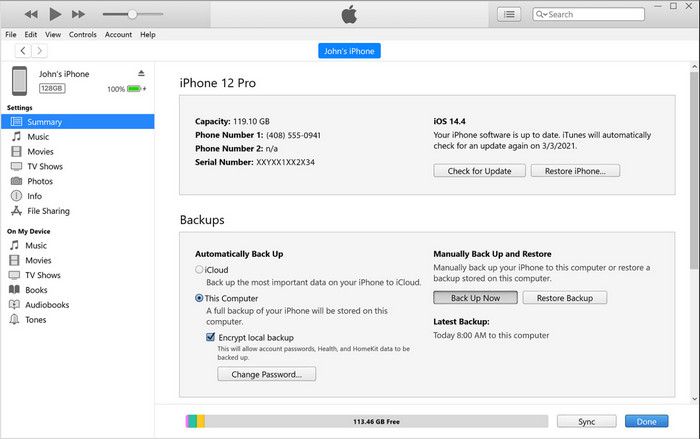 iTunes is the best built-in streaming app you can access on any Apple device. This tool is jam-packed with different features such as the music player and store for music, movies, podcast, and many more protected with DRM to avoid copy-right issues. Despite being a great built-in app, the competition for metadata editors is too stiff for iTunes to join. But we still reconsider this app because it can change the MOV metadata on Mac.
Step 1. Open then import the MOV file on iTunes library.
Step 2. Then right-click the .mov file you've added and select Get Info. After you've clicked it, there are different options you have to change the metadata, such as details, artwork, lyrics, options, sorting, and file, adjust them according to your needs.
Step 3. Press OK to save the changes.
MetaZ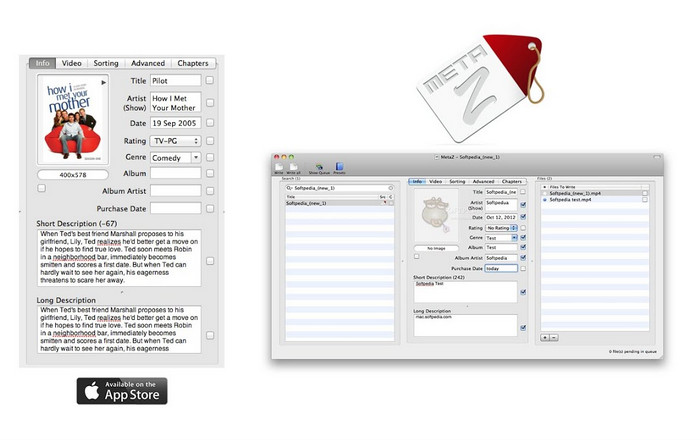 For macOS X, you can freely download the Metaz to change your files' metadata easily. This metadata editor can help you change your video tags in most formats, like the MOV. With this app, you can do the trick easily and organize the MOV in your library. However, many reports have been happening lately with the app; users encounter many troublesome problems while using the app. Even though issues may occur, it is still one of the most picked MOV metadata editors you can download on your Mac.
Step 1. Download the app on your Mac, launch it, then three sections of the tools' interface will show on your display, where you can add the file, edit the tags, and search the tags.
Step 2. Drag and drop the MOV file to the left side; on the left side of it, you will see that it will automatically go to search tags for your MOV file based on its title, but you can modify them in the middle section if you want to.
Step 3. Press Write, and the tags will add to the MOV file.
Part 3. FAQs about MOV Metadata Editor
Can I use QuickTime metadata editor to change tags?
Unfortunately, you can't because this tool can only play media format, edit the videos, and record. But you can freely view the metadata of your file on Quicktime by following these simple steps. First, open the MOV file on Quicktime and play it. You will see different options at the upper part; click Window, and under it, hit View Inspector, then a new window will show on your screen to see the little information about your MOV file.
Does changing the MOV tags affect the quality?
Luckily it won't because you've adjusted the tags, not the resolution or quality of the MOV file. So, if you are worrying that the video resolution might reduce after changing the tags, we will repeat it; it won't.
Does adding metadata on MOV will increase the file size?
In any files, once you've added metadata on that file, you will see the difference between the file that has no tag and the one that has. However, these tags aren't as large as the file's content. So, if you add metadata on your MOV, expect that it will increase a bit in size because you've added information about the video file.
Conclusion
Now that we've finished teaching you how to change MOV file metadata, this is now the time for you to choose which tutorial you'll go to follow. If you want to download a free tool on your Mac, you can download the VLC and Metaz to fix or edit the metadata of your MOV. But if you don't want to, you can use iTunes to edit the metadata easily. Although these tools are great to use, there is still no tool with powerful editing features on metadata that you can download on Mac, like what the FVC Video Converter Ultimate can bring to you. So, if you are still wondering what to use, we would highly recommend that you use the ultimate tool regarding this task because it is easy to use but has the ultimate package you will need on any given day.