4 Effective Metadata Viewer Tools to View Metadata From Files
As part of a video element, the metadata contains the data you'll need to know about the file. But the question is, how can you view the file's metadata? So, if you want to see the meta information inside your video, this is the perfect post for you. Keep on reading this article because we will review for you the best metadata viewer you can use to see the metadata, and if possible, you can edit it as well.

Part 1. 2 of the Finest Metadata Viewers for Windows & Mac of 2022
Video Converter Ultimate [Best Video and Audio Metadata Viewer & Editor]
Video Converter Ultimate offers you the best video metadata viewer on Mac and Windows. With this tool, you can easily add and view the metadata in all video and audio formats with just a few clicks. Even though you didn't have experience dealing with this particular task, you can depend on the best viewer to help you. Unlike the other tools that offer to view metadata, this software provides a great function to help you do more in different tasks, such as editing the metadata. Want to know what these are? If so, read the key features you can have once you attain this software.

FVC Video Converter Ultimate
5,689,200+ Downloads
It is the best tool to view and edit the metadata on every video or video.
Supports different media formats, including MP4, AVI, MOV, MKV, FLV, and more.
You can insert large video and audio files here to check their metadata.
For starters, this is the best metadata viewer with user-friendly interface.
Available in all different types of desktop platforms like Windows & Mac.
So now, if you want to learn how to view metadata, you must download the tool first by clicking the appropriate download button presented below, install it next, then open it.
How to View Metadata on Video Converter Ultimate
Step 1. By clicking the + button, a file folder will show on your screen where you can locate the video or audio file you want to check the metadata. Once you've chosen the file, click Open and proceed to the next step.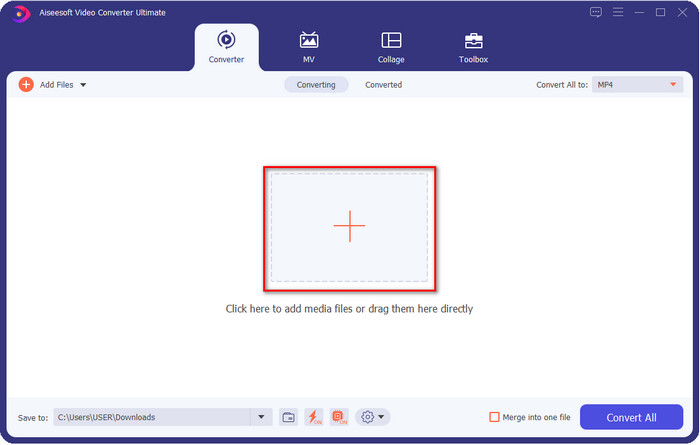 Step 2. While the file is on queue, click the i icon; voila, you have now viewed the metadata of your video file saved on your computer.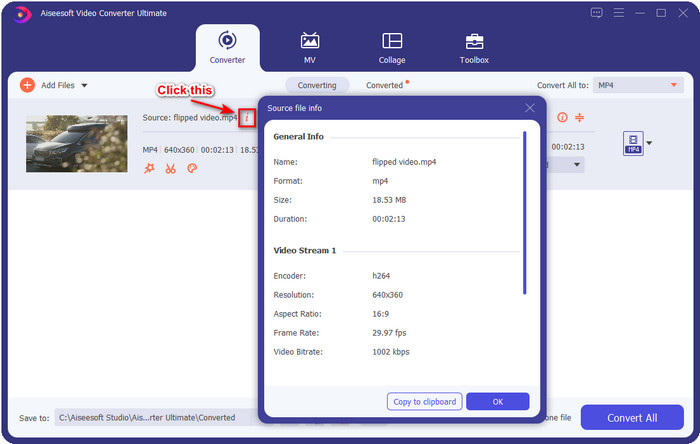 How to Add or Edit Metadata of the Video or Audio File with the Best Metadata Editor
Step 1. After you've opened the software, you must go to the Toolbox section, and in that section, you will see a feature Media Metadata Editor, then click it.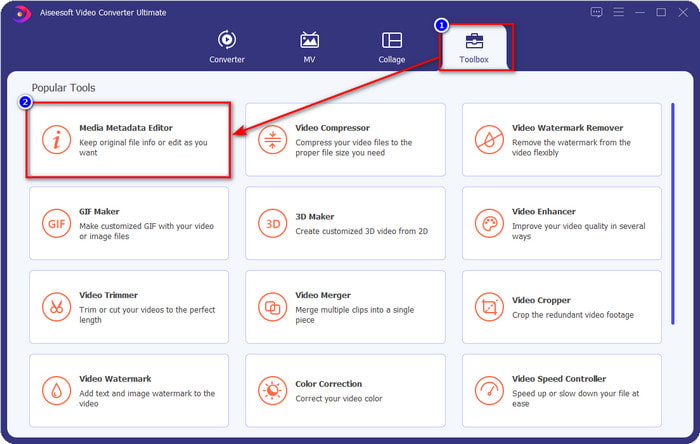 Step 2. New windows will show, click the + button, find the video or audio file on the computers folder, and click Open.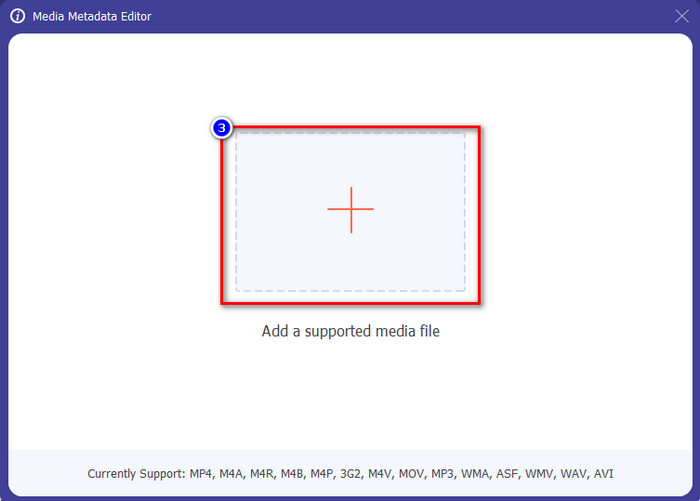 Step 3. Add or edit the data about the file according to your needs; after that, click Save to apply the changes you add.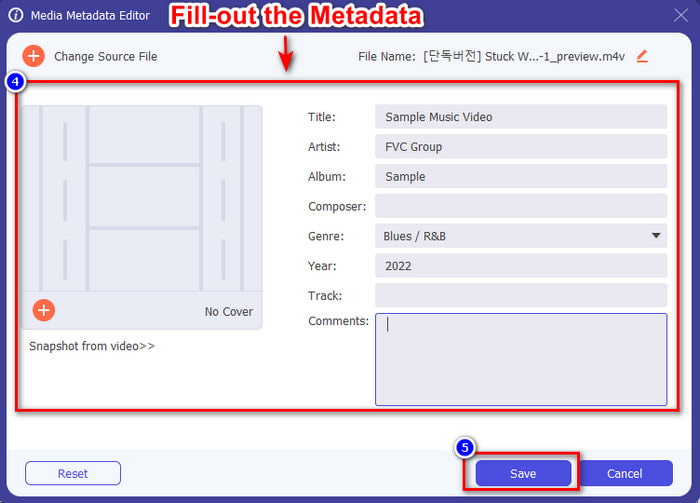 Photoshop [Best Metadata Viewer for Professional]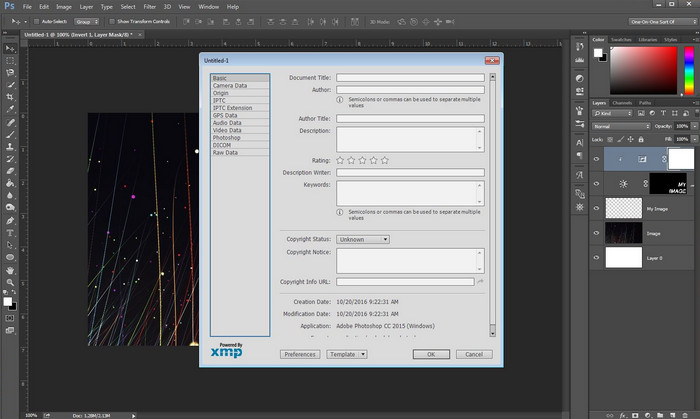 Photoshop became known as the top photo editor you can use as a professional. This tool offers users the high-end editing you will need to make your photo look better than before. Although the tool offers advanced editing, viewing the file's metadata, this tool is too expensive for some users. Maybe you are asking why we add this editor to the list, well it is popular, and many users already use this, so why not? Although it can add metadata on every PSD file, the metadata it supports is minimal, which means it is mostly about basics. So, if you want to view metadata in Photoshop, you must purchase the tool.
Pros
It is the best editor you can find on the web.
It supports a wide array of image file formats you can insert and later check its metadata.
Editor's choice for being a top-notch editor software on the desktop.
Cons
If you purchase the tool, expect that it is expensive.
It needs a high-end desktop to have a better experience of using it.
Not the best choice for beginners to start with.
Related:
How to Add Watermark in Photoshop
Part 2. 2 Free Metadata Viewers Available on the Web
Jeffrey's Image Metadata Editor

If you want a simple free metadata viewer on the web, try to use Jeffrey's Image Metadata Editor. This web tool is an effective tool to view the metadata of every media file you have for free. However, the users' interface of the web tool isn't as impressive as the others; it still serves its purpose as a metadata editor and viewer. Moreover, if you want to try and access this tool, you must beware because the website isn't protected on different web browsers, which means signing in to the website can lead to hacking or losing some files. Remember that you'll need to beware if you try to access the tool to view your metadata or edit it. So far, there aren't any reports of some who have been hacked while using the website.
Pros
Free to access in all web browsers.
It supports different formats; you can upload and view the metadata.
You can insert the URL instead of the file to save some space.
Cons
The captcha is a bit annoying if you want to view the metadata.
The website isn't secured.
Metadata2go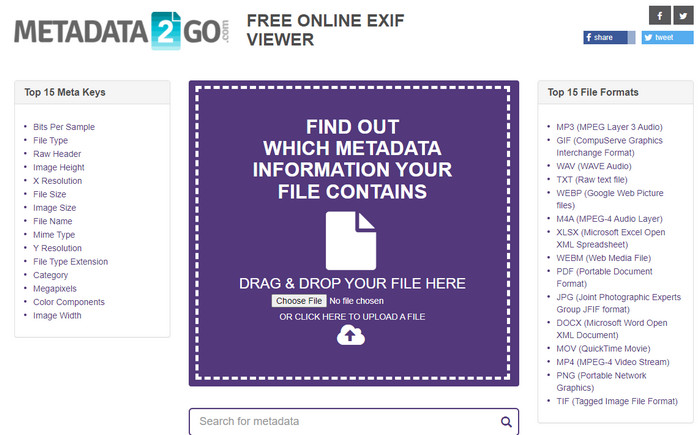 Metadat2go offers a wide range of image formats to insert and later view the metadata. Even though the GUI is much heavier than the first web tool we introduced, it is still easy to use for anyone who would like to access the tool. Although the tool is safer to use than the first one, there are some limitations on the functions, and most of the time the drag and drop function of it doesn't do well. But if you want to learn how to open and read metadata from video, this tool will suffice your needs.
Pros
It is free and safe to access on different search engines.
It does the task smoothly.
It supports numerous image formats.
Cons
In some cases, options don't work well, like drag and drop.
It supports other formats, but there are few selected.
Part 3. Comparison Chart about the 4 Metadata Viewer [Online & Offline]
| | | | | |
| --- | --- | --- | --- | --- |
| Features | FVC Video Converter Ultimate | Photoshop | Jeffrey's Image Metadata Editor | Metadata2go |
| View & Edit Metadata Easily | | | | |
| Safe to Use | | | | |
| Budget-Friendly | | | | |
| User-Friendly | | | | |
| Advanced Features Available | | | | |
| Program-Based | Desktop Based-Program | Desktop Based-Program | Web-Based Program | Web-Based Program |
Part 4. FAQs about Metadata Viewer
What's inside of metadata?
Inside the metadata, you will see a different set of information about the file, for example, authors' name, genre (if it is music), file title, file size, and many more.
Why do I need to see the metadata?
Well, metadata will help you to know short information about the file that you can't see on the file. By viewing the metadata, you will have an idea about the data in a certain file, whether it is an image, video, audio, PDF, or more.
Can I use metadata to protect the file?
Yes, you can add metadata to protect your file from the people who want to try to steal this from you. In this way, you can have the credentials you made that work if someone tries to steal this from you. However, there are some techniques to remove the file's metadata; although someone can remove the data, it is best to add metadata to the file for extra and straightforward protection.
Conclusion
Now that we have the metadata viewer presented, it is time to choose one and use it to see your file's inside. Moreover, the first two tools we presented are undoubtedly the best on viewing metadata; but we can see that Photoshop is too expensive to use compared to the ultimate tool. So, therefore, if you want a cheap and safe way to view your metadata or edit it, you must use the FVC Video Converter Ultimate because it is the perfect tool for this task. Still, are you not convinced with the review we did on the tool? Well, you can download the tool on your software and try it for yourself!