Swiftly Change Video Metadata on iPhone like a Pro in Less than a Minute
Nowadays, arranging our files has become essential to many, especially iPhone users. We can determine the file's location and organize the media file in our library or folder with a proper tag. In some cases, iOS users find it inconvenient to look for a file on the iPhone with improper metadata because they aren't easy to look for. Want to know how can we fix it? The suitable solution to fixing the metadata on iPhone is by changing them according to your specification to make them visible and well-organized. Be knowledgeable and learn to change video metadata on iPhone by reading this article.

Part 1. 2 of the Best Apps to Change Video Metadata on iPhone
Metapho – Video and Photo Tag Editor on iPhone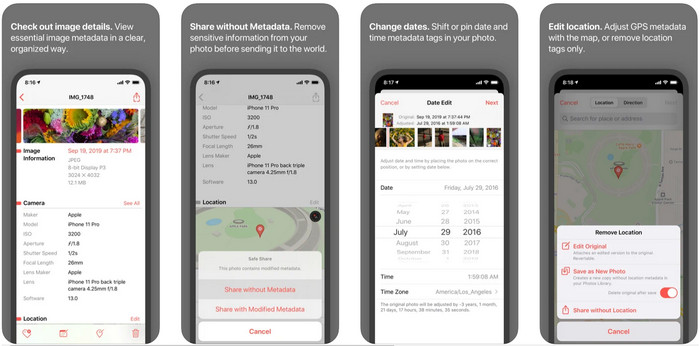 Metapho is one of the best tag editors you can download and use to change video metadata on an iPhone. The app is a simple editor that allows you to change the date, file name, size, device model, speed shutter, and location. With this app, you can also see the metadata on every live photo you take and edit them correctly if you want to. Although the app seems promising, you will need to purchase the app for editing your metadata; if you don't, then you can only freely view the metadata nothing else. But no need to worry because it is only a one-time purchase, so you will enjoy the app once you've bought it.
Step 1. Open your Appstore and download the Metapho on your iPhone.
Step 2. Open the app, choose one of the files you want to open on your Photos and click it to proceed. Then there is a setlist of editing you can do here for your tag; edit them according to your needs.
Step 3. Click the Save button if you finish editing the tags.
Exif Metadata – Photo and Live Photo Tag Editor on iPhone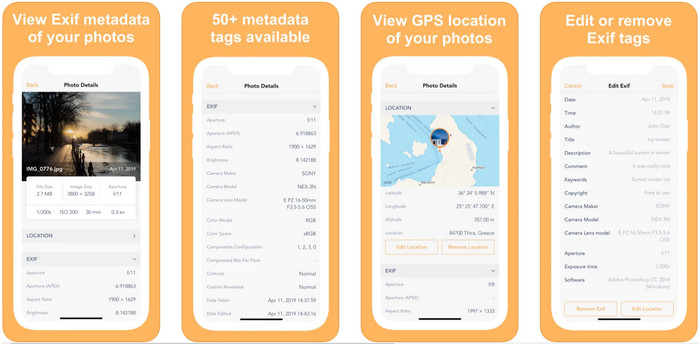 EXIF Metadata does what a metadata editor would do to help iPhone users edit their tags. This tool has a unique GUI, and it is more appealing than Metapho. With this app, you can see much in-depth information about your image for free. Even though the app offers a pro version, the editing you will need is already here on its free version, but you can have the pro version to add more information on your metadata. One of the drawbacks of this app is that it only supports image files, so changing the metadata on video is impossible. So, if you want to change image metadata on an iPhone, follow this step below.
Step 1. Download and install the app on your iPhone.
Step 2. Open the tool, tap the + button, and choose which image tag you want to change.
Step 3. Click Edit, add the information you will need, and click Save.
Part 2. Best Media Metadata Editor for Windows & Mac – FVC Video Converter Ultimate
Not all of the information you need to change on your metadata isn't supported on the app mentioned above. If you want to have more detailed information on your tag, we suggest choosing the best tag editor on Windows and Mac, the FVC Video Converter Ultimate. The software can help you add more tag information to your media file with just a few clicks. Whether you are a pro or not, adding the metadata on your file became less of a problem for the ultimate software.
Maybe you're worrying if your file is supported here. This tool supports more than 1000+ formats, and indeed the format you have is supported. To give you a headstart on how to change your iPhone's video metadata, kindly read the detailed information we enlist below to follow them accordingly because success is on its way.
Step 1. By clicking the download button below, you can have the ultimate tool on both of your systems, Windows, and Mac. Click the file you've downloaded to install the tool on your drive, then launch it.
Step 2. Go to the Toolbox section, and under the set of features, click the Media Metadata Editor.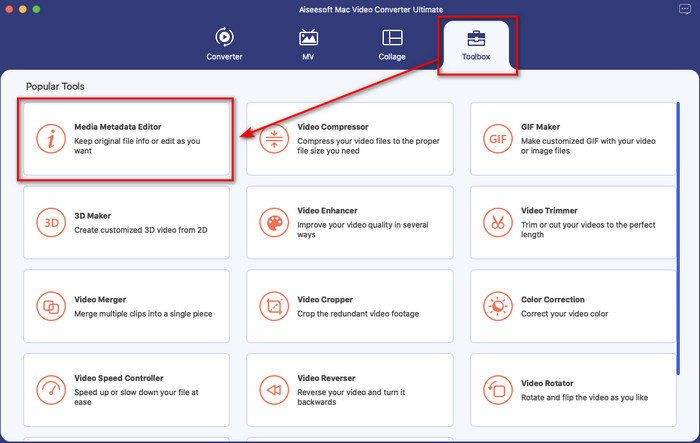 Step 3. Press the + button, and a file folder will show on your display, find the file you've want to add metadata to it, click Open to upload the file.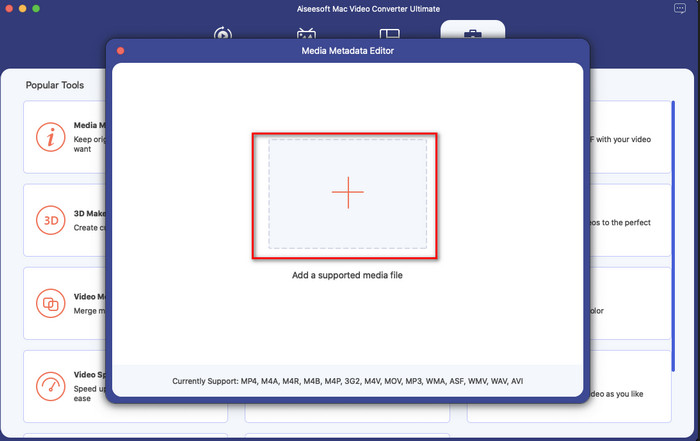 Step 4. On the new window, you can now edit or remove the metadata on your file, click each text box and type the information you; want to add as metadata. In addition, you can also add an album cover to your media file if you wish by pressing the + button, then find the album image on the file and click Open to insert it.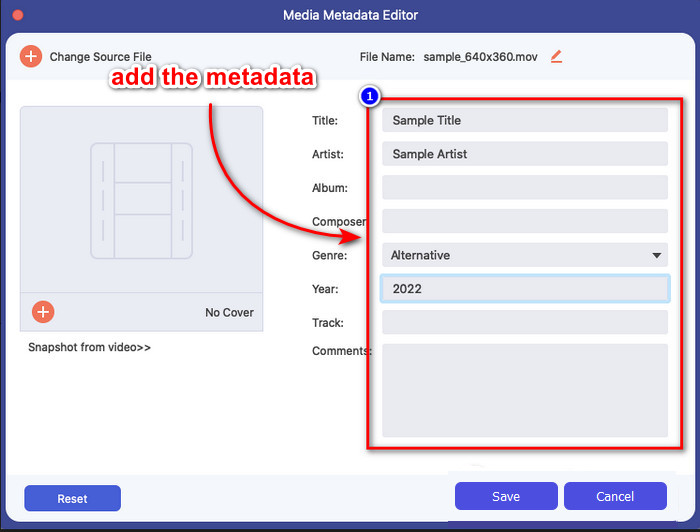 Step 5. If you've done all of the editings and changes on your media file, you may now click Save. In an instant, you have now changed the metadata of your media file; with a few simple clicks and the help of the tool, everything became possible.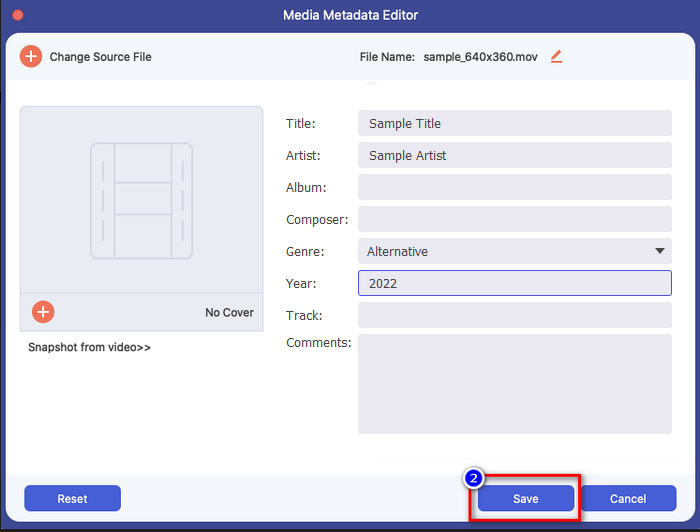 Part 3. FAQs about iPhone Metadata Editor
Can I edit metadata on iPhone?
Yes, you can edit metadata on your iPhone, but you are only allowed to edit the location and view the basic tags of the file, but not edit them. If you want to change the file's metadata in detail, we suggest that you use a third-party app that will suffice your needs on your metadata problem.
Why do I need to remove metadata?
We remove metadata for privacy purposes. Some people might get in-depth information about us with metadata; little did you know metadata can store your exact location, date, time, coordinates, even mobile numbers. If you don't want to exploit information about yourself, we suggest removing the metadata on your file. Want to know how? If so, this article will help you remove metadata on your file in less than a minute.
Does change metadata on iPhone is easy?
Absolutely, yes, changing metadata on iPhone is easy with the help of the right metadata editor. Although the task seems a bit hard, it is still manageable for every user. If you want to know the best tool to accomplish this task, you must read the information about the two tools we provided above. To help you finish changing the tag on iPhone like a pro.
Conclusion
Now that you've reached the end, we have learned that changing the video metadata on iPhone is an easy task. With the help of this article and your dedication, it became possible. So now you must choose which way you think suits you. Even though the FVC Video Converter Ultimate isn't available on iPhone, it is still one of the best software you can have on your Mac or Windows to edit the tags. This tool supports adding in-depth information about the media file you have to help you make them organize and make visible. Want to know what are the other features and functions of the software? Click the download button above to take a look at what these are.