How to Add Watermark to All Videos on Windows/Mac/Online/iOS/Android
Were you scared of someone taking ownership of your works? It is not very pleasant when some take the credits of your work, but you can add a watermark to it to avoid this. Adding a watermark to the video is done before you export the video, so what should you do if you want to add the watermark to the finished video? Well, you're lucky because you can do it to avoid someone else taking credit for your work. Do you want to know how to add a watermark to the video? These questions will have an answer later in this article.

Part 1. Best Way to Add Watermark to Video on Windows & Mac
Video Converter Ultimate offers its customer the best way to add a logo to a video anytime and anywhere. Suppose this is your first time adding watermark well with this tool; you can do it effectively. Unlike any editor, this tool supports multiple formats to upload, which means you can add any video format and add a watermark here without worrying if it is unsupported. What's more? With the ultimate tool, you can have a fantastic experience adding a watermark to your creation, and whether it is a text or image, you can do it both here. If this tool caught your attention, you could follow the demonstration we presented below to help you easily insert a watermark on your video.
Steps on How to Add Watermark to Your Video with the Ultimate Tool
Step 1. Download the ultimate tool on your computer drive by clicking the download button presented below. Make sure that you choose the platform you are using, follow the installation process next, then click Start Now to launch the tool.
Step 2. After opening the software, go to the Toolbox section and select Video Watermark.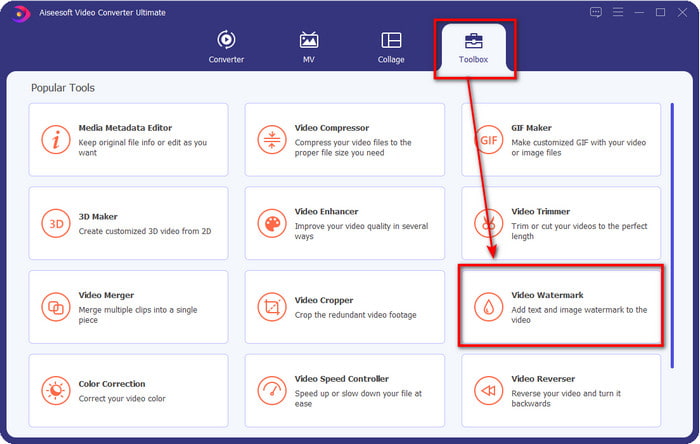 Step 3. Press the + button to add the video file you wanted to add a watermark. Click Open after you select the video file
Step 4. A new window will show; you can add the watermark you want by clicking Text Watermark or Image Watermark. Read the succeeding details below to add text, image, or both as a watermark on your video.
1st Option. Use Text Watermark
If you click the Text Watermark, add the text on this part and use the editing features available in this editing section.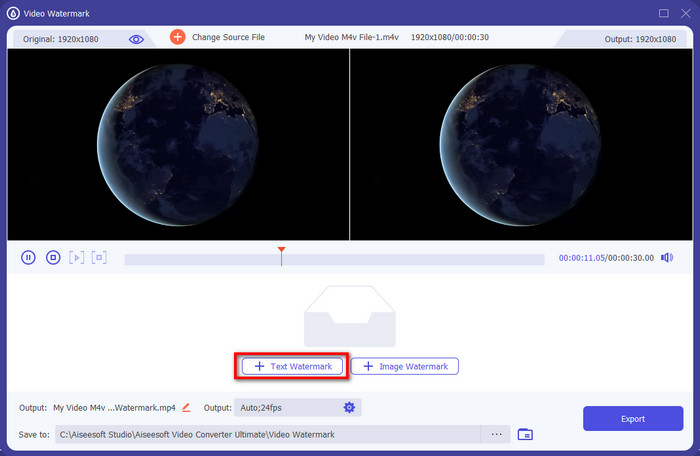 Add the text on the text field, and if you're content with the text, you can now hold and drag the text and place it on the video whether you want.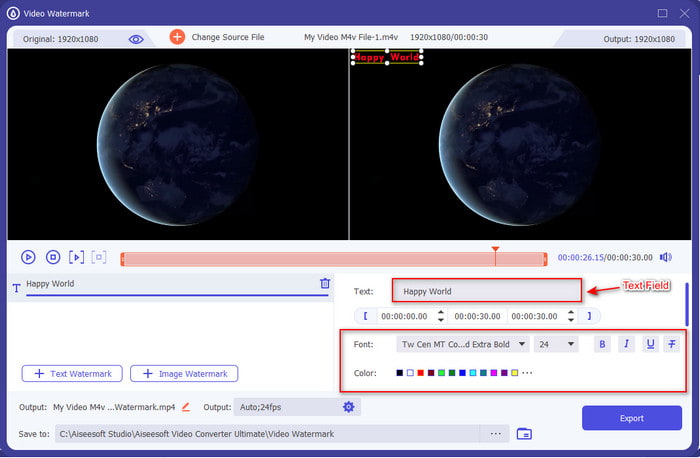 2nd Option. Use Image Watermark
If you want to learn how to add a logo in a video, click Image Watermark, there will be a folder on your screen. Find the image you want to use a watermark here and press Open to proceed.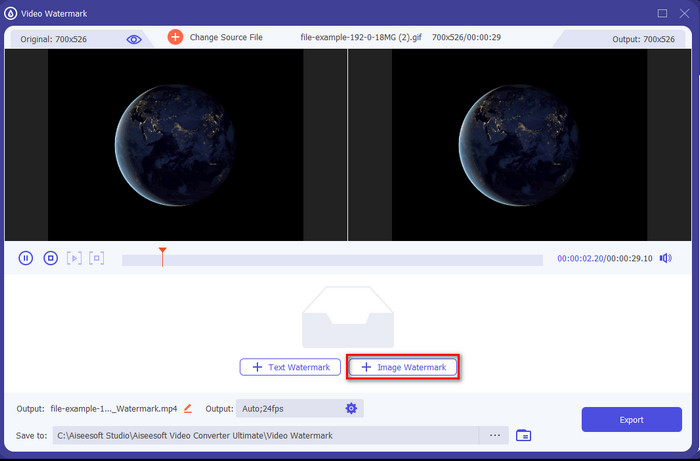 After that, you can now manipulate the picture's visibility by adjusting the slider of Opacity or Rotate the image. Place the image where you want and proceed to the next step.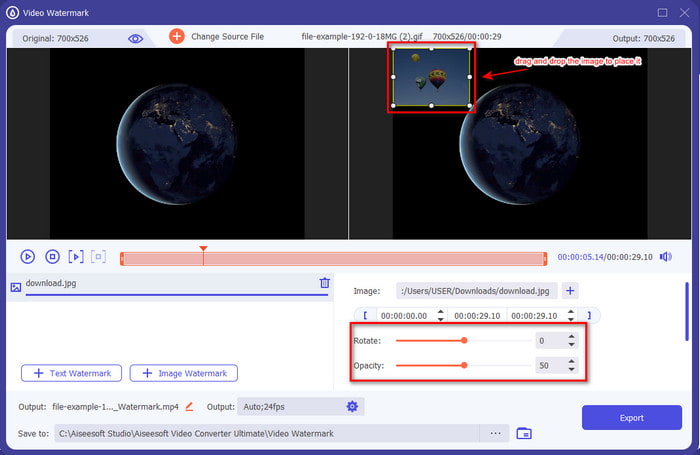 Step 5. After the steps, it is now time to download the video by clicking the Export button. By the time the file is ready, you will find underneath the button the success. With that, no one can steal your video because of the watermark you've added.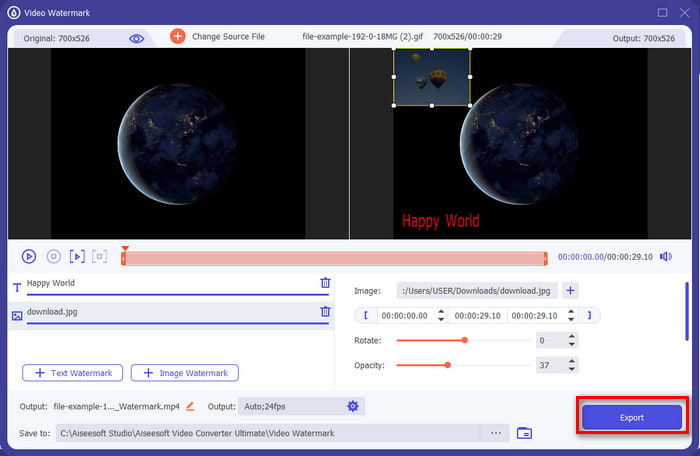 Part 2. 2 Best Ways to Put Watermark on Video on iOS and Android
Watermark+ Photo Video (iOS)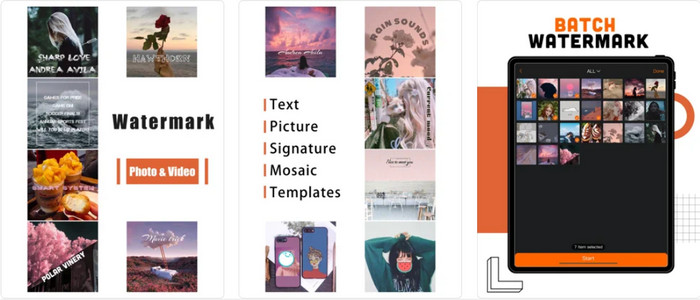 How to watermark videos on iOS? You can use Watermark+ Photo Video to add one. You can download this app on any Appstore available on your iOS or iPad to add a watermark. What's good about this app is that it supports a full-screen watermark if you need one. Although you can use this to add a watermark on photos, you must buy and have access to its premium feature to add a watermark on the video. Moreover, there are some cases where users have trouble adding watermarks to their videos because of storage bugs. Even though bugs are still happening today, you can still download it on your iOS device and use it to add the watermark.
Video Watermark - Watermark on Video (Android)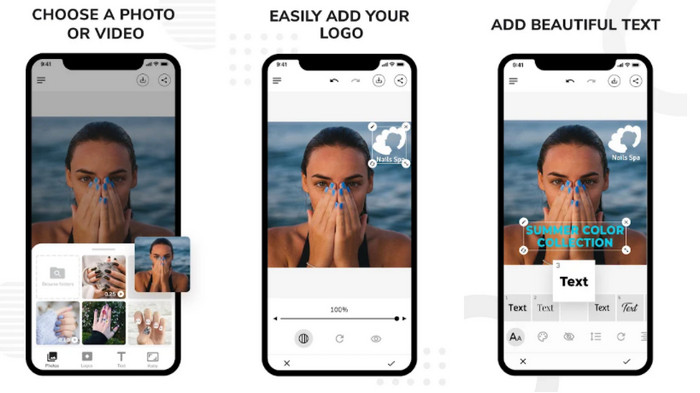 How to add a watermark on video in Android? With Video Watermark- Watermark on Video can help you in this task. This app lets you create a personalized logo or watermark to add to your video. Even though this tool is free to download on Play Store and already gets a 5.0 star from the users, it has some problems. One of the problems we encountered using this is that the file size of the original video became enormous after adding a watermark. But if you want to install the app on your Android, you are free to do it by searching it on the PlayStore.
Part 3. Best Way on How to Add Watermark in Video thru Online Free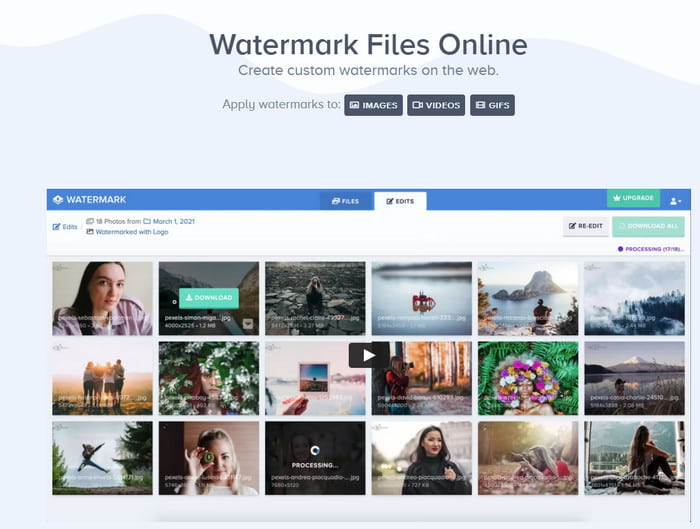 Doesn't want to download and still like to learn how to put a watermark on video? With Watermark.ws you can easily do it. This tool provides a simple yet effective in the area of editing the video. However, this web tool doesn't offer a full display of editing features you can use, unlike the ultimate tool. But if you want to add a simple watermark or logo, this tool can help you.
Step 1. Open your browser and search the Watermark.ws. After that, click Get Started, wait for the webtool to load, click Select Files to Upload, search, and upload the video.
Step 2. Drag your cursor to the video and click Edit. Click Watermark, add the text or the images you want, hold and drag the text or the image and place it where you desire it to belong.
Step 3. Click Finish and Apply to export the video with a watermark.
Related:
Part 4. FAQs about Adding Watermark to a Video
Why do we add a watermark on a video?
This technique is usually used to promote the brand name or the company where the product came from. But in some cases, artists use this to make sure that no one can copy their work freely; it is known as double protection.
What part of the video or image is the best part to add a watermark?
It is ideal for placing the watermark in the middle of the image or video of your work to avoid cutting it out if it is on the edges. However, this could degrade your work because it has a watermark in the middle.
How big can a watermark be?
Well, it depends on your needs. Some watermarks are small, and some aren't. Suppose you want to expose your watermark, then the big one is ideal. But if you want a less intimidating watermark, you can go with the smaller one.
Conclusion
Now that we learn different ways to add a logo on a video choosing which one you should use is now the time. These tools on the article are one of the best on the market but if you are a user who loves to have a multipurpose tool, then go with the Video Converter Ultimate. Because why not? With the help of this tool, pros and beginners can add a fantastic logo on any video like MP4, MOV, MKV, AVI, WMV, MTV, and more. Do you still have a doubt? If so, download it and try it yourself to be impressed with what the tool is capable of.