[Complete Review] 5 Latest MP3 Cutters Available on Windows/Mac/Online
We often wish to cut the audio we listen to and set it as a ringtone, highlighting the vital part or trim the unnecessary detail of the sound. Although there are sets of cutters you can use on all platforms still some aren't trustworthy. So today, we will present to you the cutters we found on the market where you can trust because we try all of these tools ourselves to ensure that it is malware-free and reliable. Before we pick them out, we follow a strictly high standard for the audience who needs a dependable cutter. To make your browsing on the internet at full tilt, we presented below the five MP3 cutters we found ready to take the task of cutting any audio format.

Part 1. 2 Offline MP3 Cutter Softwares Windows & Mac
1. Video Converter Ultimate – Best MP3 Cutter [Strongly Recommended]
The best audio MP3 cutter in this list is the Video Converter Ultimate, which lets users cut any audio effortlessly. With the help of this ultimate tool, you can trim the sound to remove the unwanted audio, even merge multiple cut audio files into a single file and boost the audio if you feel that the sound is a bit low. Furthermore, this software provides an ultra-fast process while taking care of the original quality of the sounds.
Unlike any cutters, this tool supports a broad spectrum of formats, not only MP3 but also FLAC, M4R, M4A, OGG, MKA, WAV, WMA, and more, and indeed your audio file is supported here to be cut. Maybe you don't know how to cut your audio file and use it for your needs right now. Today is your lucky day because we will teach you how to use the MP3 cutter and ringtone maker for free by following the tutorial below.
Step 1. Download the audio cutter on your desktop by clicking the download button below. Pick whether you are using a Windows or Mac, install the software promptly, and launch it. Remember, you will need to be familiarized with the tool's interface to be easy for you to follow the following steps.
Step 2. Drag the audio file you want to cut on the interface, or you can click Add Files and locate the audio on the computer folder that will show. Hit Open to proceed to the next step.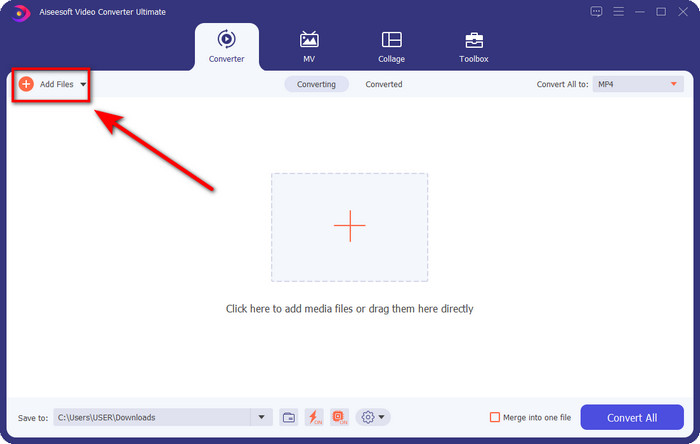 Step 3. After inserting the audio file, it is now time to click the scissor-like button. Drag the play in and out to your desired length of the audio you want. Remember that the highlighted audio in the middle of play in and out is the only audio kept. Then press Save to cut the audio.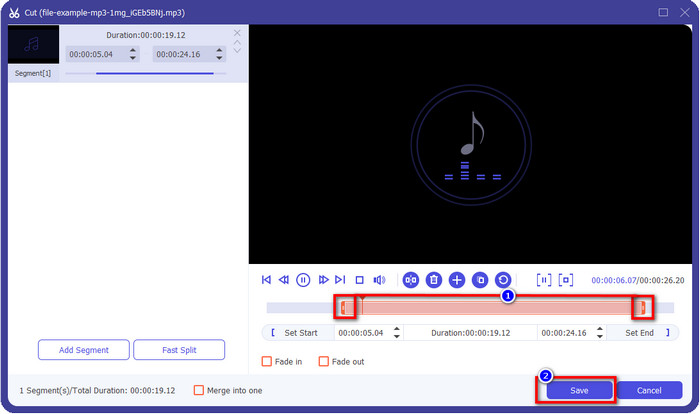 Optional. Need to boost your audio? If that is the case, click the wand button, adjust the volume slider by dragging it up, and press OK to save.
Step 4. Go to Convert All to, Audio and set the format to MP3. Although you aren't converting, make sure that the name under Convert All to is MP3 or not another format to avoid changing the format to another format.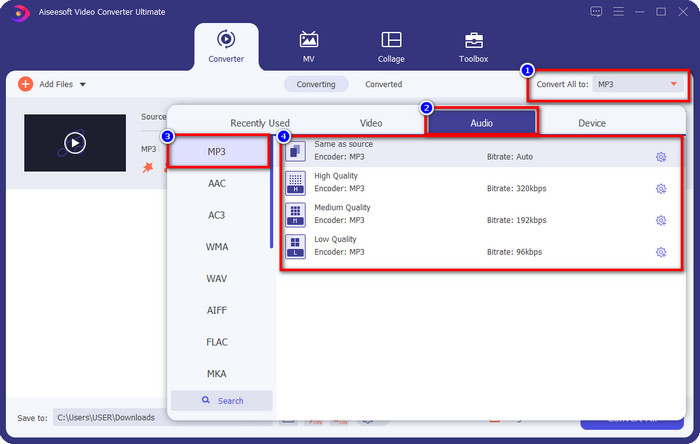 Step 5. By clicking Convert All, saving the audio cut will begin. You now have the audio cut with the best free MP3 cutter as easy as that.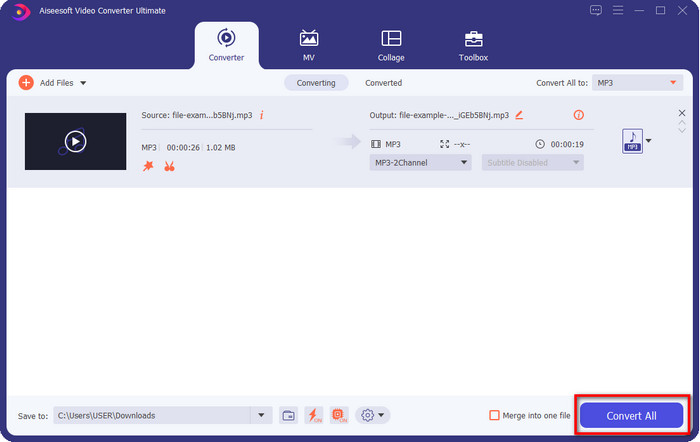 Pros
It can cut your audio as swiftly as possible and process it in under a second.
Advanced features are available to enhance the volume power.
It supports all operating systems such as Windows or Mac.
Merge multiple audio files is possible with the audio merger of this tool.
Cons
Purchasing the tool is needed.
2. Audacity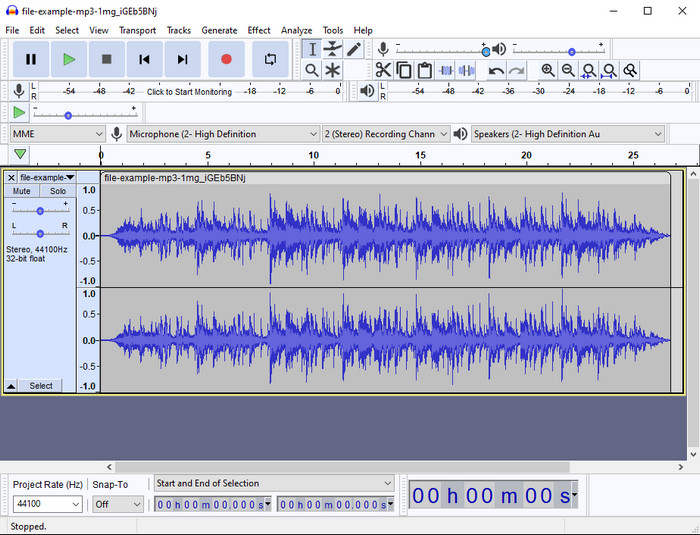 Audacity has provided pro editing features for your audio thru the years. This app is free to download and offers users do a multiple-track mixing. It is known to be used by podcasters to edit and record podcasts easily. However, some of its features are hard to understand, especially if you are not fond of using specialized software like this one.
Although you can still learn how to use it, it will take time to use the full potential of this MP3 audio trimmer, and for cutting audio, it is fair to say that it cut instantly and effortlessly if you need it.
Pros
Free to download in all programs like Windows and Mac.
Advanced and professional audio editors are available to make your audio sounds great.
It is best for recording podcasts and more.
Cons
Many competitors provide a user-friendly UI.
Not the best choice for beginners for an immediate result of cutting and other editing purposes.
Some reports show that your data are collected if you use this tool, but there is no strong evidence yet.
Part 2. 3 Accessible Online MP3 Cutters on the Web
1. mp3cut.net

You might use mp3cut.net if you need an online MP3 cutter for the job. After uploading the file in this online cutter, you can now remove the sound you want to draw on your audio file. Moreover, the tool also has some minor editing features to change the speed and pitch of the audio if you need to.
Although it has this type of ability, the tool crashes most of the time and cannot play the audio to listen if you cut it correctly. So, to use it again, you will need to refresh your browser and repeat the adjustment you did all over again.
Pros
User-friendly and accessible thru the internet.
On point, features to help you cut audio.
Basic editing features are available.
Cons
It has ads on the web interface.
Sometimes it crashes and needs to be reloaded again to use it.
2. audiotrimmer.com

Another free mp3 cutter online is audiotrimmer.com. This tool provides easy-to-understand and straightforward trimming features; all of the function of this tool is on point. With it, you can choose whether you want to keep the audio or remove the audio. Also, it has a fade-in and out effect like the other trimmer mentioned here. However, when we did try to use the fade-in and out the effect, it didn't work; there were no added effects to our audio. But if you want to do easy cutting, this is a must-try web tool.
Pros
Free and available in all browsers to access.
Easy to use to trim audio.
It has fade-in and out effects.
Cons
Fade-in and out aren't working well.
There are many pesky ads if you access them. So, be careful not to click them.
3. Clideo

One of the best online MP3 cutters and joiners you can use is the Clideo. Most users enjoy and prefer using this tool because of its editing capabilities. Moreover, you can also add fade in and out on your audio file if you need it. But after exporting it and listening to it, there is no fade in and out added to our audio file. We encounter one slight problem with this tool: uploading and downloading the file. Unlike the first-mentioned tool, uploading audio on its cutter takes time, and there are times that we failed to upload the audio file here because of unknown reasons.
Although we encounter some problems, it is still the best cutter online, and it is also secure to use.
Pros
Best online cutter online.
Professional user interface.
Easy to use.
Cons
The process of uploading and downloading will take too much of your time.
Fade in and out works but not well.
Part 3. FAQs about the MP3 Cutters
What is the best MP3 trimmer on Mac?
FVC Video Converter Ultimate is available on Mac as well. So, if you need to trim your audio on Mac, you better download the ultimate tool to handle your audio file appropriately. The ultimate tool presents not only best for cutting your audio, but you can also enhance the audio by boosting it. Moreover, if you need help in converting, merging, syncing the audio, etc. ultimate tool is to the rescue. If you need to know more about the ultimate tool, you better read the details presented above.
Does trimming the audio reduce its size?
The file size of the audio reduces after you trim it. As we compared the original audio file to the cut file, we saw some changes in altitude. So, it means the shorter the audio file is, the smaller its size, but if your audio file has is very long, then expect that the size is also significant.
Can I use Audacity to merge multiple audios?
Yes, you can, Audacity supports merging multiple-audio tracks into one file. However, it is hard, especially if you don't have a relevant tutorial to follow. So, if you need to merge audio via Audacity, you can click this link and learn from it.
Conclusion
The MP3 cutters presented here already pass the standards we set to provide only the best trimmer for you. This article shows how important to choose the right and suitable cutter based on your needs. Even though the trimmers here do the same function, the FVC Video Converter Ultimate provides a much more efficient cutting audio. According to our research, the ultimate tool surpasses all the standards we set. So, if you want to have a top cutter on your hand, this is the best choice among the rest cutters available on the market. Too good to not believe? Well, you better download the tool and test it out yourself.