Review of 10 Best Free MP3 Music Players
You can easily access various hot songs and artists from online music streaming services like Apple Music, SoundCloud, Pandora and more. Besides the streaming music, you also have a big need to play local songs offline. What is the best MP3 player?
If you are a music lover, you definitely get lots of music collections gathered on your computer. Comparing with streaming music, they may carry a higher audio quality and offer you a better sound experience. Considering that, it's quite necessary to have a good music player.

Music player is the media file playing software that specifically designed to play all types of audio files. We usually call the music player an MP3 player. Surely MP3 player should support a wide range of music formats including MP3, WAV, WMA, M4A, AAC, FLAC, and more. Here we make a list of 10 best free MP3 music players for you to enjoy music on computer.
1. Best Free MP3 Player for PC/Mac - Free Video Player
Free Video Player is a very popular video and audio playing tool which can help you play music in any frequently-used audio format like MP3, AAC, M4A, WAV, OGG, FLAC, APE, ALAC, AIFF, and WMA, and so on. More than just a great MP3 music player, it also supports many different video formats including MP4, MOV, FLV, AVI, MKV, and more.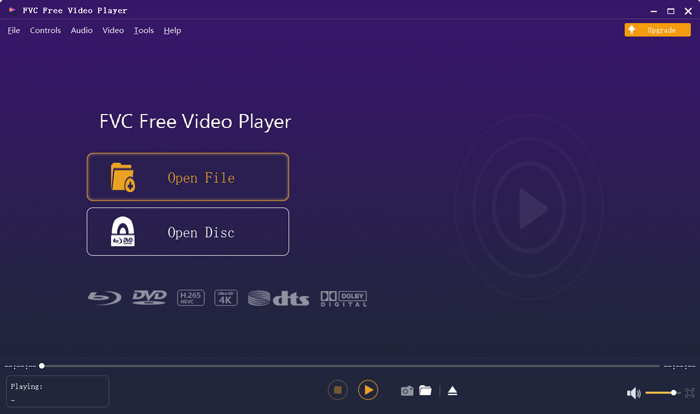 As an MP3 player, it allows you to enjoy your favorite songs on either a Windows 10/8/7 PC or a Mac. As it mentioned above, this MP3 player supports the lossless audio playback. With the adoption of the advanced DTS-HD and Dolby TrueHD audio encoding technology, it can deliver great sound effect. Moreover, this MP3 music player has the capability to automatically enhance the music quality you are playing.
For the MP3 player download part, you can navigate to the official site and click the Play Now button to install a small size launcher for the music playing. After that, you can rely on it to play any music and audio track including audiobook on your computer. It can work as a free online music player.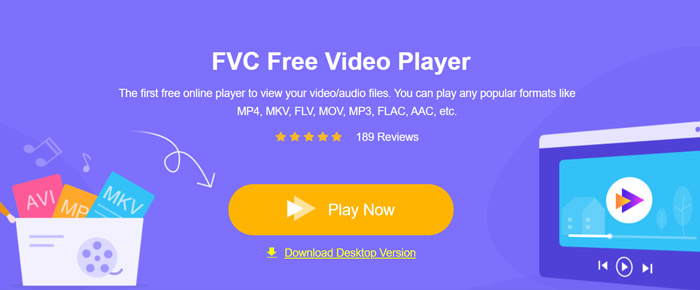 There will be a pop-up window appear on the screen for you to select the audio file you want to play. After adding it, the music will be automatically played with high quality. You have all controls of the music playing. Moreover, you can adjust the audio track, audio channel and audio device based on your need.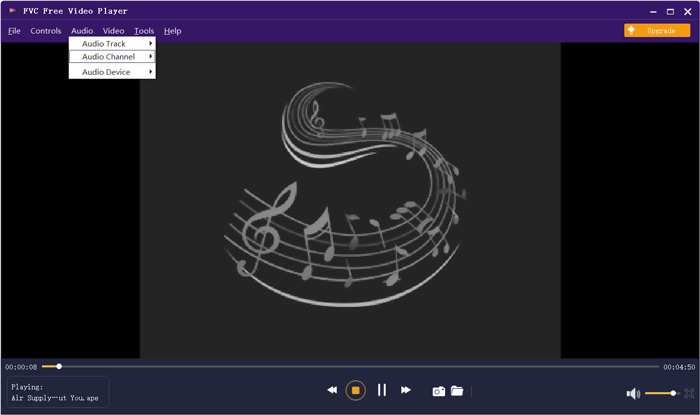 2. MP3 Player Converter - VLC Media Player
VLC media player is free and open-source video and audio playing tool which allows you to enjoy music in different audio format. As an MP3 music player, it is compatible with many popular lossy and lossless audio formats including MP3, AAC, Vorbis, AC3, WMA, FLAC, ALAC, Speex, Musepack/MPC, ATRAC 3, Wavpack, Mod, TrueAudio, APE, Real Audio, AMR, MIDI, LPCM, ADPCM, QCELP, DV Audio, QDM2/QDMC, MACE, WAV, Raw Audio, and more.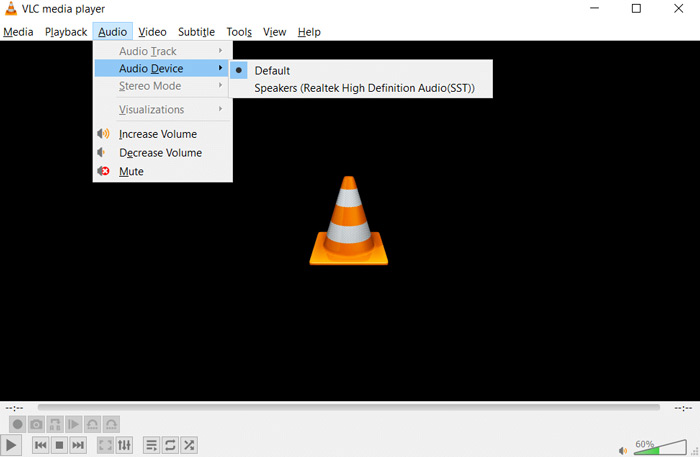 VLC media player is designed with many useful features like converting, recording, video and audio filters, subtitle synchronization and more. It also enables you to play various video files smoothly on your computer. What's more, VLC offers various popular channels like ESPN, National Geographic, and Reuters and more for you to stream online. This open-source MP3 music player provides you with both Windows, macOS and iOS, Android versions.
For more MP3 player applications for iPhone and Android, you can check it here.
3. Default MP3 Music Player for PC - Windows Media Player
Windows Media Player is the native video and music player software for Windows platform. Whether you are using Windows 10, Windows 8, Windows 7 or Windows XP, you can rely on it to play various songs on your PC. It offers the basic MP3 music playback features. It allows you to manage your songs, playlists, set up the preferences and collect different audio files. This MP3 player is pre-installed in all Windows computers. You don't need to install it.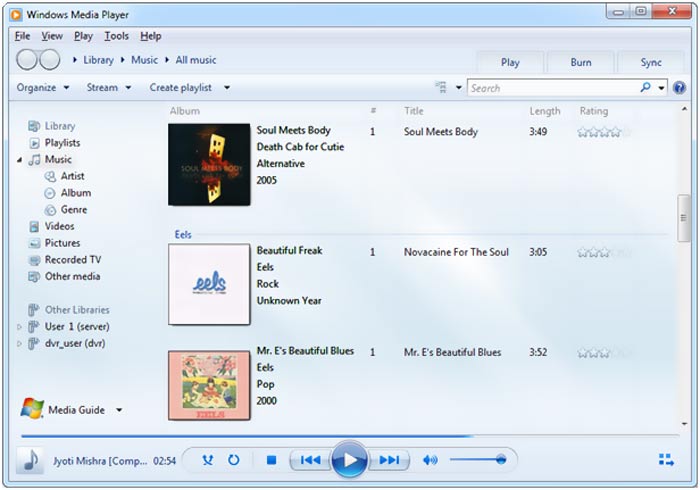 This MP3 music player for Windows supports many popular audio formats like WAV, MP3, AIFF, FLAC, M4A, AAC, and more. But compared with other MP3 players, its audio formats supported are limited.
4. Default MP3 Music Player for Mac - QuickTime Player
QuickTime Player is the official media file player for macOS users. It is a pre-installed MP3 music player for Mac. But it also offers a Windows version for you to play various video and audio files on PC. Also, you can play MP3 songs with it on your portable iOS devices like iPhone and iPad.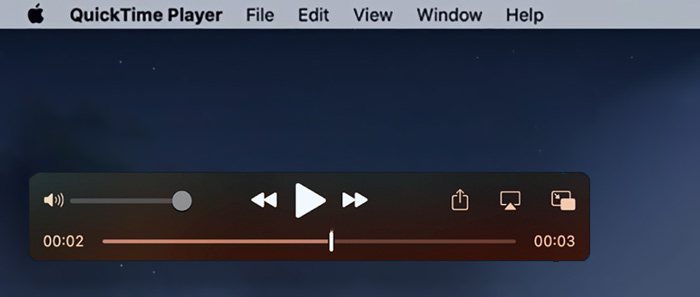 QuickTime Player only supports some popular audio formats like MP3, M4A, AAC, AIFF, and WAV. If you only need to play MP3 music on your Mac, you can rely on QuickTime. While if you also want to enjoy songs in some lossless format like FLAC or APE, you have to turn to other MP3 players.
5. MP3 Music Player and Downloader - Spotify
Spotify is one of the most music players which allows you to listen to MP3 music and play millions of songs and podcasts. Different with the MP3 music players above, Spotify is one kind of streaming music player app which allows you to stream various music and podcasts online. It gathers numerous songs, episodes and audio tracks. You can handily search for and discover new songs, hot music and podcasts.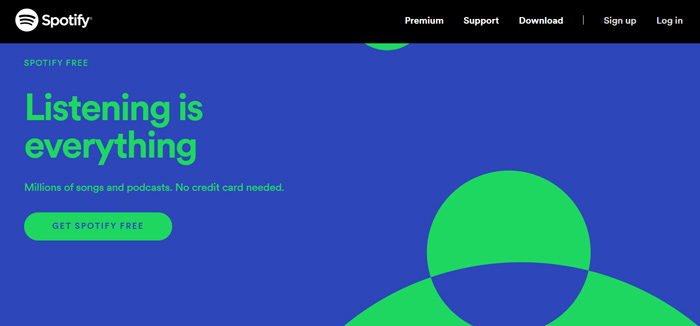 As a stream music player, Spotify enables you to manage, create and share your own playlists. It enables you to search for top songs from different genres, places, and decades. As an MP3 player, it offers the shuffle and auto-play features to mix up songs. While playing music, you are allowed to view the lyrics and see the profile of the artist. Spotify supports many platforms like Windows, Mac, Linux, iOS, Android, PlayStation, Chromecast, TV, and speakers. Spotify can open local music files on your computer and smart phone. But it only supports audio in MP3 format.
6. Free MP3 Music Player - foobar2000
foobar2000 once was one of the most popular MP3 players because it can offer high quality music playback. But it is designed with a poor interface. This advanced freeware MP3 player is only compatible with the Windows platform. This MP3 music player highly supports many frequently-used audio formats like MP3, AAC, CD Audio, WMA, Vorbis, Opus, FLAC, WavPack, WAV, AIFF, Musepack, Speex, AU, SND, and more.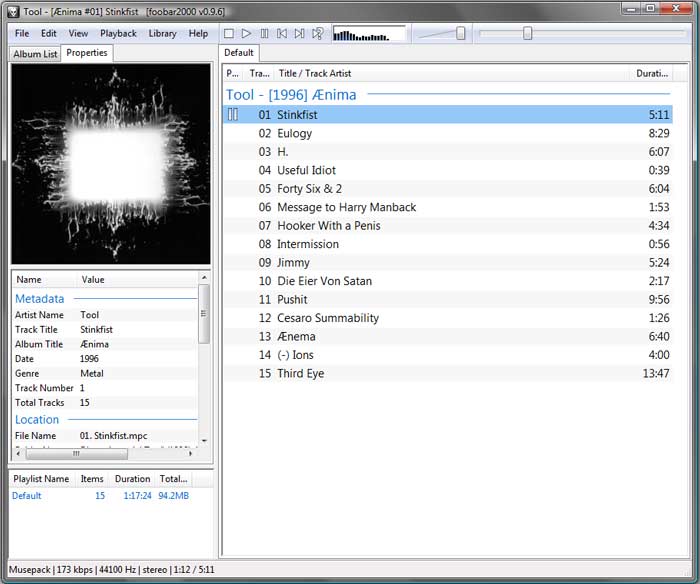 foobar2000 is equipped with the advanced tagging capabilities, ReplayGain and gapless playback. This MP3 player allows you to easily customizable user interface layout. Besides the basic music playing feature, foobar2000 supports CD ripping and audio format converting. What's more, it allows third-party developers to extend its functionality.
7. MP3 Player Download - Winamp
Winamp is a free MP3 music player which can play all kinds of music files in any popular audio formats including MP3, AAC, M4A, WAV, AIFF, ALAC, and more. You can make this MP3 player download on both Windows PC, Mac, iOS and Android devices. Winamp has a lot of skins and plug-ins.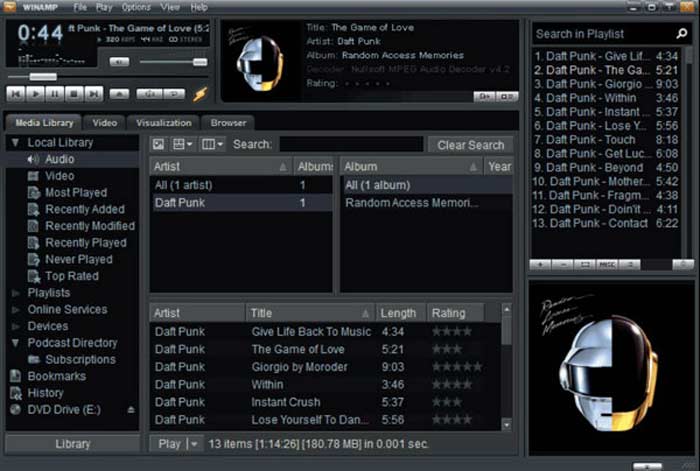 Winamp can work as a streaming music player for you to search for and listen to all types of songs and radios. It also provides you with a purchase version which carries more features like CD burning, CD ripping and MP3 encoding.
8. Free MP3 Music Download Player - RealPlayer
RealPlayer is one of the most popular video and audio playing software which allows you to enjoy music and movies on Windows PC, Mac and Android phone. It is a totally free MP3 music player. It can work as a free MP3 music download player to download online music.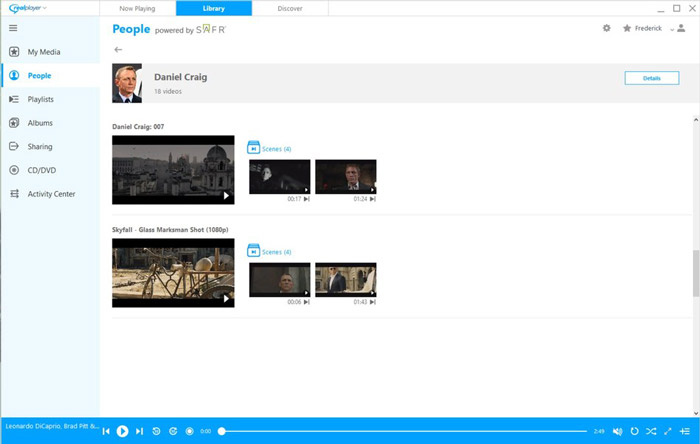 As a good MP3 player, it supports any audio formats, such as MP3, AAC, AIFF, M4A, ALAC, WMA, FLAC, and more. RealPlayer is designed with many user-friendly features like lock-screen music playback and headphones controls. It can also work as the MP3 player converter to convert video file to MP3 audio. Through our test, it takes a long time to install RealPlayer to computer.
9. Free MP3 Player Converter - MediaMonkey
MediaMonkey is an all-featured video and audio player. It is able to play any media files with high image and sound quality. As an MP3 player, it allows you to browse, search for and organize various music by Artist, Genre, Rating, Year, and more. This MP3 music player highly supports many audio formats including MP3, AAC, ALAC, M4A, OGG, WMA, FLAC, and CDA.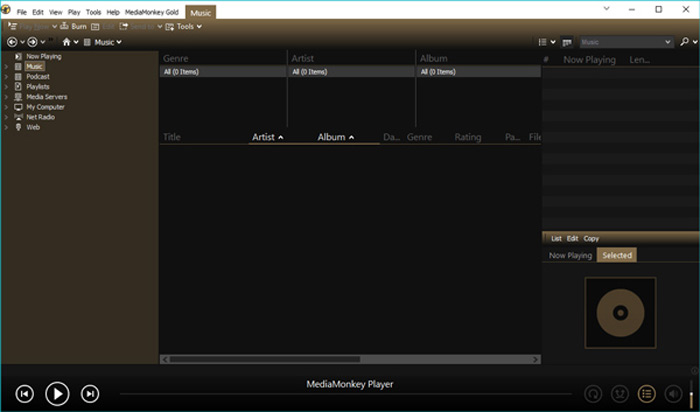 MediaMonkey is designed with a powerful organization function. You can handily manage thousands of media files without bogging down. Moreover, it can even manage volume automatically. In addition, it can sync iOS, Android and other devices, converting and leveling tracks. Apart from playing feature, it carries other useful functions like CD ripping, CD and DVD burning and audio converting.
10. Music Player and Manager - MusicBee
MusicBee is our last recommendation in the list of 10 best free MP3 players. It is a great music manager and player that helps you to play various audio files with ease. This MP3 music player is available on Windows PC and Android phone. Besides songs, it also supports online radio station, podcasts, and SoundCloud integration.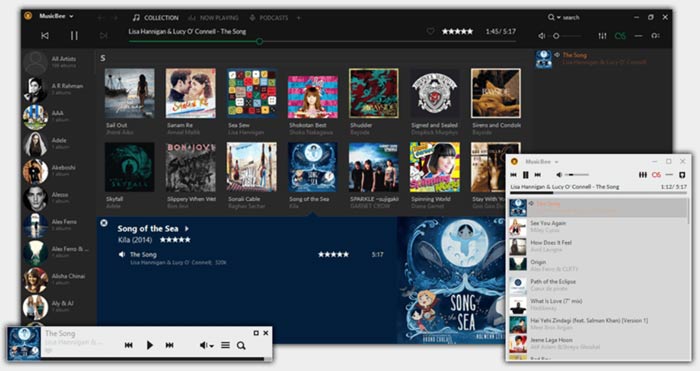 MusicBee pays attention to the sound experience. It can fine-tune the sound with the 10-band or 15-band Equalizer and DSP effects. This music player supports high-end audio cards, and can offer 5.1 surround sound. MusicBee is also designed with a great sync feature to quickly sync files from computer, phone, iTunes, Windows Media Player and more. It provides you with a gapless playback feature to enjoy music without interruption.
FAQs of MP3 Music Player
Question 1. How to add your local music to Spotify?
To import your songs from computer to Spotify, you can go to Menu, click Edit and then choose the Preferences option. Scroll down to locate the Show Local Files option and enable it. Now you are allowed to check more songs from Downloads and Music Library folders. On the left, you can also click the Add a Source button to add your local music to Spotify.
Question 2. How to download free music from Amazon?
When you want to download some free songs from Amazon, you should go to Amazon's Free Digital Music web page first. You can find a list of free songs in all genres. Locate the song you want to download and click on the Free button. After that, you are required to sign in your Amazon account. Go to the Review Your Order screen and click the Place Your Order button. Then click the Download purchases button to free download music from Amazon.
Conclusion
Here in this post, we have made a list of 10 best free MP3 music players for you to choose from. You can know the main information and key features of each MP3 player, and then choose your preferred one to play audio files. If you still have any questions about the music player and MP3 player download, you can leave us a message.