What's The Difference Between MP3 and MP4
MP3 is the coding format for digital audio, while MP4 is a multimedia container that used to store audio, video and other data like subtitles. Both MP3 and MP4 are popular file formats. Is an MP4 file better than an MP3 file? What is the main difference between MP3 and MP4? This post will share the definition of MP3 and MP4 files and the comparison between MP3 and MP4 from several aspects.

Part 1. What Is MP3 and MP4?Which Is Better?
What is MP3?
MP3 is the most widely used coding format for digital audio. It is abbreviated from MPEG-1 Audio Layer Ⅲ or MPEG-2 Audio Layer Ⅲ. MP3 uses lossy data compression to encode data. MP3 files are similar to WAV files but are compressed to 1/10th the size while remaining high quality.
What is MP4?
MP4 stands for MPEG-4 Part 14. It is a digital multimedia container format that used to store video, audio, and other data like subtitles and still images. Similar to MP3 technology, MP4 uses the data compression to make overall size much smaller than other video formats. (Find more MP4 players)
Difference Between MP3 and MP4
| | | |
| --- | --- | --- |
| Comparison | MP3 | MP4 |
| File extension | .mp3 | .mp4 |
| Acronym for | MPEG-1 Audio Layer 3 format | MPEG-4 Part-14 |
| Portable devices | Nearly all music players that support MP3 files | All media players, iPhone and iPods that support MP4 files |
| Format | Audio | Multimedia |
| Handles | Audio | Audio, Video, Text & Image |
| Compression technology | Lossy compression algorithm | AAC (Advanced Audio Coding) and AVC (Advanced Video Coding) technology |
| Extension | It is an extension of MP2. | It is an extension of Apple's QuickTime Technology. |
| Development | It is developed by a group of engineers from Philips, IRT, CCETT, Fraunhofer society and MPEG (Moving Pictures Expert Group). | It is developed by ISO (International Organization for Standardization) technical program. |
Part 2. How to Convert MP4 to MP3 or MP3 to MP4
Conversion between the two formats seems to be easy. MP4 file format contains both video and audio, whereas MP3 file format only contains audio. With FVC Free Online Video Converter, you can easily convert MP4 to MP3 or change MP3 audio to MP4 without downloading a package.
Step 1. Click Add Files to Convert button from the official page to download and install the launcher.
Step 2. Select the MP4 or MP3 file from the local computer. You can add more than one MP4 files at the same time.
Step 3. Choose MP3 as the output audio or video format at the bottom. Then click Convert button to convert MP4 to MP3 immediately. (Follow the same step to convert MP3 to MP4)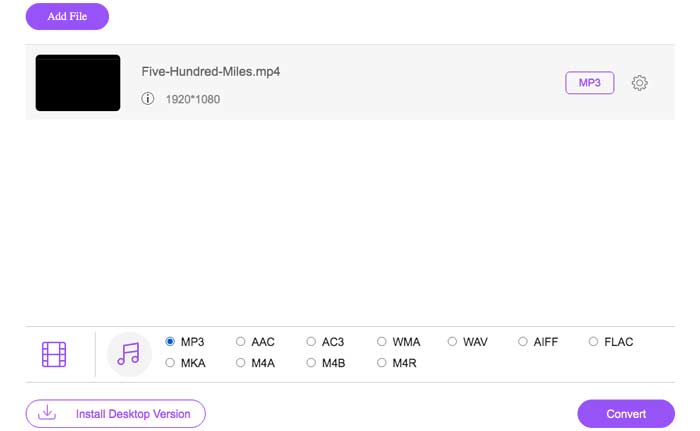 If you want to experience more editing features during MP4 to MP3 conversion, you can free download FVC Video Converter Ultimate to give it a try.
FAQs of MP3 VS MP4
1. Can MP3 players play MP4?
Not all MP3 players can play MP4 files. MP3 video players are portable audio/video devices capable of playing audio files (MP3, WAV, MP4, etc.) and video files like MPEG, AVI, WMV. But you can't play MP4 file on a player that only handles MP3.
2. Does Apple use MP3 or MP4?
Neither. iPhone can play MP3 and other audio files. The music you purchased from iTunes Store are in AAC format. iTunes can also recognize other file formats like Apple Lossless, AIFF and WAV.
3. Are MP4 files bigger than MP3?
Generally, Yes. MP4 files are always be bigger than equivalent MP3 files. But MP4 is not just a bigger version of MP3.
Conclusion
All in all, you get know well about MP4 VS MP3. No matter you want to extract MP3 audio from MP4 video or change MP3 to MP4, you can choose FVC Free Online Video Converter. If you know more information about MP3 and MP4, please don't hesitate to leave a comment.