Newest Online and Offline Software You Can Use to Reverse MP4 Videos Easily
Most of the times when we try to reverse our video, we create some funny reactions that make us think that it is us. Because it is played backwards the effect of it creates something new to our eyes. So, if you want to know effective ways to reverse MP4 videos then it is a must to read this article. As it showcases different software online and offline you can use it to make a lot of reverse videos in a simple way. So, without any more delays let us introduce them to you one-by-one.

Part 1. How to Reverse an MP4 Video (Offline)
The phenomenal tool in the whole web is the Video Converter Ultimate. This tool has already helped millions of users who are having a hard time to reverse MP4. Unlike any tool in this list, you can access this software even if you don't have internet connectivity. Moreover, this tool can import and export immediately, it is like before you blink you didn't know it is already in reverse. Also, an amazing feature this tool can do like anybody is that it has all the advanced features you might like to use. So now, let's proceed to the steps on how to reverse the video effectively.
Steps on How to Reverse Videos on Video Converter Ultimate
Step 1. Firstly, you will need to download the tool first on your drive. Then install it and follow the set-up of it.
Step 2. Launch the software, click the Toolbox and select Video Reverser.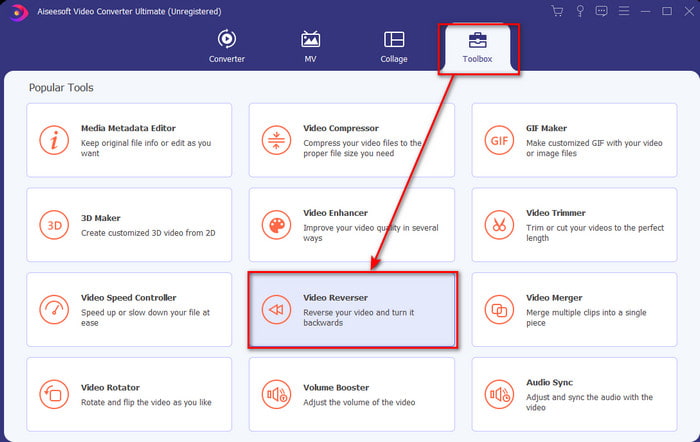 Step 3. Then add the MP4 file by clicking the + sign and choose from the computers folder. Then click Open to insert the .mp4 on the interface.
Step 4. And now adjust the playback in and out to change the duration of the video. Click Export to proceed.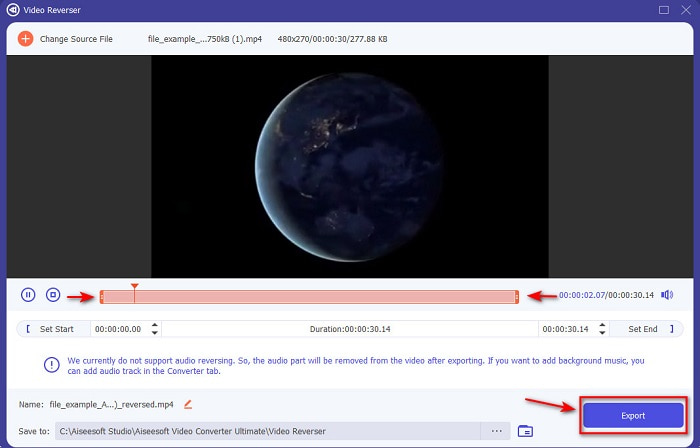 Step 5. After exporting is done, click the file on the folder to play the reverse file and to know where it is located.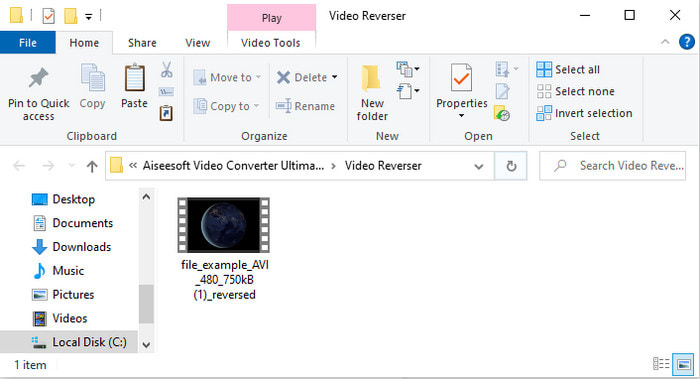 Part 2. How to Reverse an MP4 Video (Online)
1. FileConverto
The reverse MP4 video online FileConverto has a lot of web tool features you can use to make your video extraordinary. The performance of this web tool is great for those who don't want to download any software. However, the web interface is a bit dull to look at, the uploading process will take a lot of your time, and it doesn't support all video formats. Also, you will encounter some bugs and pop-up web pages if you try to reverse. Although it has a lot of known problems still it is a great to use and.
Pros
The software is easy to access and it has a lot of basic editing features you will need.
Very User-friendly that even a user who doesn't experience reversing can do it here.
It limits your conversion to 500mb which is great.
Cons
Importing files here and exporting is super slower than expected.
It has a lot of ads in the webtool only that can annoy you. And after you click a web tool feature an ad will show that you will need to re-click it again.
It doesn't support all the video formats.
2. PickFrom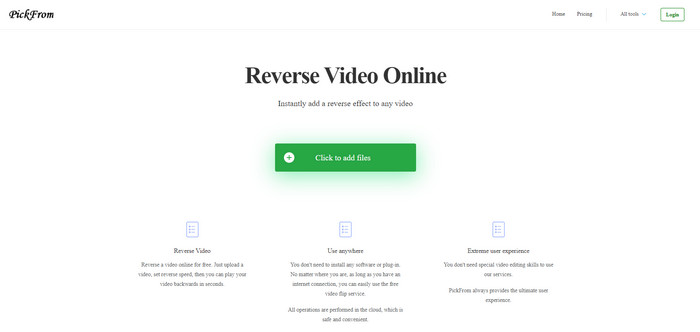 PickFrom has a better interface than FileConverto if we were about to compare. Because it showcases minimalist design and the color combination of white and cyan make it perfect. But the texts are a bit slim to read. Basically, if you don't have a 20-20 vision you might find the tool hard to read. Also, when you are about to do the reverse MP4 videos here the options are written in a simplified Chinese form. So, it is a bit hard to understand but the importing files here is faster than the FileConverto.
Pros
It has a much better web interface compared to FileConverto.
No ads on the upper part of the website but if you scroll down there's a bunch of pesky ads.
Supports a lot of basic editing features.
Cons
The tool settings are written in Chinese which is hard to understand if you don't know how to speak Chinese.
After you click the start button the tool becomes unresponsive and the exporting process takes a lot of time.
It lessens the quality of the exported video.
3. Media.io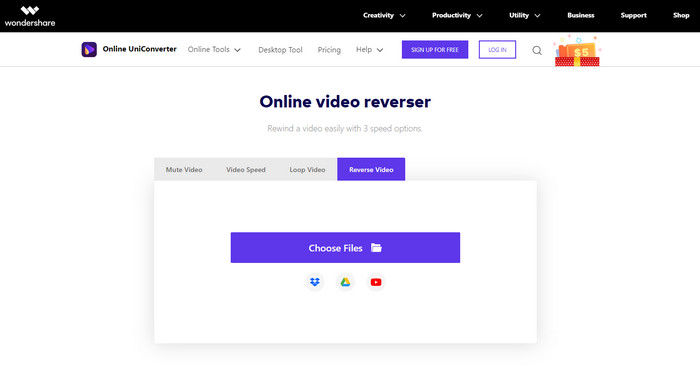 Media.io has 3 different types of reverse speed options: the x 0.5, x 1, x 2. You can basically reverse the video and play MP4 backwards with the help of its reverse feature. Although the tool looks great there are still some problems you will encounter while using Media.io. Like when you're about to export the file it will ask you to sign-in first before you can export the file. Also, you can only do 10 reverse videos here with limited file size.
Pros
Tool interface is great and attractive.
You can change the final output format of the reverse video if you want or retain the original format.
You can mute or un-mute the video.
Cons
The website will ask you to sign-up before you can export which means you will let them send notifications thru email.
The reverse of the x 2 is less slow than the x 2 of the other tools.
The tool limits the availability of the web tool. For example, you can't reverse more than 10 files in the day and it has a maximum limit for the file size.
Part 3. FAQs about Reversing MP4
After reversing the video does it lower the quality?
Reversing a video on the tool should not lower the quality of the video you want to reverse. However, there is a lot of software that makes the video quality lower. But there are some cases where you set the quality of it low and not high.
How to add audio on my reverse file?
Most of the software listed in here doesn't support audio reversing as well but you can go to this link and learn how to add audio.
Conclusion
To conclude, now that we know how to reverse an MP4 file with the help of these several tools you can choose one. Moreover, not all of the mentioned in this article produce an astonishing video final output like the Video Converter Ultimate. So, if you want to be amazed by this tool then it is a must to download it first. Because you won't need to read a big book to know how this tool functions as a whole.