Top 9: Best Animated GIF Editing Software for Beginners [Online & Offline]
The best way to express your feelings better is to insert GIFs into your message. The main purpose of it is to store and support animated and static images. It is known that GIFs can load better than the other format available on the web and it is a lot smaller. It is more exciting to see a GIF rather than an image only. But not all of the GIFs you search over the internet can provide you the emotion you want to deliver.
So instead of searching GIFs over the internet they use a GIFs editor software to create their own GIFs. But maybe you're wondering what tool you should use to create a majestic GIF that will impress your receiver. Here are some lists of the best tools to create a GIF. All of the tools below can be used to convert, edit, make, and more to GIF. So, if you're looking for the right tool for the right job then continue reading below to know more about the tools.

Part 1. Best Offline GIF Editor that Works Effectively for PC and Mac
1. FVC Free Video to GIF Maker
Convert your favorite video to a GIF format so you can send them over to your friends, family, and someone with ease. This FVC Free Video to GIF Maker gives you the chance to create your own GIFs. Its main job is to convert any video file format whether it is an MP4, MOV, AVI, and many more, and change them into a GIF format. It provides editing and trimming features as well. This GIF editor is available in all system programs. To know how to use this tool, here are some step-by-step procedures provided to you to follow.
Step 1. Download the tool into your drive, install it and set it up.
Step 2. An interface like this will show into your screen. Click the Add File or drag-and-drop the file into the converter.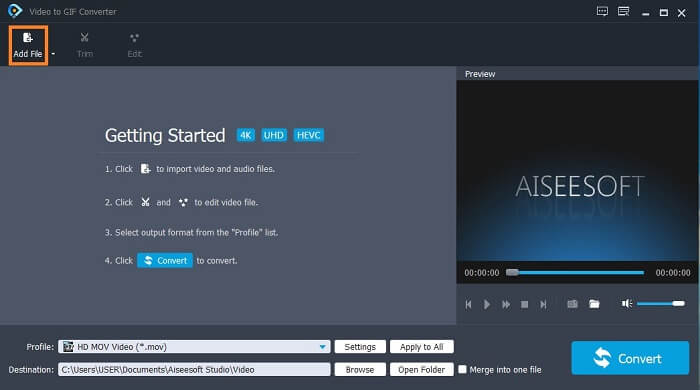 Step 3. If you have already added the GIF, you can also Trim it to make it shorter and click OK to save the changes. You may as well rotate, crop, add effects and watermark your GIF in the Edit to save the changes you made by clicking the Apply.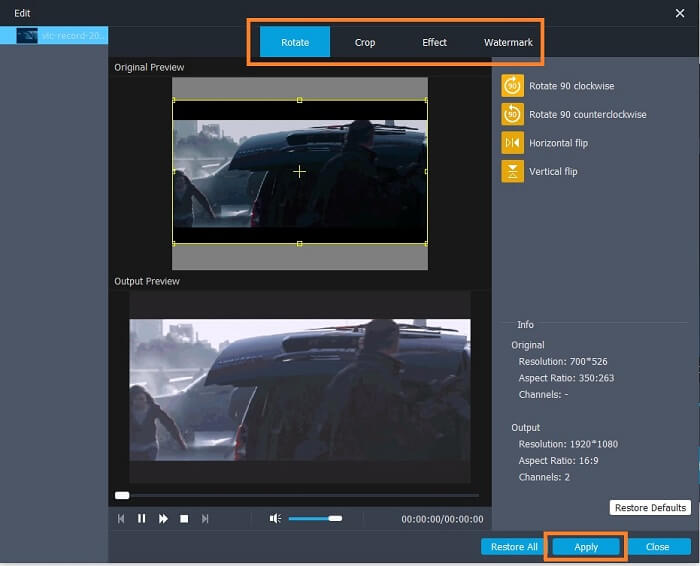 Step 4. Select the destination to place your final output. To start the conversion, click the Convert.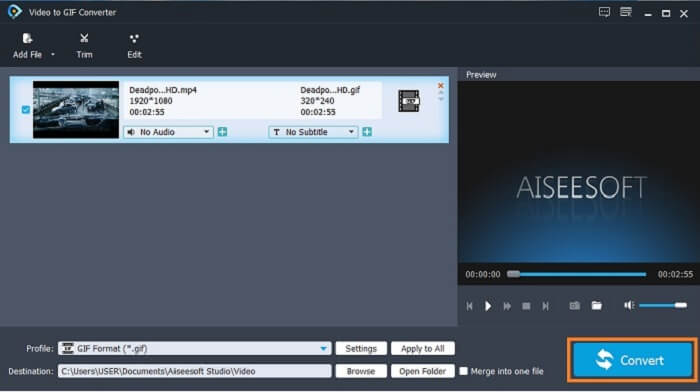 Step 5. If everything is done, you will see this in your display; it means that the conversion is completed.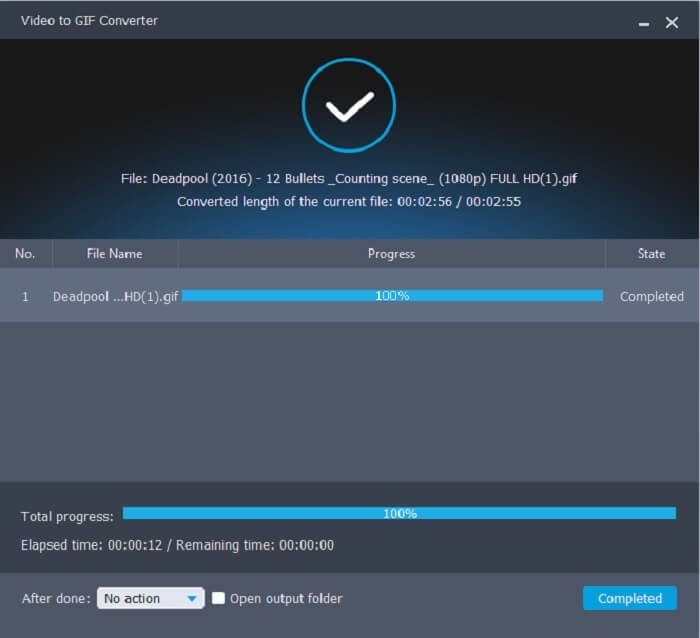 Pros
Best free tool to convert video format to GIF.
It is available in all different known platforms and always produces incredible output.
It works even if the internet is not available.
Cons
Not all of the ultimate features are presented here.
It is a downloadable tool also like the premium version.
2. Video Converter Ultimate
It is known that the GIF editor above gives you the class-A on making a GIF. But did you know that there is another tool that is much better than the tool above and below as well? The Video Converter Ultimate lives up to its name as the ultimate GIF maker available in all software. It is not just best at making GIFs but also it functions as a converter and many more. Add effects into your GIF to stand out among other GIFs. So, if you are in a battle of making the best GIF with your friends and want to win. Then this must be your chance to deliver the wow factor to them. Also, to know how to use the tool you must follow these steps correctly to have a successful GIF.
Step 1. Click the download button and install it on your computer drive. Change the preference and click finish to save and launch the tool.
Step 2. If the tool is already running into your system an interface like this will pop up on your screen. Go to the Toolbox and GIF Maker to start making GIFs.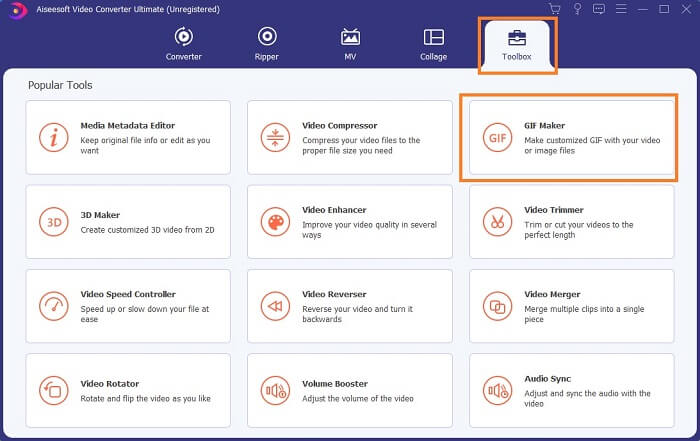 Step 3. Then click the Video to GIF and select what video you want to convert. After selecting the video file, you may as well edit the video like rotate and crop, effect filter, watermark, and subtitle as well. Click OK to save the adjustment.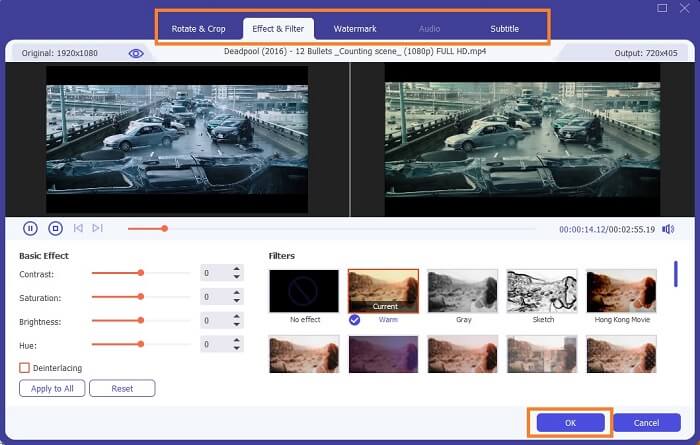 Step 4. Click the Preview to watch the first 10 seconds of the video you created. Hit on Generate GIF to start the conversion.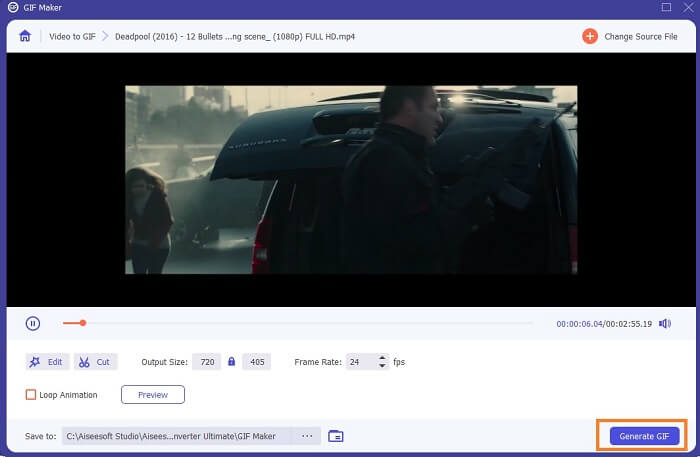 Step 5. If everything is done, locate the file into your file explorer and watch or send the final output.
Pros
The best Video Converter for a GIF with the ultimate tool to enhance the GIF.
It supports all of the known and unknown video-audio formats over the web.
Multi-purpose tool with the excellent final output.
Cons
It is a pay-to-use tool but it is less expensive.
Need to be downloaded into your storage before you may use it.
Part 2. 3 of the Best Online GIF Editors
1. Ezgif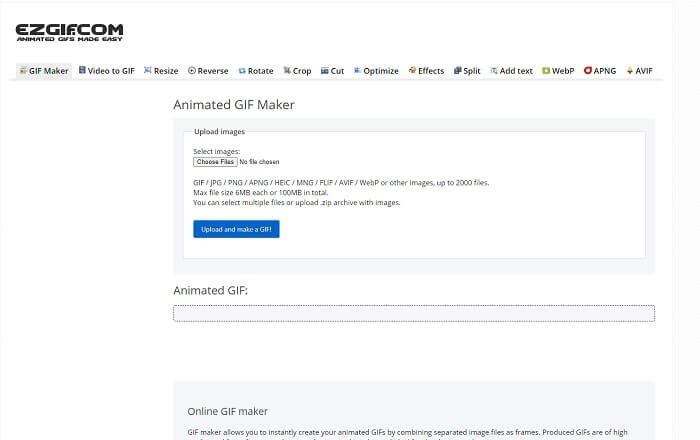 One of the GIF editors online that you might already encounter over the internet. Ezgif is known as one of the best GIF makers. Although this tool provides you numerous features like rotating the video, cropping the video, reversing it, and so on. They are all separated from one another, so instead of focusing on making GIFs and editing. You'll need to transfer the file to the editing tools you want to enhance it which is a hassle for you. Also, the interface has a white background which is simple yet boring to look at. It seems like the online tool doesn't get an update from the interface itself.
Pros
On-point tool with different options.
The webpage tool is simple.
Effective on making GIFs.
Cons
It is limited to 6mb each and 100mb all in all.
It is not user-friendly because all of the features of the tool are all over the website. And it is a bit boring to look at because of its plain white background.
2. VEED.IO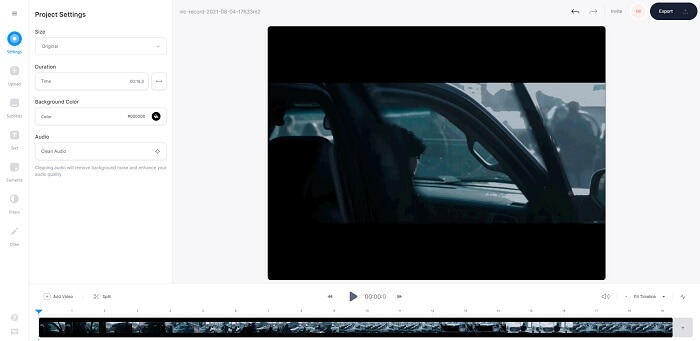 Another online GIF editor tool for making a GIF is VEED.IO. Create, edit, and convert your own video to a GIF format with this tool. The main website of the tool is somehow nice to look at, unlike Ezgif. But if you start making GIFs online, the webpage of the tool becomes unresponsive and somehow they are not secure. Also, don't try to put your password or credit cards because there is a chance that it can be stolen by the attacker.
Pros
Better customer support.
It provides a pro version of the tool.
Easy to access over the internet.
Cons
The web tool is unprotected. So, visit at your own risk.
No 3D Editing features.
3. Giphy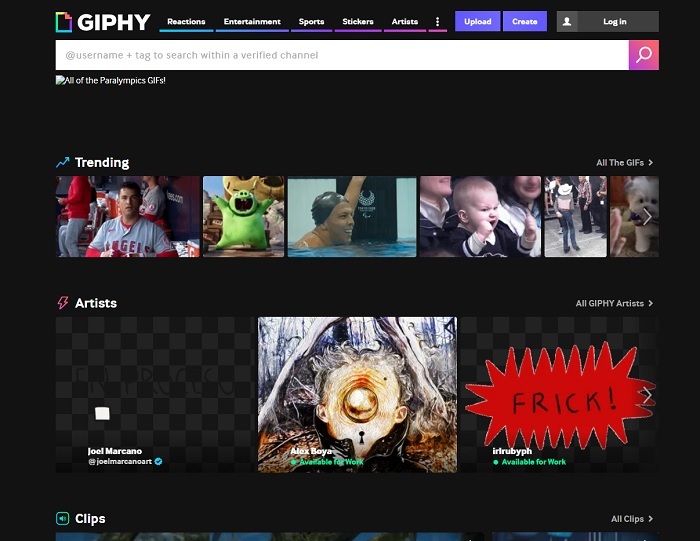 Giphy is an online animated GIF editor. This tool provides sample GIFs like reactions, entertainment, sports, and stickers. Though it is one of the best GIF makers, this tool needs your account before you may use it. It basically allows the website to gain access to your account. So, keep in mind that updates, new features, or new GIFs of the tool will always pop up into your mail.
Pros
Upload and create GIFs online.
Largest library for free GIFs, Clips, & Stickers on the web.
The interface is up-to-date and it looks awesome.
Cons
You'll need to sign-up before using the tool. So, if you don't sign-up or log-in the tool is inaccessible.
Max length for the GIF is only 30 seconds.
Part 3. GIF Editor Apps on Android and iOS
1. GIPHY: GIF & Sticker Keyboard & Maker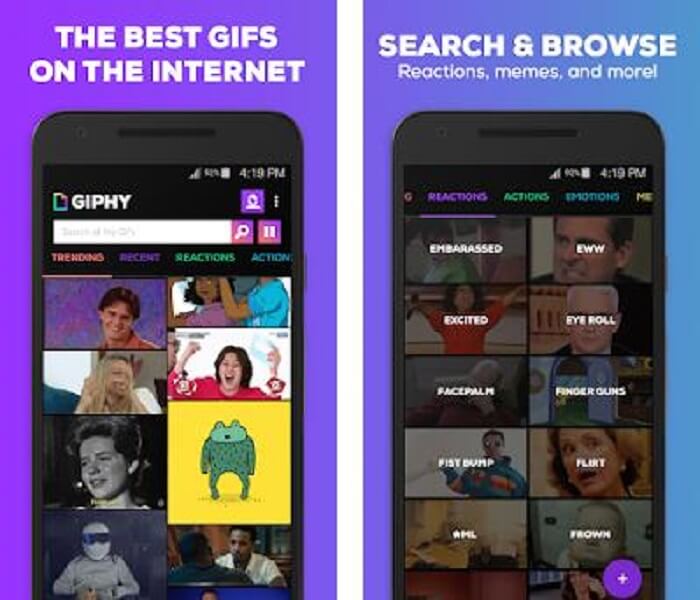 Another GIF editor app available on Android and iOS is the GIPHY: GIF & Sticker Keyboard & Maker. It is known as one of the largest storages of GIFs in the entire Play store and App Store. But not only that, this app can provide already done GIFs or maybe you want to create your own. Also, you can share your own GIFs in the app as well. In some cases, when you upload GIFs that work perfectly during the making or the one that is already on your phone. The app makes it a bit buggy and in some parts of the GIFs are faster and some are slow.
Pros
Amazing GIFs, stickers, and video clips.
Little to no ads in the application.
Edit your Gifs and add more aesthetic animation on the GIFs.
Cons
On some occasions when you download GIFs from this app you will get still images. Instead of downloading it to a .gif format it became a .jpeg.
Logging in to the app is a bit annoying because in some cases you can't log-in properly and need to do it more.
2. ImgPlay–GIF Maker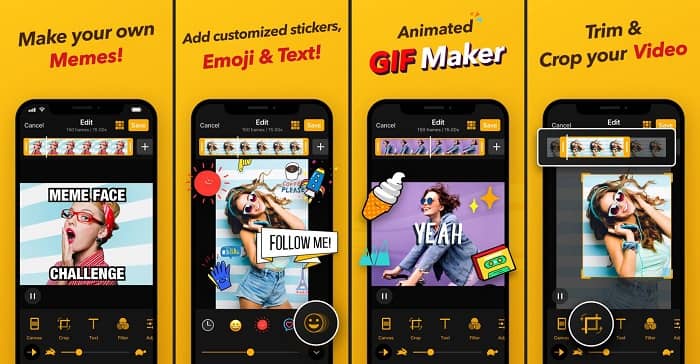 The best and easiest way to create a GIF whether it is a video or images. Imgplay can make your images or videos into a fully functional GIF. This app gives you the best features to make your GIF stand out as possible. If you were to save the final output of your GIF there will be a watermark at the bottom right side of the final GIF. To remove the watermark, you need to pay for the premium version of the tool.
Pros
It supports Android and iOS devices.
Apply more than 30 filters on your GIF to make it better, if you buy the premium version of the tool.
Create GIFs from your videos and images with an ease.
Cons
It works better on iOS rather than Android. Basically, you can't adjust brightness, contrast, saturation, and the frame rate as well with other major features on the Android.
Also, expect ads on these apps as well. To remove them you need to buy the premium version. Its fps is super low also.
3. GIFX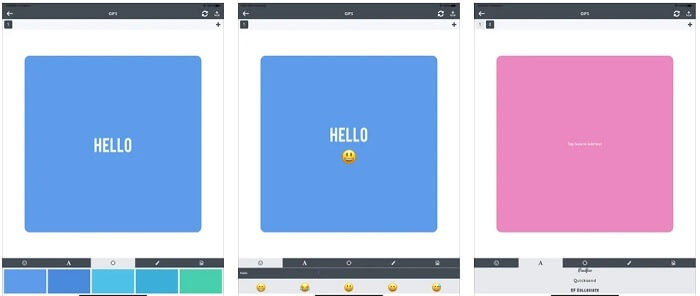 This GIF editor is only available on iOS. GIFX can do the work on making the best GIF you want to have. It also supports images and videos to become a GIF format. You can also share it via your mms and emails. Also, it provides adding emoji to your own GIF to express your emotion better with text as well.
Pros
Create your own animated GIF with this app on iOS.
It supports different Apple products like iPad, iPhone, iPod touch, and Mac as well.
Adjust the speed of your GIF with this tool.
Cons
The tool says that it supports videos but it doesn't allow you to add videos into your GIF.
The rating of the app is only 1 star and receives 2 reviews only, which is super low for an application.
4. GIF Studio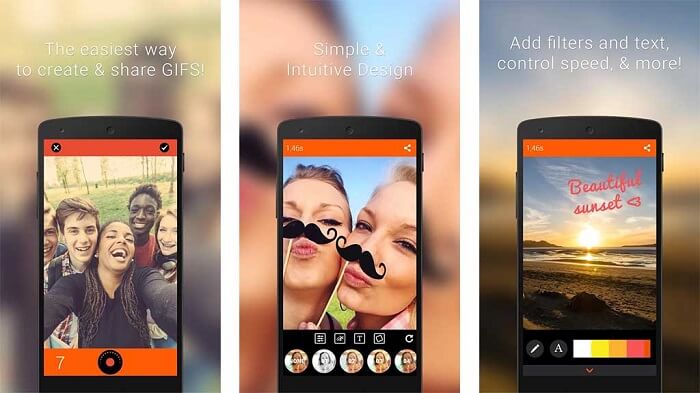 If you're looking for the best GIF editor app then this GIF Studio must be it. It gives you the chance to let your imagination play into your GIFs. Create, edit and play animated GIFs with this app. Also, if you're a user who finds making GIFs a bit troubling making GIFs this tool makes it easier for you. It also provides you with more features to add on to make it more amazing.
Pros
Merge multiple GIFs to one.
Add text to your GIFs to make a greeting card.
Share your GIFs and save it with ease.
Cons
Because the developers make it simple. The user interface is horrifying. Learning to use this app will be a bit stiff.
It doesn't support GIFs that have been made from another Gif maker.
Part 4. FAQs about the GIF Editor
Are there other formats that can store motion images like the GIF can provide?
After 30 years of being one of the famous image-video formats. It has already made a competitor: APNG, AVIF, MNG, WebP, and FLIF.
What data compression is GIF?
It is a lossless compression, so when you compress the data there will be no loss and it is easy to transfer the format over the internet. If your GIF is large, you can check on How to Compress Animated GIF into Small File Size
What GIF Recorder can I use to record GIF format?
You can use FVC Screen Recorder, a downloadable GIF Recorder available on all different platforms, providing GIF format and more. With a super high quality and many more options as well. Download FVC Free Screen Recorder for Windows Download FVC Free Screen Recorder for Mac
Conclusion
And now that it is very clear that the best way to deliver a great message is to use GIFs. Although using a raw message is good, adding a GIF is much better. So, choosing the best GIF editor is a must to deliver the right tone of the message you want to share and have a clear statement or to add a hilarious tone. Choose the ultimate tool to create an ultimate GIF to make the best impression that you want to share.