How to Crop GIF Quickly with the 4 GIF Croppers
Changing the size of a GIF is a simple task if you use the best solution to crop a GIF. However, not all GIF editor provides a professional and practical solution to crop. All you need to know about the croppers for GIF are here in this post. To provide you with all the best options you can use, read the details listed below and check out the four incredible croppers you can use to change the size of your GIF are.

Part 1. How to Crop GIFs on Windows & Mac
Way 1. Use Video Converter Ultimate – Best GIF Cropper
It is a professional tool that provides only excellence to its user on whatever their problem is. FVC Video Converter Ultimate, already join in to edit GIFs by cutting, trimming, cropping, or even creating a personal GIF. This tool is not only great on GIF, but you can also convert GIF to MOV, AVI, MP4, MKV, WMV, and to 200+ more formats. Other than that, the process this tool provides is far different from the other tool as it supports lightning-bolt fast on processing to import and export the file quickly. Moreover, this tool has to solve numbered of problems regarding editing GIFs. So it is simple to task this tool to handle cropping. Want to learn how to crop a GIF? In that case, the following details will show a quick tutorial on doing it quickly.

FVC Video Converter Ultimate
5,689,200+ Downloads
A professional and very reliable GIF cropper is available on Windows and Mac.
It supports converting GIF to MP4, MOV, WMV, MKV, and 200+ formats.
Additional advanced features are available to help you create GIFs, speed up or slow down, etc.
It is safe from any type of viruses.
The ultra-fast exporting process to help you get ready the cropped GIF in no time.
Step 1. Download the cropper on your drive by clicking the download button presented below. After that, install the software and press Start Now to proceed to the next step.
Step 2. Once it is now open, click the Toolbox and look for the Video Cropper at the top of the interface.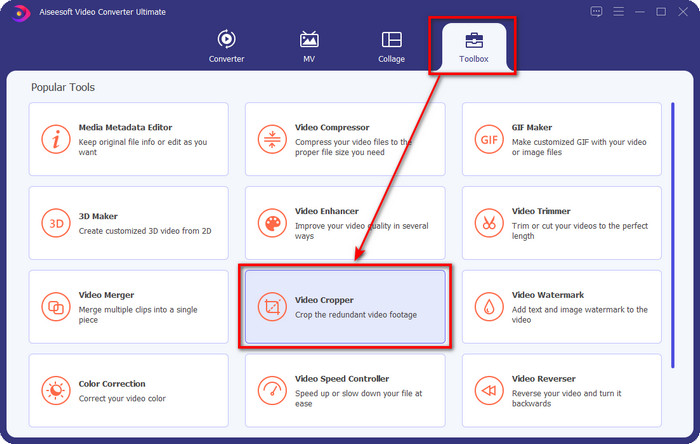 Step 3. A new interface will show, click the + button; a folder will show where you can browse your GIF, click it and press Open to proceed.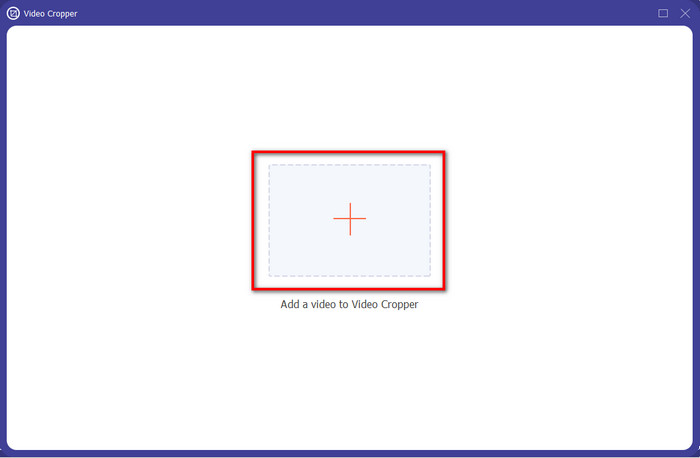 Step 4. Click the Cut option (scissor icon) and then a new interface will show on-screen where you can crop the GIF and adjust the aspect ratio according to your wants by dragging the tiny dots freely.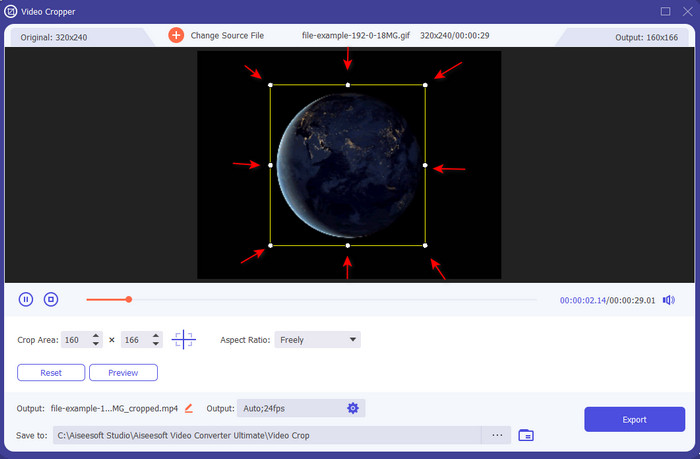 Step 5. After the adjustment, you can press Export to save and download the cropped GIF on your drive; voila, as easy as that, you have now crop your GIF.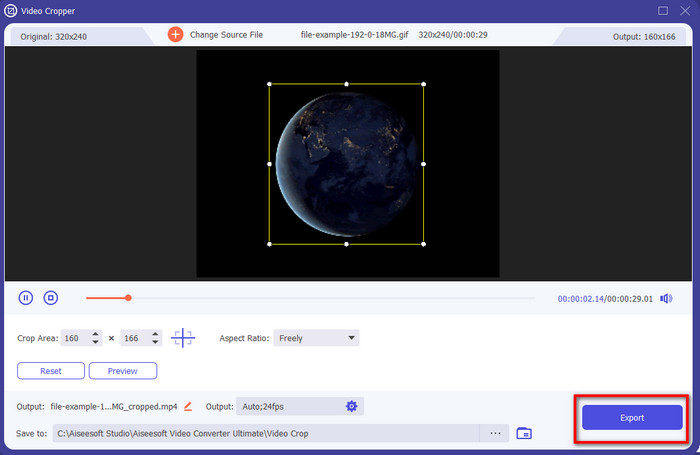 Way 2. Use Photoshop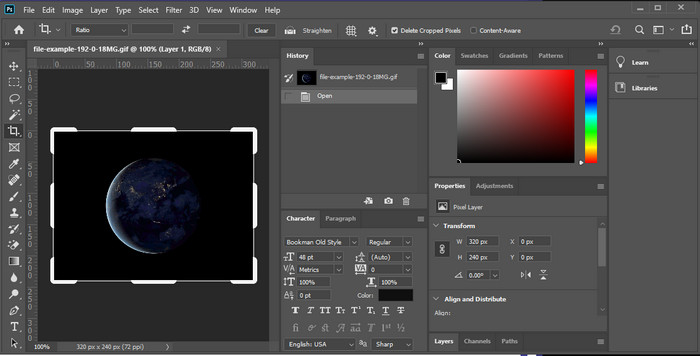 Photoshop is a professional tool that supports heavy editing on every image you insert, such as GIF. This tool has already helped millions of experienced users do complicated editing on their pictures. However, because of heavy editing features, this tool supports it became technical for a new editor to understand its functions, especially if you don't have experience with editing. Although it can be your cropper, it is still too much for doing a simple job. But if you're looking for how to crop a GIF in Photoshop, follow the details and know-how.
Step 1. Download and launch Photoshop on your desktop.
Step 2. Click File, search the GIF, and press Open. Press C on your keyboard, then adjust the size, press Enter, to proceed.
Step 3. Export the final output by clicking Save under the File.
Part 2. How to Crop GIFs Online
Way 1. Use Ezgif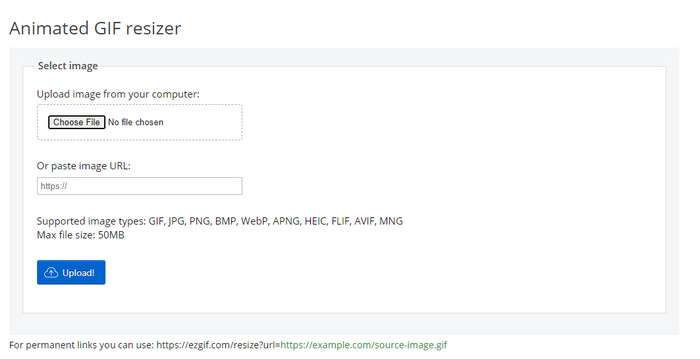 If you need a cropper on your GIF online, you must already know that Ezgif is a choice. It is not new to us that this GIF editor online is on the list because it is known for its editing capabilities. Unlike the croppers mentioned, it is free to use, and downloading it is no longer required. Overall experience is quite good, but it is not the best experience we encounter because of the ads that make this online tool terrible. Also, if you crop animated GIF here, expect that you will need patience because uploading and downloading the GIF will take some time.
Step 1. Open your browser and search the Ezgif.
Step 2. Go to Crop, press Choose File, locate the file on your folder, and hit Upload.
Step 3. Drag the frame dots according to your wants and press Crop Image to proceed.
Way 2. iLoveIMG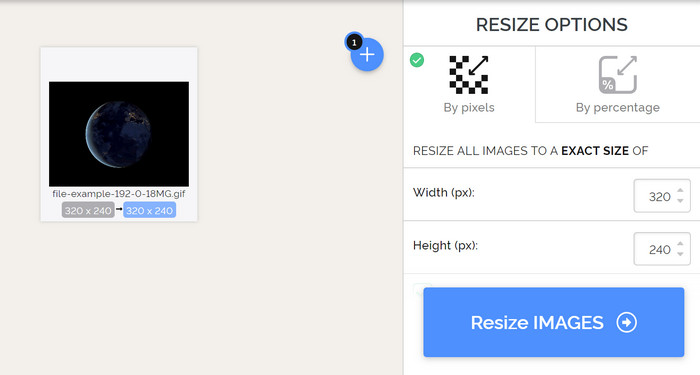 Learn how to crop GIFs online with the iLoveIMG. This tool provides features that will help you with cropping, resizing, compressing, and more to your image. Moreover, uploading and downloading the file here is better than the Ezgif because it wouldn't take much time to load. Suppose you wouldn't want to download a cropper on your desktop, then this tool is a choice like the first online tool mentioned. But expect that some ads on the interface can be a bit irritating.
Step 1. Open your search engine and look for the iLoveIMG and click Crop Image.
Step 2. Press Select Image and browse the GIF file. Adjust the frame ratio according to your needs and press Crop Image.
Step 3. Wait for the cropping process to end, then download it.
Part 3. FAQS about GIF Cropping
What qualifications should I look for in a GIF cropper?
There are a lot of qualifications you will need to consider when choosing a GIF cropper, and the first of them is the compatibility of the tool on your platforms. Make sure to read the article review about the tools to know if they are available on your devices. Next, it is malware-safe, especially online or downloadable; cropping is an easy task, but make sure that your cropper is reliable. Lastly, cropper should have several features you will need to determine if the cropped size is the right size. These include the cropping frame, preview option, length and height, and more.
Is it safe to use an online GIF cropper?
Well, most of the GIF croppers online are safe, but not all of them. So, before you access them, make sure that the online tool is safe to use to avoid irreversible damage to your devices.
How to set GIF as background?
There are many ways to make your GIF a background on your mobile phones and desktop. Also, we provide a bonus tool here to help you create a GIF through the compilation of images or videos. What are you waiting for? Click this link to learn how to set GIFs as wallpaper on your device.
Conclusion
All possible ways to crop GIFs online or offline are here. The tools we include in this article already prove that changing the size is easy with the help of them. But if you need a professional output and hassle-free tool, then FVC Video Converter Ultimate is an excellent choice. This tool creates a gap between a good cropper and the best. So, if you need to crop like a pro, the download button is available below to download the tool.