Express Your Emotions Better with the Top 8 GIF Maker Online on PC and Mac
The first thing that comes to our mind when talking about GIFs is comedy. These simple video images can turn our plain old text message into a livelier tune. Thus, GIFs have become popular nowadays because they show some of the exaggerated emotions that we want the world to see. But it is indeed easier to add GIFs to your message to express your emotions better. But not all of the GIFs over the internet provide the specific emotions you want to deliver. So having misleading GIFs can provide your message with the wrong intention. But instead of searching over the internet or depending on your messaging apps why don't you do your own GIF?

In fact, it is easy to make one. If you're searching for the best GIF maker online then you are in the right place. So, you must pay attention to the lists below. And know which is the one that creates the best GIF that you may use to express your emotions or as well help the other users who are having trouble finding the best GIF to show their emotions. Learning how to create your own GIFs and help others is like hitting two birds with one stone. So, without any more explanations let us explore what are these best and how to use them correctly to create an exceptional GIF. The list below provides the top 8 GIF makers you might encounter on the web for free.
Top 1. Free Online Video Converter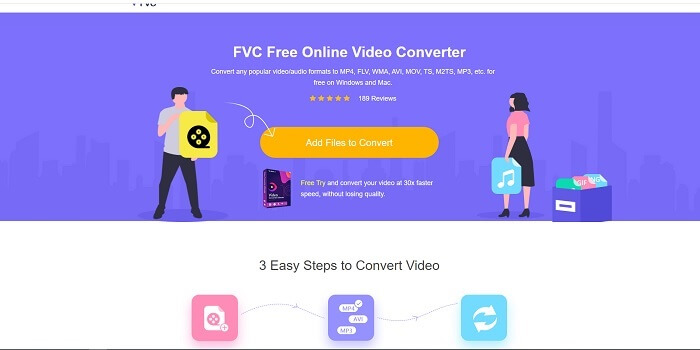 If you're looking for an exceptional GIF maker online then this is for you and read carefully to know more about it. FVC free online video converter This tool is a web-based tool you may likely find on the internet. The best way to create GIFs from videos is to convert them into GIF format. Maybe you think is it truly possible to create GIFs with a converter instead of a maker? Then the answer is a yes. This is the easier way to create a GIF. But this tool is not like any other converter or maker in the list below. Unlike the other tools over the internet, this tool provides the fastest and fail-proof converter you might like to use. No limitation on converting which means you can convert all of the video or audio you want with an internet connection. The file size also is not limited to how many MB's only and all of the quality output this tool provides is incredible.
But did you know that this tool also provides an unrivaled premium version. It is also known as the father of all converters. Its name is Video Converter Ultimate. This tool gives the user a much better experience in converting with the fast conversion it provides and premium prestige features, as well as converting it with all of the different formats you may know. Unlike any other tools available in this list and on the web. The Ultimate Converter is the best GIF maker tool to convert any video file into a GIF. Also, you can add your personal touch to the GIF to make it more expressive. The conversion speed of the format to GIF is 30x faster than the online tool and 100x faster than the converter or the GIF maker below. You may use it by installing it in your drive. Although it is a pay-to-use tool it will not cost you too much. And, it is indeed a multi-purpose converter, especially on GIF. So, no need to expect less because this tool is much more than a converter.
But for now, let's focus on the free online tool of this software. So, to provide you the evidence that this online tool is very effective in converting then you must follow these straightforward steps below. If you have a doubt about it. But to tell you, not all of the features in Converter Ultimate are here in the online tool but they produce a surprising format indeed.
Step 1. To start the tool, you must click the link to proceed to the main website of FVC.
Step 2. Click Add Files to Convert and Allow to launch the converter.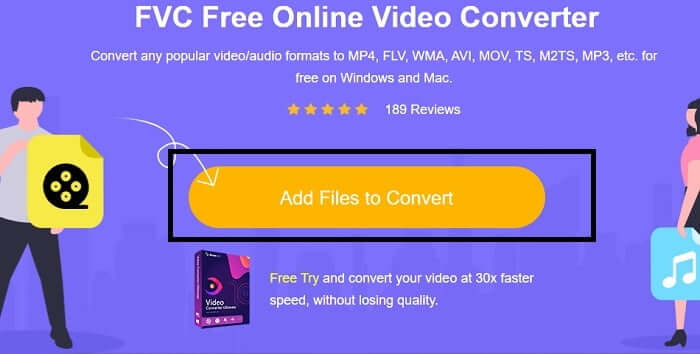 Step 3. If a file explorer like this shows on your screen, then you are doing great. Find and click the video file you want to convert and hit Open.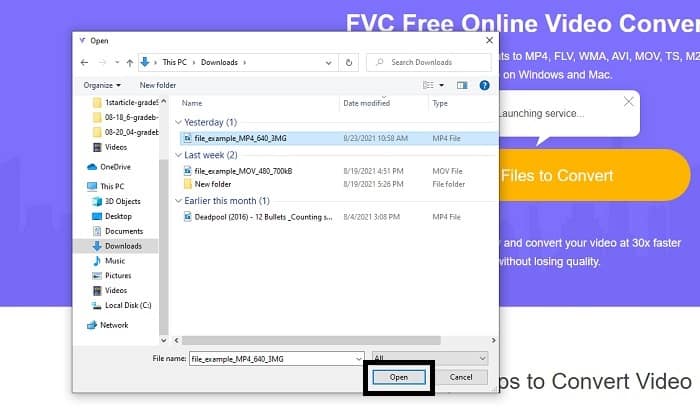 Step 4. Change the file format to GIF. For additional information, you can also convert your video or audio into a more suitable format you want. If everything is ready to go, click the Convert to start the conversion. Click where you want the final output to be.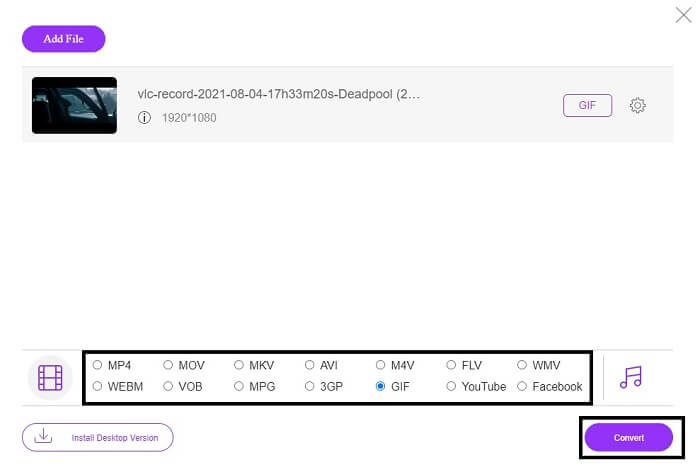 Step 5. If your conversion is already finished. Your file explorer will show up on your screen and find the final output. Then enjoy it.
Top 2. Ezgif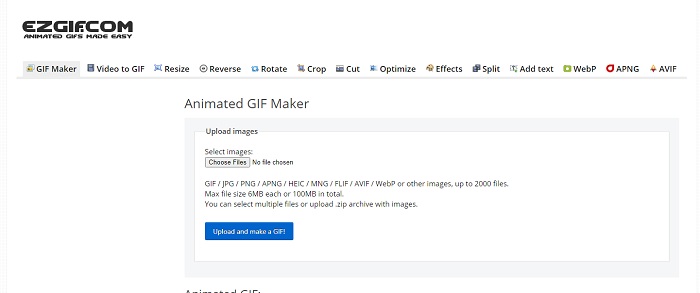 One of the best GIF makers online is Ezgif. You can basically do a GIF with this tool to enhance, resize, crop, optimize, add text, and other options. It also converts video into a GIF format only. Though the features of this tool are a lot, all of the features are separate from one another. So, instead of doing it in one interface, you need to jump to the first and to the other just by creating and editing. It is troublesome to use this tool, especially since you can't drag-and-drop for an easier way to upload. But despite all of that it is still one of the online makers.
Top 3. Imgflip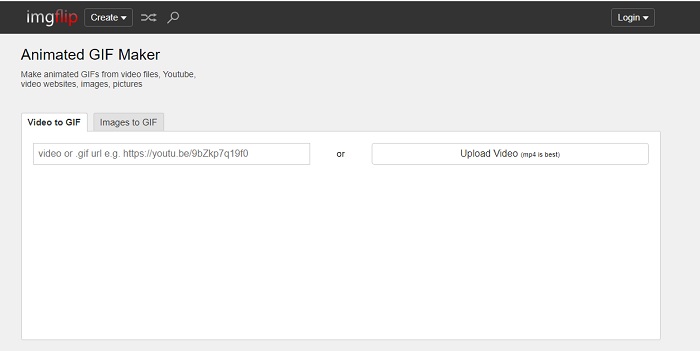 Online gif maker from video and link that provides a great chance on making a GIF then this is for you. Imgflip can help you to make a meme, GIF, or chart and it is doing well for its job. It also provides simple editing on your GIF as well. But the highest pixel it can provide is 360 on free and the premium is 480. So, it only means that if your video is 1080 or 4k then the quality of your final output will become more degraded rather than expected.
Top 4. Visme

This tool allows you to become more detailed in your GIF. Visme is known because it provides a more detailed video maker. Also, this tool needs your account to be logged in before you'll be allowed to use it. You may use Facebook, Gmail, or sign up on their website. So, if you're a fan of data privacy then this tool is not a great choice. Although signing into this tool will not leak information about you, some of us don't want to provide important information about us because we want our data to be more private and for our safety. But no need to worry because there is no case that this tool leaks your privacy.
Top 5. FreeGIFMaker.me

If you're looking for a video link to GIF converter then this is for you. It is specifically supporting YouTube platform video links only. FreeGIFMaker. can do a simple video to GIF conversion. But it also provides images to gif, edit your gif, and reverse gif. Although this tool provides the most common feature a GIF maker should provide it is still not one of the best but it can be put on the list of the top 30 gif makers. The features listed are in different parts so instead of producing a GIF final output with editing you'll need to go after the one to the other to just do the editing you'll want.
Top 6. Make A Gif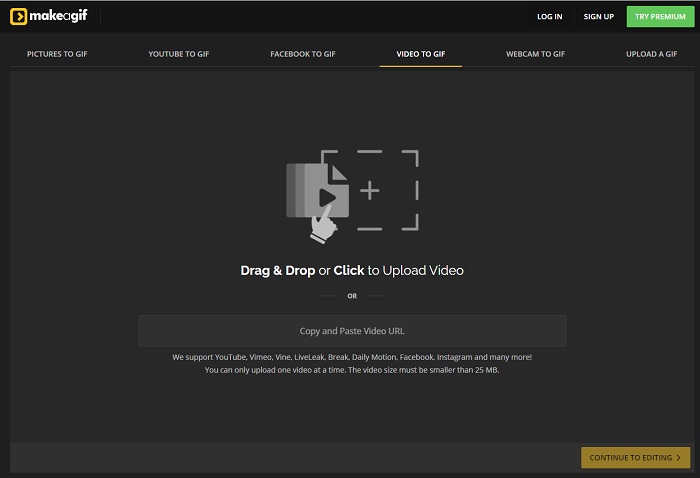 Another online GIF maker that you already encounter on the web. This Make A Gif gives the user a more serene interface if you like a darker vibe then this tool is one of them. This tool is flexible indeed because it focuses on making GIFs whether it is a picture, Facebook video, YouTube video, your video, and also webcam video. But the video you should always insert should be less than 25MB so if you want a long GIF then this is not for you to choose but if you want a short like 10 seconds then this is for you.
Top 7. Online Image Editor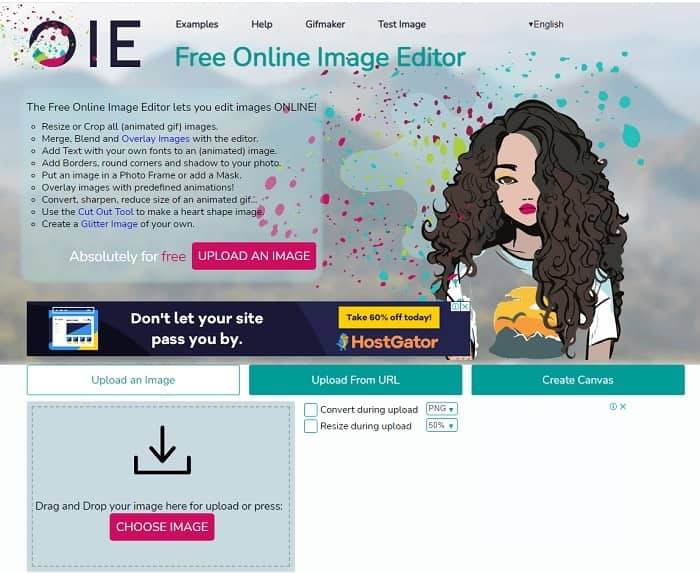 This tool allows you to edit your image and turn it into a GIF format. The Online Image Editor allows you to create a GIF by the use of your images. Also, it provides animations and simple editing tool features as well. But it is harder to create a GIF with this tool because you need to take your time creating one. So, if you're new to creating a GIF then this tool might be good but not the best for you. It is like you're making a GIF on photoshop but much worse because of the tool itself. Although the main webpage is outstanding, the tool interface is so simple that it becomes more boring to look at time after time. It looks like no one is still updating the interface. But despite that, it is a great choice if you want to create a GIF with images.
Top 8. Kapwing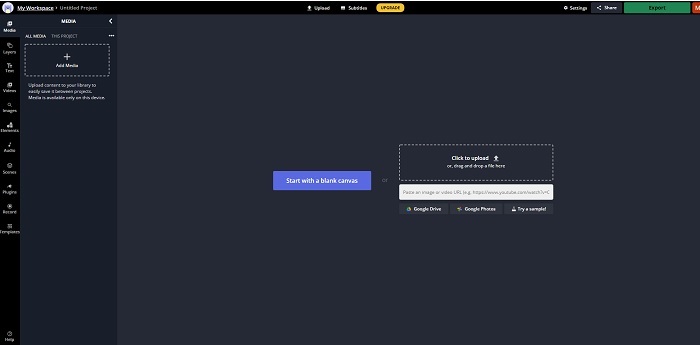 This tool is another free online GIF maker. This tool will give you the vibes of photoshop but online. Kapwing helps you to create your own gif with video or images you provide. Even though the name is not too good to hear or seems to be not real. But it is a great choice for an online animated gif maker. This tool is not a converter but a GIF maker. You can also share the final output over the major applications like FB, Twitter, and Instagram. Despite being easy to GIF, the exporting of the video is a lot slower unlike any other tool in the list. So, if you have a slow internet connection, it is still okay to use this but expect to wait a much longer time to produce the final output. The maximum limit of the video you should upload to it is less than 60 seconds to store a great quality. If you don't have a background in photoshop then this tool might be hard for you to use.
FAQs About Online GIF Maker
Why do GIFs develop?
In late 1987, an American computer scientist named Steve Wilhite who worked for CompuServe had a problem because they wanted to display a moving image while saving space so they developed GIF. Based also on his statement that it is pronounced as JIF not GIF but the spelling is GIF with soft G pronunciation. Although both of them are correct spelling.
Can I use Photoshop to convert my file to a GIF?
Yes, you can convert MPG to GIF using Photoshop or any known format to GIF.
Is it possible to convert MP4 into a GIF?
Yes, you can convert MP4 into GIF or convert any video format to GIF as well.
Conclusion
After all of the discussion, it is now clearer that all of the tools are capable of making GIF format. Though they have different abilities how they function such as converting it into a GIF, making a GIF, linking to GIF, or images to GIF. But all of the tools have their own unique qualities but one of them - FVC Video Converter Ultimate is the best choice. This is not only best at making GIFs but it gives you the opportunity to convert, merge, make a collage, MV, and many more. Though you can't access the features on the premium version online, it is always open for you to test, try, or do a conversion online with the free version. The Video Converter Ultimate is the best of all not only just in converting as it is said. You can also use your magic to create a beautiful output without limit. So never put any limit on your skill because this tool is easy, simple yet it creates majestic output.