How to Make a GIF from Pictures You Saved on Your Desktop
Just like videos, images play an important role to compile every moment we want to cherish the most. And most of us love to take a picture of the skies, butterflies, moon and stars, our pets, and ourselves. So, if you want to bring your images come into life then try to create GIF from images you took for better visual effects. As you continue reading, we make the searching for you easier. As we gathered some of the tools you can use to make GIFs out with the images that are on your drive. Take a look on this list and determine which one is the best solution for you to use.

Part 1. Best Phenomenal Solution to Create GIF from Images
Video Converter Ultimate is more than a converter you can use or depend on. This tool already helped a million of users in the entire web with their problem in converting, enhancing, creating GIF from images or video, and more. So, if you want to be helped by this tool then try to use this and it will never let you down. Moreover, this software also offers a lot of advanced features you may like to try that are easy to understand even for those who don't have experience in editing. So that you can make your GIF better than the other tools can provide you.
Key Features for Video Converter Ultimate:
◆Easy to use and it is budget friendly.
◆It has a lot of advanced features you can use on.
◆Impressive final output even you will be amazed.
◆No internet connection needed if you use this tool.
As we continue on exploring this tool then here below are provided steps for you to follow on. Read them carefully to achieve a 100% perfection on creating GIFs.
Steps on How to Make GIFs with the Video Converter Ultimate
Step 1. Download the software to your desktop and choose neither PC or Mac. Then do the Installation next and the quick set-up.
Step 2. Then proceed to the Toolbox and look for the GIF Maker then click it.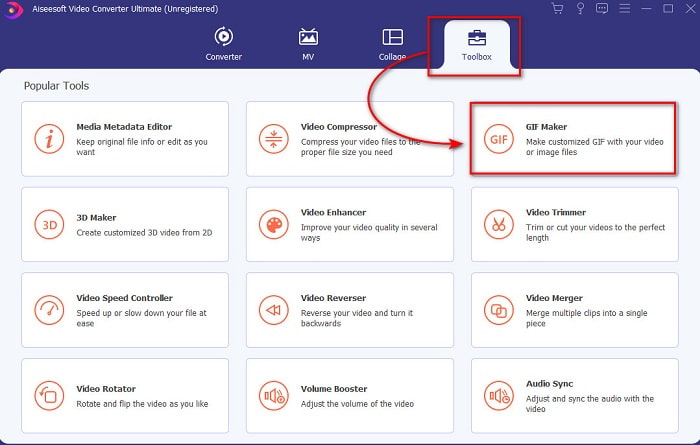 Step 3. Before you can turn a picture into GIF, click the Photos to GIF first and locate the images on the folder that will show next. Select the first photo and click Open to proceed.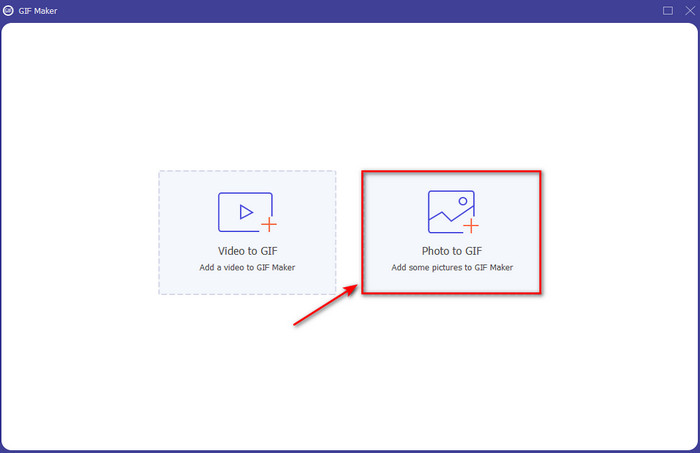 Step 4. As we proceed, change the Output Setting that shows next to your screen and click OK to save the changes you've made or to just continue. Then click the + button to add the images you want to be part of your GIF. After adding the images press now the Export to save the GIF you've made on your drive.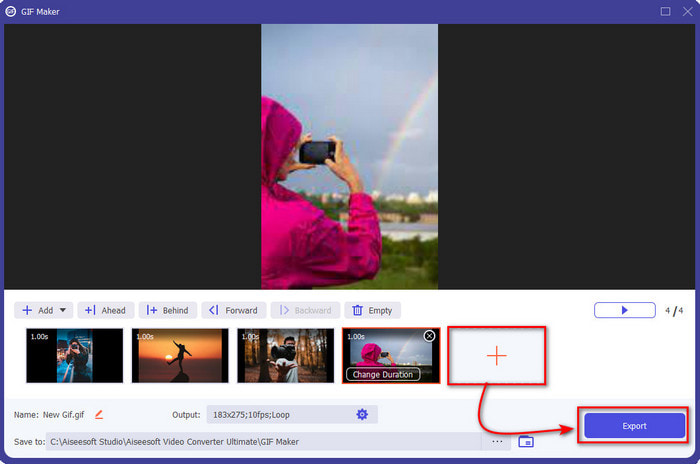 Step 5. Wait for several seconds to process the GIF. After it is done, a folder will pop-up on your screen with the GIF you've made.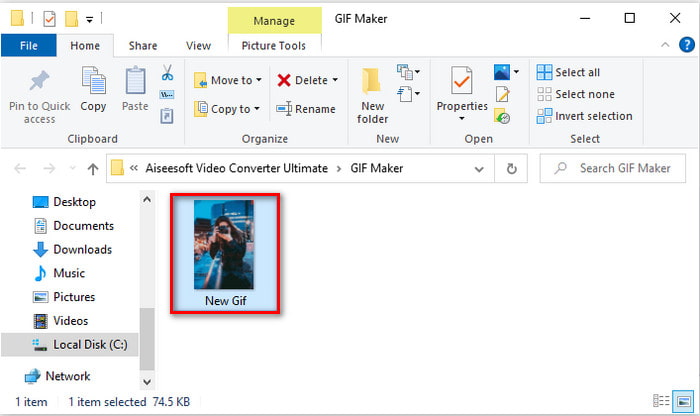 Part 2. How to Turn GIFs from Images with the Online Tools
1.Imgflip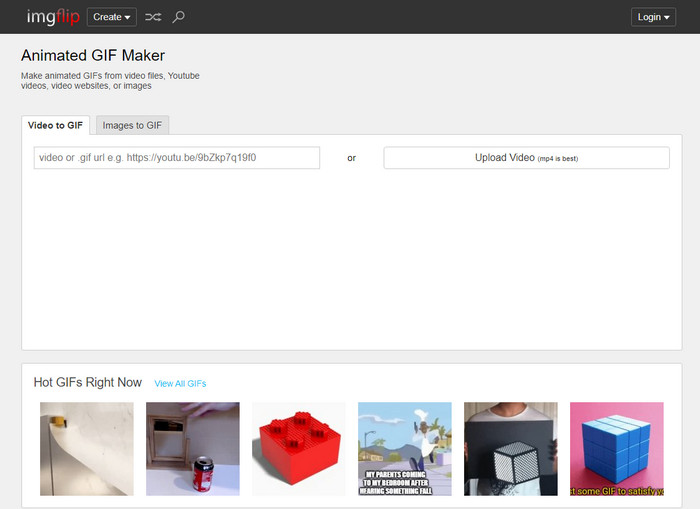 One of the webtools you can access for free is Imgflip. If you visit the main website of this tool, you can see a lot of pre-made GIFs on which you can choose. Also, you can not only convert photos to GIFs here but you can also create memes, charts and demotivational videos. However, the web tool only lets its use to experience barely minimum features users can use. Although ads might appear somewhere it is still manageable for every user who visits it. And the web interface of it is a bit bland to look at, basically no color at all other than the GIFs posted there and at the top.
2. GIPHY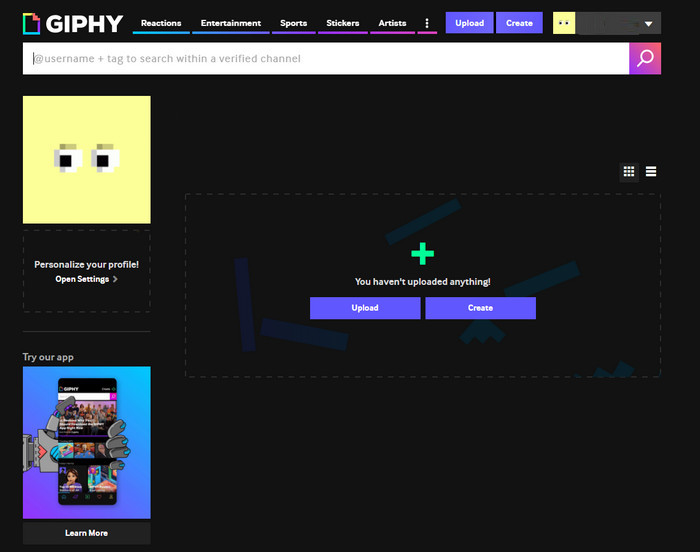 If Imgflip has a library of pre-made GIFs but it is not as big as GIPHY. This tool has its own library of GIFs you can choose on like the Imgflip but this is much better. As the web tool interface looks more elegant and neater than the other web tool presented in here. But before you can learn how to make a GIF from pictures then you will need to sign-up first. In this case, once you sign-up you will get a lot of annoying updates of the webtool to your email. Also, you will receive a lot of messages about how the tool misses you if you didn't sign up a long time ago.
3.FreeGIFMaker.me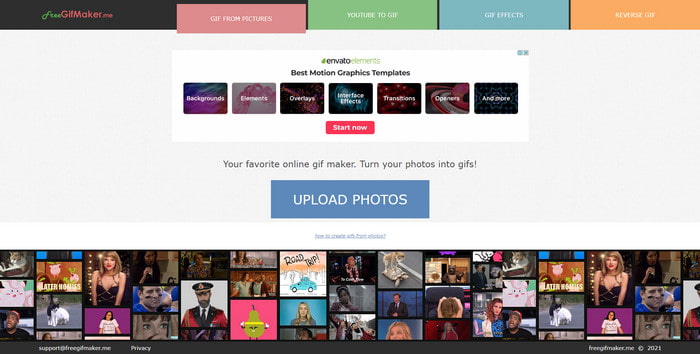 Another online tool you can use to make GIFs for free is FreeGIFMaker.me. Unlike the first two web tools, this tool has no library full of pre-made GIFs. Basically, it focuses on how to create a GIF from photos, adding simple effects, and reversing. Although the tool seems okay to be used for those who don't want to sign-up before they can access the tool. However, the experience of making impressive GIFs is still limited with this tool and also when you save the file to your disk the quality of the image becomes lower. For example, if you insert an image in a 1080 px then expect that it will be lower to 720 or less.
Part 3. FAQs about Creating GIF from Images
Can I edit my pre-made GIFs?
Positively yes, editing is part of the post-production of any project you are on. This part is important to make the most clever, amazing, inspiring, and so on GIFs you want. So, if you click this link, you will find out what are the Top 9: Best Animated GIF Editing Software you can use to upgrade the visual effects of your GIFs.
How to lower the size of my GIFs?
Most of the time GIF size becomes so big in size because of the duration of the GIF you just created. This can be avoided if you cut the length of the GIF duration or it is better if you compress the file. So, to learn on how to compress GIFs then go to this link provided for you.
Are GIFs considered as a video format or image?
Although it seems confusing because GIFs are moving animated in series but this format is still considered as an image format.
Conclusion
As we end the exploration, it is now simpler to understand that the tools presented in this article are great for you to use. Bringing your images into a life like an artist is our top priority as we select this tool based on the standard our readers want. However, not all of them presented a phenomenal editing feature like the Video Converter Ultimate. Although the tool presents a lot of advanced features it is still easy for the user to understand how to turn a picture into a GIF. So, if you are still undecided then we suggest that you must go with the best, like the ultimate tool.