Best Accessible GIF to Video Converters on Digital Devices [2021]
GIF is a well-known meme generator for Android and iOS devices. Despite the fact of having this kind of reputation some platforms like Instagram and Twitter don't accept this type of format. Instead of using GIFs we used other valid formats like MOV, MP4, AVI and more. Although, we can convert it and still have the same quality of the GIF. So, if you're ready to start to convert and want to know what are the best apps to make GIF videos. Keep up on reading this article to determine what are the tools you should use to convert GIF files into a new video format.

Part 1. 2 Best GIF to Video Converter Applications for iOS
1. GIF to MP4
You can use this app to make GIF videos on iOS. The GIF to MP4 has a 4.7 star on rating which means it is a good converter of GIF. The tool is very on-point which means you can use it even if you don't have any idea how to convert it. Though this gets a great number of praises, the customer service of this is totally bad. It doesn't leave any response to the customers' concerns to improve the tool. So, if you have a question about this app, you can leave a comment below but don't expect an immediate response.
2. GIF Cracker - GIF to Video

Another iOS tool that you can use to convert GIF to any video format you want is this. GIF Cracker this tool supports more formality than the first one. Also, it provides GIF to images so if you want to make a JPG out of your GIF you can use this. Looking at it seems like the app is perfect but to be honest the app also faces some bugs as well. Some minor bugs are fixed but not all of the bugs. But you can buy the pro version of it for a better experience.
Part 2. 3 Best GIF to Video Converter Applications for Android
1. GIF Maker - Video to GIF, GIF Editor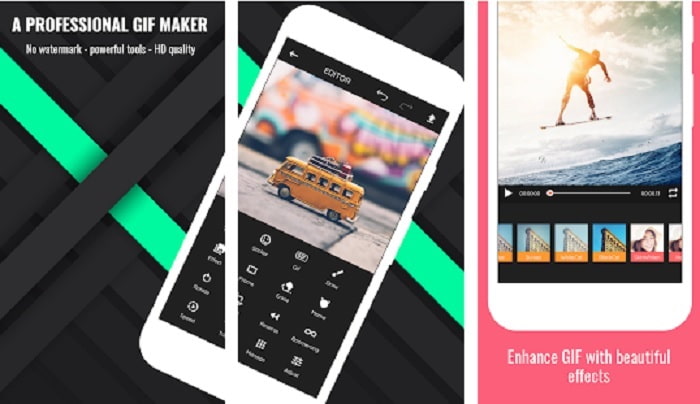 You can use this app to make GIF videos. But not only that it also supports editing features as well so you can make GIFs while on your phone. Some major features on desktop editing tools aren't provided in this tool because it is large in size. Moreover, you can make your original GIFs with this tool because it features more than 30 effects, 20fps per images, add emojis or text and trim video as well. But it features ads on the app so to remove them you'll need to buy the app itself.
2. GIF to Video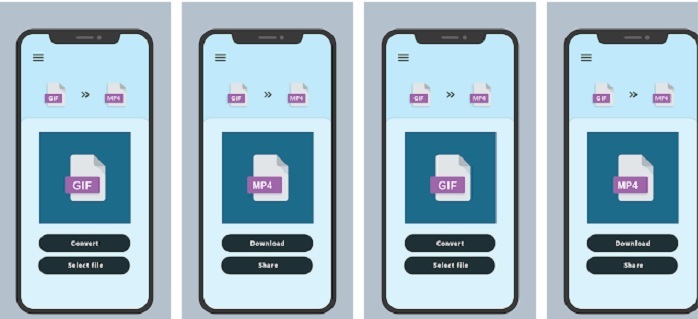 One of the best tools to convert GIF into a new format. Select any GIF from your gallery and convert them all by using this GIF to VIDEO. Just like the first tool on the iOS above it only offers GIF to MP4 conversion format only. But you can convert GIFs with ease with the help of this tool. It has an exactly right command so no need to worry because it only focuses on conversion. Also, this app just got a recent update from its developer, RAYO INNOVATIONS PRIVATE LIMITED.
3. GIF2VIDEO- trans GIF to VIDEO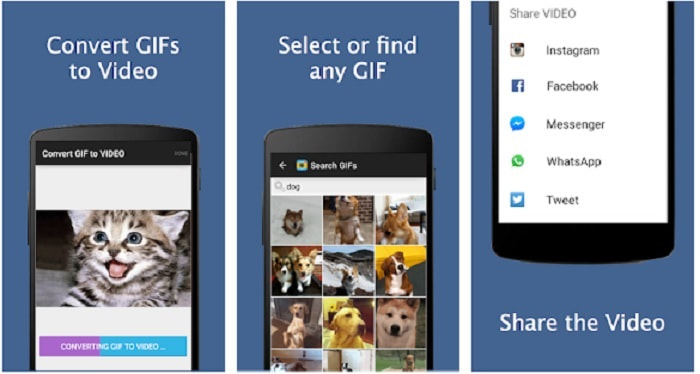 Convert your GIF into a new video format that is allowed to be shared on other platforms. As well, you can easily find your GIF in the search bar with the help of GIF2VIDEO. Also, you can set the video output to 1:1 or 4:3 with ease. Although it is effective on its job, the interface is a bit off the standard. In some cases, you can't download GIFs and if you download them the quality will drop.
Part 3. Recommended GIF to Video Converter on Windows or Mac
For instance, if you want to have a more precise method for converting and want to add your own special touch to the video. You can use Video Converter Ultimate tool that is available on PC and Mac and it is a must to follow the steps in proper order.
It is known for the fact that cellphones are like mini computers of our generation. But not all of the apps you will see on your mobile phones are available on the computer or vice versa. Video Converter Ultimate, a GIF to video app for computer is far greater than any converter available on Play Store or App Store. No mobile software can do more than just converting. Also, you can improve your video and audio quality as well in the making or after. So, if you want to experience how powerful this tool is, you must follow these steps below accordingly. Because they are all important to make the perfect conversion that you want to deliver.
Step 1. Download the tool to your computer. Alter the settings according to your needs and click finish to save adjustment.
Step 2. Run the program of the tool onto your desktop. Click the Add Files button to add the files. But if your GIFs have more than two, it is much better to drag-and-drop it to the tool interface.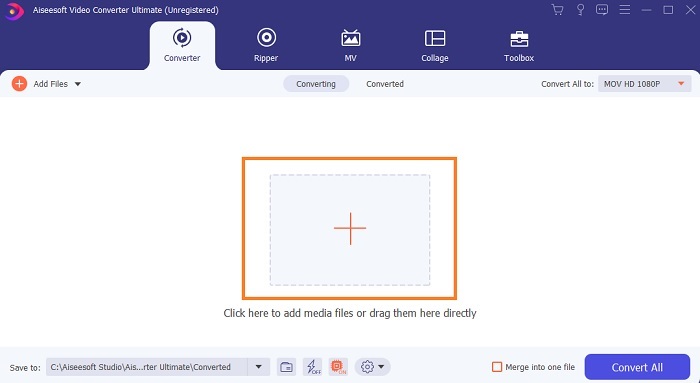 Step 3. Choose the format according to your want on the drop-down menu of Convert All to. After that, click the Convert All button to start the conversion.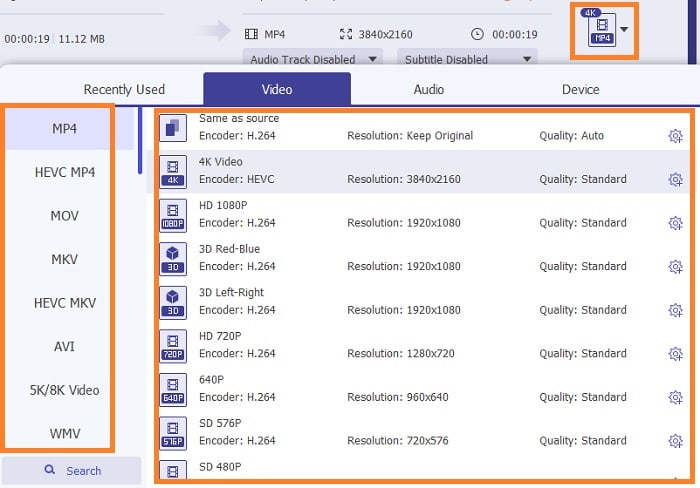 Step 4. It will only need an ample of your time for the conversion. And you can check the file and transfer it to your mobile device later. After all of that you are now done, you can now enjoy the converted video you just made.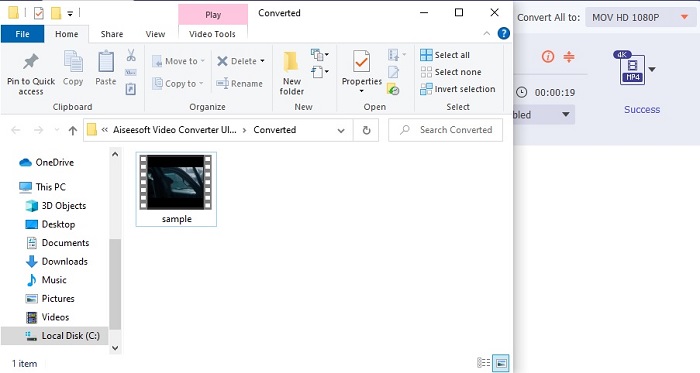 Further Reading
Part 4. FAQs about the GIF to Video App
How high is the fps of a single GIF file?
Some of the standard GIFs can go up to 15 or 24 frames per seconds but because of technology it can now go 30 to 50 fps per GIF which takes more storage if you download them to your phone.
What are the different types of GIFs?
If you did not notice there are 5 different types of GIFs these are the: replay, reaction GIF, cinema graph, technical, and the perfect loop GIFs.
What is the inside of a GIF?
All GIFs contain a series of images data that can be an animated image, short clips about the films, and a moving image if it is on the web.
Conclusion
To conclude, all of the chosen tools in this article are chosen properly for the user to know. Learning how to create a GIF is a great talent that even you can do if you have dedication and if you use the right tool. For instance, do you even use a hammer to open a can? So, if you use a hammer , open a can and take out what's inside. The substance on the can is now destroyed. Just like on converting if you use the wrong tool there is a big possibility that the conversion will fail. So, choose the right tool for the job like Video Converter Ultimate.