The Best 2 Methods to Convert SWF to GIF Files on the Computer for Free
I am trying to save FLV files I made (a banner) as an animated GIF using Flash Professional CS5. I did everything but failed. But I found that my SWF banners work well, so I just exported the files as SWF. Now I need to convert SWF files to GIF, is there any way?
This problem happens a lot for unknown reasons. So you can export the files to SWF, the designed format for Flash animation, and then transform SWF to GIF. Moreover, when you have created a wonderful SWF animation with an interacting function for your website, you may want to take it as a brand logo for spreading and advertising. In this case, you also need to convert SWF to animated GIF files with smaller sizes. Please keep reading this article, and learn more about these two formats and how to transfer SWF to animated GIF for free.

Part 1: SWF V.S. GIF: When Should I Convert SWF to GIF Format?
SWF: Shock Wave Flash, is also called Flash format. It is a format designed for Flash software, and it's used for making the website or creating animation. It can only be played on Flash Player on the browser, and it can't be sent through other platforms or software.
GIF: Graphic Interchange Format. Actually, it's a graphic format, but the animated GIF is like a short video that consists of multiple images. Its small size and high compatibility make it easy to send or share with friends. Find GIF player here.
Summary: SWF format is designed for website decoration with interaction to attract clients. But its large size and low compatibility make it unsuitable for sending or using on PowerPoint. The animated GIF is compatible with many devices and software, so you'd better convert SWF to GIF files to send and spread.
Part 2: The Best and Easiest Way to Convert SWF Videos to GIF Files for Free
FVC Free Video to GIF Maker is a powerful video to GIF converter that can transform MP4, FLV, SWF, and more 100+ formats to GIF easily. It supports transforming a batch of SWF files to GIF together with a very fast speed, which will save your time. And you can adjust the resolution, frame rate, and bitrate to keep a high quality of the GIF files.
1. Convert 100+ formats to GIF including transforming SWF to GIF.
2. Customize the video resolution and frame rate.
3. Able to add themes, effects, and subtitles to the GIFs.
4. Transform a batch of SWF files to GIFs quickly.
Step 1: Download FVC Free Video to GIF Maker on Windows/Mac and launch it. Click the Add Files button to select the desired SWF files and add them to the video converter.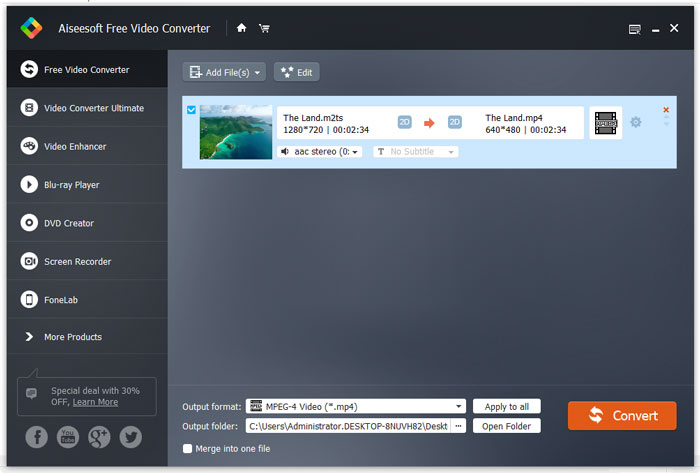 Step 2: Click the Output File menu and choose the GIF format in the general list. Or you can directly search the GIF format in the box. Then click the Settings icon in the video list to change the detailed parameters. To keep high quality, you can choose the maximum 720p resolution and 25fps frame rate. Then click the Save button to save the settings.
Step 3: Back to the main interface, and choose the storage path. After that, click the Convert button to start transferring SWF to GIF files.
Part 3: How to Transform SWF to GIF Files Online for Free
There is also an easy-to-use online video converter for you. Without downloading any software, you can turn SWF files into GIFs through FVC Free Online Video Converter. But you should note that it has limitations to the video resolution and frame rate, which will lose much quality of the original files.
Step 1: Navigate to FVC Free Online Video Converter on any browser. Click the Add Files to Convert button to install the launcher, and then click this button again to choose the desired SWF files you want to convert to GIFs.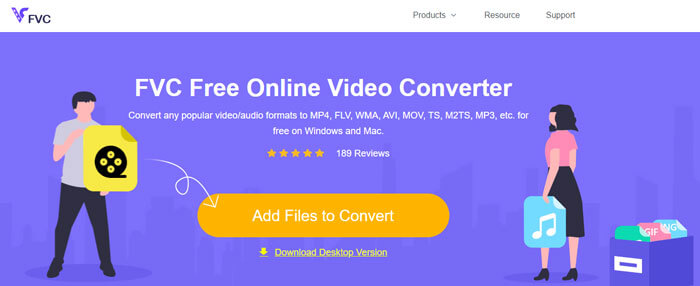 Step 2: Choose the GIF format in the bottom list and then click the Settings icon to change the parameters. You can only choose the 320x240p resolution and the 8 fps frame rate. Then click the OK button to save the settings.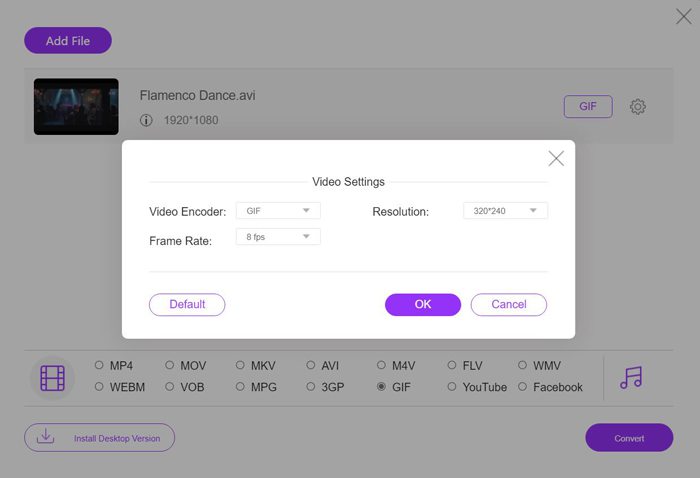 Step 3: Click the Convert button and then choose the desired file folder to save the exported GIFs.
With this online video converter, you can also convert the SWF file to MP4, MOV, FLV, WMV, AVI, etc. on your computer.
Part 4: FAQs of Converting SWF to Animated GIF
1. What are the differences between SWF and animated GIFs?
Firstly, they are both animated files with animation effects. But SWF files also contain interaction effect, which is suitable for website decoration. And SWF files have larger sizes and higher quality than GIFs. Thus, GIF files are more suitable for sending on the Internet.
2. Why can I only export SWF but not GIF on Flash software?
Maybe you don't open the GIF settings in Adobe Flash. You can go to the File menu and choose the Publish Settings option. Then tick the GIF Image box and change the player settings to Flash Player 5. Then you can try exporting GIF files again. If it doesn't work, you can try converting SWF to GIF files.
3. Can I play SWF files on the computer?
Yes, you can. Although SWF format is not supported by most video players including the default SWF players on Windows/Mac, you can try FVC Free Video Player or VLC media player, etc to watch SWF videos.
Conclusion
Unable to export GIF format on Flash? You can export SWF files at first, and then convert SWF to GIFs through the mentioned 2 easy ways in this article. Regardless of the low resolution and frame rate, the free online converter is easy for everyone. But to keep high quality and transform a batch of SWF files to GIFs together, download FVC Free Video to GIF Maker now.