How to Reduce SWF File Size Online Without Flash Player
SWF is an Adobe Flash file format used for streaming over the Internet. Whether you download SWF files or want to upload SWF videos online, the large file size of SWF draws a hard line.
But the upside is that you can compress SWF files to solve this problem.

Initially, the official SWF player, Adobe Flash Player, can compress the SWF files by changing the bitrate and resolution, but it is no longer supported after December 31, 2020.
Don't worry, you have options!
This post shares a free SWF file compressor online to help you reduce SWF video size into smaller easily on PC and Mac.
Part 1. Best Free Online SWF File Compressor
Good tools are essential things. To compress an SWF file, an SWF file compressor is the tool.
Free Online Video Compressor is a free wizard to reduce SWF file size into smaller online. Without signup, you can complete the SWF file compression process with simple clicks. It can compress Flash banners, slideshows, animations, games, movies, etc., to make SWF file smaller conveniently. Besides, this online SWF compressor can:
1. Reduce SWF file size by up to 95% with less or zero quality loss.
2. Compress over 300 video formats like SWF, MP4, MOV, AVI, WebM, MKV, etc.
3. Free to compress and convert video formats without a watermark.
4. Support 1080p HD, 720p HD, and other video resolutions.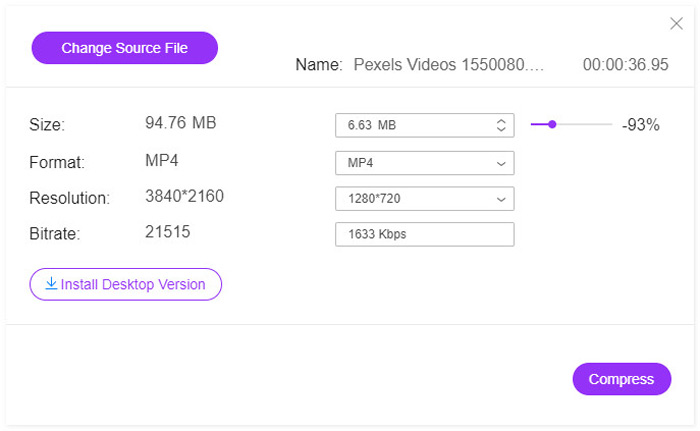 We're here to walk you through how to compress SWF files in the next part.
Part 2. How to Compress SWF Online (100% Free)
The process of compressing SWF files online can be accomplished in a few simple steps.
Step 1. Add SWF file
Open this free online SWF file compressor via your browser on Windows or Mac computer. Click the Add Files to Compress button, and you are prompted to download and install a compressor launcher.
After a successful installation, the open-source window will pop up, and you should locate the SWF file on your computer and add it to this tool.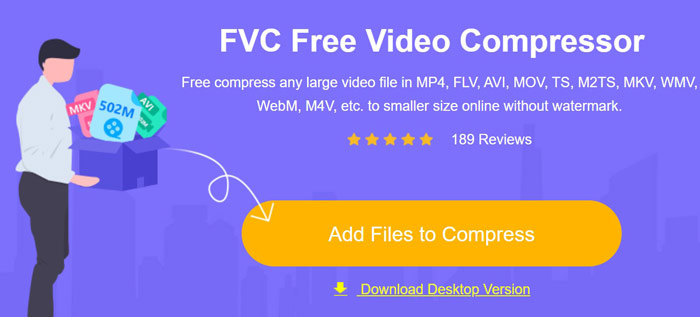 Step 2. Select compression rate and size
Next to Size, you can see the current SWF file size. Click the arrow-down or up icon to adjust the output SWF file size. Alternatively, you can move the slider on the right to reduce the file size by deciding its compression rate.
Next to Format, you can select other formats like MP4, MOV, MKV, AVI, FLV, etc., to convert SWF to other formats.
The output option of a lower Resolution will also help to make the SWF file size smaller.
While you compress the SWF file into a smaller size, the bitrate of this file will become lower correspondingly in the display screen.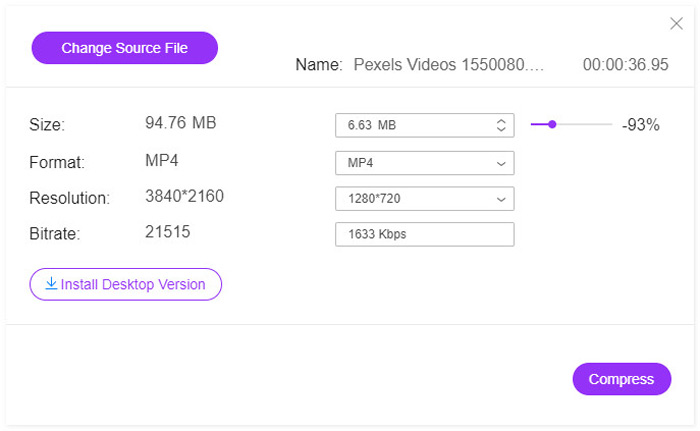 Step 3. Compress SWF
Click Compress to choose a destination to store the compressed SWF file and start reducing the SWF file size.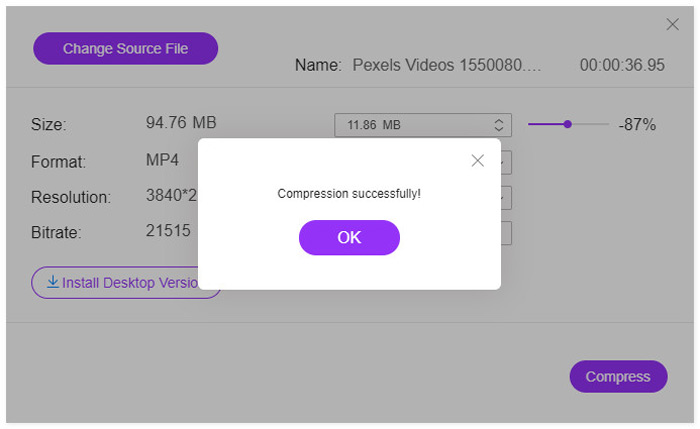 Once the compression process is done, you will see the pop-up window. Then you can find the compressed file by navigating the location where you set.
To be clear: This free online SWF compressor will convert the SWF file to other formats after compressing. If you want to compress the SWF file with keeping the original formats or compress 4K videos, you are recommended to download the desktop version of the SWF compressor, Video Converter Ultimate.
Part 3. FAQs of Reducing SWF File Size into Smaller
What program will open an SWF file?
Initially, SWF files can be opened via its official player on browsers, Adobe Flash Player. However, Adobe Flash Player was discontinued will as of January 2021. Other SWF players like VLC, Windows Media Player, and more SWF player software can open an SWF file.
Is SWF compressed?
SWF use a lossless compression to maintain the quality of the images, and that means the video stored in an SWF file is not compressed, and the file size is large.
Why is Adobe Flash shutting down?
Open standards such as HTML5, WebGL, and WebAssembly have continually matured over the years and serve as viable alternatives for Flash content. Also, major browser vendors are integrating these open standards into their browsers and deprecating most other plug-ins (like Flash Player). So, Adobe decided to shut down Adobe Flash Player.
Conclusion
SWF files are lossless and take up more space. Whether you want to save more space on a computer for SWF downloads, or upload SWF files online successfully, compressing SWF files becomes a common issue. This post shows a tutorial of reducing SWF file size free with an online SWF file compressor in 3 steps. No watermark or signup needs and you can complete the compression process quickly.
Now it is your turn.
Have you grasped the method of reducing SWF video size?
Or do you have other suggestions to complete the SWF compression?
Let me know by leaving your comments below.