How to Deduce Video File Size for YouTube in 2 Ways
"How do I compress a video to upload on YouTube, so that my laptop does not heat up?"
Creating a video is a lengthy process that takes time and resources. So do uploading a video.
When you upload a long video with large file size from computer to YouTube, the long uploading time may heat up your computer. Besides, YouTube has limited the video size and length for uploading.
No matter which issue you get suck in, you can get a video compressor to reduce video size so that you can upload them for YouTube.
Scroll down to know more about video compressors and how to compress videos for YouTube.

Part 1. YouTube Maximum Upload Size and Length Limit
By default, you can upload videos that are up to 15 minutes long to YouTube. To upload longer video files to YouTube, you should verify your account.
The maximum video file size that you can upload to YouTube is 128 GB or 12 hours.
To upload a large video to YouTube efficiently, you should have a video compressor reduce its file size.
Next, you will learn how to compress videos for YouTube in 2 ways.
Part 2. How to Free Compress Video for YouTube Online Without Watermark
Free Online Video Compressor is a 100% free video size reducer online. It is an easy YouTube video compressor tool to upload, compress and download the compressed video file within 3 steps. No file will be kept after complete your compression process and you can feel assuring. Working with any popular format like MP4, WMV, MOV, AVI, and more, this video compressor can reduce file size for YouTube, Instagram, Facebook, and more.
The steps of compressing a video for YouTube are pretty easy:
1. Upload a video online.
2. Select the video file size, resolution, and YouTube supported output format.
3. Start to compress and download the compressed video file.
The detailed steps are as below:
Step 1. Upload a video file online
Open this free Online Video Compressor via your browser on computer. Click the Add Files to Compress button to install a video launcher. That laucher can speed up your compression process by reducing file size and downloading the compressed file automatically.
After that, in the open-source window, select and add your video that you want to compress for YouTube.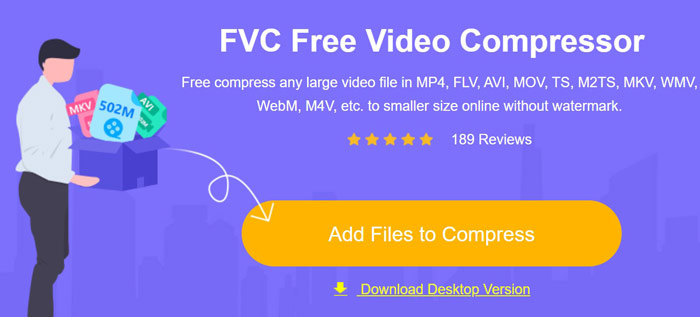 Step 2. Select YouTube file size
After uploading the video successfully, you will see the compressing window, where you can edit the settings of output files.
Next to Size, click the arrow-down or arrow-up icon to adjust the output video size. Alternatively, you can move the slide bar to control the video size. You can reduce the video size for YouTube from GBs to MBs.
Afterwards, to Resolution, it highly supports 1080p HD, 720pHD, and more to upload for YouTube.
Finally, it comes to the output format, you can select YouTube from the drop-dwon option or choose other formats like WMV, MOV, MKV, M4V, FLV, MPG, etc., for other sites.
Step 3. Compress video for YuoTube
When the setting finished, click the "Compress" button at the bottom, to select a location to save the compressed video file, and start shrinking a video for YouTube immediately.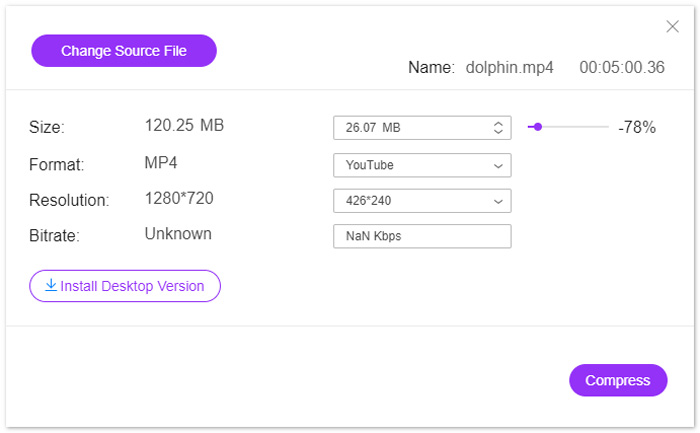 Part 3. How to Compress a Video for YouTube Without Losing Quality
Another way to compress a video for YouTube is using Video Converter Ultimate.
It is an all-in-one video compressor, editor and converter program on computer.
Not only compressing a video file by reducing its size, but also can this software shrink a video file length by splitting.
Moreover, you can:
1. Support 8K, 5K, 4K, 1080pHD and other video resolutions.
2. Edit video effects like filters, watermark, crop, rotate, and more.
3. Toolbox can enhance video quality, edit metadata info, convert 3D videos, and create GIFs.
4. Create GIFs and split screen to watch videos freely.
Now, let's check how to compress a video file with this software.
Step 1. Select Video compressor
Free download this YouTube video compressor on your computer. Install and run it immediately. Navigate the Toolbox tab. Select Video Compressor.
Step 2. Add a video file
Click the big plus button to select and add the video file that you want to upload to YouTube.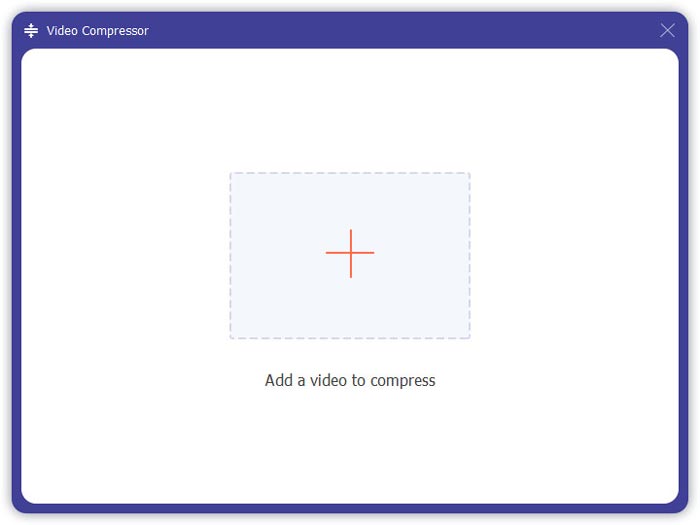 Step 3. Compress a video for YouTube
Move the slide bar to select the video file size you want to keep, choose the video format, resolution, and the output format.
The Preview button enables you to watch the compressed video and see if the quality is what you need.
Finally, check the location where you store the compressed video at the bottom, and click Compress to start reducing a video file size for YouTube.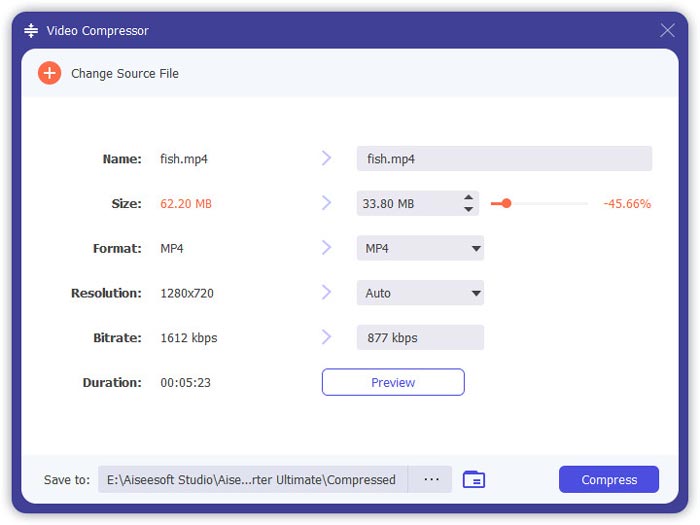 If you want to compress a video file without losing quality, the recommended way is to encode the video file in H.264.
1. Run this software again, and click the big plus to add the video files.
2. Select the YouTube supported formats with encoding H.264.
3. Click Convert All to start transcoding YouTube video in H.264.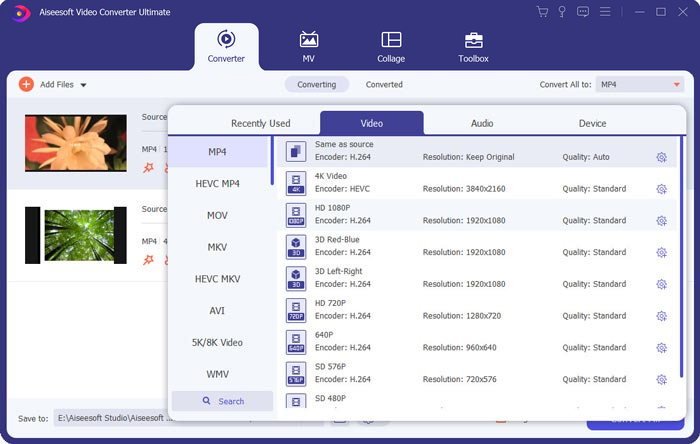 Part 4. FAQs of Compressing Video Files for YouTube
How many videos you can upload per day on YouTube?
Video upload limits vary by region or channle history. If you get an error saying 'Upload limit reached' when trying to upload a video, you can try to upload a video in 24 hours.
How to upload vertical videos on YouTube?
If you record a vertical video on iPhone, do not add black bars to the sides of the video. YouTube can work out the best way to display the content and fit thre screen.
What are Supported YouTube file formats?
MOV
MPEG4
MP4
AVI
WMV
MPEGPS
FLV
3GPP
WebM
DNxHR
ProRes
CineForm
HEVC (h265)
Conclusion
YouTube is one of the platforms to share video clips like TV shows, documentaries, music videos, movie trailers, educational videos, video recordings, blog videos and many more. However, when you upload a video file with long time or high-quality, the video generally represents a large file, which also means the uploading will take a long time. This post shares 2 ways to compress a video for YouTube.
Do you want to reduce a video size free online?
Or you may want to compress a video file by recoding.
Either way, leave your comments below, if you have any other suggestion.