How to Convert Any Video to MP4 for Free
When it comes to video format, MP4, with no doubt, is one of the most universal formats we use today. It can contain not only video but also audio and subtitles. Nowadays, a lot of people use MP4 to make back-up copies of their videos and movies. Hence, it is pretty common to convert and save video as an MP4 file. Besides, almost every player and device can play MP4 videos, which gives us another reason to convert video to MP4.
Therefore, in this post, we will find out how to change other video formats to MP4. Also, we will learn how to download online videos to your PC.

Part 1. How to Convert Local Video Files to MP4
Someone may cut corners by altering the file extension to MP4 to change file type. However, this may cause trouble – the changed file cannot be recognized by your device. So, you'd better use a professional video converter to change file type.
1. Online MP4 Video Converter
If you need to convert the videos saved on your computer to MP4 online, you can simply employ a useful conversion tool called FVC Free Online Video Converter.
This video converter can perform video conversion with ease. You can easily convert any videos and movies to MP4 with original quality. You can even modify the resolution, frame rate and bitrate of your video, or convert videos like WMV to MP3 according to your needs.
Step 1. Go to visit its official website. Click Add Files to Convert and then Download.The launcher will be downloaded to your computer. Please install it.

Step 2. After the installation, you will see the Open Window, where you can select the videos you want to convert.
Step 3. Then you can choose the format as MP4 before you start the conversion. Click Convert and choose a destination for saving. After that, you can soon get your MP4 video.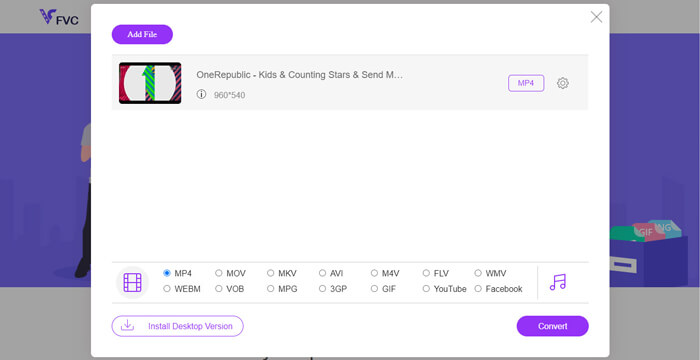 2. VLC Media Player
You may be surprised that VLC Media Player can convert videos as well. But this is true that it can be used as an MP4 video converter. If you already have VLC on your computer, you can give it a try.
Step 1. Open VLC Media Player. Go to Media, and then Convert/Save…
Step 2. Add the video to VLC and click the Convert / Save button below.
Step 3. Then make sure the output format is MP4. Select a destination for saving and then Start the conversion.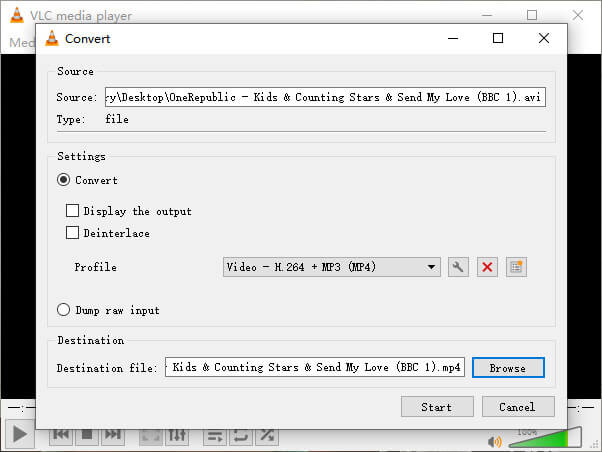 Part 2. How to Download Streaming Video to MP4
Nowadays, people all over the world enjoy watching online videos. While watching these videos, you may find them interesting and want to save them to your computer for later watching. However, most online streaming videos cannot be downloaded directly, and some may even have their own formats which are hard to be recognized by mainstream players.
So, how to download and convert online video to a more popular format, like MP4, on your computer?
The recording feature of FVC Free Screen Recorder can help you with that. You can record any online videos on YouTube, Vimeo, etc., with high quality as you like. And it is 100% free to use. Please follow steps below to record streaming videos.
Step 1. Click the link above and select Start Recording. Then you need to download and install the launcher to your computer if you haven't done that yet.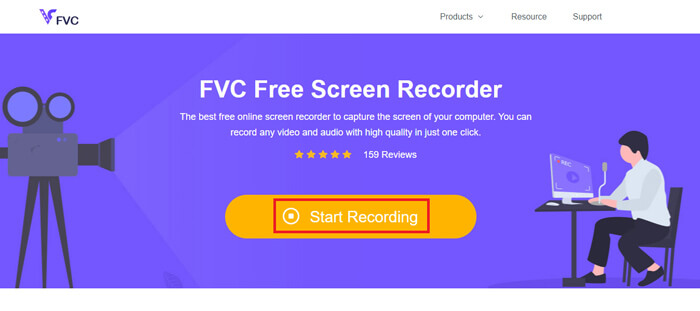 Step 2. Adjust the recording area to a suitable size. Then open Speaker. You can even open Microphone if you want to add a voice over. Click REC to start recording.

Step 3. When you done recording, click the Stop icon to end it. The video will be saved to your computer by default.
Part 3. FAQs of Converting Video to MP4
1. How long will it take to convert video to MP4?
Usually, it only takes a few minutes to convert videos to MP4. But if the size of video is too large or the speed of network is slow, it may need more time to complete the conversion.
2. What if the converted MP4 file is too large to share?
Then you need to compress this MP4 video to smaller size. Actually, with FVC Free Online Video Converter, you can reduce the file size at ease. Just click the Setting icon next to your file after launching the recorder and adjust the resolution to a lower standard. Then you can find your video much smaller than the original one after the conversion.
Another solution is to use a powerful video compressor like FVC Free Video Compressor, which can reduce your video size in no time with high quality.
3. Is there a way to convert YouTube or Facebook video to MP4?
If you're a YouTube Premium user, you can download the YouTube video and use a video converter to convert it to MP4.
Conclusion
Prefer online tools? Just trust on FVC Free Online Video Converter. Already installed VLC on your computer? You can give its converting feature a try.
Now you have known all things about changing video into MP4 format. Hope that you have found the best converter that suits your needs. Please don't hesitate to leave us your comment. Your valuable feedback will help us to improve.