How to Convert MKV to MP4 on Windows/Mac
When you play a movie, you find that it cannot be opened because some program doesn't support MKV format. Then you may wonder why is this happening and how to solve it.
The reason why you can't play MKV can be caused by the lack of certain codecs on your device. Because of that, even though you can see MKV everywhere nowadays, some devices or programs still don't support MKV format. So, you need to convert it to a more common format, such as MP4, a much more usable format that can be loaded properly on almost every device.
Today we are going to introduce you 2 free converters to help you convert MKV files to MP4.

Part 1. How to Change MKV to MP4 Online & Free
If you can't stand installing much software on your computer just like me, I suggest you try a web-based online converter.
There are plenty of free online video converters on the market, but to be honest, most of these so-called 'free' converters have a myriad of limits. You have to pay them to get a better plan. Only in that way can you quickly convert large files in batches with no watermark.
So, is there a truly free, fast and powerful video converter? The answer is yes.
FVC Free Online Video Converter, an MKV to MP4 efficient video converter that is able to help you convert videos with no limit. It supports converting nearly all mainstream videos to popular formats like MP4, MOV, WMV, AVI and FLV in seconds. It also supports batch conversion, which means you can convert a bunch of videos and keep their original quality at the same time.
Because FVC Free Online Video Converter is a web-based tool, so you can use it easily on both Windows and Mac, as long as you have a stable network and a browser. As for the usage, you can master this MKV to MP4 converter with only a few steps.
Step 1. Go to the website of FVC Free Online Video Converter on your browser. Then Click the Add Files to Convert button. If haven't downloaded FVC Launcher to your computer before, it will remind you to download the launcher first. Just follow the prompt and install the launcher.

Step 2. After installing, the Open File window will show up automatically. Now choose the MKV file you want to convert. By the way, if you want to convert several MKV videos once and for all, select all the MKV files you need.
Step 3. Then click Open and you will see a list of selected files. Choose the output format MP4 under that list.
You can also select different formats for different files separately by clicking the format next to the Setting icon and change the output format below. But you can just skip that and click the Convert button. After that, find a destination to save the converted videos.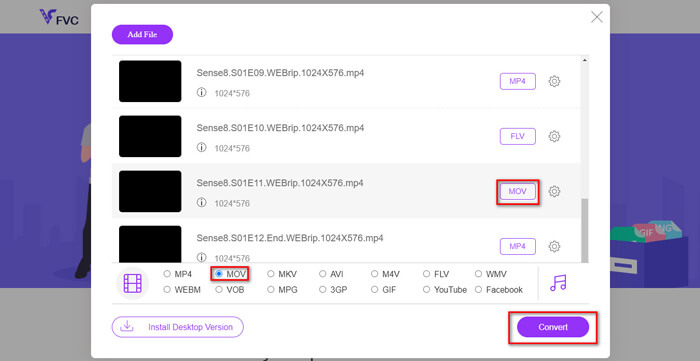 Part 2. How to Convert MKV to MP4 with VLC Media Player
You may know VLC as a multimedia player, which is available for most desktop operating systems. But actually, it is also a hidden video converter. It allows you to convert MKV files to MP4 format. If you already have VLC on your computer, you can give it a try.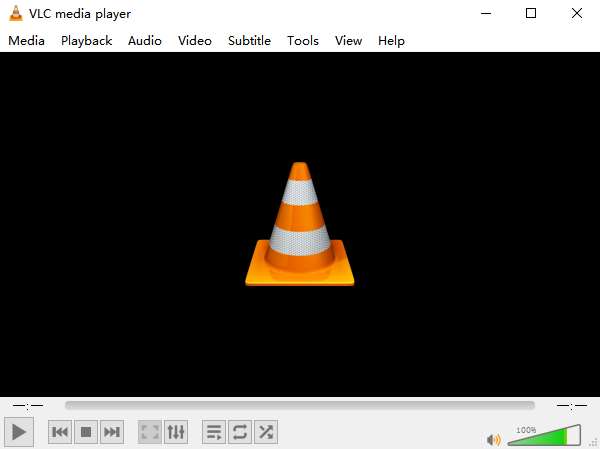 Step 1. First launch VLC Media Player on your computer. Click the Media menu. Find Convert / Save in the drop-down list.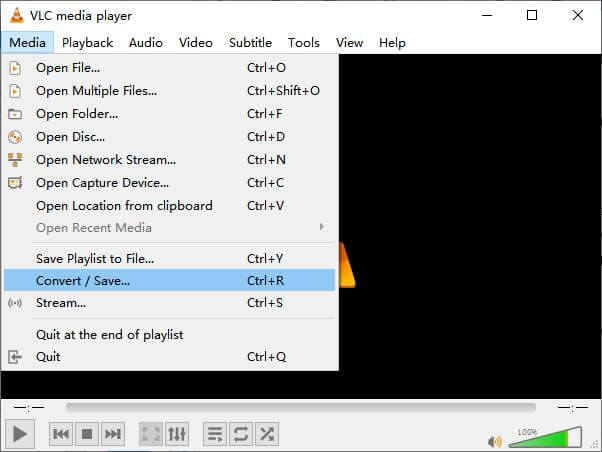 Step 2. Click + Add and find the MKV video you want to convert. Then click the Convert / Save button below.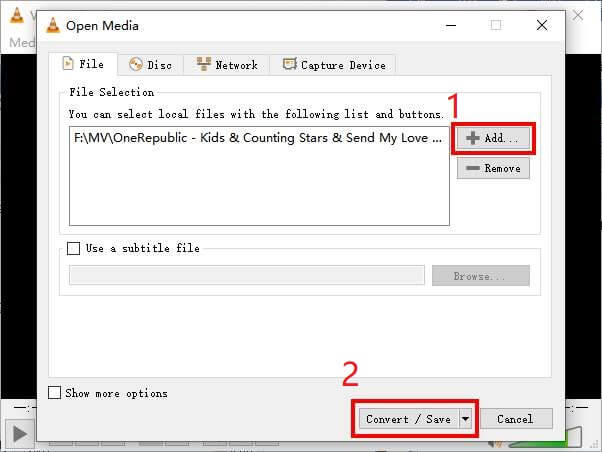 Step 3. Choose the MP4 format in the Convert window.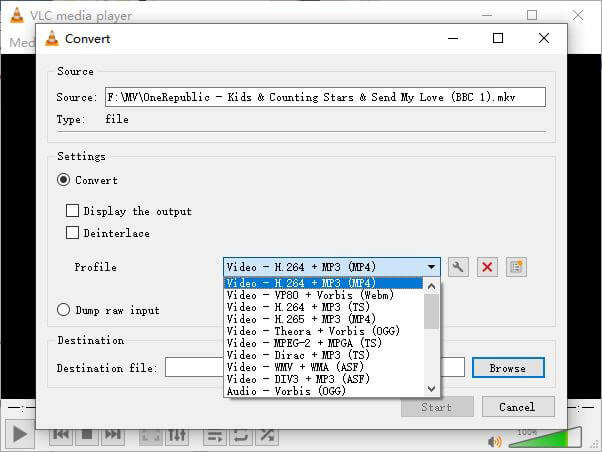 Step 4. Click the Browse button to confirm the destination for saving. Finally Start your conversion and wait to get your MP4 video.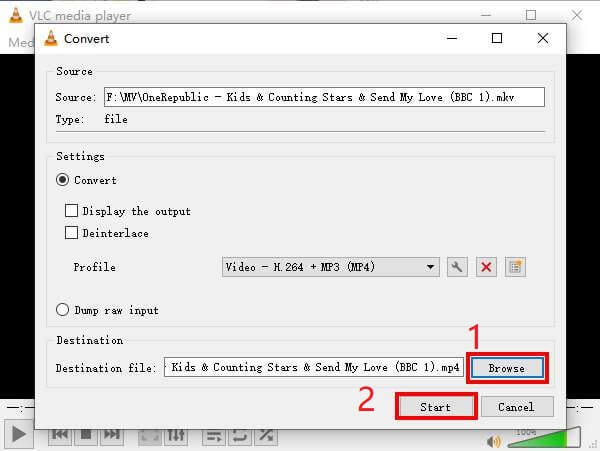 Part 3. FAQs of Converting MKV to MP4
1. Can ffmpeg convert MKV to MP4?
Yes, you can convert MKV to MP4 with ffmpeg. But it might be a little complex for you to understand how it works, even though the most effective step is only a sequence of characters: ffmpeg -i my_movie.mkv -vcodec copy -acodec copy my_movie.mp4
2. Can HandBrake export MP4 from MKV?
If you only want a MP4 file after converting, HandBrake can help you with that indeed. However, it cannot convert your files to other formats, such as WMV, MOV, FLV. HandBrake does support most common multimedia files. But that is its supported input sources. For output formats, your options are MP4(.M4V) and MKV.
3. Does converting MKV to MP4 lose quality?
Most video converters do lose quality when you convert MKV files to MP4, maybe 1% or 5%. While re-encoding the MKV files to MP4, it is hard to avoid data loss entirely. But you can increase the resolution of images to make the quality of exported MP4 videos close to the original video.
Conclusion
There are countless video converters for you to choose. It is hard to find a free and efficient converter all by yourself. This post has introduced you 2 methods to convert MKV to MP4. One is VLC Media Player, and the other is FVC Free Online Video Converter.
If you only want an MP4 file, VLC is enough. However, VLC supports only a finite number of formats. So, if you want a more professional converter, FVC Free Online Video Converter seems to be a better choice.
Hope you find this post useful. And don't hesitate to tell us your opinion.