Best MKV Metadata Editor to Add/Change/Remove Metadata on MKV
There isn't a wide variety of MKV metadata editors on the market because the MKV isn't much supported. But it doesn't mean that we can't edit the tags on our MKV files, so don't look gloomy. So for you to find out what is the best metadata editor that supports MKV, you can read the full scope of this article as we review different tools. What are you waiting for? Keep the ball on a roll because this won't last more than 7 minutes to have a tag editor.

Part 1. Best MKV Tag Editor Recommended for Windows & Mac: FVC Video Converter Ultimate
FVC Video Converter Ultimate is the most popular MKV metadata editor on Windows and Mac. This tool lives up to its name and expectation, so downloading the software to edit the metadata is the best choice you will make. Its powerful features and functions will easily handle the job as if it is a piece of cake. Furthermore, this tool supports other formats to upload, such as MP4, AVI, MOV, FLV, WMV, and the 1000+ media formats without re-encoding the file for a less hassle experience.
What's more? Suppose you download the tool. You will have the fastest tool for adding the metadata on MKV and the most beautiful GUI of the metadata editor that the other tool can't offer. If you are interested in using the editor, proceed on reading part 2 as we explain how to edit the data of MKV files.
Part 2. How to Edit MKV Metadata with the Recommended MKV Metadata Editor
Follow the steps accordingly, starting from downloading the tool and so on. So let's start on using the best MKV metadata editor you can download on your Windows or macOS.
Step 1. Tick the download button we present below; select which operating systems you are currently using. Install it immediately after you've downloaded the file, follow the installation process, and we promise that you wouldn't get wrong, then open it to proceed. Before we start, you'll need to get familiarized with the tool to have a smooth sailing process using the MKV tag editor.
Step 2. Open the Toolbox, look for the Media Metadata Editor, and tap it to open.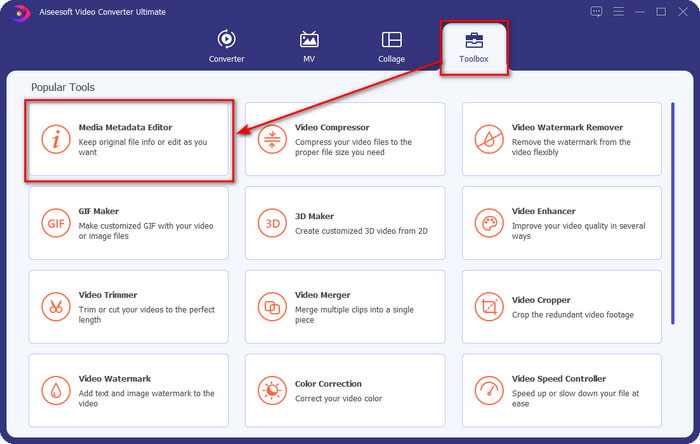 Step 3. Upload your MKV file by clicking the + icon, and a file folder will show, select the MKV file and press Open.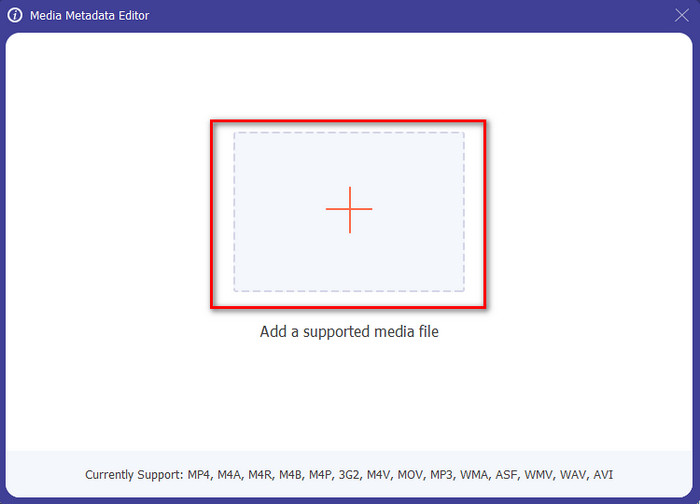 Step 4. Edit the metadata textbox; you can either fill them or remove them, do what you want to do with the metadata. After all of that, click Save to apply the change you've made earlier. With that, you have now edited the MKV tags.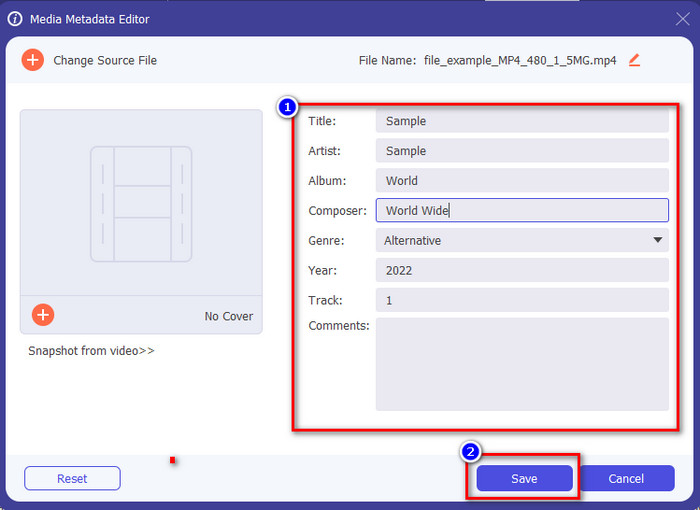 Part 3. 3 Free MKV Tag Editors You Should Know Available on Windows, Mac, and Online
GROUPDOCS.Metadata [Free on the Web]

If you want to use an MKV metadata editor for free on the web, we highly suggest you try the GROUPDOCS.Metadata. It is the best choice to view and edit the metadata on your MKV as it works on all platforms, which means it is flexible and adaptable in any case. Moreover, it can easily manipulate the search and update of the tag according to the properties you will need, and if it needs to be removed, it will automatically do it. However, the tool can be challenging to handle on specific tasks, like updating the file's tags. So to get the hang of using the web tool, you will need to use it most of the time to improve your knowledge about the website functions and make it easier to handle.
Properties on Windows [Built-in Editor on Windows]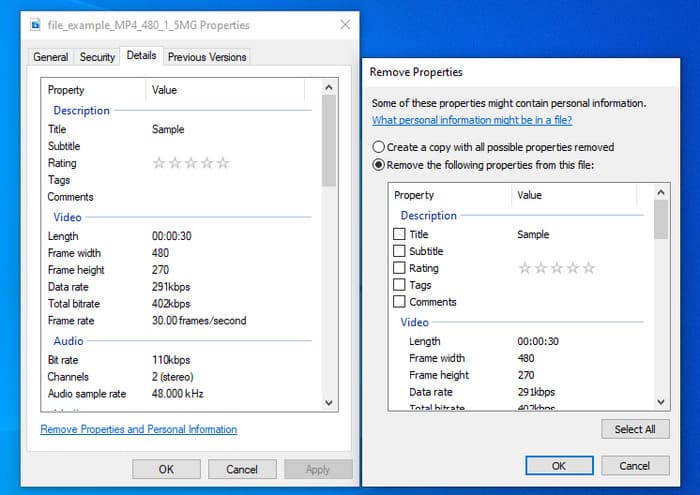 Doesn't want to download a tool to change MKV metadata and wish to use the built-in function on Windows to edit the metadata? Then it would be best if you used the Properties on Windows. This function is available on all Windows PCs, and you won't need to download any tool or internet to use it. You can quickly view the metadata and edit it successfully with this free feature. However, there are some reports of the missing tags after they tried using this feature. As per users, it can automatically remove the tags on your file. Instead of using this feature, they intend to download the right tool to waste effort on the tags they include on their MKV or media file. But if you want to see where this feature is, just press right-click on the file, mainly at the bottom part.
iFlicks [For Mac]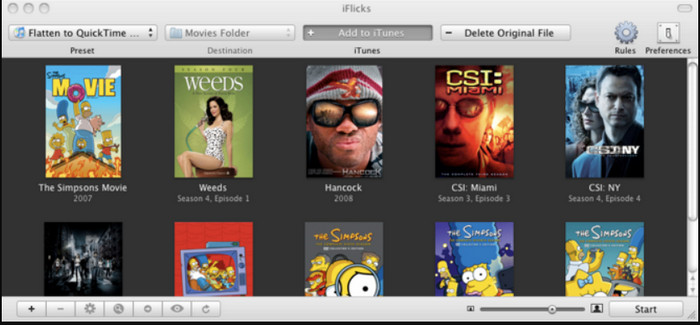 iFlicks can help you convert the MKV into a playable format or teach you how to edit MKV metadata on Mac. This tool well interacts with iTunes as it provides in-detailed metadata on every media file. With this software, you can add different information about your file, such as tagline, genre, date. ratings, resolutions, and others are fetched on the databases online. Furthermore, this software compiles metadata on where you can download them and automatically apply them to the files. However, the free trials can only last for seven days, so if you want to use the tool again, you'll need to pay for its subscription fee.
Part 4. FAQs about MKV Metadata Editor
Is MKV playable on Mac?
MKV is playable on Mac if you use a third-party tool, such as the Blu-ray Player. But if you intentionally play the video on Quicktime, it won't work because it is unsupported. So, if you want to watch your MKV files on Mac, we highly recommend that you use a third-party Blu-ray Player, or you can convert the MKV format into MOV with the help of FVC Video Converter Ultimate.
Do I need to convert MKV before editing the metadata?
If the tool you want to use doesn't support MKV format upload, we advise you to convert the format first into a compatible format. But with the toll we mentioned atop, you wouldn't need to convert the file into a supported format. However, there aren't many options or tools to edit MKV tags because the format is unknown. Although it is hard to look for, we did our best to search all the editors you can use to update or change the metadata that supports MKV format.
Why are MKV files too big in size?
The main reason why MKV files are big is that they can contain multiple contents of a video, audio, and subtitle with different codecs and elements. And you've added metadata on that file, and the file size will become even enormous. So, the best way to save space while having an MKV file on your drive is to compress it without destroying the quality or losing the information on the file. Click this link to learn more about compressing video files.
Conclusion
Even though there is a limited MKV metadata editor on the market, there are still powerful tools you can depend on available on different platforms. As we reviewed different software you can use, it is always still on your hands; which do you prefer to use on changing the metadata of your MKV file. Indeed, it is a tough decision because all of the tools are awesome to use. If you haven't decided which you prefer, we suggest you use the FVC Video Converter Ultimate because it is the most flexible software and has more advanced features that anyone can use. By pressing the download button, you will attain the best tag editor you can have on Windows and Mac!