5 Most Picked AVI Video Tag Editors on Windows & Mac System [Easy-to-use]
The AVI tag can help you determine what's inside that file by checking it. However, not all the tags on your AVI files are correct, so you will need a device to correct them on your own. But the market for tag editors is too broad on the web, isn't it sad? We know what it feels like to search for the perfect tool you should use. Providentially, we pick the best metadata editor you should use to edit, add, or remove the tags on your AVI. In today's discussion, we will make sure that you will see the perfect AVI Video Tag Editor you can have on your desktop.

Part 1. Top 5 AVI Tag Editors Available on Windows & Mac
Video Converter Ultimate [Best AVI Metadata Editor for 2022]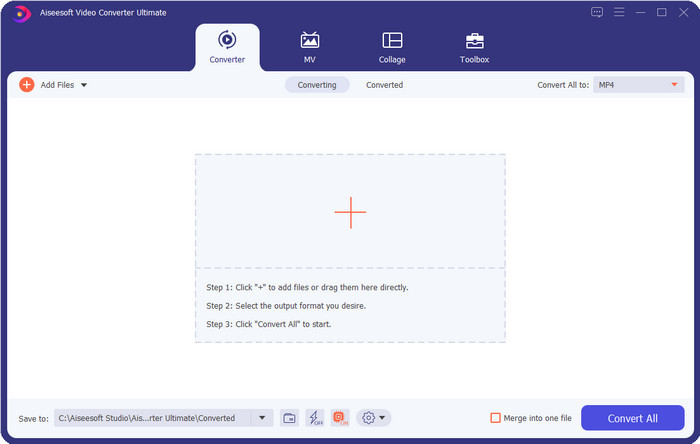 It is the best AVI video tag editor you can use to change or remove the tags on your AVI files easily. If you want the most advanced but straightforward software features that fascinate you, then the Video Converter Ultimate is the choice. In addition to that, you can use multiple metadata editing features here to arrange, correct, or update your tag correctly. Before you download and try out the other desktop editor, we would highly recommend this tool for you to use because you can have an all-in-one tool if you download it. Want to know why you need to use this tool? We list below the 5 reasons you can read to help you decide why you should download it.

FVC Video Converter Ultimate
5,689,200+ Downloads
It is the best software you can use that supports a multitude of formats such as MP4, MOV.
For the fast process of editing metadata, this tool is perfectly doing well.
Learn to add the essential tags on your files or remove them with just a few clicks away.
It supports all of the desktop platforms such as Windows and Mac.
AVI MetaEdit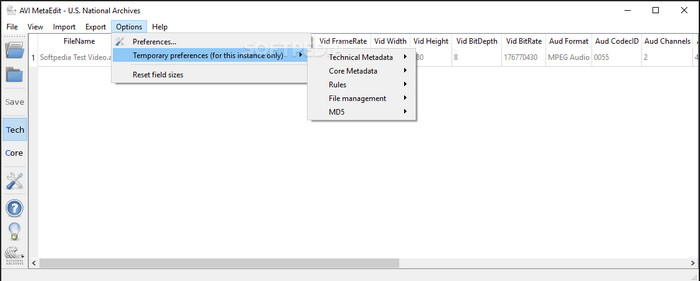 If you're looking for an AVI metadata editor on Mac and Windows, then AVI Meta Edit might be your tool. This tool offers its users to edit the tags or information inside the media file, specifically AVI. With this tool, you can edit the Technical Metadata and the Core Metadata of your files separately, which both include different pieces of information about the file. Although the tool has in-depth editing features that can be provided to you, it is still confusing to use with the short-cut terms included on the tool.
Machete Video Editor Lite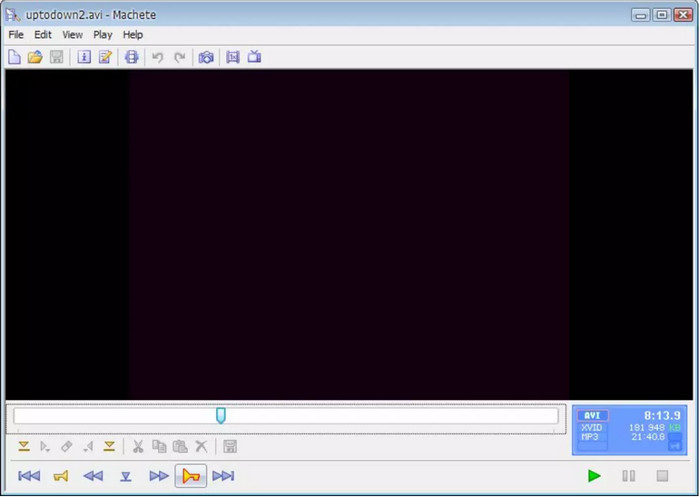 Suppose you want to edit AVI metadata on your Windows 10, then you must try to use the Machete Video Editor Lite. You can easily edit the tags on your AVI and WMV files with this tool. Also, it provides a simple generated interface to help the users know what the features that are available on this tool are. Because of its simple interface, few users see this as an option if there is no choice to edit their metadata. In addition to that, the metadata information you can fill in this tool is limited, same as the supported formats.
abcAVI Tag Editor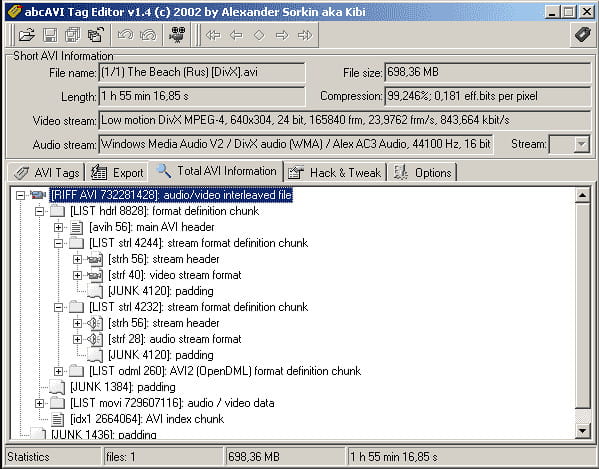 You can download another open-source AVI tag editor on Windows, the abcAVI Tag Editor. With this tool, you can easily adjust the metadata on your AVI files, and it only supports AVI format. Moreover, you can add or update the tags you will need on your AVI files with just a few clicks. Even though the tool performs well, we can see that it's GUI is really bad; its arrangement is very far from what the other tools offer. Plus, it doesn't support other upload formats, except on AVI format only.
FFmpeg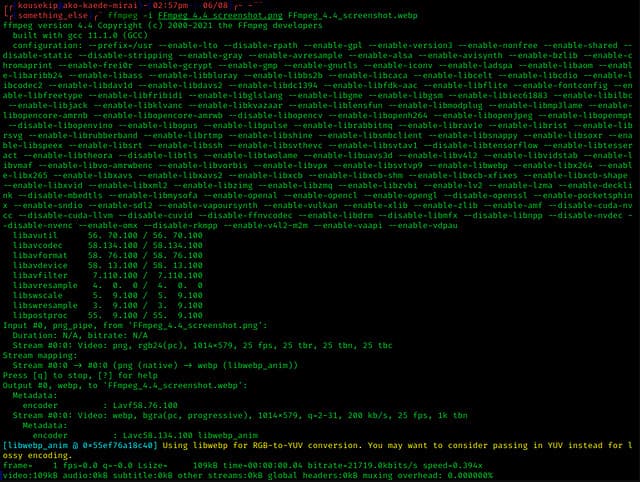 Last on the list is FFmpeg, the command-based software you can use to edit AVI file properties on Windows and Mac. This tool is for converting, editing, viewing the media files, but today you can also perform editing on the metadata of any media files. Unlike the other tool, this tool doesn't have any button to use and command it, but it uses a computer language to perform the task. And to communicate to the tool, you will need to open the command prompt and input a specific code to complete the editing you will need. It is tough to use the tool, but it is a professional tool you can download on your computer.
Related:
Part 2. Comparison Chart on the Top 5 AVI Metadata Editor
| | | | | | |
| --- | --- | --- | --- | --- | --- |
| Features | Video Converter Ultimate [Best AVI Metadata Editor for 2022] | AVI MetaEdit | Machete Video Editor Lite | abcAVI Tag Editor | FFmpeg |
| User-Friendly | | | | | |
| Safe to Use | | | | | |
| Available on both OS | | | | | |
| Intuitive Interface | | | | | |
| Supported Formats | Starts from AVI, MP4, MKV, FLV, MOV, and the other 1000+ file formats | AVI | AVI and WMV | AVI | AVI, MOV, MP4, FLV, and more |
Part 3. FAQs about AVI Metadata Editor
Is it safe to use an AVI Metadata Editor online?
Suppose you don't have enough space on the desktop you are currently using; we recommend using an online tool to perform the task. However, not all of the tools you can access on the internet for free are reliable or trustworthy. But if you want to use an online tool, you need to keep the three guidelines we always look for on the website we visit. First and foremost, we would highly recommend that you look at the top near your search bar; there is a lock icon, which means it is safe to use, so if that lock is broken, it means that your connection isn't protected. Check the ads activity of the ads; sometimes, ads can carry malware on your desktop, leading to corruption of your files on your drive. Don't allow cookies; sometimes cookies are a great way to know how many users visit the website, but your location is often visible with cookies. Keep this on your mind to avoid picking the wrong editor online.
Which tool performs the best on editing AVI tags?
According to our research, we can see that the Video Converter Ultimate performs very well in all aspects without breaking a sweat on using it. If you need more information about the editor, you can read the following information above to know more and download it.
Is there any limitation on adding metadata on AVI?
So far, we can't see any limitations on the information you can add to your AVI files or in any media files. However, some metadata editors can't insert the information you need on the file. Adding metadata on your AVI doesn't have limitations, but it is the tool that limits the information you can add to a single file.
Conclusion
Isn't it amazing that we have different options regarding editing the metadata of our AVI? Indeed, the five AVI metadata editors we list in this article can be the perfect tool that you'll need to edit your AVI files' tags or metadata. Even though we list five choices, we can easily determine which tool has the advantage of editing your AVI's metadata, which is the Video Converter Ultimate. With this editor, you can do more than edit, add, or remove metadata on your AVI. Want to know what other things you can do here? In that case, click the download button and see it for yourself.