Know What Are the 7 Popular Music Tag Editors Available at Reach
A media player has an inbuilt meta editor to edit or add music tags by filling the artist's name, title, and genre. However, most of them limit what they can provide to help the users add the tags or metadata. Isn't it frustrating? Fortunately, the best way to handle editing the metadata is to use a metadata editor on your phone. But the question is, which app should you use? Which app is suitable for your needs in regards to editing the metadata? If you're asking yourself the same question, there is no need to worry. Because today we review the six best apps you can use to edit it on your devices, so read them thoroughly to know more music metadata editor apps you can download and use.

Part 1. Ultimate Music Tag Editor Available to Use on Windows & Mac
If you have a Windows or Mac to edit metadata, then which tool should you use? Then we suggest that you depend on FVC Video Converter Ultimate. Unlike the tag editors, this tool supplements all the needs that you want to have or add to your metadata in a few clicks. Imagine this: all of the apps you can offer are inside this tool, but not the auto tags. More importantly, you can edit, remove, and update all of the tags on your audio file by following the steps below. So, to edit music tags on Windows 10/11 or Mac, the tutorial below will help you do it.
Step 1. To download the metadata editor on your Windows or Mac, press the appropriate button below. Once it is finished, click the file to install the app, follow its process, then open the tool.
Step 2. Hit the Toolbox section, locate and click the Media Metadata Editor on the list that will show.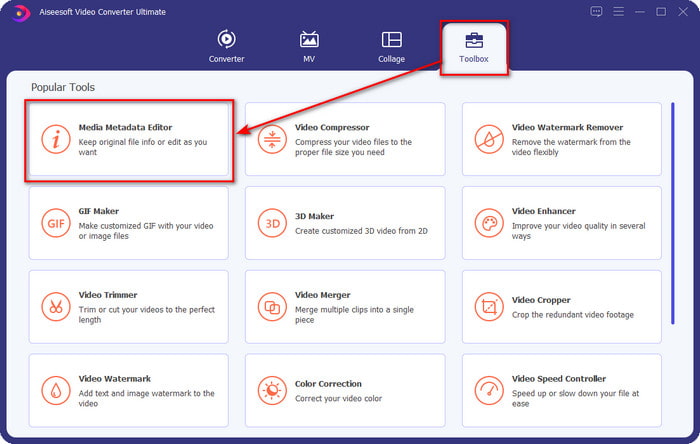 Step 3. By pressing the + icon, the folder will show on your screen; find the audio file you wanted to edit and press Open to go to the next step.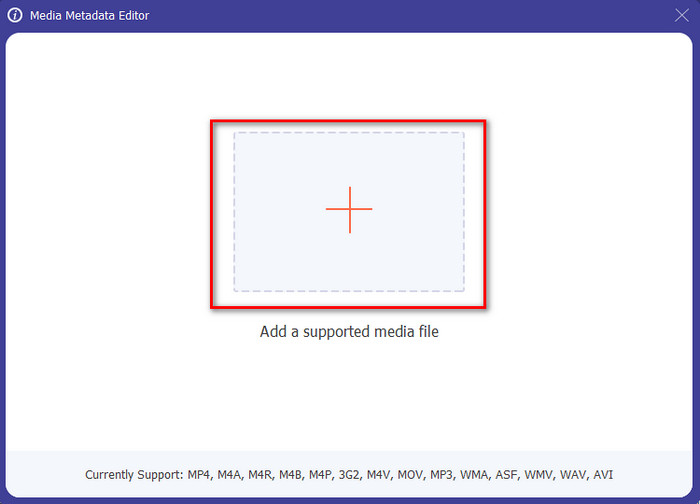 Step 4. Update the audio file tag by typing it out on the text box. After that, you must now click the Save, and all the tags you change will update. Even if you transfer the file on your mobile phone, the tags are still intact on the audio file.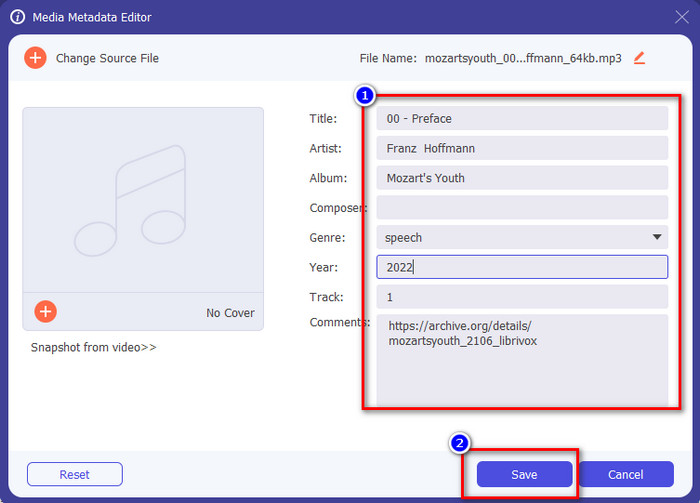 Related:
Part 2. 6 of the Best Music Tag Editor Apps on Android and iOS Devices
Automatic Tag Editor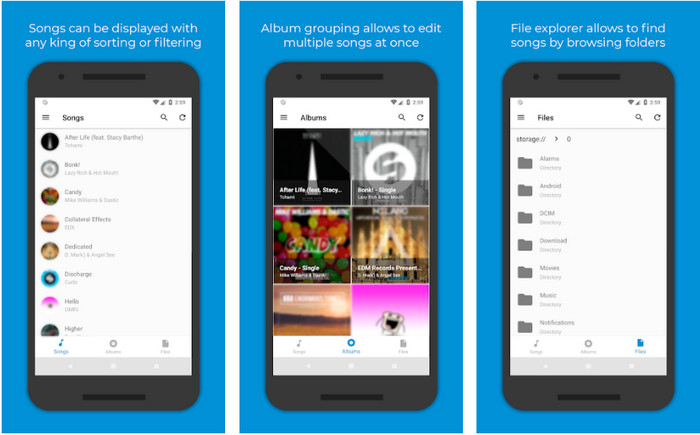 Device Supported: Android
Stars on Playstore: 4.4 Stars
Reviews or Ratings: 81, 332 People
You can access the Automatic Tag Editor, the best music metadata editor if you are an Android user. This app is perfect for editing tags on your audio files in less than a minute. Another good thing about this app is that it has an automatic metadata editor for filling or updating the data on your files, especially if you bought the digital copy. It supports multiple tags it can fill in, such as title, genre, year, and many more, to help you recognize the file even better. In the recent update, many users find that some glitches and bugs happen while using the app on their Android. Also, it supports an average music format you can upload on like MP3, M4A, OGG, FLAC, WMA, and WAV.
Star Music Tag Editor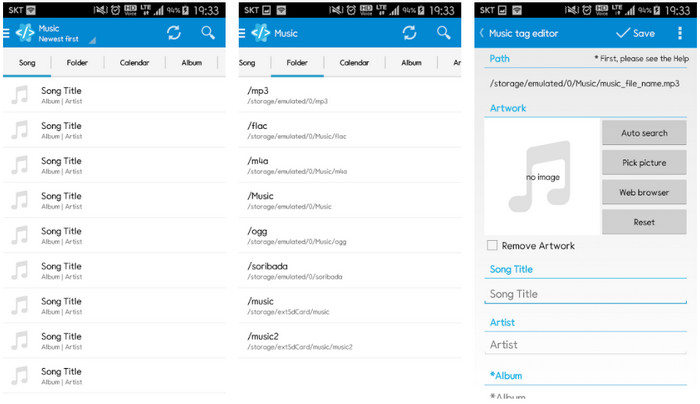 Device Supported: Android
Stars on Playstore: 4.0 Stars
Reviews or Ratings: 293, 598 People
Star Music Tag Editor is another music tag editor you can download on the Playstore. This app is excellent because it provides a simple GUI to understand it better than the other app can offer. Same as the first tool, it also supports auto-search that effectively fills your music tags. Although the app is easy to use and has a lot to offer, there are some cases that it isn't as effective as the other says. When we tried to edit the metadata on this app, there were times that it didn't save. Also, if you're about to keep the metadata, a pop-up text will show on your screen saying invalid audio frame exception with the new music because of the corrupted file. But some users don't have that kind of problem using the app, so if you want to use this app, you can download it on the Playstore to use it.
Music Tag Editor - Mp3 Tagger | Free Music Editor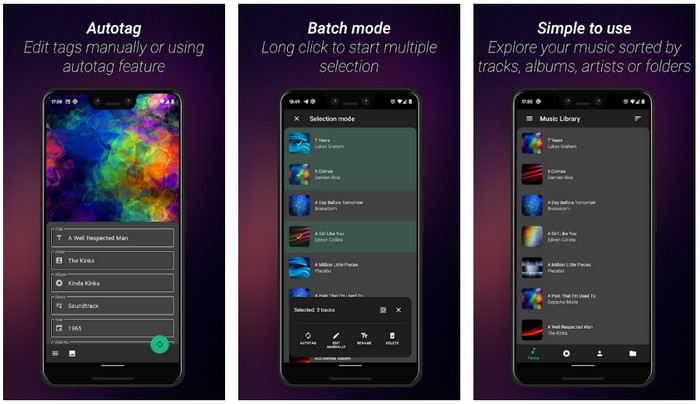 Device Supported: Android
Stars on Playstore: 3.8 Stars
Reviews or Ratings: 11, 378 People
If you have a problem with the wrong tags, use the Music Tag Editor - Mp3 Tagger | Free Music Editor to fix the music metadata quickly. This tool can fill the other data if you insert the song and artist name first to search the proper tags correctly. With this app, you can easily add tags to different audio files at once. However, the automatic search tags it offers take a lot of time to gather the information, and sometimes it includes unrelated tags. Also, when you are about to add an image on the audio track, it won't attach the image on that track you've edited.
Ever Tag: Music Tag Editor 4+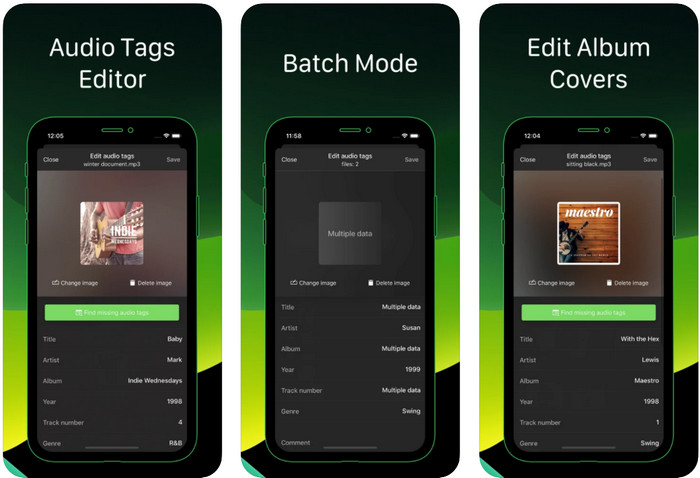 Device Supported: iOS
Stars on Playstore: 4.7 Stars
Reviews or Ratings: 1.1k People
Learn how to edit music tags on iPhone with the help of the Ever Tag: Music Tag Editor 4+. This app on iOS supports multiple audio formats, so uploading metadata is easier than ever; the same goes for editing the data. Moreover, this app offers you different sets of metadata tags to add to your audio file by filling them individually, starting from the title up to ratings. The downside of using the app is that it can't automatically fill the tags with the auto search the other Android tool can offer to you. Even though the app said it provides a batch process for editing the metadata, you can't do it in reality. But if you want to try and use this app, download it on your App Store now.
Music Tag Generator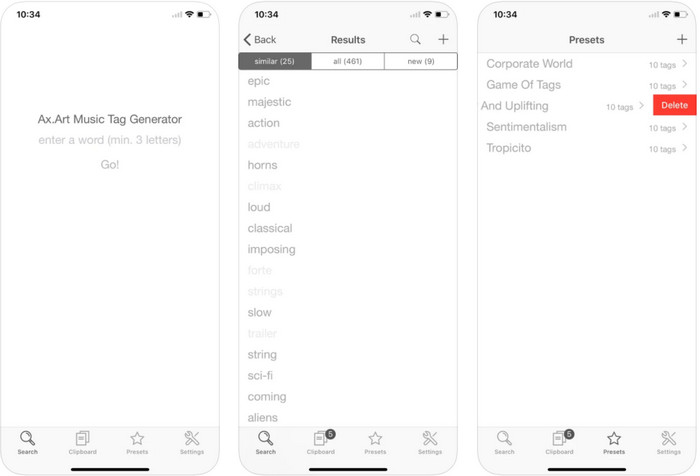 Device Supported: iOS
Stars on Playstore: 4.5 Stars
Reviews or Ratings: 55 People
Although the popularity of Music Tag Generator isn't as much as the other editors, you can still see and edit what a tag in music is. This tool is your mini utility app to find and arrange the music tracks by tags. Besides arranging the tags, you can also use this app to change the metadata according to your needs and organize them. Although the app can help you edit, it is still not as good as the other editor in this article. It has a simple interface, but its features are comprehensive as you expected.
iTunes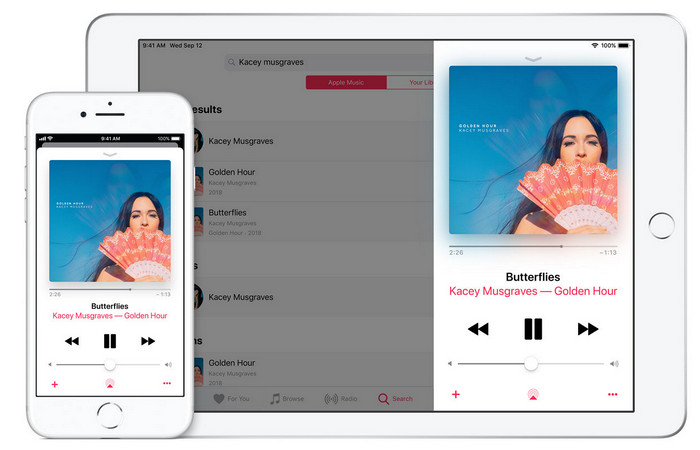 Device Supported: iOS
Stars on Playstore: 4.9 Stars
Reviews or Ratings: 1.4k People
This app has a built-in music library you can buy, download, and use on. iTunes isn't your typical metadata editor app that you can use on your iOS because this app is known for storing music like what Spotify can offer. Although the music you can find on this app has metadata and tags, you can still change or update the tags according to your wants. However, you can't easily edit or update the tags with this app because there is a requirement you will need before you learn how to tag music in iTunes.
Most of the mentioned apps here have an auto tag, which can help you automatically add tags or metadata to the audio file you have. However, this feature has flaws, unlike manually adding the unrelated tags on your file. If you want to avoid these mistakes, let's proceed to the best music tag editor on PC by reading part 2.
Part 3. FAQs about Music Tag Editor
What is the ID3 tag?
You can see these ID3 tags often on music because they hold the data about the media file, specifically audio. By adding ID3 tags to your audio file, you can arrange the file based on the media player you are using.
Does recording audio on phones have tags?
Yes, it has tags and metadata. However, the tags aren't comprehensive as the other media files have.
Why does my audio file become corrupted after adding metadata?
The reason why your audio is corrupt isn't about the metadata you add or remove, but it is about the tool you used to edit the tags of your file. So, if you want to avoid this circumstance, you must choose the perfect tool that will help you add or remove metadata easily. And remember, if the process starts, make sure that you won't cancel the process of editing the metadata,
Conclusion
You must now select which app you can use to edit your music metadata, please make sure that you select the app that is in your platform to download it easily on your Play Store or Appstore. But if you feel like you need a tool that performs the best. then you must use the ultimate tool on the desktop. FVC Video Converter Ultimate provides the best way to add tags to your music easily. But before you can use this tool, you will need to download the tool first and follow the instructions we present in part 2. To know more, read it carefully.