4 Methods to Edit or Fix MP3 Metadata on Windows & Mac
Everyone is Musicphile, which means we love music because it helps us to feel the emotions of the singers and the writers even though we are not seeing them visually. Through music, everyone can stay connected, and it can help us relieve stress, improve our IQ, and be productive every day. Most of the music is in the format of MP3 because it is the standard audio container for it. Although you can play the MP3 on your device, you won't play the proper arrangement correctly if the metadata is wrong. You can't set the right mood if your music library is in a mess, then what should you do? Why don't you try to fix the tags to arrange them correctly? If you want to know how to edit MP3 metadata on Windows and Mac, this is the right article for you, as we showcase four different methods you can use.

Part 1. Best Method to Fix or Edit MP3 Metadata on Windows and macOS [Recommended]
FVC Video Converter Ultimate has already taken a step toward being one of the best programs to fix MP3 tags on your Windows and Mac. This tool supports uploading MP3, WAV, WMA, AAC, and many more audio formats to fix the same problem about the metadata. It is also possible to remove the hidden metadata you cannot access with the other tag editors.
Not only that, it can convert the MP3 to another audio format if you want, and it also offers a lot of functions and features that are inside the Toolbox; you can check them out if you download it. In a matter of minutes, you can have this program fix the problem as fast as possible. Not so sure if it is true? Luckily, the written tutorial below will teach how to edit MP3 metadata to prove that you can do it quickly, as we say.
Step 1. Click the download button below, choose which of the two operating systems you are currently using below. Install it quickly after downloading, open the tool and proceed to the next step.
Step 2. Select Toolbox and under it click the Media Metadata Editor. As we said in the introduction, there are multiple functions you can use that are in the Toolbox that the other editor doesn't offer.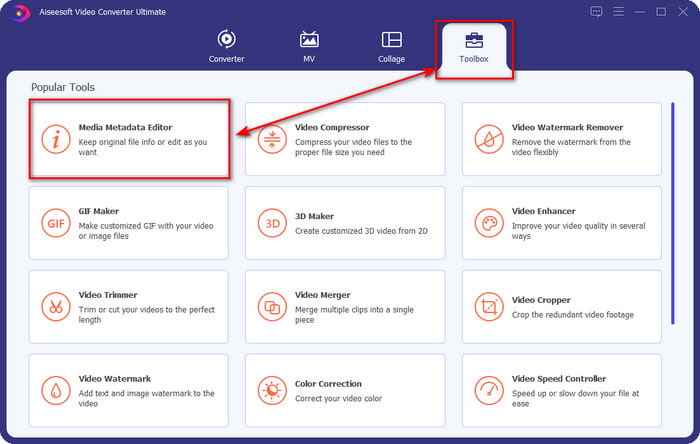 Step 3. Mini windows will show on your screen; click + icon. Locate the audio or MP3 file on the folder that will show on your display, click the file, and press Open to upload it.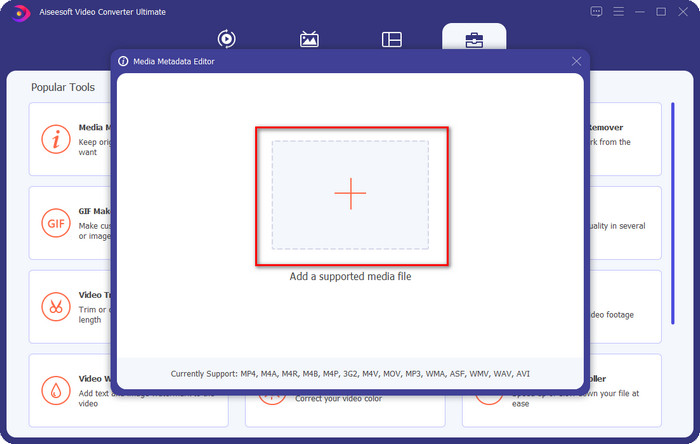 Step 4. Edit and fix the metadata according to your needs; click each text box to add information.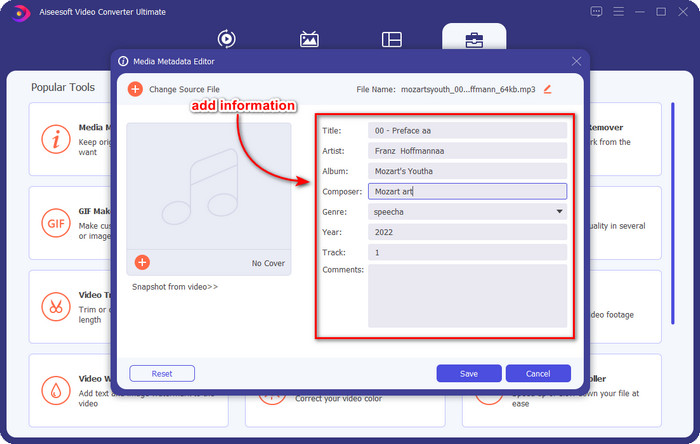 Optional. With this tool, you can also add or fix MP3 album art metadata on your MP3 file by clicking the + icon; select the image you want to use as a cover on the folder, and click Open to proceed.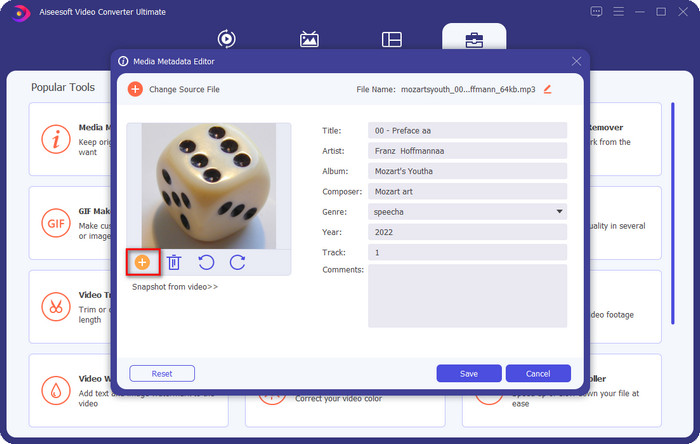 Step 5. If you've done adding and fixing the metadata of your MP3 file, hit the Save button to save the changes you've made on your audio file. Voila, with that, you have now fixed the audio tags effortlessly with the help of the ultimate tool.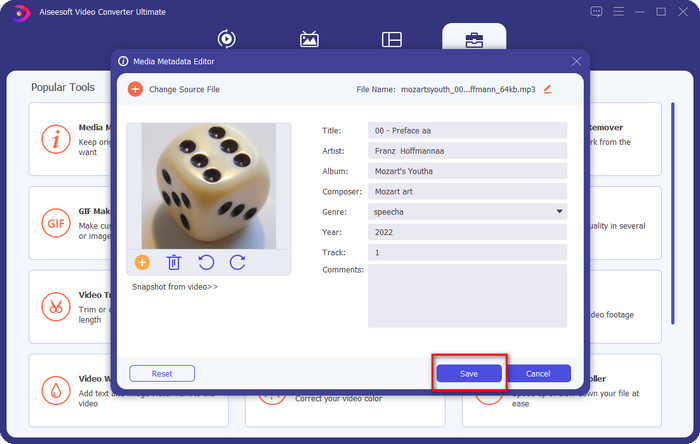 Part 2. 3 Free Methods to Change MP3 Tags on Desktop
iTunes

iTunes is a built-in that can help you edit mp3 tags on macOS X. It does the same thing with Groove Music regarding editing your audio file's metadata. But with this tool, you can buy music and play it here as quickly as possible. In addition, the music that came from this app already has tags on them, and if the music you've downloaded doesn't have, you can use this to add tags. Follow the steps below to know how to do it.
Step 1. Open iTunes on your Mac.
Step 2. Click the audio file and select Get Info.
Step 3. Fix the tags and click OK to save the changes.
MP3Tag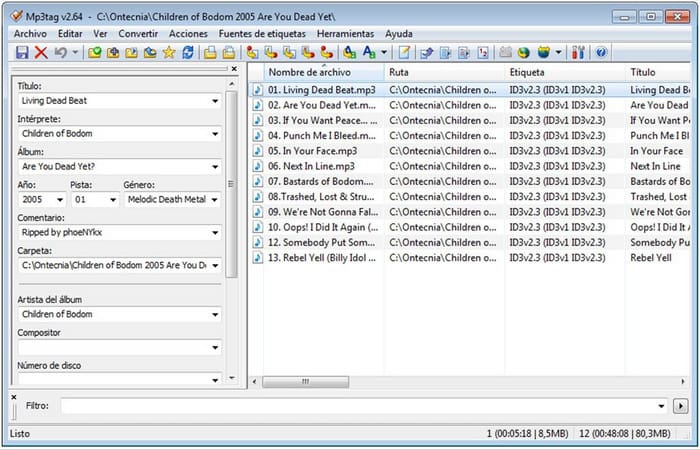 MP3 Tag is a dedicated and best MP3 tag fixer you can download on your Windows. With this tool, you can automatically access the music database to have the correct metadata. Although the tool isn't similar to the other built-in software, we can still see that it is still possible to adjust the metadata with the help of this tool with an average supported format. If you want to download and use this tool, follow the steps below.
Step 1. Download the software on your computer and open it.
Step 2. Drag and drop the MP3 file at the center, click the audio file, and on the left side, you can edit the tags.
Step 3. To save the editing you've made, click the save-icon.
Groove Music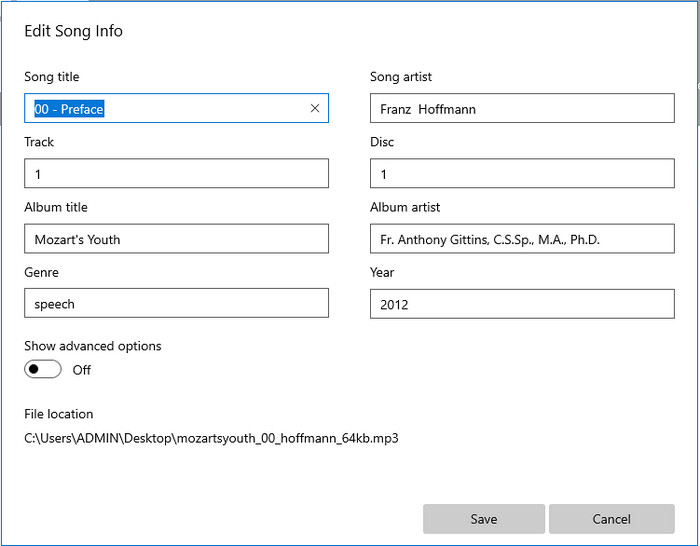 Suppose you don't have enough space on your drive. Is it possible to learn how to edit MP3 tags on Windows 10? Then Groove Music is here to help Windows users change the tags on their audio files. With this tool, you can play almost any audio file saved on your drive at ease. If you want to know how to use this built-in app, follow the steps below.
Step 1. Click the windows-icon on the screen and type Groove Music to open it. After clicking it, the tool will automatically be setting it up.
Step 2. Press the right click of the audio file and go to Edit Info.
Step 3. Change the Edit Song Info metadata and click Save when you've finished it all.
Part 3. FAQs about Editing Metadata on MP3
Is it safe to edit metadata MP3 online?
Well, yes, you can edit the metadata on your MP3 online if you want to. But remember that there are websites with an unsecured network, so signing in is a bad decision that you will make. So, to avoid this you must use the tools we presented above to fix your mp3 metadata safely.
Is metadata important?
Indeed it is. Metadata plays a significant role in every media file we have. With this, you can easily determine what is inside of a file, such as location, time, date, information, and more. Moreover, the information we add here is just simple ideas about metadata, and if you want to know more about the metadata, you must click this link and read what metadata is.
Can I view metadata on my MP3?
Absolutely, yes, you can, and if you don't know how to view metadata, you can read this article and follow the indicated steps on how to view them correctly.
Conclusion
Indeed, all of the four best .mp3 tag fixers are now at your reach, which means you can now choose the tool by your means. With the factual information we provide in this article, we could easily edit or fix the tags on our MP3 files. Although the methods we provide are best, we still choose the FVC Video Converter Ultimate over the other built-ins or the third-party app. Because this tool presents the most advanced and powerful tag editing that you will need without exerting too much effort. So, if you want to have the tool, you can click the download button and follow the steps we have written above.