What Are the Best WMV Tag Editors to Edit WMV Metadata [Foolproof]
WMV is a native file format you will encounter if you are a Windows user. With this file, you can store animations, clips of the video, episodes for TV shows with a high-definition while using one or more Microsoft's video compression. Although it can keep all of this, some tags on WMV need corrections. Even though you can view the Metadata of the WMV file on Windows Media Player, you can't adjust them to make it correct. So what tool should you use on Windows? In this case, we will present an unbiased review of the four WMV tag editors you can use.

Part 1. Phenomenal WMV Tag Editor for Windows & Mac [Recommended]
FVC Video Converter Ultimate is a reliable software that offers you the best-of-the-best features you will need to edit WMV metadata at ease. This program is available on every Windows and Mac operating system. While using this tool, you'll experience a new height of removing, editing, and updating the tags seamlessly on 1000+ formats this software supports. For starters, this tool presents an intuitive interface for them to understand the whole functions of the tool. But it is ideal to use by professionals for advanced editing on their videos. Isn't it amazing? Even you don't have experience editing the tags or do have, you can depend on this tool. Want to do superb editing for metadata with the software? If so, the succeeding details will focus on using this fantastic WMV tag editor, but first, download it on your Windows or Mac, then install it.
Advantages of Using the Ultimate WMV Tag Editor
1. It can quickly edit the tags for WMV, AVI, MP4, MKV, MOV, and the other 1000+ formats available.
2. It supports an all-in-one Toolbox on which you can trim, cut, merge, cut, reverse video, and more.
3. It is the best choice for beginners and pros who need a multipurpose tool.
4. Download the ultimate tool on your Windows & Mac while having the same advanced functions.
Step 1. After you've successfully installed the tool, launch it right away. On the tool's interface, access the Toolbox section and look for the Media Metadata Editor; click it to open it.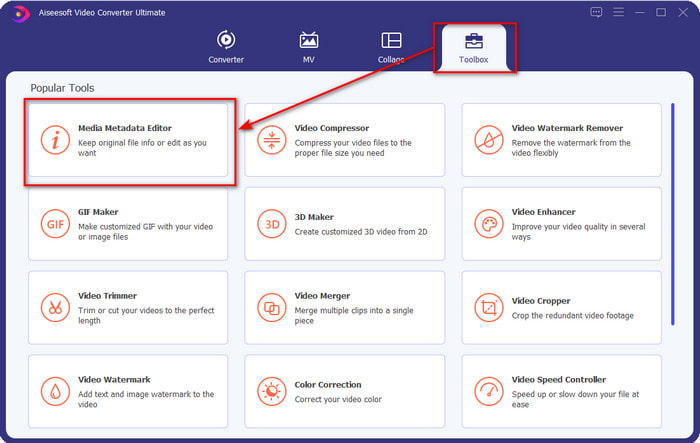 Step 2. Hit the + icon after you've clicked the editor, select the WMV file on the folder that will show on your screen. Press Open if you've already decided on the file.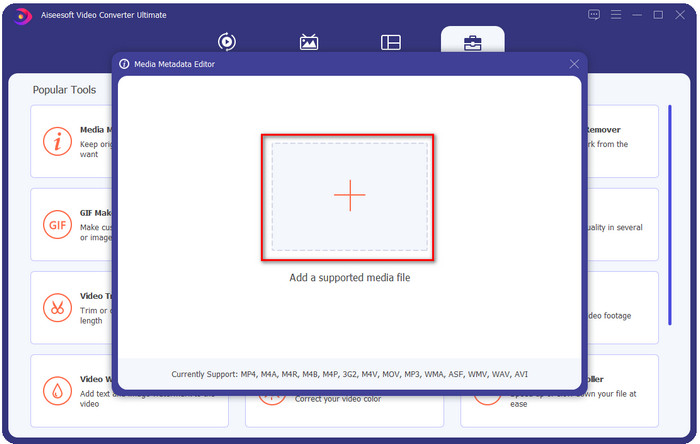 Step 3. Fill the textbox according to your needs, then click Save to apply the tags you've added to the file.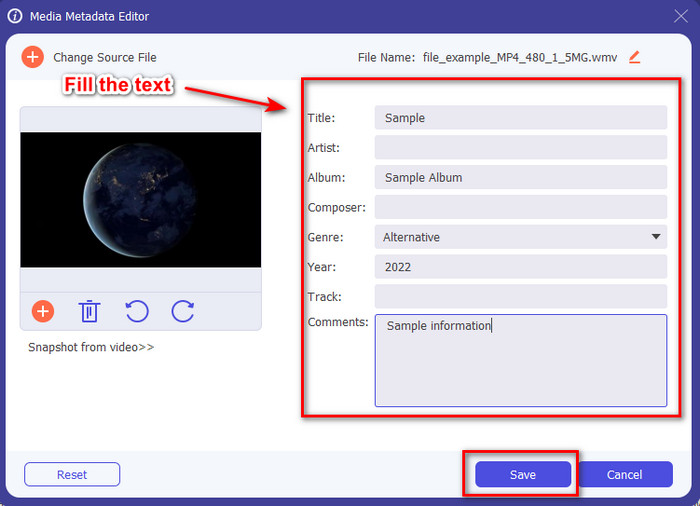 Related:
Part 2. Another 3 Best Tag Editors on Windows
Machete Video Editor Lite

Machete Video Editor Lite is a Windows-based WMV metadata editor that you can download on your PCs. With the tool, you can edit the tags for AVI and MKV only; other than these two formats, it is unsupported. It is a dedicated metadata editor for Windows, so it is unnecessary to worry if you try using this tool because it will help you on the said task. Despite being a good metadata editor, its GUI is outdated and needs a newer look to compete with the better GUI metadata editors on the market. In addition to that, this tool only supports two formats: AVI and MKV; this might be the biggest drawback of the tool because the other tag editors support a variety of formats to upload the file easily.
TigoTago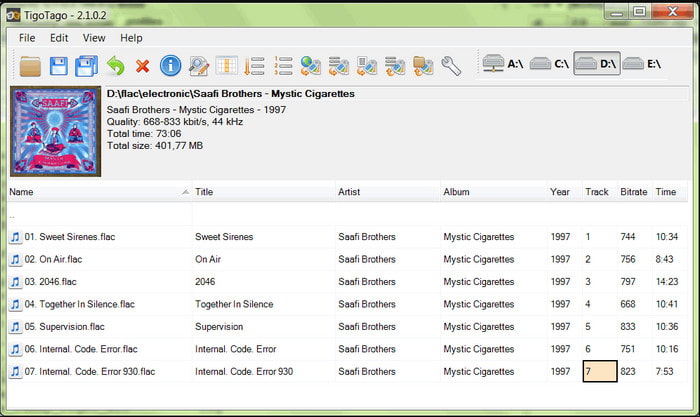 Another committed WMV tag editor that is available on Windows is the TigoTago. Unlike the Machete Video Editor Lite, this tool supports three video formats, like MP4, WMV, and AVI. If you want to edit the audio tags, you can upload any MP3, WMA, WAV, and many more. The tools' GUI is very similar to a spreadsheet where you can see different columns for different tags of your file. Regardless of its spreadsheet-style GUI, it still needs to upgrade because it looks like the tool doesn't receive any update for a long time. While using the tool, we encounter some confusing functions that take our time editing the tags, which is a bit hassle. Although these problems might occur, you can still download this for free on Windows.
Properties on Windows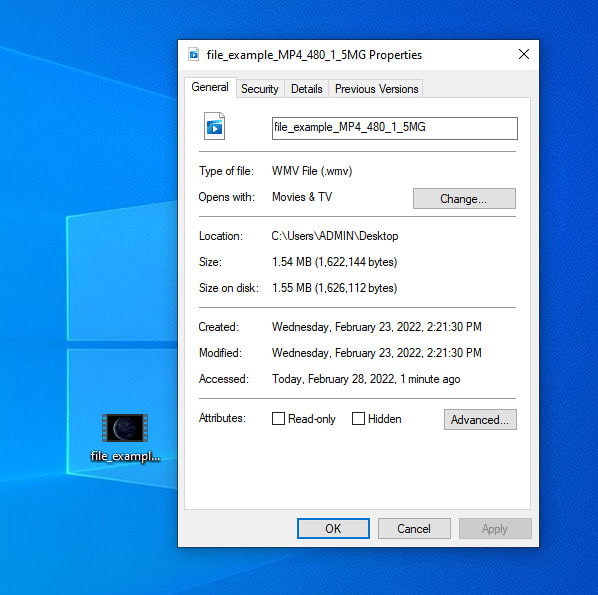 Properties on Windows is a unique feature you can freely use on any Windows operating system. This feature is not downloadable or accessible on the web, which is a great advantage for us. With this function, you can easily update the tags on any media file, like on WMV, within few clicks. Lately, some users, even us, have found it inconvenient to use this function. Because when we tried to update the file's metadata to the original file, the tags weren't saved. Well, expect it because it is not a professional metadata editor. However, if you want to update the WMV metadata, you can still easily edit it.
Part 3. FAQs about WMV Tag Editor
Can I edit WMV metadata on Mac?
Totally, yes, you can. With the help of the ultimate tool we present above, this job is easy. So, if you are a Mac user, download the tool on your device by clicking the download button for Mac, and follow the same procedure. However, the images might be a bit different on the function on Mac, but the tag you've added is saved successfully without breaking any sweat.
Will WMV metadata show when watching on Windows Media Player?
While playing on the Windows Media Player, the native media player on Windows, the tags will not show on the screen. But you can access them by pressing the right-click of your mouse to the file, clicking Properties, and a mini-window will show where you can see the tags on your WMV file. Remember, you can view them, but you can't edit them according to your needs.
Does transfer WMV on the web lose the metadata?
This problem is very natural to happen in the majority of the media files. The metadata is lost along the way because the type of app you used needs to remove the metadata to reduce its file size for a smooth sail transfer. So, it is better to copy the metadata and send them separately to avoid this problem.
Conclusion
In the end, all of the tools we pick are the most effective WMV metadata editor you can download or freely access on every Windows OS that supports uploading WMV quickly. Although the tools can help you, some can still break you; so choosing the perfect tag editor is essential to avoid further problems or damage. If you are still wondering which tool we are about that has an ideal tag editor, multifunctional Toolbox, and easy-to-use, we proudly declare that all of these needs are available on FVC Video Converter Ultimate. Unlike its competition on the market, this tool is dedicated to helping the users with their daily video problems, like converting, editing tags, editing, etc. Unbelievable right? Well, that is what the ultimate tool can bring to you.