Top Free and Easy-to-Use Converters that Converts WMV to MOV You Shouldn't Miss
Microsoft Windows Media Audio (WMA) and Microsoft Windows Media Video (WMV) are the compressed audio and video formats developed by Microsoft in the ASF container. As soon as the WMV or WMA files are encoded with Windows Media Video and Windows Media Audio codecs, they are represented with the.asf extension. These two video formats that have been made by Microsoft are available to play only for the chosen video player or can convert for limited software or online converters. But if you are looking for the trusted and reliable converters to convert WMV to MOV, this will be the perfect article for you. Continue reading to know more.

Part 1. Brief Introduction of WMV and MOV
The WMV file extension represents Windows Media Video files, compressed using one or more of Microsoft's video compression formats. For example, some third-party programs utilize it to store brief animations because it is a typical format for storing the video in Windows. While similar in appearance to Windows Media Video files, Windows Media Audio files only comprise audio data and do not contain video. The WMA extension is used for these files.
However, QuickTime File Format (QTFF) is a multimedia container file format, and a MOV file is a movie file saved in the QuickTime File Format (QTFF). One or more tracks are stored, each containing different media data (such as video, audio, and text) (subtitles). MOV files are commonly used for storing movies and other video files, and they are easy to find.
Part 2. Best Way to Convert WMV to MOV on Mac and Windows
This article proposes Video Converter Ultimate for Mac users who want to convert WMV to MOV. Both Windows and Mac versions of this software are available for free download. It is software that can be used by a wide range of people because of its user-friendly interface and accessible tools. This software contains a video converter that supports a wide range of video formats and can convert files in less than a minute, unlike other applications and web resources. Additionally, this software has a number of additional features that can help you improve your video even further. Assuming you've read through the description of the software, let's get started:
Step 1. To begin the download, right-click on the Free Download icon provided below. Both Windows and Macintosh machines can run this software. It is possible to install and begin using the software immediately after downloading it by clicking the Start Now option.
Step 2. After you have downloaded the software, you should launch it. This information will be displayed in a window when the software is opened for the very first time. Enter the video file you want to convert to begin the conversion process.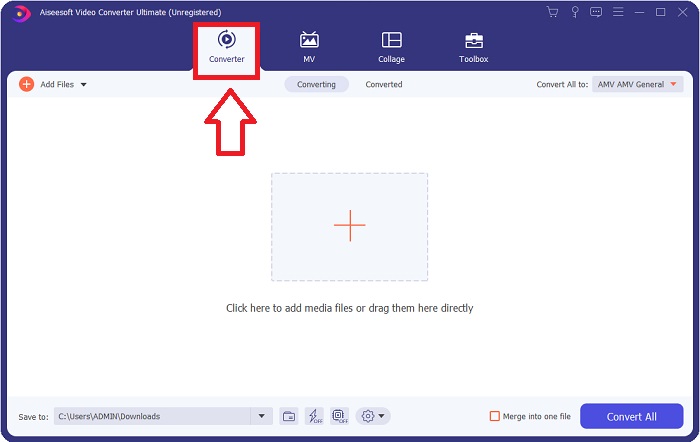 Step 3. Beginning by loading the files you wish to convert into the converter, drag and drop the video file you wish to convert into the + sign to begin the conversion process.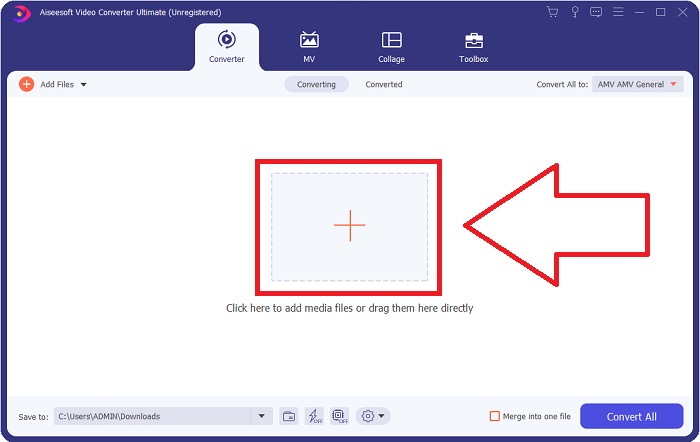 Step 4: An options menu appears in the upper-right area of the screen, from which you can choose a video format to play. Select MOV as the video format from the drop-down selection that appears. It is possible to select from a variety of video quality levels depending on the MOV file you've selected. If your desired video output isn't available, you can adjust the quality settings in Windows. You can adjust the display's frame rate and audio quality by selecting the gear icon in the upper right corner. Use the Create New button to save your changes after you've made them.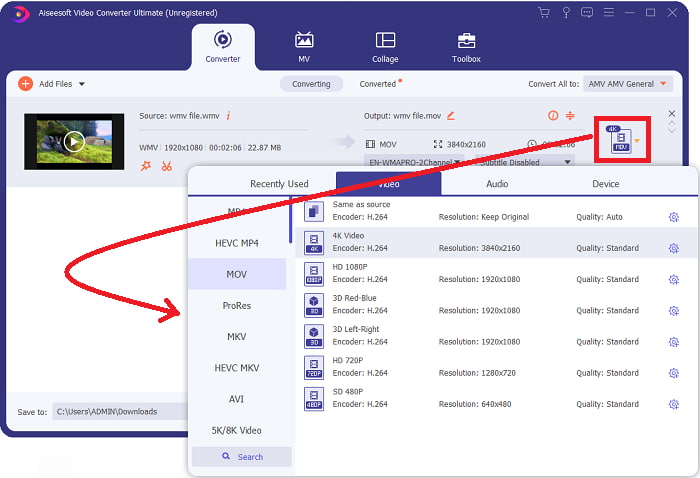 Step 5. When you've finished editing the video and it's ready to be converted, click Convert All to begin the process of transferring the files.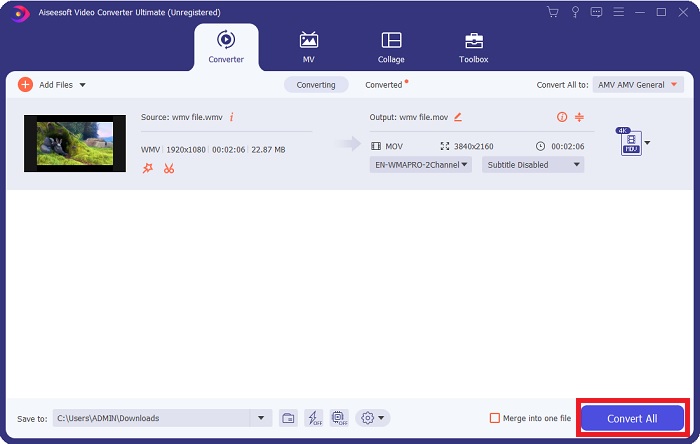 Part 3. Other Efficient Way to Convert WMV to MOV on Mac and Windows
Method 1. Use Free Video Converter Online
Using FVC Free Video Converter Online, you may convert a broad variety of multimedia files for free. If you have a high-definition video, you may simply convert it to formats like MP4, FLV, and WMV without sacrificing quality. Without sacrificing quality, it is possible to convert a large number of films or audio files at once. Using this free video conversion tool, users have access to a comprehensive number of editing options, allowing them to fine-tune their films. So, let's get ready to study all the steps:
Step 1: Please click the link to access the FVC converter's website homepage. And start converting your files online.
Step 2: To get the launcher for your computer, click on the Add Files to Convert button to the right of the screen. It will start immediately when you download it again. Open the file in your folder and start the download process again.

Step 3: To initiate the conversion process before it begins, choose the MOV format below.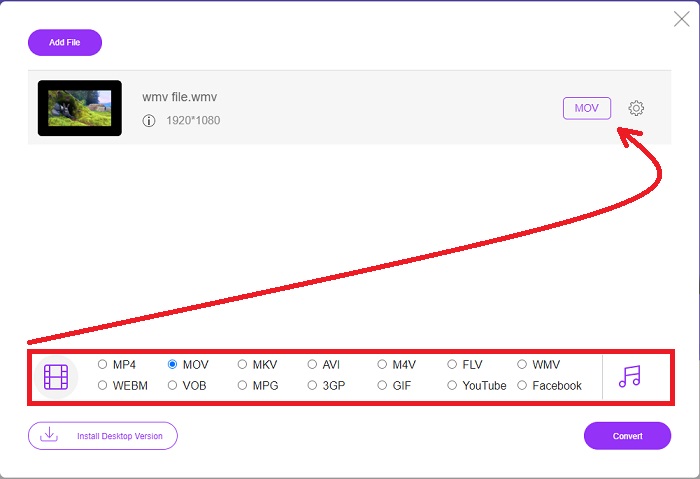 Step 4: When you've decided on a format to convert, click Convert to start the conversion process.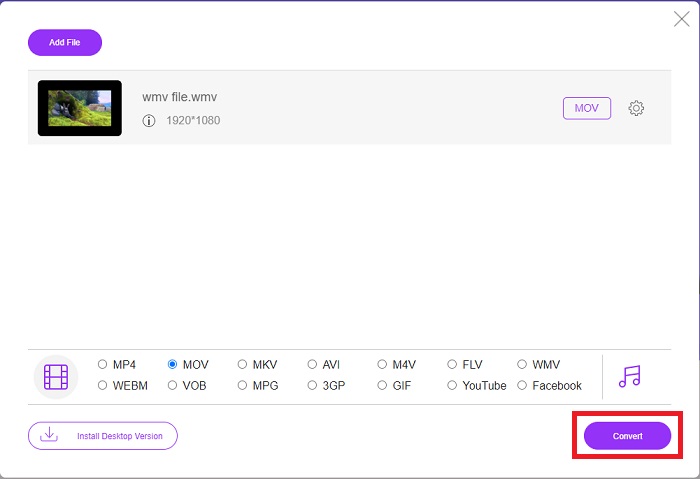 Step 5: After a few minutes, you should see a folder containing the converted file, which you can then open and begin reading.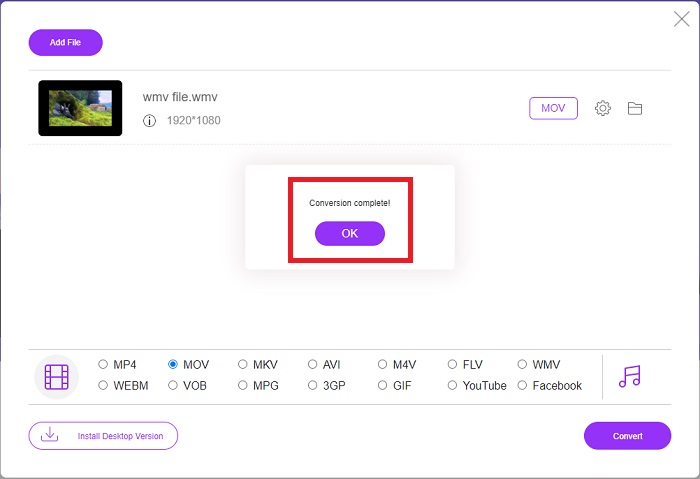 Method 2. Use Video Converter
Trying to find a free WMV to MOV converter? The quickest method is to use a web service to convert your WMV files to MOV format. When you're done with your videos, you can transfer them to any device and enjoy them later with the help of this online media converter tool! Here's how it's done.
Step 1: By clicking the Add Your Media button, you may import your WMV file from your computer, Dropbox or Google Drive to convert it to MOV.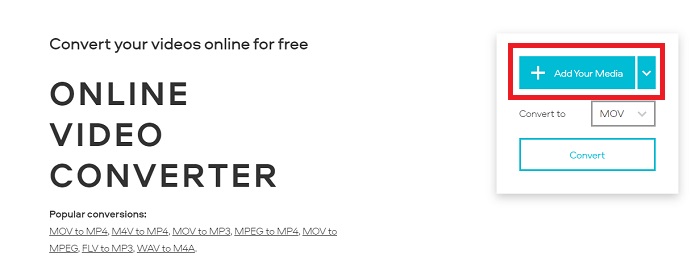 Step 2: Select MOV as the desired output format. Make use of the upgraded settings to improve the overall quality of your video.

Step 3: After all adjustments that have been done. You can now click the Convert button.

Part 4. FAQs about Converting WMV to MOV
Conclusion
As shown above, there are a lot of possible converters available to download or to use on the internet anytime. But in terms of efficiency and selecting the best converters, among others, Video Converter Ultimate is what this conclusion is pointing at. With its capability to convert video and audio formats at a fast phase and support a variety of formats for free and it's available for Windows and Mac. What are you waiting for? Download it now!