How to Compress a Video for Email and Make It Smaller than 25MB
It is a good way to send videos to someone via email. Just add your videos as attachments. Later, you can send the attached videos to multiple people. However, your email system doesn't allow you to send video attachments this time. Because your video is too large to be sent by email. Due to the email file size limit, you need to compress video for email up to 25MB.

Don't worry about that. You can resize and compress video files for email without losing quality. Here're multiple workable solutions and tips for email video compression. Just read and see how to fix the email attachment size limit.
Part 1: How to Compress a Video for Email Online
Which one can be your best online video compressor? Definitely the answer is FVC Free Video Compressor. You can compress large video files to any size without losing quality. It is supported to adjust video compression ratio. Thus, you can compress 1GB video to 10MB or even smaller. Moreover, you can batch compress large videos for email online as well. There are also many other video editing parameters you can use.
1. Compress a video larger than 25MB for email without losing quality.
2. Set the video compression ratio from 99% to 1%.
3. Wide support of input and output video formats.
4. Change video resolution to reduce video size.
5. Batch video compression support.
6. No maximum file size limit.
7. Intuitive and simple interface. No popup ads.
Step 1: Visit FVC Free Video Compressor in your browser. Click Add Files to Compress. Download and install its launcher.
Step 2: Import your overlarge video. In the Size section, you can move the slider or click Up/Down icons to reduce video file size for email.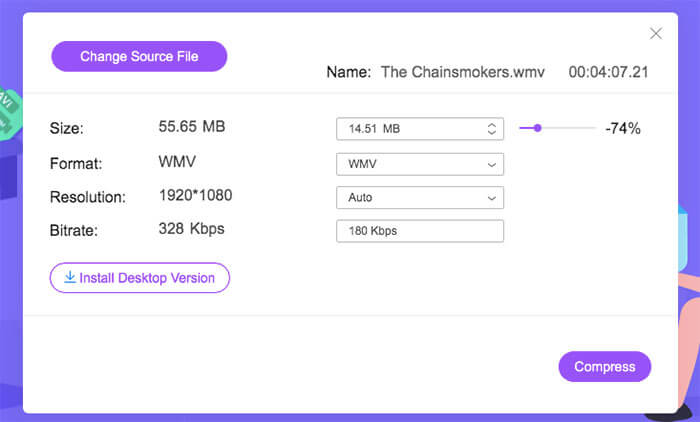 Step 3: Unfold the Format and Resolution list. Select your target choice from multiple options. You can compress a video to MP4, AVI, FLV, WMV and other formats in variable resolution profiles.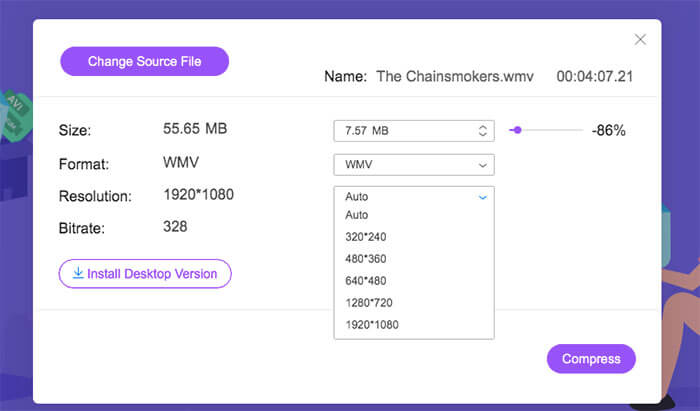 Step 4: Click Compress on the lower right corner. Set the destination folder. At last, confirm and compress a video online for email.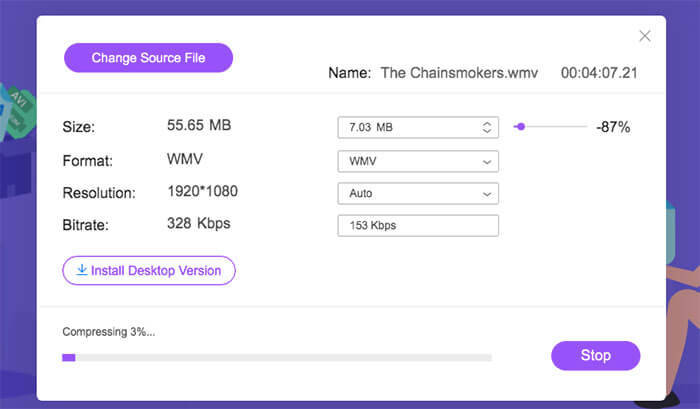 Part 2: How to Compress a Video for Email on iPhone and Android
As for iOS and Android users, you can make your video smaller for email with online video compressors, such as Clideo, Youcompress and more. Check the file size limit of each free video compressor online. Some video compressors don't support batch compression. So you need to compress videos online one by one.
Or you can use a third-party video compressor app to meet the maximum email size. For example, you can compress a video for email on Android using Video Compressor app. As for iPhone and iPad users, you can compress a video for iPhone with Brachmann Video Compress. You can adjust video bitrate and preset to reduce video file size.
Furthermore, you can try the following tips to email a video that is too large.
1. Create a zip file for your video. You can preserve the video quality while compressing video file size.
2. Upload your large videos to Dropbox, iCloud, Google Drive and other cloud services. Then you can add a generated link to share videos by email.
3. Convert to a small video format, like MP4 and FLV.
4. Make a short animated GIF file. The looping GIF animation has no audio.
5. Trim unwanted video lengths to reduce video file size.
Part 3: FAQs of Compressing a Video for Email
Can you compress a video into an email with iMovie?
Yes. You can get one more way to compress a video for email on Mac, iPhone and iPad. Run iMovie. Choose Create New and then select Movie to create a new iMovie project. Find and choose Share on the top right corner. Select Email to get a new dialog box. You can switch to Small in the resolution list. Then choose Share to complete the email sharing process.
How to email a video larger than 25MB?
Just as above mentioned, you can compress vide for email online for free. Or you can trim and divide your large video into several parts. Each video clip should be no more than 25MB. Then you can send videos by email successfully.
Which is the best video format for email attachment?
You can add videos as attachments in any format. Considering the video size and compatibility, you can use MP4 format. Almost all video players and editors can work with MP4 files.
All in all, you can compress a video for email on your computer or phone with the above solutions. The most recommended email video compression tool is FVC Free Video Compressor. You can shrink video and make your video smaller than before unlimitedly. No registration or watermark. You don't need to pay to enlarge the file size limit. Even though there is a file size limit in email attachment, you can still bypass it.
Well, you can use the above ways to compress video size for email, Gmail, Outlook and other mail services. That's all to send a video via email that is too big. Do you have any other questions? You can feel free to contact us. Or you can share your suggestions and experience in the comments below.