How to Compress AVCHD Video Files for Free on Windows and Mac
AVCHD is a high-definition camcorder video format developed by Panasonic and Sony. You can use AVCHD to store large video files into hard disk drives and SD memory cards. The available AVCHD video resolutions ranges from 1080p, 1080i and 720p. Thus, most AVCHD videos are in large file sizes. If there is no enough storage space, you can compress AVCHD video files. Want to compress AVCHD to 10MB, 1MB or even smaller? You just come to the right place. There are 2 easy ways to shrink AVCHD video size on your computer. Just read and follow.
Part 1: How to Compress AVCHD Video Files Online for Free
The large file size of AVCHD makes it hard to share, upload and save. If you are looking for a free AVCHD video compressor, you can take a look at FVC Free Video Compressor. It is 100% safe and easy to compress videos in AVCHD and other popular formats. No matter how large your AVCHD video size is, you can compress AVCHD for free online. Its batch compression support is also powerful. Moreover, you can even convert AVCHD to MP4 without losing quality to reduce the video size as well.
1. Compress AVCHD to any file size online for free.
2. Adjust video compression ratio with a slider.
3. Convert AVCHD video to MP4, AVI, MOV and other video formats.
4. Batch compress AVCHD videos into smaller file sizes.
5. 30x faster video compression speed.
6. No maximum file size limit.
Step 1: Visit FVC Free Video Compressor site. Click Add Files to Compress to install its launcher.
Step 2: Add your AVCHD video into the online compressor. Move the slider next to Size to reduce AVCHD file size. Or you can click Down or Up icons next to Size to reduce video size.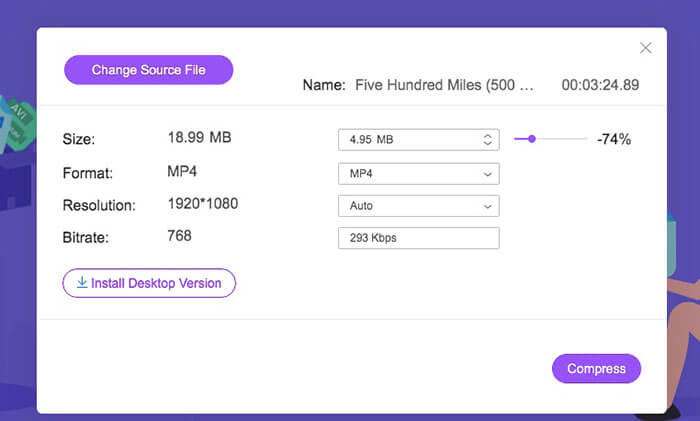 Step 3: You can change video format from AVCHD to MP4 to make your video smaller. Moreover, you can unfold Resolution to compress AVCHD with lower resolution profile. As a result, you can shrink AVCHD to a smaller size.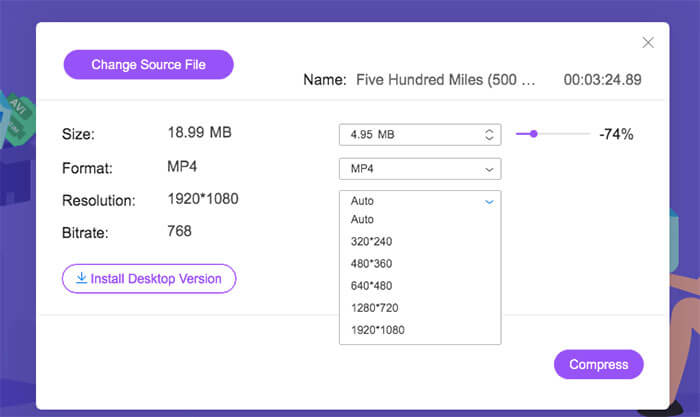 Step 4: Click Compress and set the output folder. At last, click Open to compress AVCHD video without losing quality.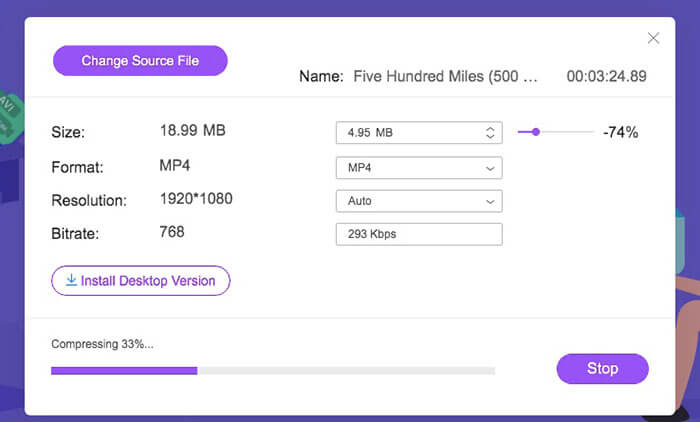 Part 2: How to Compress AVCHD Video Files with VLC
VLC is not only a free video player, but also a video compressor. You can reduce AVCHD video size for free on your computer or mobile phone. Just reset AVCHD parameters to make your AVCHD video smaller than before. Though there is no controllable video size slider. But you can still compress AVCHD free to small size. Here is the tutorial to compress an AVCHD video file with VLC Media Player. (Find HD video converter here)
Step 1: Open VLC. Unfold the Media list and select Convert/Save.
Step 2: Click Add to import your AVCHD MTS M2TS video into VLC. later, click Convert/Save to continue the AVCHD compression process.
Step 3: In the Profile list, set the output video format as MP4, FLV or other small video formats.
Step 4: Click Tools next to Profiles. Here you can resize AVCHD by adjusting video codec, bitrate, quality and other options.
Step 5: Click Browse to set where your compressed AVCHD video to save.
Step 6: To compress an AVCHD video, click Start on the lower right corner. Now you can start compressing AVCHD video file size.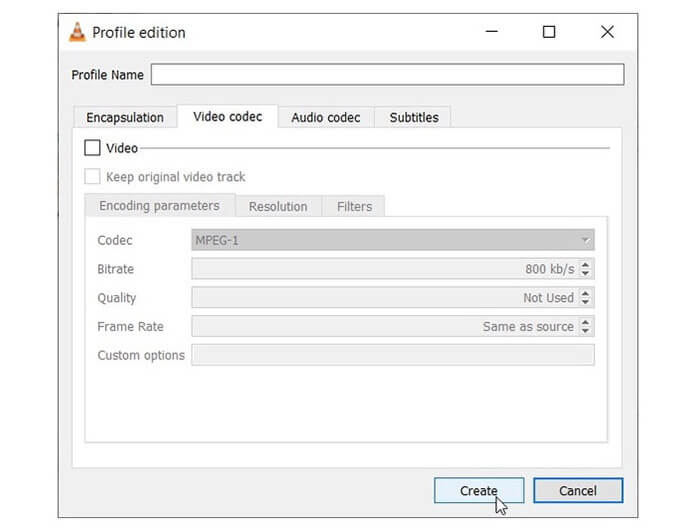 Part 3: FAQs of Compressing AVCHD
AVCHD VS MP4
There are many differences between AVCHD and MP4 formats. MP4 has better compatibility than AVCHD, while AVCHD video quality is better than MP4. Consequently, AVCHD video sizes are always larger than MP4 files. To get better playback experience and manageable file size, you can compress and convert AVCHD to MP4 format.
Can you convert AVCHD to MP4 on Windows 10 with Windows Movie Maker?
No. Windows Movie Maker doesn't work with AVCHD files. You need to convert AVCHD to MP4 format before importing into Windows Movie Maker. To quickly convert AVCHD to MP4, you can change the file extension from .m2ts/.mts/.ts to .mp4 directly. Later, you can add the imported video to any program.
That's all to compress AVCHD video files on your Windows and Mac computer. You can use FVC Free Video Compressor or VLC to make AVCHD video smaller for free. FVC Free Video Compressor is capable to compress large AVCHD videos in bulk quickly. As for VLC, there is no such a batch compression support. You need to compress and convert AVCHD video one by one manually. Therefore, FVC Free Video Compress does a better job than VLC.
There is watermark attached in your compressed AVCHD video. So you can feel free to compress AVCHD videos for free online. No maximum file size or registration required. To some degree, it can be your best way to compress a video in AVCHD and other video formats. If you still have questions about AVCHD video compression, you can feel free to contact us. Or you can leave messages in the comments below. We will help you solve any problem whenever you need.