Find Out the 4 Best Offline & Online SWF to FLV Converter on Windows & Mac
I'm currently looking for a solution to upload my SWF files on video-sharing sites like Youtube, Facebook, MySpace, and more. Can you help me find the quickest way to solve this problem?
This problem is common, especially if your video is under the .swf file extension. However, this format is usual on the web, but sharing the file on the video-sharing platform doesn't work. Moreover, if you want to share your SWF files, you must convert the format into a much supported one like the FLV. With that, let's see the four hidden gems offline and online SWF to FLV converters you can use by reading this article.
Part 1. Convert SWF to FLV Online for Free with the FVC Free Video Converter Online
FVC Free Video Converter Online is the unparalleled video converter you can use to convert SWF to FLV online free of charge. This web tool specializes in converting the file into a new format without downloading the tool on your desktop. Besides its converting capacity, you can also change the video and audio specifications according to your needs. Want to know how to use this lightweight web converter? Then copy the steps written below.
Step 1. Click this link to open a new tab that will locate you to the official webpage of the FVC Free Video Converter Online.
Step 2. On the website, click Add Files to Convert, then a computer folder will show; select the .swf file and press Open.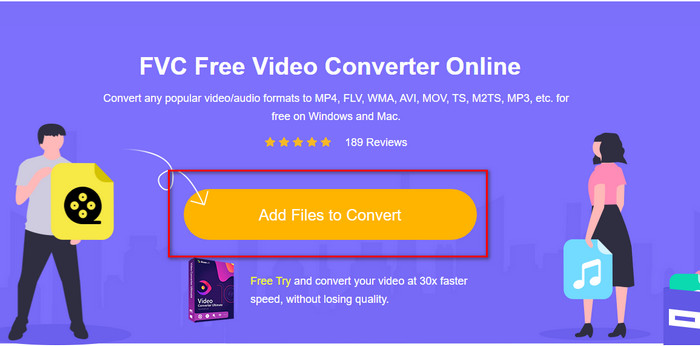 Step 3. After inserting the file, under the setlist, choose the FLV format.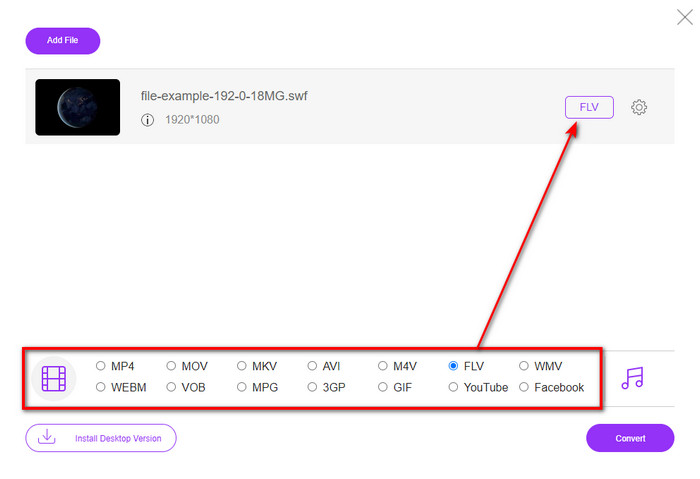 To change the video and audio specification, click the gear button.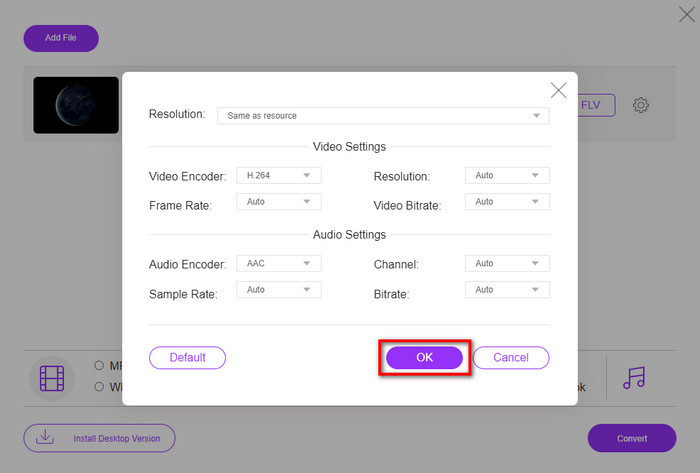 Step 4. To begin the converting process, click the Convert button.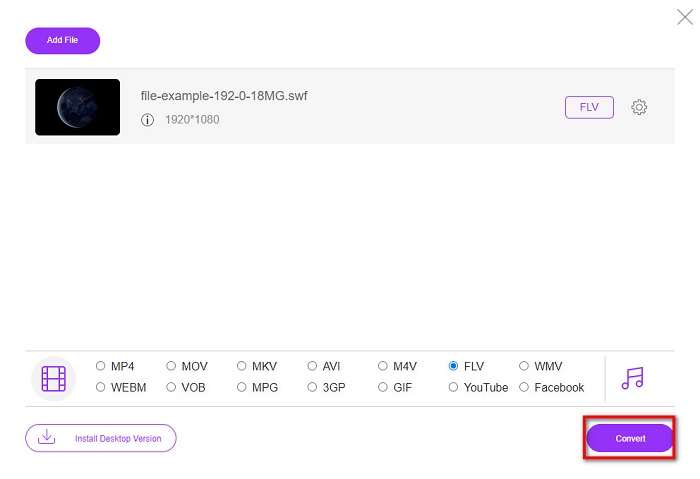 Part 2. Convert SWF to FLV with FFmpeg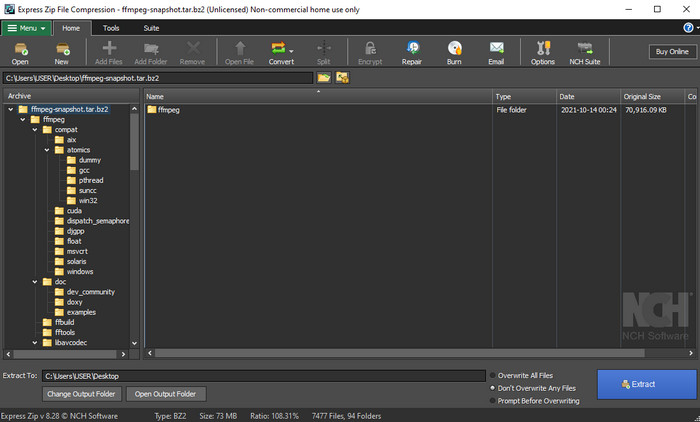 FFmpeg has a unique interface and command to convert SWF to FLV-free. If you know this converter, you already know how to use it; however, not all know this. A brief explanation, this converter isn't your typical video converter that has already been used on the web or downloaded. Instead of using a button to command, you will need a prompt to control this converter.
Step 1. Download the FFmpeg converter on your drive, then open it.
Step 2. On your computer, open your command prompt.
Step 3. Navigate the folder of your SWF file on CMD, then insert it. Copy this command and insert it on the command prompt ffmpeg -i input.swf -vn -ar 44100 -ac 2 -b:a 192k output.flv and press Enter for the process to begin.
Part 3. Convert SWF to FLV in Flash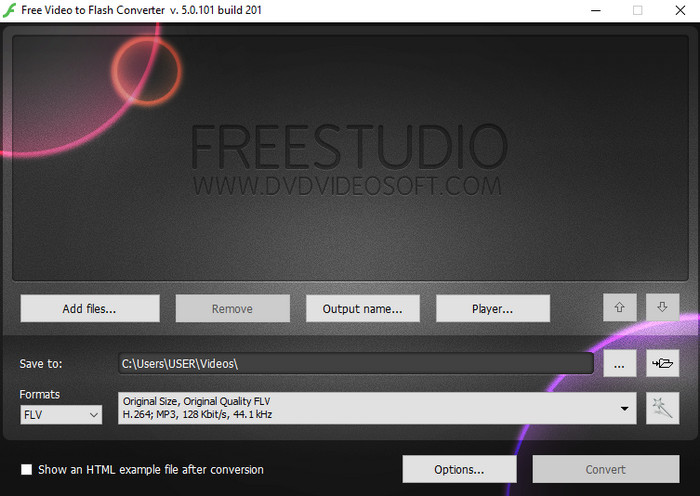 Free Video to Flash Converter is free to download converter on your Windows. This converter has two formats you can choose from. It is precisely for converting files into FLV or SWF format only. So, if you are looking at converting your SWF files into AVI, MP4, MOV, MKV, and more, you can't do it here. Let's learn how to convert SWF to FLV in Flash without more delay.
Step 1. Download the official software of the Flash Converter on your Windows and run the application.
Step 2. Hit the Add Files to upload the file on the converter. Then press Formats, look for the FLV, and you can also choose the quality as well.
Step 3. Start the conversion by clicking the Convert button on the bottom right side of the interface.
Part 4. How to Convert SWF to FLV with the Help of the Best SWF Converter on Windows & Mac
Still not satisfied with the first three SWF to FLV converters online and offline presented above? If so, try to use the FVC Video Converter Ultimate. This converter exceeds every customer's expectations, especially how fast the conversion process this tool provides. Besides its phenomenal conversion, it also has advanced editing features to better your video and Toolbox for other purposes. Moreover, the guide steps listed below will promise 101% success in converting your file.
Step 1. Before using the tool, you must download it on your Windows and Mac drive, follow the tool's installation process, and run it.
Step 2. Once it runs on your system, click Add Files to upload the SWF files you want to convert.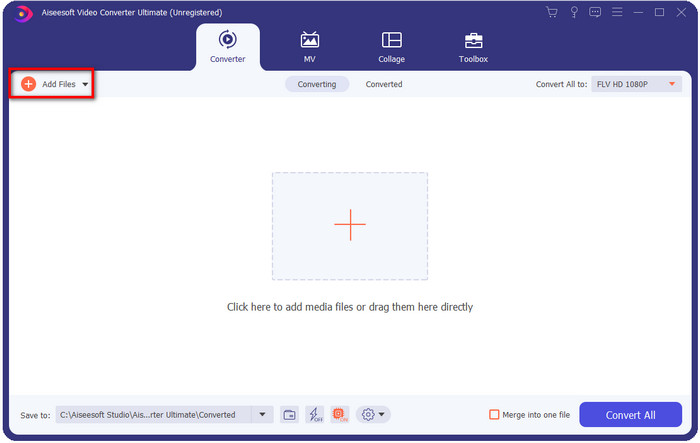 Step 3. Click the Convert All to option and choose the FLV format. You can also select the quality for high-definition or retain the original version.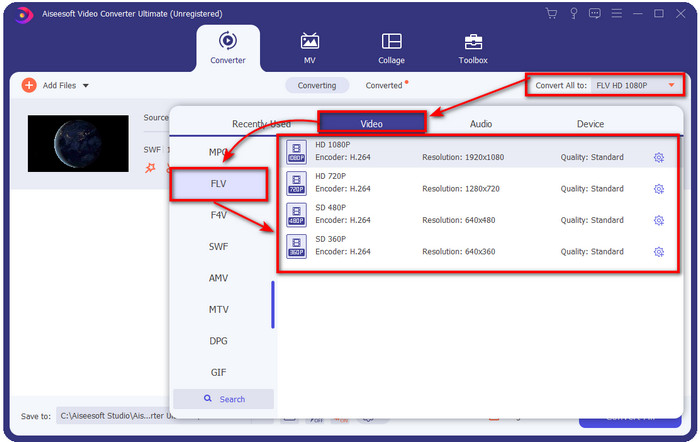 If you want to make your video output even better, click the wand button. It will lead you to the different editing you can do, such as Crop, Rotate, Add Effects, Subtitle, Audio, and Watermark. To save the changes you've made, click OK.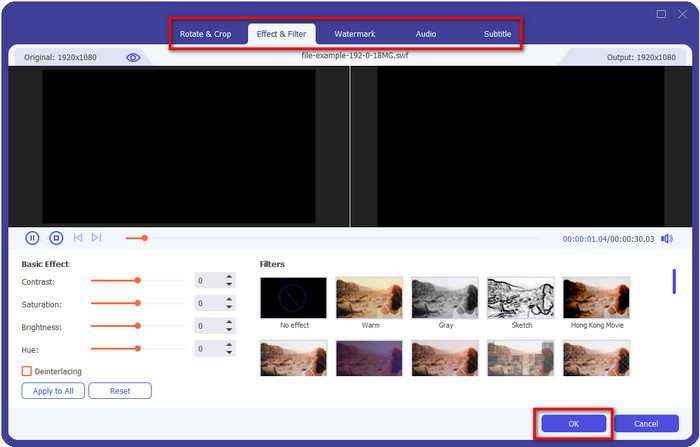 Step 4. Click Convert All and the process will begin. It will only take ample time to convert SWF to FLV; a folder will show on your screen with the FLV file after the conversion.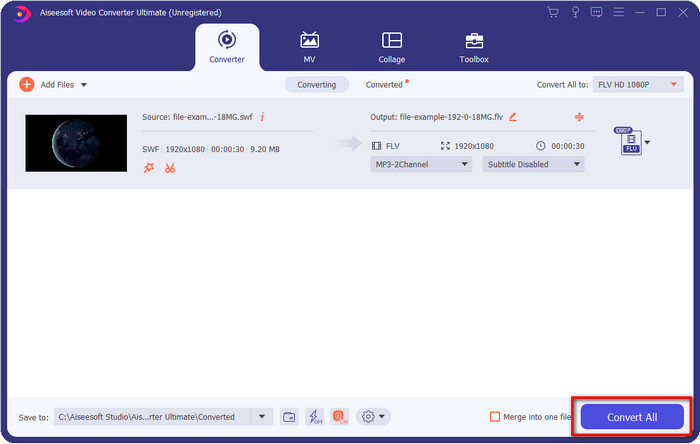 Part 5. Extended Knowledge of SWF and FLV
ShockWave File or SWF is an Adobe format, but Macromedia created it. It is known for keeping vector-based animations and sounds used on the web. Moreover, because it is a vector base, you can easily adjust the graphic scaling to fit or zoom in. Other than the vector animation, the file size is so tiny to load the video faster even though you have a slow internet connection. But the format isn't supported if you desire to share them on the video-sharing platforms.
Although FLV is also under Adobe, this format is better than SWF. FLV or FlashVideo Format is the standard video format on most websites. This format can contain two different codecs intended for video and audio. And just like the SWF file, this format is small to load the file faster on the web; once you download the FLV file on your drive, you can play it on your media player even if it isn't complete yet.
It would help if you converted the SWF to FLV because the SWF has a lot of imperfections that you can find on the FLV format. Especially if the video file is lengthy, as .swf only can contain a limited frame per second, there will be a chance that you can't use it. But FLV can hold long videos with ease. Moreover, if you want to focus on quality-wise, FLV has better quality than SWF.
Part 6. FAQs about SWF to FLV Conversion
Does the SWF file support transparency?
Like PNG and GIF, this format also supports greyscale with true colors or assign one color to make it transparent.
Where can I watch SWF videos?
As for now, you can't watch SWF files on your default media player because it is not supported. However, you can click this link and learn more about the Top 4 SWF Media Player on Windows or Mac.
Can I save the .swf of my phone?
Saving SWF files on your phone is possible, but playing it on your local media player is not. Because this format isn't for phone compatibility but the web. So, if you download a file under this extension, then expect that you can't use it; however, you can convert it into a playable format like MP4 on your phone.
Conclusion
This article un-boxes the converter gems you can use to convert SWF to FLV without degrading the quality of the SWF. As we collected all of these converters, we found out that FVC Video Converter Ultimate is the hidden gem you are looking for in this problem. It provides the most phenomenal output and the quickest process of converting compared to all of the tools mentioned. And now, you must choose the treasure you want to use in your converting problem by downloading or accessing the tool on the web.