All-around Review of DVDFab Player and the Best Alternatives
DVDFab Player is a very popular video player for playing HD or UHD videos, and the latest version DVDFab Player 6 is said to the best 4K UHD video player that supports DVD, Blu-ray, and all the popular formats. It has a free version and 2 paid versions with different features. Is it worth buying? Can the paid version meet all of your requirements? You can learn about a detailed introduction to its feature, pros, and cons.
In fact, only the paid version of DVDFab Player supports DVD, Blu-ray videos, and 4K UHD video files. Thus, you can also learn the 3 best free alternatives to DVDFab Player that contain all the basic features. After knowing the features of different video players, you can choose the most suitable one for you.

Part 1: A Comprehensive Introduction to DVDFab Player 6
DVDFab Player 6 is the latest version of DVDFab Player that supports a lot of media formats, including all the popular video and audio formats, DVDs, and Blu-ray files. And it is famous for playing 4K Ultra HD Blu-ray without losing quality. You can also take screenshots, rotating videos, add subtitles to the videos, etc.
Feature:
1. Supports all most all the popular formats and DVD/Blu-ray (only for the paid version) videos.
2. Provide a customized playlist to manage your videos.
3. Remote control for Windows Media Center under TV mode.
4. Able to choose different audio and video tracks.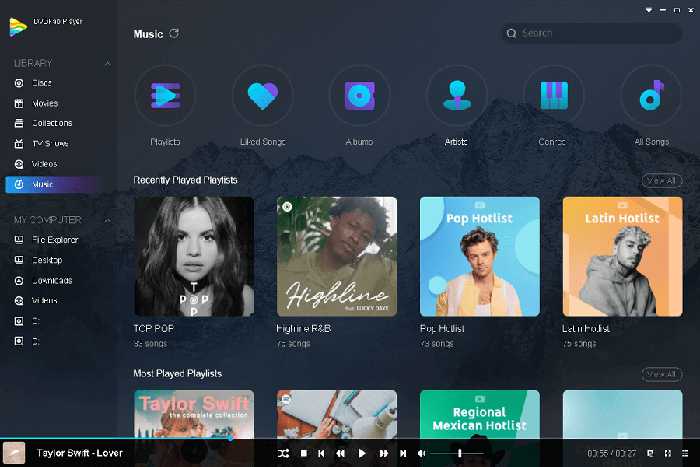 Pros
An easy-to-use interface for everyone.
Support 4K UHD resolution and 3D videos.
Provide different modes to have different viewing experiences.
Cons
The paid version is relatively expensive ($69.99 or $109.99).
Many useful features are not supported in the free version.
Not too many effects for adjusting videos.
Need a network connection to play Blu-ray discs.
Summary: It's indeed a good video player to play videos in common formats with less than 1080p resolution for free. But the paid version for playing 4K UHD videos and DV/Blu-ray files is not worthy. You can simply choose the following alternatives to DVDFab Player 5/6.
Part 2: Top 3 Best Alternatives to DVDFab Player for Free
FVC Free DVD Player - The Best Free Online Alternative to DVDFab Player
FVC Free DVD Player is a versatile online video player designed for playing DVD videos. Without downloading any software, you can play videos in all formats with high quality for free. Moreover, it provides an editing function to add effects to the videos for a better viewing experience.
Features:
1. Supports all the formats, DVD/Blu-ray videos, ISO images in high-quality.
2. Able to play audio files with lossless quality.
3. Adjust the basic settings easily through hotkeys.
4. Multiple additional features, including taking screenshots, changing tracks, and adding effects.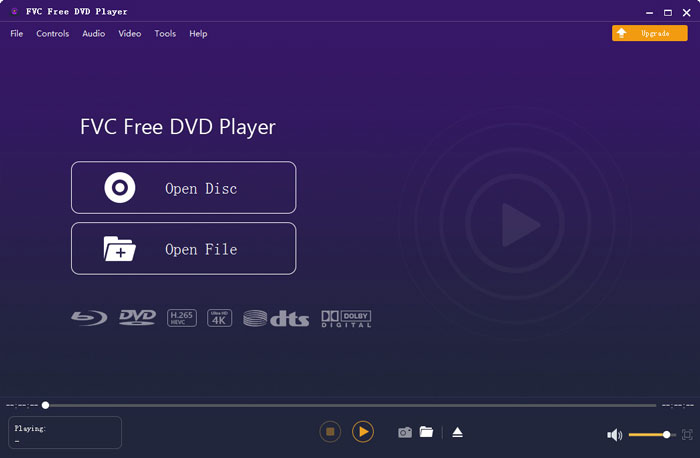 Pros
Smooth playback of all videos in high quality
Easy control of the playback settings.
Additional features to provide a better viewing experience.
Intuitive and user-friendly interface.
Cons
Need Internet connection (You can free download the desktop version to solve it)
Simple Steps: Navigate to FVC Free DVD Player on any browser. Click the Play Now button to install the launcher in a few seconds. Then click it again to choose the desired videos or DVD disc to play. After that, you can adjust the settings and effects freely.

VLC Media Player - A Versatile Video Player for All Platforms
VLC is an open-source video player for Windows/Mac/Linux/Mobile that can support all the popular formats or converting incompatible formats to suitable ones. And it's free to use with all the features.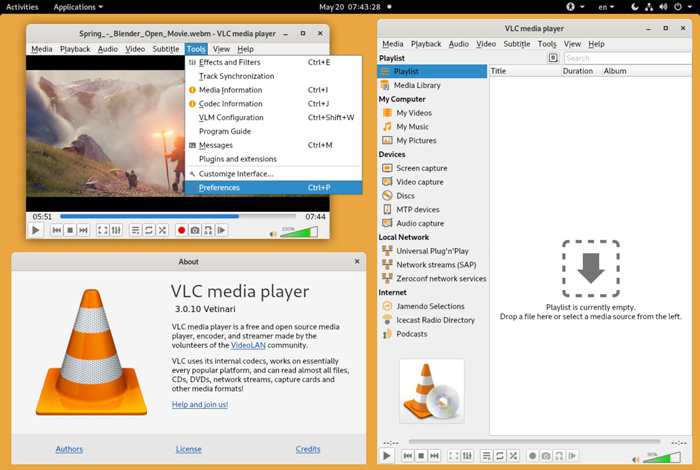 Features:
1. Support all the video formats.
2. Automatically recognize the artists and song title of the videos.
3. Able to store Internet radio stations on it.
Pros
Able to add external plugins.
Convert videos to the compatible formats and play them.
Cons
Unable to play Blu-ray discs.
Relatively low image and audio quality.
PotPlayer - A powerful video player for 3D videos
PotPlayer is also a free alternative to DVDFab Player. It is designed for playing 3D videos with 3D glasses. Thus, it also supports all the subtitle formats, including SRT and SMI. Its wide support to all the open-source formats will let you enjoy all videos smoothly.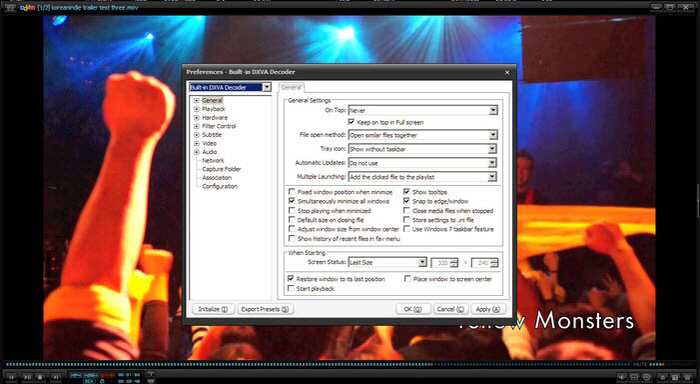 Features:
1. Provide a bookmark to record your favorite scenes and chapters.
2. Wide range of video, audio, and subtitle formats.
3. Hotkeys to control the playback settings.
Pros
Support 3D and 360-degree videos.
Multiple skins for the interface.
Cons
Only available on Windows 7/8/XP.
Have some ads when using it.
Part 3: FAQs of DVDFab Player and its Alternatives
1. Can I Play a Blu-ray disc through DVDFab Player 6 for free?
No. Although DVDFab Player 6 supports playing DVDs or Blu-ray videos, it's only for the paid users. In this case, you can choose the best alternative to DVDFab Player - FVC Free DVD Player to play Blu-ray disc online for free.
2. Does DVDFab Player 6 really support 4K UHD videos with high quality?
Yes, it supports 4K UHD videos. And only the $109.99 version supports this feature. If you play 4K videos on the computer, you can get a good viewing experience with high image quality. However, it looks no different from 1080p on the small screen of the computer.
3. What is the best alternative to DVDFab Player to play DVD/Blu-ray videos?
FVC Free DVD Player is the best alternative to DVDFab Player 5/6. It supports all the video formats and DVD/Blu-ray videos. And the desktop version also provides 4K resolution as DVDFab Player.
Conclusion
After reading this article, you must have learned more about DVDFab Player, especially the latest version DVDFab Player 6. This article has introduced the features, pros, and cons of DVDFab Player, and actually it's not worth paying for the pro version that contains DVD/Blu-ray supports. You can go for the free alternatives to DVDFab Player to have the same viewing experience.