2 Steps to Stream DVD from Laptop to TV Using Chromecast
It is a great way to use Chromecast for streaming your favorite media to the HD streaming output device like TV or monitor. If you're looking for DVD entertainment on Chromecast, you might be frustrated since it can't directly cast your DVD movies through your computer's DVD drive or hard drive. To stream DVD to Chromecast, you need to change the format of the DVD file to a readable file like H.264 video in an MP4 container. After the conversion, you can use Chromecast to stream the DVD content from your PC or Mac to your TV.
Fortunately, there are kinds of different DVD ripping tools with a variety of different options out there that can make digital copies from DVD and convert to a format recognized by Chromecast. To know more detail, you can follow the step-by-step guide to stream and cast DVD movies from your computer to TV via Google Chromecast.

Part 1. Convert DVD Movies to Chromecast Compatible File Formats
The first step to stream your DVD is to use a professional DVD ripper to convert your DVD movies to Chromecast supported file formats. Aiseesoft Video Converter is an excellent multifunctional video converter and DVD Converter. With the latest advanced decoding techniques, it can quickly convert almost all kinds of DVDs you see on the market to Chromecast supported file formats.
On top of that, Aiseesoft Video Converter provides more than 500 formats for you to choose from including MP4, AVI, MKV, MPEG, VOB, MP3, AAC, as well as device formats like iPhone, iPad, PS4, Xbox One, and more. Just download the software for free and then follow the instructions below to start the DVD to Chromecast converting process.
Step 1. Insert your DVD to the disk drive and run Aiseesoft Video Converter on your Mac or PC. On the main interface, head to the Ripper feature and then click Load DVD and choose the movie you want to rip and convert. Hit Open to start the analysis.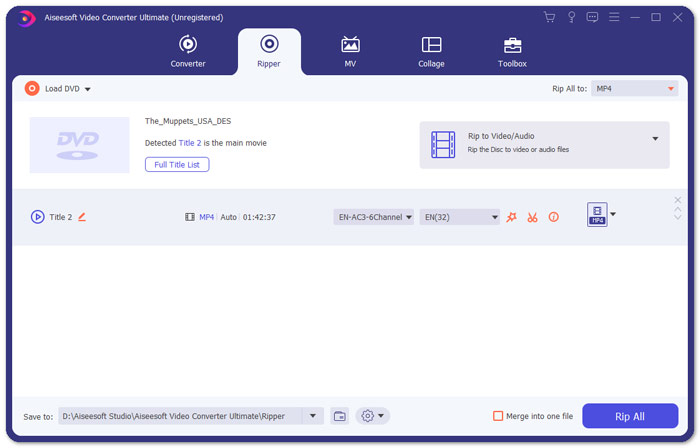 Step 2. After the files are added, convert them to a format that is compatible with Chromecast like MP4. Expand the drop-down list of the Rip All to option and select MP4 from the Video Category tab as the output format.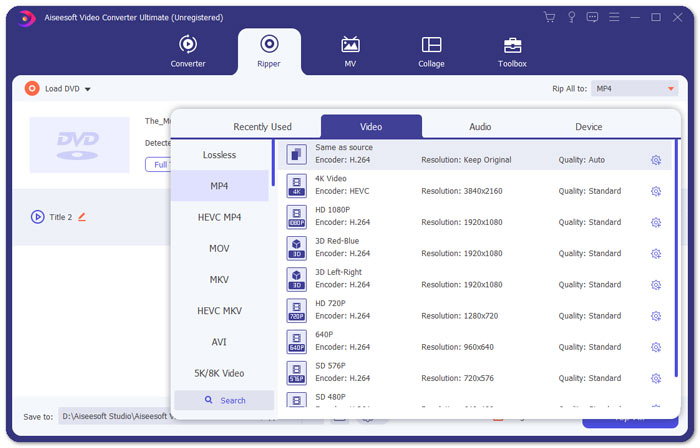 Step 3. Then, navigate to the Save to field to decide the path to save your converted DVD movie file and then hit on Rip All button to start the process of DVD Chromecast conversion.
Part 2. Stream Converted DVD Content to TV via Chromecast
Now you have gotten a Chromecast supported video file. The next thing you need to do is to cast the DVD video to TV using Chromecast. Here's what you need to do:
Step 1. Open your Chrome Browser and make sure if Chromecast Extension is installed on your computer. If you haven't installed the extension, you can get it from Chrome Web Store.
Note: Ensure that you're using the latest Chrome version by heading to Settings, then About Chrome.
Step 2. Now, connect the Chromecast with TV and then connect both devices with the same WiFi network.
Step 3. Then, install Google Cast extension on the Chrome browser. You will see cast icon on the Chrome browser. You can adjust the quality of the casting by clicking the cast icon for your TV.
Step 4. After that, drag your converted DVD movie in the Chrome browser, or press Ctrl+O to browse the media. Now you can start casting your DVD movies to your TV with the help of Chromecast.
Part 3. FAQs of Streaming DVD to Chromecast
Can I cast DVD to TV using VLC?
Yes. Google has added VLC support in the Chromecast 3 for effortless streaming.
Is there any alternative to the Chromecast?
If you don't want to use Chromecast to stream your DVD, you can use Chromecast alternatives like Roku, Amazon Fire Stick, Apple TV, and others.
What formats does Chromecast support?
Chromecast supports audio, video and graphic media formats like JPEG, GIF, PNG, BMP, WEBP, HE-AAC, LC-ACC, MP3, WAV, and much more.
Conclusion
We hope you successfully casting the DVD to Chromecast with the above steps. Apart from streaming DVD to Chromecast, there are some other streaming choices, for example, streaming DVD to Apple TV, streaming DVD to Roku. Choose a service that suits your needs best to make your DVD streaming easy. If you prefer to enjoy your DVD movies in an online way, try FVC Free Video Player