Why Videos Are Not Playing on Chrome and How to Fix It
This post focuses on helping you fix the error that videos stop playing on Chrome. It cannot be denied that Google Chrome is a fantastic browser. Its modern and superfast interface packs with lots of features and available on almost all digital devices. That makes it the first choice of millions of internet users from around the world. However, it is not perfect similar to other web browsers. That is why you should read the article below carefully.

Part 1: Ultimate Way to Fix Video Not Playing on Chrome
As a web browser, Chrome performs fast and stream your favorite videos without interruption. However, it cannot work without a good internet connection. Therefore, the ultimate solution to fix videos not playing on Chrome is to download and play locally. The good news is that FVC Free Video Player lets you play Chrome videos without installing.
Key Features of the Best Chrome Video Player
1. Play videos online without installing any software.
2. Support almost all video formats, like MP4, FLV, MOV, etc.
3. Full control video playback in any browsers.
How to Play Downloaded Video on Chrome without Network
Step 1: Open your browser when Chrome is not playing videos and you have downloaded the videos. Visit https://www.free-videoconverter.net/free-video-player/.

Step 2: Click the Play Now button to download the launcher. Then hit the Open File button to open a video from your computer.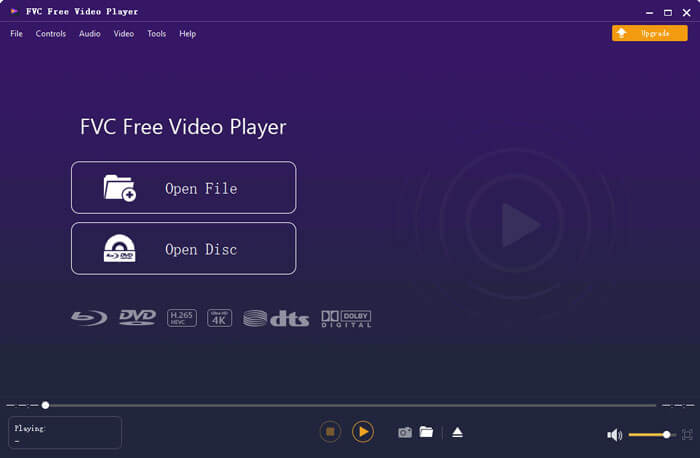 Step 3: Now, you can control the video playback with the buttons at the bottom of the launcher. The top menu bar offers more advanced controls, like video effect, audio effect and more.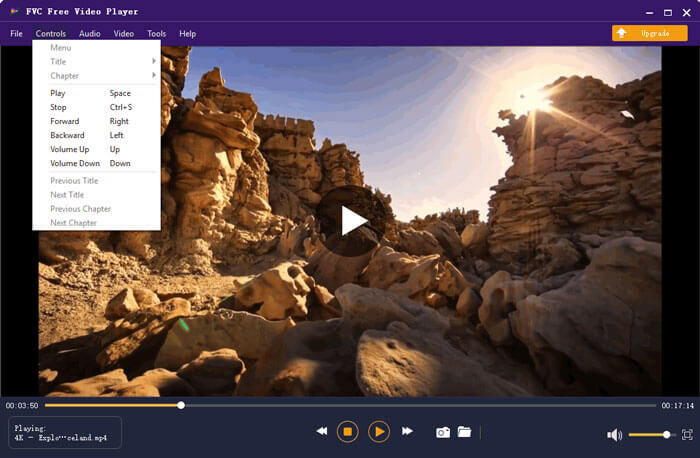 Part 2: 5 Common Solutions to Fix Videos on Chrome Not Playing
Many factors can lead videos to stop playing on Chrome, but you can try the common solutions to fix this problem one by one.
Solution 1: Check Chrome Update
Make sure you have saved your data before updating Chrome. After that, the browser will reopen along with the websites but not any data.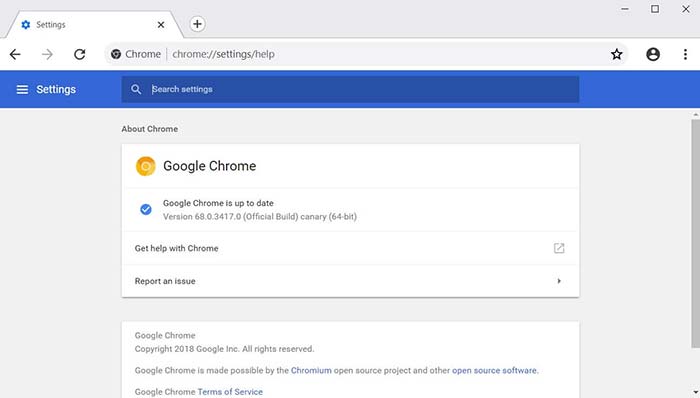 Step 1: Connect your computer to a good network. Open your Chrome when videos stop playing on the browser.
Step 2: Click the Menu button with a three-dot icon, and select Help and About Google Chrome. Then it will check for any update available and install it automatically.
Step 3: Wait for installation to finish and click the Relaunch button to confirm it. Now, try to play the video again to check if it is working now.
Solution 2: Enable JavaScript
In order to protect copyright and prevent from video download, many websites embed videos with JavaScript language. Sometimes, Chrome is not playing videos due to JavaScript disabled. Fortunately, it is not difficult to enable it.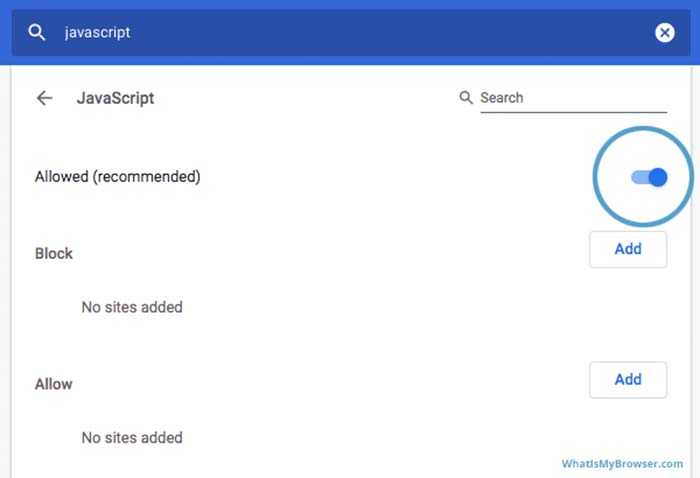 Step 1: Click the Menu button on Chrome and select Settings on the context menu list.
Step 2: Choose Privacy and security from the left side and go to Site Settings on the right side.
Step 3: Scroll down to find JavaScript option and enable to switch next to Allowed.
Step 4: Reopen your Chrome, try to play the video again and it should work as usual.
Solution 3: Install Adobe Flash
Adobe Flash is used to play videos on Chrome, but now it is disabled by default. That is because more and more websites rely on HTML5 to play videos now. Plus, Adobe Flash will slow down your sites. However, a part of websites still uses Flash to play videos.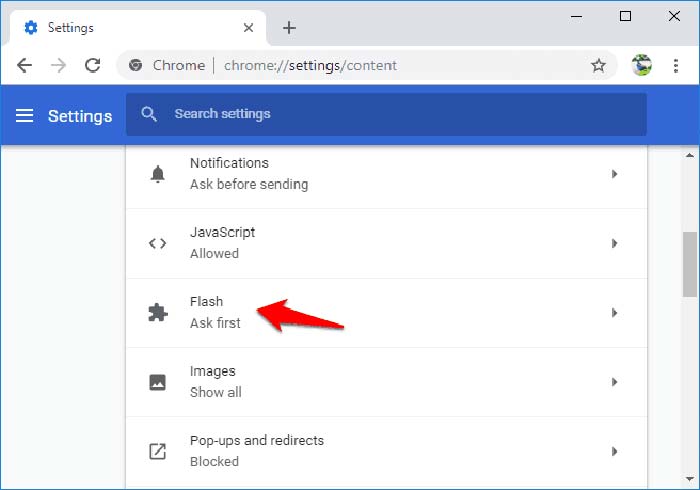 Step 1: Open your Chrome, put chrome://settings/content into the address bar and hit Enter key on your keyboard.
Step 2: Scroll down to find the Flash option and click on it. Enable to Ask first option.
Step 3: Revisit the video website and permit Flash to run when prompted. Now, the video should play on Chrome.
Solution 4: Clear Chrome Cache
If you never clear cache in Chrome and videos are not playing, it may be the time to clean your browser now.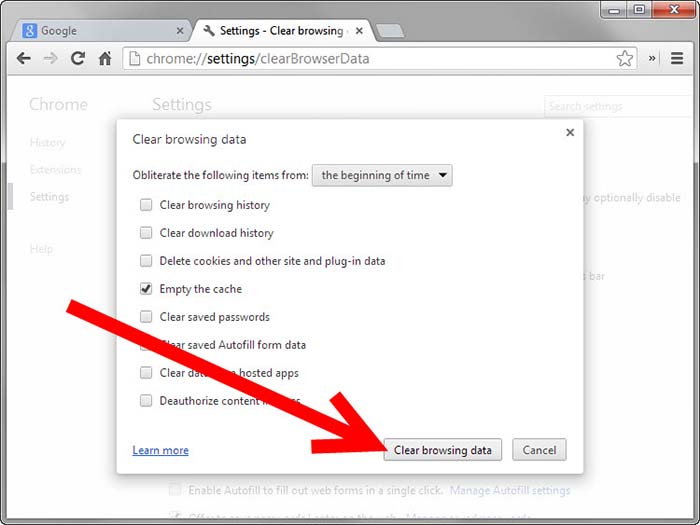 Step 1: Open Chrome, click the Menu button, select More tools and Clear browsing data.
Step 2: Now you will see the popup dialog. Choose All time from the Time range menu. Then check the options like Cookies And Other Site Data, Cached Image And Files, and more.
Step 3: Once click the Clear data button, your Chrome will become clean and clear.
Solution 5: Disable Unneeded Extensions
Extensions are able to help you complete various tasks; however, it may lead to videos not playing on Chrome. At such time, you have to disable them.

Step 1: Visit chrome://extensions in Chrome.
Step 2: Turn off or remove all extensions on the list. Reopen your browser.
Step 3: Now, visit YouTube or other video site and play the video to check if this method works for you.
Part 3: FAQs about Videos Not Playing on Chrome
Why MP4 videos won't play on Google Drive?
In order to avoid the cause for the failure of MP4 playback on Google Drive, the only way you should do is to disable hardware acceleration. So that it won't occupy to much GPU on your computer and slow down the speed of Google Drive. Here are 3 tips for playing MP4 files in Google Drive.
How to fix embedded videos not playing on Chrome?
Firstly, close all other tabs except the video website. Then delete all temporary files on your Mac and PC. You can also try to watch the video in low resolution.
How to download a video on Chrome?
You have several ways to download videos from Chrome. Firstly, video download extensions can help you extract videos from website and offer the download option. Plus, you can try online video downloader apps.
Conclusion
It is a common problem that videos are not playing on Chrome on PC or Mac. Fortunately, there are several solutions to resolve the issue. You can perform the common solutions first. If they are not working, download the videos and play with FVC Free Video Player. It is totally free to use with no payment, registration or other limit. More questions? Please leave a message below.