Learn How to Play Video in Reverse with the 3 Elite Software
A lot of ongoing videos uploaded in all different video sharing platforms already added the reverse effect to make their videos something new to the eye of the viewer. So, in this article we will be going to talk about how to play a video in reverse with detailed steps and different software you can use. So, keep on reading this article to have an idea about reversing video.

Part 1. Best Way to Play Video in Reverse
The phenomenal converter already took the first step on video editing, especially reversing. As a lot of users already use this tool to make their videos outstanding. The Video Converter Ultimate already proved a lot more than they expected to its loyal customer. Moreover, this software provides a lot of advanced features you can use to make your recording something new to the eye of the viewers. So, do you want to know how to play a video on reverse and save it? Then follow the steps below and try it for yourself.
Step 1. Before you can use the Video Converter Ultimate you will need to download it first. Install it and do the quick and easy set-up.
Step 2. Go to the Toolbox and locate the Video Reverser.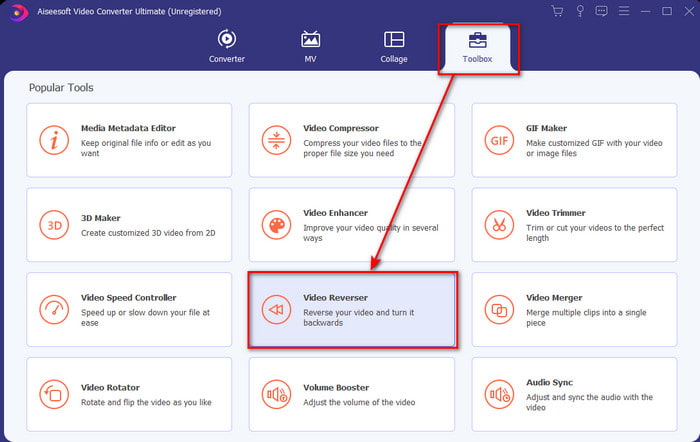 Step 3. To add the file, click the + button and a folder will show. Select the video file and click Open to insert the file.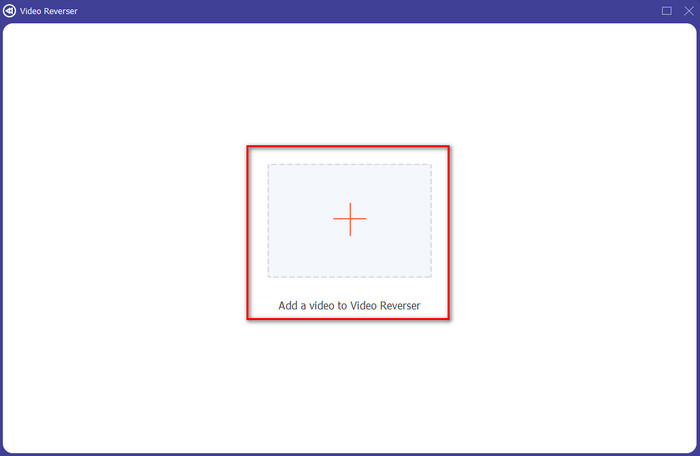 Step 4. Change the playback in and out if you want to make the video short. Then click Export to start the saving of the reverse video to your desktop.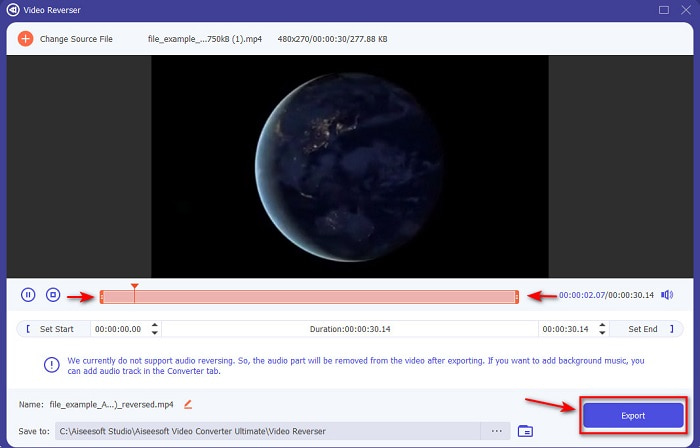 Step 5. After the video has been exported, a folder with the video reverse will show to your screen. Click the file to watch the reversed video.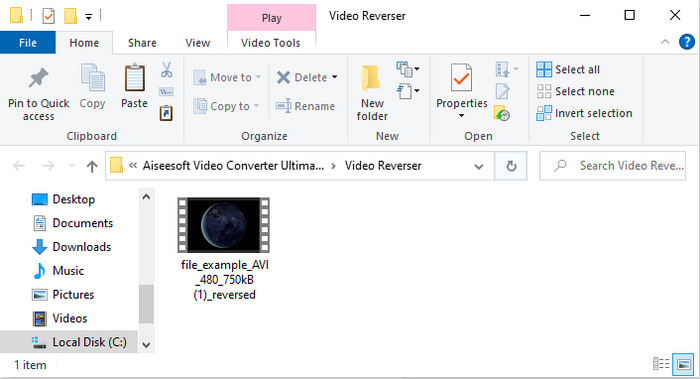 Pros
It has a lot of advanced features and is much easier to handle than the Adobe Premiere Pro.
It supports all of the video formats. So, no need to worry if your video is in the format of AVI, MP4, MKV, MOV or other.
Suitable for pros and beginners who want to have a simple tool that provides a phenomenal converting feature.
Cons
It is paid but the price of it is much less if we compare it to the premiere pro software.
Before you can access the tool, you will need to download it first.
Part 2. How to Play a Video in Reverse on iMovie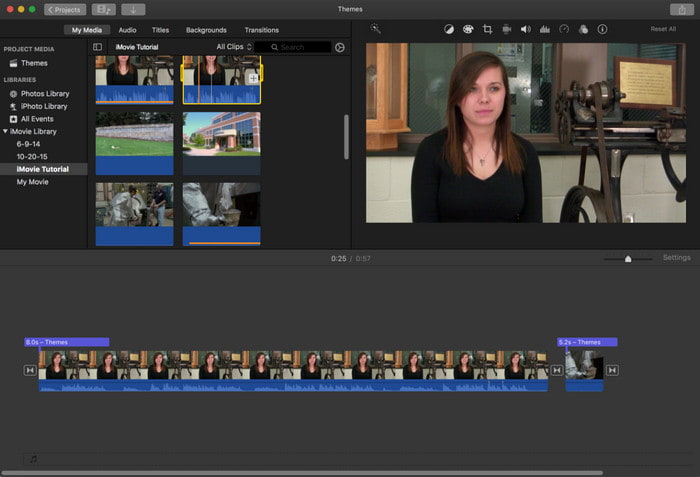 iMovie is the native video editor you can use for free on Mac. This tool is already pre-installed on the drive, so you will not need it to download the tool to access it. So, if you want to know how to play a video in reverse on iMovie then follow the steps below.
Step 1. Open the iMovie on your Mac. Then drag the file to the Timeline.
Step 2. Click the clock like shape button and tick the Reverse. Then adjust the speed of it to Normal, Slow, Fast, and more.
Step 3. To save the output click the Export button and save it to your gallery.
Pros
No download needed and it is free for every Mac user.
Easy to use for quick edits you'll like to do immediately.
It has autosave features so there is no need to command + S.
Cons
Exporting videos here would take a lot of time.
It lacks advanced features you will need as a pro editor.
Part 3. How to Make a Video Play in Reverse Using Adobe Premiere Pro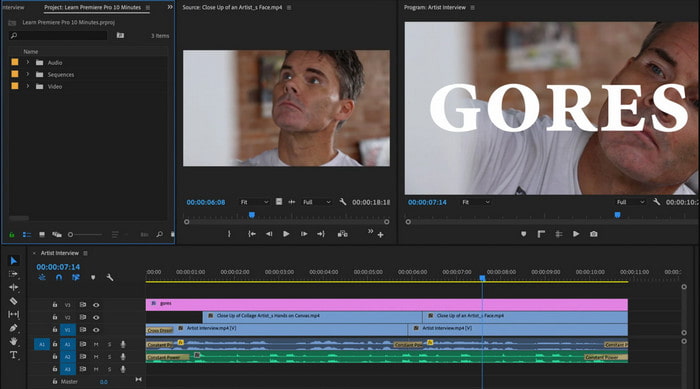 Adobe Premiere Pro is the best editing tool you can use if you want to have the best output as a pro. But the tool is overwhelming to a beginner that doesn't have experience editing videos. So, if you want to learn how to make a video play in reverse Premiere Pro copy the steps below accordingly.
Step 1. Download the Adobe Premiere Pro to your drive and launch the software.
Step 2. Drag and drop the video file into the Media Port then transfer it to the Timeline. Click the video and right click it next then go to the Speed/Duration.
Step 3. Check the Reverse Speed and set your desired duration then click OK.
Pros
It is the best choice for the pro editor as it supports advanced features for professional output.
It can do heavy editing and you will need to produce high quality edited video.
It supports almost all the video formats.
Cons
It is really expensive if you just want to reverse or do simple editing.
Learning how to use this will take you a lot of time. Basically, it is not user friendly.
Sometimes the software crashes for unknown reasons.
Part 4. FAQs about Playing Video on Reverse
How to play a video in reverse on an iPhone?
iPhone doesn't have a built-in reverse editing feature but you can download apps that can help you to reverse on your iPhone easily. Like the apps you can use here. So, if you want to know more then click this link to go to the other video reverser you can use.
Why do my videos reduce quality after reversing?
It could be the output you set is in the middle or low. But to avoid this you can set the settings to high to have a no quality loss reverse video. However, expect a much bigger file size than the low quality one.
How can I add sounds on my reverse video?
All of the tools in this reverse your video but the audio is not included. So, if you want to know how to add background music on your video then try to read this article. As we explain how to add audio to your video to make it better.
Conclusion
Now that we know how to play a video in reverse, it is now the right time to make it. With the help of this incredible tool, you can find it on the internet. However, if you want to make an extra ordinary reverse video than iMovie but less expensive than premiere pro then the right tool for you is the Video Ultimate Converter. As per customers demand this software is great in all aspects you want to have in reversing. So, before you begin your journey on reversing video you must choose the right tool that can make your video phenomenal. To know more you must download this tool first and let the tool do the work.