How to Compress AMV (Animated Music Video) on Windows and Mac
As one of the fans of the animated music video (AMV), you can download and upload your favorite AMV files through AnimeMusicVideos.org. However, the large file size of those AMVs will eat up your device storage. What's worse, when you want to upload the AMVs with large file size online, they may be blocked or obstructed.
The solution to those large AMVs is to reduce their file size.
That's what we shall talk about in this post, 2 ways to compress AMVs.

Part 1. How to Free Compress AMVs Online
The easiest way to compress AMVs is finding an online tool without downloading the heavy desktop programs.
Free Online Video Compressor is an easy-to-use wizard to compress animated music videos. No matter what format your AMV is, this online video compressor can reduce a video file size at a high compression rate of up to 95%. No signup, this tool can compress AMVs without a watermark, and you can watch or upload online conveniently.
Reduce over 300 video formats like AMV, MP4, MOV, AVI, WebM, MKV, etc.
Support 1080p HD, 720p HD, and other video resolutions' compression.
100% free to compress AMVs on Windows and Mac.
Convert AMV to other formats like MP4, MOV, MKV, AVI, and more.
Step 1. Add AMV file
Open this free AMV compressor online via your browser on Windows or Mac computer.
Click the Add Files to Compress button, and a pop-up window appears that requires you to download and install a compressor launcher.
After a successful installation by following the on-screen instructions, the open-source window will appear, and you should locate the AMV file on your computer and add it to this tool.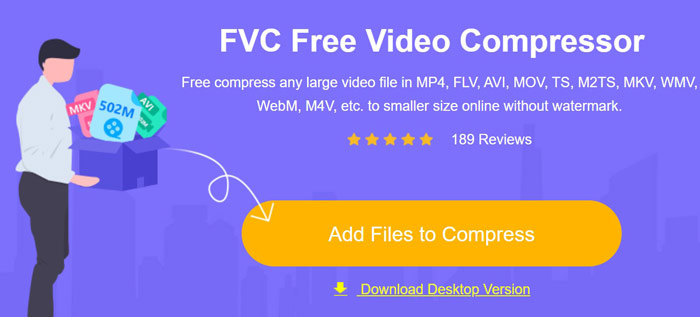 Step 2. Select compression rate and size
Next to Size, the current SWF file size will be shown. Move the slider on the right side to choose the compression rate.
Alternatively, you can click the arrow-down or up icon to adjust the output SWF file size.
If you want to convert AMV to other formats like MP4, MOV, MKV, AVI, FLV, etc., just select the output format next to Format.
You can also change the AMV file size by selecting a lower resolution from 1080p HD to SD from the drop-down option of Resolution.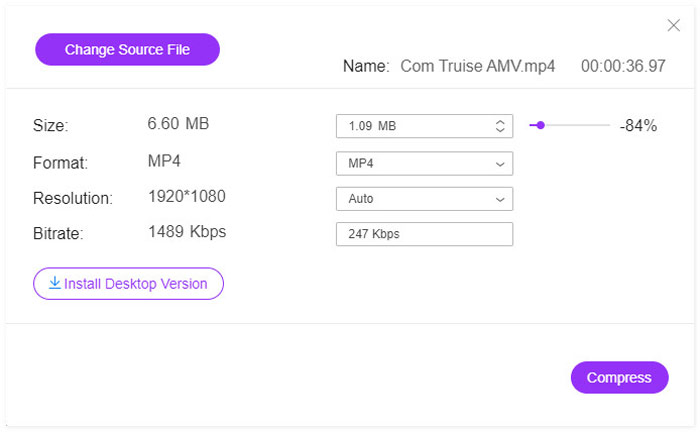 Step 3. Compress AMV
After all the settings are made well, just click the Compress button to choose a destination to save the compressed AMV file and start the AMV file compression process.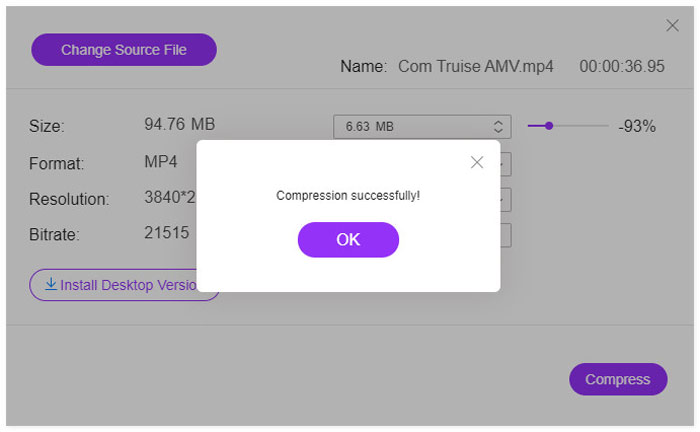 Then just locate the destination to find the compressed AMV file. No extra steps are required to download.
Part 2. How to Reduce AMV File Size on Computer
Another way of reducing AMV file size is getting a video compressor program on computer. Video Converter Ultimate is an all-in-one AMV compressor and creator. Apart from compressing AMV, Video Converter Ultimate can help you create an animated music video collection with clips.

Video Converter Ultimate
1,354,465+ Downloads
Convert AMV to/from MP4, MOV, MKV, AVI, MP3, etc.
Edit videos (split, crop, rotate, watermark, subtitle, merge, etc.)
Split screen and create MVs with photos, videos, and music.
Powerful toolbox (video enhancer, compressor, metadata editor, etc.)
Follow the simple steps mentioned below to know how to compress AMV on computer.
Step 1. Free download this AMV video compressor on your computer. Run it immediately after a successful installation.
Click the Toolbox tab.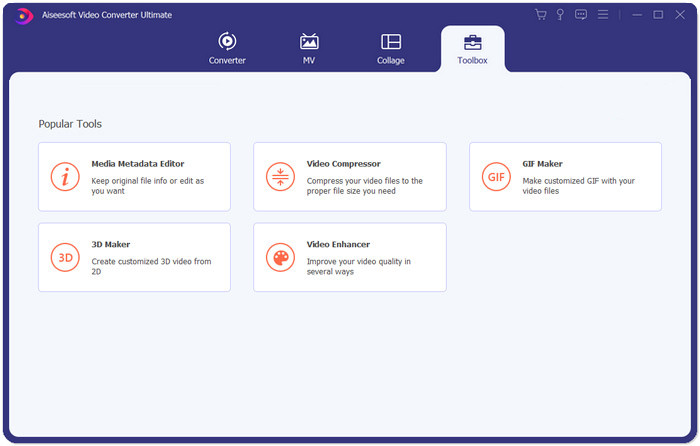 Step 2. Click Video Compressor, click the big plus button and an open-source window appears, and choose the animated music video file into this software.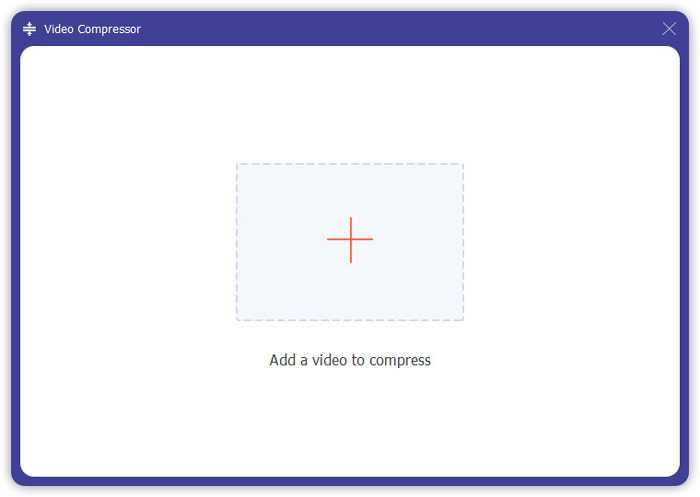 Step 3. Here, you can move the slider to select the AMV compression rate or click the arrow-down or up icon to choose an AMV compression size.
Compared with the free online AMV compressor, this program offers more output formats.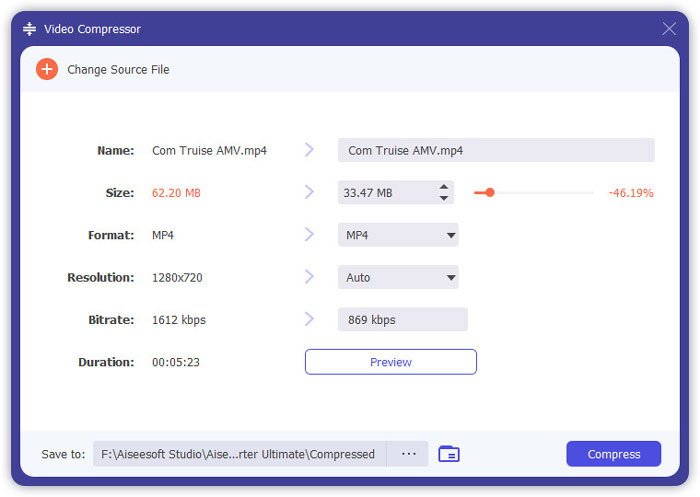 The Preview button lets you view the compressed AMV file, so that you can adjust the compression rate timely.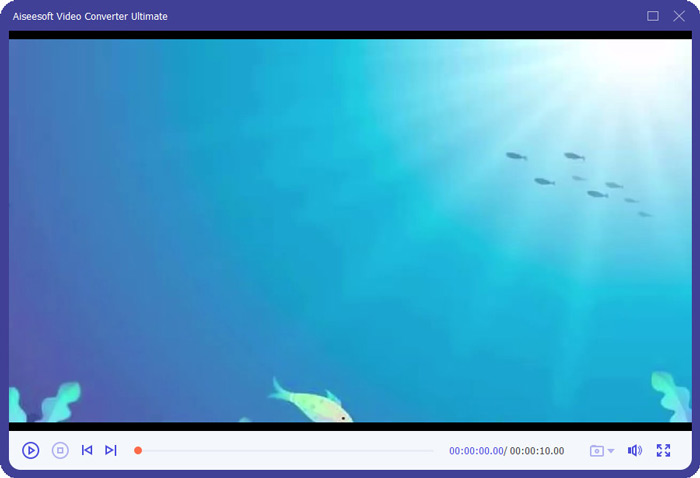 Then select a video resolution for the output AMV file and set the location to save the compressed AMV file. While the settings are made well, just click Compress to start reducing a video file size.
Part 3. FAQs of Compressing AMV
What does AMV stand for on Scratch?
AMV means Animated Music Video on Scratch Slang.
What is the difference between AMV and MAD?
MAD often refers to video and/or audio creations that are created by editing and rearranging existing video or audio, and gives it new meaning. AMV is a fan-made music video consisting of clips from one or more Japanese animated shows or movies set to an audio track. AMVs can occasionally include American footage or video game footage, while MAD is probably referring to a broader classification of AMV from Japan.
Is Anime OST copyrighted?
An anime OST is used to transform the content into new content, and it is considered to be fair use. However, once you upload a video with the anime OST to YouTube, the copyright holder can still put a claim on it and demonetize you.
Conclusion
Compressing AMVs can free up more space on your device and upload to online sites smoothly. This post shares 2 easy ways to reduce an AMV file size into a smaller one. If you do not want to download a heavy program, you are recommended to compress AMV online directly. However, if you want to compress, convert and make an AMV file, the desktop tool, Video Converter Ultimate, is ideal for you.
Now it is your turn.
Which way is the better for you to compress AMV?
Or do you have other ways of making AMVs smaller?
Let me know by leaving your comments below.