Top 7 High-Quality Audio AAC Recorders for Windows and Mac Computers
Advance Audio Coding or introduced as AAC file extension. It is a digital audio coding that represents lossless data compression. It is developed as an advanced version of MP3. This means it can administer better audio quality than MP3. Therefore, when recording AAC audio from different streaming sites or simply recording it on your computer, it is important that the audio recorder supports this kind of file format. Henceforth, this article is your guide on finding the best AAC recorder since there are a few that support it.

Part 1. Top 7 AAC Recorders for Windows and Mac
1. FVC Free Screen Recorder
The first and by far the most accessible tool that you can find online is FVC Free Audio Recorder. It is a free online tool that you can access using a web browser and a stable internet connection. For this reason, many find this tool helpful. Above all the audio quality produced is seamless and flawless. The recording process is very easy to follow. On top of that, the audio produced by it is playable on almost all players. Furthermore, it is very practical that you do not need to pay for the service to use it. You do not need to worry about malware that can infect your PC too. It is guaranteed safe and protects your uploaded data. If you want to get started with the app, follow the guide written below for your convenience.
Step 1. Activate the launcher by clicking the Start Recording button from the webpage of FVC Free Audio Recorder.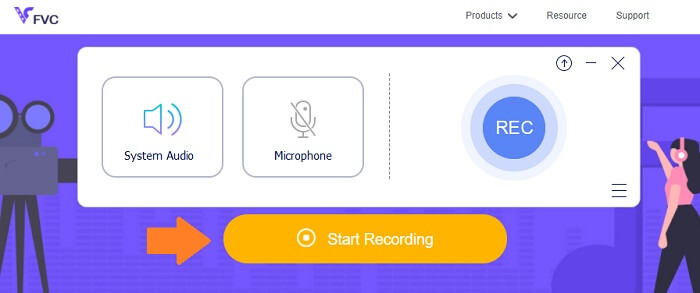 Step 2. Once the launcher appears, start recording by clicking the REC button.

Step 3. To stop the recording by clicking the blue circle icon.

Step 4. After that, the file will be automatically saved on your PC. Check the list of recorded files on the main interface.
Pros
Adjustable aspect ratio.
Adjustable bitrate for better audio quality output.
It can record system audio and screen.
Cons
It does not support video or audio trimming.
2. FVC Screen Recorder
Next to the list is the premium version of FVC Free Screen Recorder. It is a desktop app that you download on your PC without having to worry about Malware that can affect your PC. Significantly, it is supported almost on all platforms. Uniquely, the interface of the tool is interactive and user-friendly. I might say, the real definition of an easy-to-use and understand tool. You do not have to be an expert on using it, even beginners can easily follow through.
FVC Screen Recorder is highly effective in delivering seamless recording even in a more complex live broadcast or gameplay. Most especially in capturing audio. This tool uses an AAC codec to produce a seamless audio recording. This means recording a live stream will be smooth and no background noise. Apart from screen recording, this software can capture webcam videos and simultaneously cast them. Not to mention, there is more to discover. Meanwhile, here is a detailed guide on how to use this AAC voice recorder tool.
Step 1. Download and install the app by using the button below.
Step 2.Follow the installation guide and complete the process. Now click the Audio Recorder button to see the floating bar for audio recording.

Step 3.Change the format by clicking the Gear icon then head to Output. Change the output to AAC, or other desired audio format. Now toggle on System Sound. Meanwhile, you can also turn on the Microphone option to add your voice if you need. Finally, the REC button starts recording.

Step 4.Once done recording, click the red Square button. Once the recording is done, playback by clicking the file name below the interface.

Pros
Acceleration for seamless recording is supported.
Window lock feature is available to record specific screens.
Bitrate and frame rate are supported.
Can record audio separately.
Cons
Zoom in and zoom out not supported.
3. Bandicam
The third on the list that is worth trying is Bandicam. Bandicam paved its way to popularity by being known to be a reliable tool for beginners. The interface of the tool is very simple and straightforward. You can immediately choose which action to take because everything is on the main page. What is more important is that this tool supports AAC output for audio and a bit rate of 192 kbps. This is good enough to produce high-quality sound in your recording. Also, here are some more features of the tool that are impressive enough.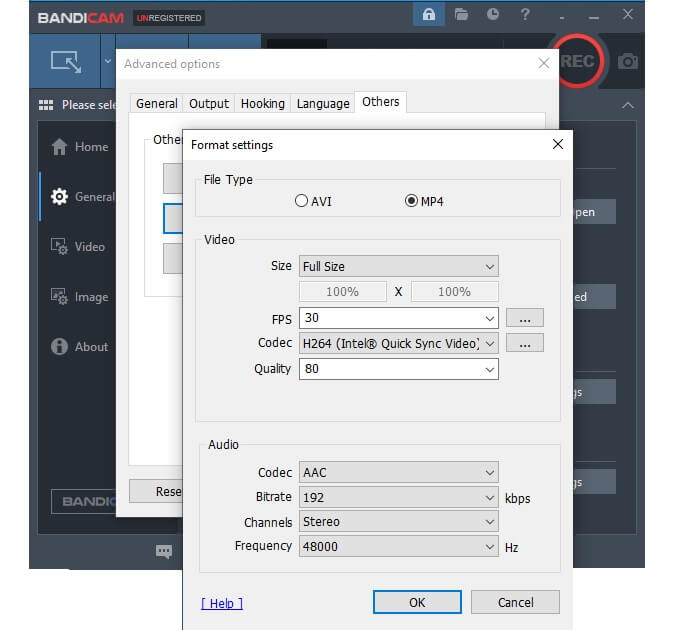 Pros
Zoom in and zoom out are supported.
Schedule a recording supported.
Schedule a recording supported.
Select a recording mode.
Cons
Window Lock is not supported.
Multitasking is not possible while recording.
Cannot record audio separately.
4. OBS Studio
Open Broadcaster Software or also known as OBS. It is open-source and free streaming and screen recording program. OBS is available on both Mac and Windows computers. This supports RTMP that can be associated with different streaming sites like YouTube, Twitch, Instagram, and Facebook. Moreover, you do recording while streaming. For this reason, it is added as one of the tools that you consider using as an AAC recorder.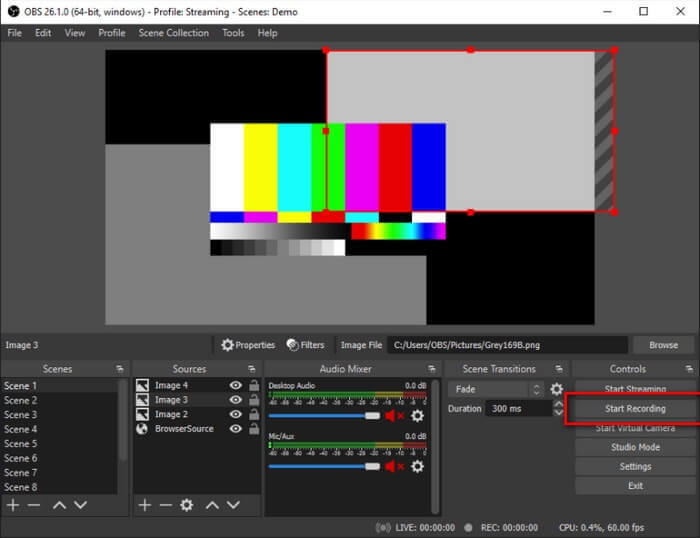 Pros
It is easy to record and locate the recorded file.
You can be sure that the video and audio outputs are compatible on most players.
Can screencast while mirroring.
Cons
Adjusting the encoding for enhancement of video quality and others will slow down your PC.
5. Screencast-O-Matic
Screencast-O-Matic is a site that provides free access to screen recording and video editing tools. Tools here are mostly maximized by educators, students, and even professionals. Video tutorials can be easily made here. Aside from screen and audio recording, you can screen capture, host, and share content over the web by using the cloud hosting by the site. Furthermore, they also provide the ability to record audio. What's more, is that you can add this as an extension on Chrome.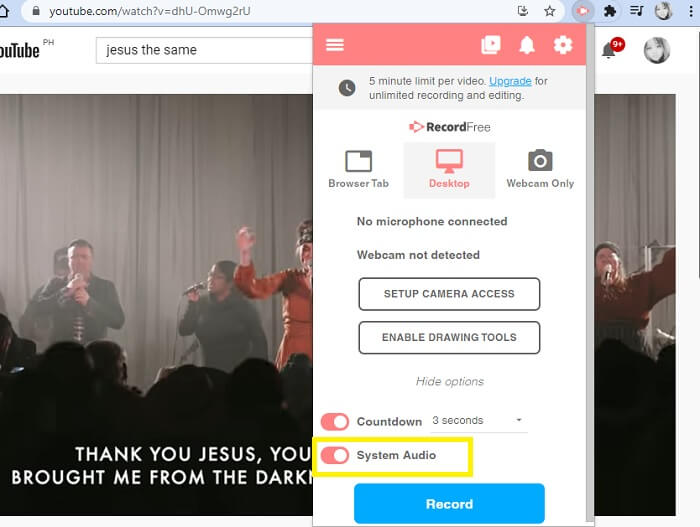 Pros
It can be both accessed online and downloadable.
Reasonable audio quality for a free app.
Can be used as a streaming tool and good for video tutorials.
Cons
You need to sign-up to use it.
It has a lengthy process of registration.
Cannot record audio separately.
6. ScreenFlow
Now we are down to the last three tools that are AAC recorders. This time you will discover about ScreenFlow by Telestream. It is a tool meant to help educators, marketing teams, vloggers, etc. in making their videos known over the web. Some of the best features that people love about the tool are the file-sharing feature, video editing, video call recording, Screen capture, content library, and most of all is Audio capture capability. There is more to discover about the tool. See the list below to know more.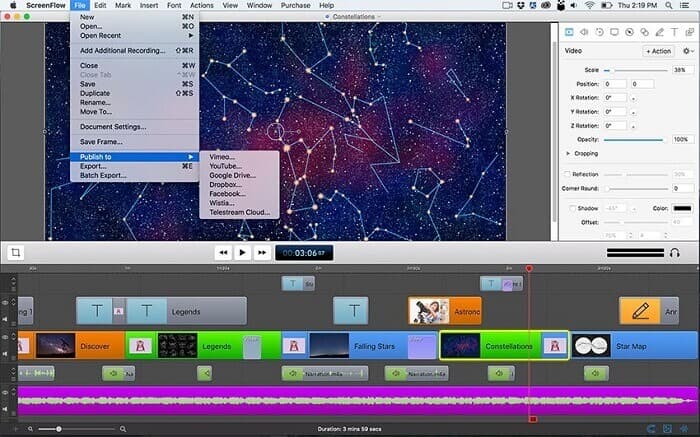 Pros
Can do the multi-screen recording.
Text editing is supported.
Video management is supported.
Directly upload on YouTube.
Cons
Not available on mobile devices.
Access controls not supported.
7. Fraps
For more than 10 years now, Fraps has been constantly helping people by providing beginners an easy-to-use screen recording tool. Fraps appear to be a lightweight tool that carries major league features like benchmarking features, real-time video capture, audio recording, and adjustable FPS. All of these great features are good enough to produce quality video/audio recordings. Although the developer stopped making an update of the tool, many still find this tool worth using. It will be better if we get to see new updates on it soon. Meanwhile, here are some other features you can find useful.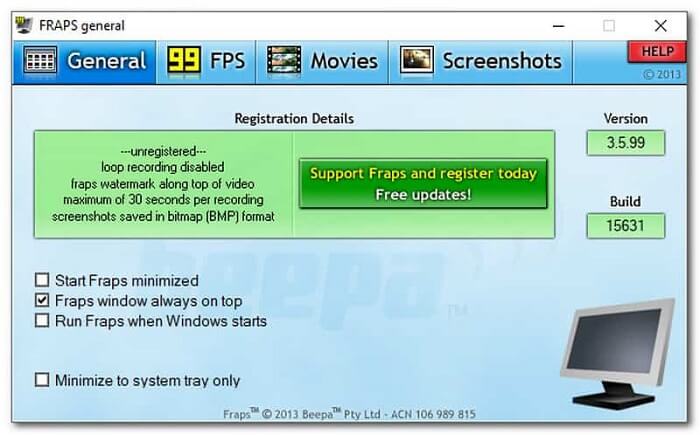 Pros
Can do audio recording separately.
HD Quality video supported for video recording.
No custom option needed when using the tool.
Add voice to system sound while recording.
Cons
No software update.
No added features.
Lacks video editing features.
All tools reviewed in this article are all helpful and they are all reliable tools. Although this is the case, there are tools that really stand out. Based on the frequency of the update and stability of the tools, FVC Screen Recorder (Free/Paid), OBS Studio, and Screencast-O-Matic raised the expectations. These three tools are consistent in improving the tool feature and fix bugs every time they launch updates. Not to mention these are free from Malware infections. Well, if you are considering which tool can be useful for you, it is recommended to go by those three.
Part 2. Comparison Chart
| | | | | | | | |
| --- | --- | --- | --- | --- | --- | --- | --- |
| FEATURES | FVC Free Audio Recorder | FVC SCREEN RECORDER | Bandicam | OBS Studio | Screencast-O-Matic | ScreenFlow | Fraps |
| Audio Recording Separately | | | | | | | |
| Adjustable Bitrate | | | | | | | |
| AAC Supported | | | | | | | |
| System Sound Recording | | | | | | | |
| High-Audio Quality | | | | | | | |
| Device Platform | Web-based | Downloadable Software | Downloadable Software | Downloadable Software | Downloadable Web-based | Downloadable Software | Downloadable Software |
Part 3. FAQs about AAC Recorder
Why AAC sometimes won't work?
You might encounter instances where the AAC file won't play on certain players. Not because it is broken but it is a limiting factor that is hindering it. It is possible because some audio codecs have a commercial license where you have to pay for it. Also, some companies choose to restrict or not support them. Here are some of the best music players you can try playing your AAC audio files.
Is AAC a good codec?
Generally speaking, Yes! Most iPhone users will benefit from this because of the High-resolution playback. But it's a different story for Android users. The format is considered a power-hungry codec, so most Android devices might experience unreliable performance.
AAC files play smoothly but no audio comes out. What to do?
Usually the cause is the wrong audio codec. There are times also if the surround system uses AAC you will not hear audio via HDMI or SPDIF.
Conclusion
May the list of tools reviewed in this article help you decide on which tool to use when recording AAC files. You can also refer to the table created for an easy understanding of the apps. You can also refer to the FAQs in the article to know more about the AAC file format.