Free AVI Recorders – 4 Best Ways to Record Screen Video as AVI Format
When you want to captures what is on your computer desktop and save it as a high-quality AVI video, what are the best free AVI recorders? AVI is a frequently used file that stores audio and video using a variety of codecs, such as DivX and XviD. To share the screen recording for some business purposes, a free AVI screen recorder should be the initial choice. The article identifies and shares the top 4 free AVI screen recorders. Just find the most appropriate tool accordingly.

Part 1: Top 4 Free AVI Screen Recorders
Top 1: FVC Free Screen Recorder
FVC Free Screen Recorder is an excellent free AVI screen recorder online for both Windows and Mac. Just launch the web-based screen recorder to capture any onscreen activities in AVI format. It provides multiple custom options to tweak the video formats, such as video codec, frame rate, video quality, and more.
1. Record screen video in AVI, MP4, WMV, and more.
2. Produce high-quality screen recordings without lag.
3. Free of charge with no watermark or length limit.
4. Compatible with Chrome, Firefox, Safari, and more.
How to Record Screen to AVI Free Online
Step 1: When you need to record screen in high-quality video, open a web browser and go to the free AVI screen recorder. Press the Enter key to launch the program and click the Start Recording button and follow the instructions to get the launcher.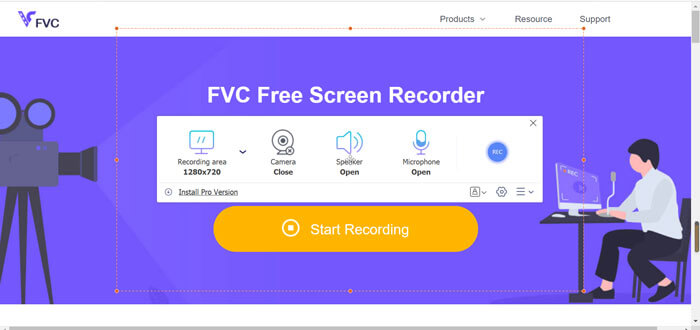 Step 2: Click the Recording area menu to record the full screen or custom area. Enable the Speaker menu to record a screen along with the audio. Of course, you can add voiceover narration with the Camera option and the Microphone option according to your requirement.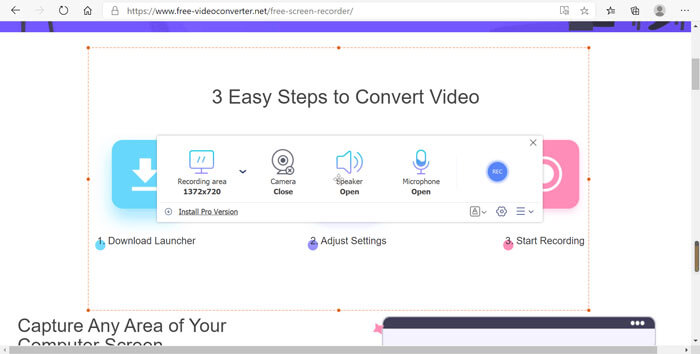 Step 3: Go to the Settings button at the bottom right to choose the desired AVI format. It enables you to tweak the video format, video codec, video quality, and frame rate. You can also choose the destination folder to save the recorded videos in AVI format.
Step 4: Click the REC button to start the recording process after the count down. When you press the Stop button, you will be presented with the recording history. Then you can download the recording, rename, delete or share it with social media sites directly.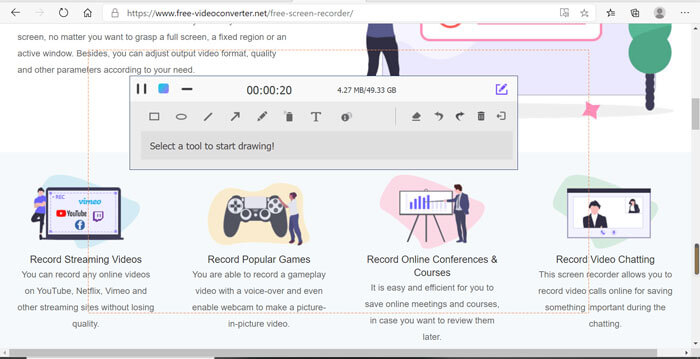 Top 2: CamStudio
What is CamStudio? It's the free AVI screen recorder software for PC users. When you want to record something on your desktop, like a presentation, online conference, record a tutorial. Camstudio should be the desired way. Moreover, it's free to download.
Pros
1. Open source and free to use without registration.
2. No recording time limit.
3. Extremely easy to understand and use.
4. Highly customizable with tons of options.
5. Produce high-quality outputs.
Cons
1. The installer contains potentially extra software, like OpenCandy.
2. The output file size is very large.
3. It can only save recordings in AVI or SWF. (Convert SWF to MP4 here)
4. This free AVI recorder can use a lot of your CPU's resources.
Top 3: Screen Recorder to AVI
As its name said, this free AVI screen recorder can capture any monitor screen from a multi-monitor system along with audio and save it as AVI video. Moreover, it can record your screen activities and mouse movements. It embeds a video player and a lot of custom options.
Pros
1. No additional codec installed requirement.
2. Integrate a good user interface and easy to use.
3. Preview screen recording with the built-in video player.
4. Add text or image watermark to screen recording.
5. Lightweight and work smoothly.
Cons
1. This free AVI recorder only supports Windows XP/Vista/7/8.
2. The GUI is plain, integrating only a few options.
3. It lacks a help manual or similar thing.
4. It displays ads during running.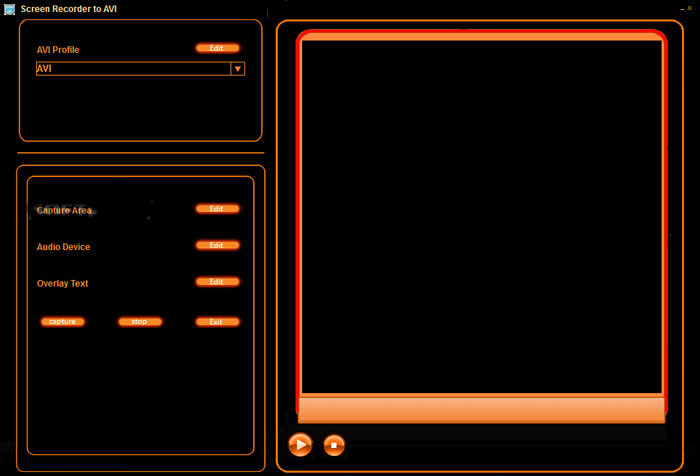 Top 4: Debut Video Capture
Debut Video Capture is both an AVI video recorder and screen recorder for PCs. It also provides a pro version, but the freeware is enough to record your screen in AVI videos. It can record and capture video from almost any source, such as your computer screen, webcam, or even VHS tapes. And then save it as AVI, FLV, and WMV.
Pros
1. Record either 4:3 or 16:9 videos.
2. Add text captions or time stamp to screen recording.
3. Adjust size, resolution, and frame rate.
4. Highlight mouse while recording screen.
5. Support time-lapse video recording.
Cons
1. The interface looks a little outdated.
2. The configuration is pretty hard to learn for beginners.
3. Lack of some advanced editing features.
4. It is not available for Mac.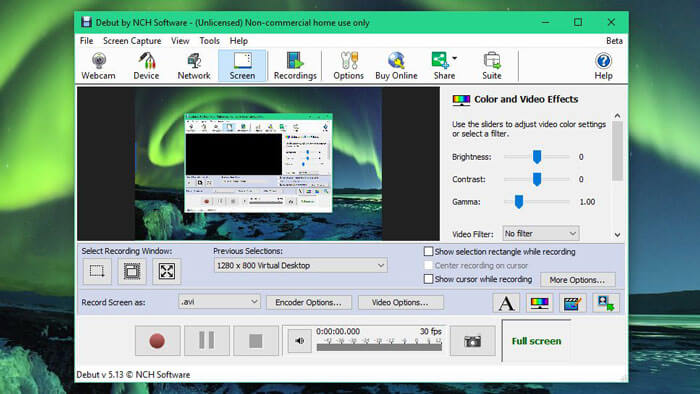 Part 2: FAQs about AVI Screen Recorder
1. Why Should You Capture Screen Video as AVI?
Just as mentioned above, the AVI format uses some lossless video codec, such as DivX and XviD. When you want to record the screen videos with the original quality, an AVI screen recorder is a nice choice you should take into consideration.
2. Can I Use Game Bar as The Default AVI Screen Recorder for Windows?
No. When you want to record screen videos on Windows 10, Game Bar should be the best choice. But the videos are saved as MP4 files, and screenshots are saved as PNG files.
3. How to Record AVI Video in VLC Media Player?
VLC Media Player offers the Record features. You can stream an online video and record it by hitting the Record button. But sometimes it only captures black screen with audio due to copyright issues. Of course, you can simply choose the online AVI screen recorder as an alternative.
Conclusion
Based on sharing above, you should understand how to record screen in AVI for free. The article has listed the top 4 free AVI screen recorders to help you do the job without paying a penny. FVC Free Screen Recorder is an excellent choice to capture the video in AVI format.