6 Best WAV Recorders You Should Not Miss on Desktop and Online
If you want to take notes really quickly, voice recording is perhaps the best option. However, there are a lot of audio formats, such as MP3, WAV, AAC, and more. That makes people confusing when recording voice notes. The answer is determined by your purpose. To edit the sound later, WAV is a good choice. It is an uncompressed audio format and offering better quality. This article shares you top 6 best free WAV recorder applications for PC and Mac.
Part 1: Top 2 Free WAV Recorders Online
Top 1: FVC Free Online Audio Recorder
The easiest way to record voice to WAV is the online WAV recorder. However, most apps have various downsides, like length limit, poor quality, slow performance, etc. FVC Free Online Audio Recorder, on the other hand, has no such limitations.
Pros
Record voice without installing any software.
Capture system sound and/or microphone.
Use advanced technology to improve the performance.
Free of charge without extra payment or registration.
No limit on audio recording length.
Cons
You have to convert the recording to WAV later.
How to Record Voice Online for Free
Step 1: Copy and paste https://www.free-videoconverter.net/free-audio-recorder/ into the address bar in your browser. Click the Start Recording button and follow the instructions to get the launcher.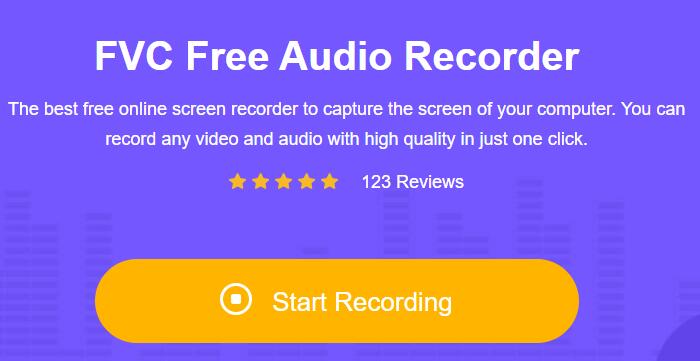 Step 2: There are two audio sources, System Audio and Microphone. To capture both sound from your computer and yourself, enable both. If you just want to record voice, enable Microphone while disable System Audio.

Step 3: Click the REC button to begin recording your voice immediately. When voice recording is done, hit the Stop button and download the audio file.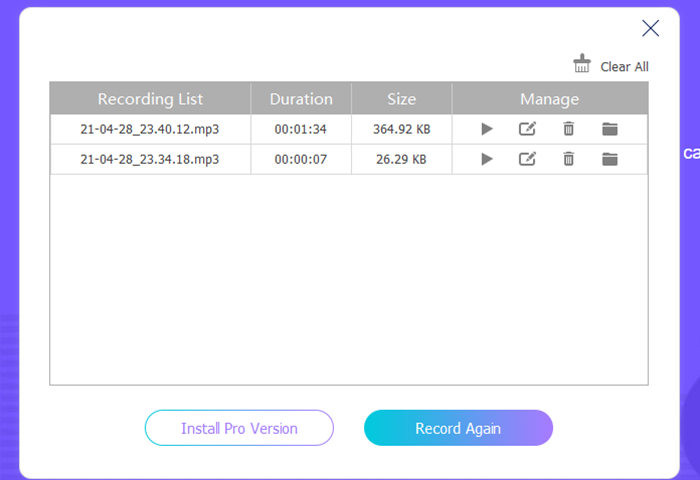 Top 2: BearRecord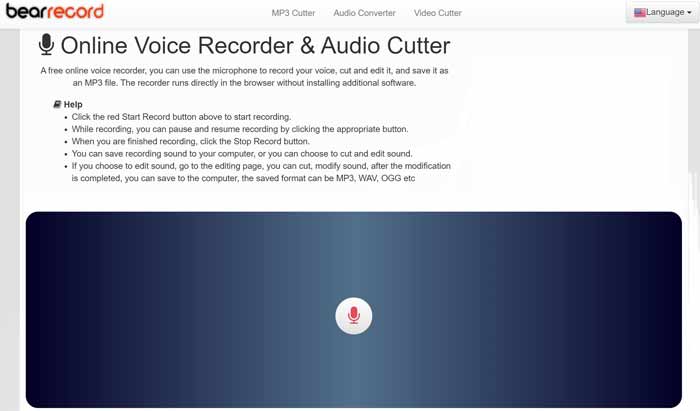 BearRecord is another WAV recorder online. As a free app, you cannot find any payment or registration option. Moreover, it saves your voice recording to WAV directly. There are also basic audio editing tools to help you remove unwanted clips and more.
Pros
Record voice online without installation.
Free to use without requirement of signup.
Available to multiple languages.
Download voice recording in WAV directly.
Cons
It may slow down your computer if the recording is too long.
You have to download the recording before editing online.
The audio quality is not very good.
Part 2: Top 4 Free WAV Recorders on Desktop
Top 1: Audacity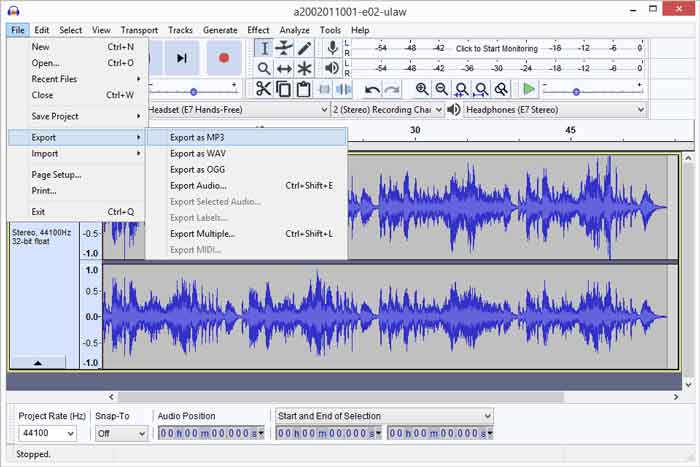 As an open-source WAV recorder, Audacity is as powerful as professional software. Even better is that Audacity is far more than a simple voice recorder but works with an audio editor. It means that you can modify and change the recording and then save as WAV file.
Pros
Open source and free for full features.
Record voice on the audio track.
Edit and mix voice recordings immediately.
Available to Mac, Windows, Linux, and BSD.
Cons
The configuration is complicated especially for beginners.
The WAV files are large and take storage space.
Top 2: Wavosaur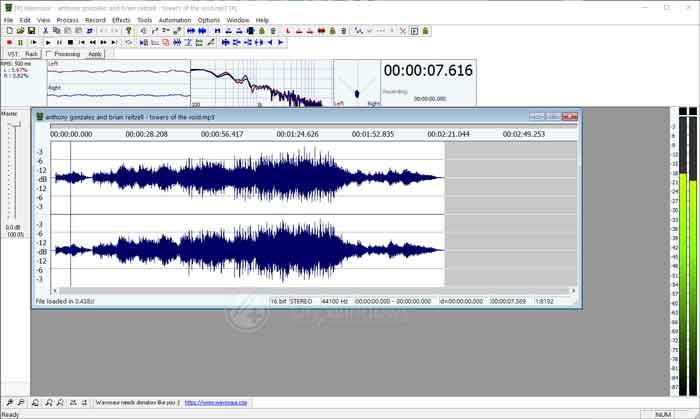 Wavosaur is another free WAV recorder as well as audio editor for PC. Although it is a desktop application, it does not require installation. That makes it extremely portable. Plus, it only weights 708 KB and does not take much space or power.
Pros
Record voice as WAV on audio track.
No requirement of installation or payment.
Pack with advanced features, like resample, pitch shift, etc.
Extend with plugins.
Cons
There is only one audio track.
The output formats are limited.
Read:
Top 3: Free Sound Recorder
As its name said, this software is undoubtedly a free voice recorder. It is able to capture any kind of audible sound on your computer. Unlike Audacity, this WAV recorder help you streamline the job of voice recording and remove extra features.
Pros
Absolutely free to use on Windows and Mac.
Record voice in WAV with one click.
Decide the recording device.
Modify volume and balance while recording.
Cons
It lacks the audio editing features.
The interface looks outdated.
Top 4: Ardour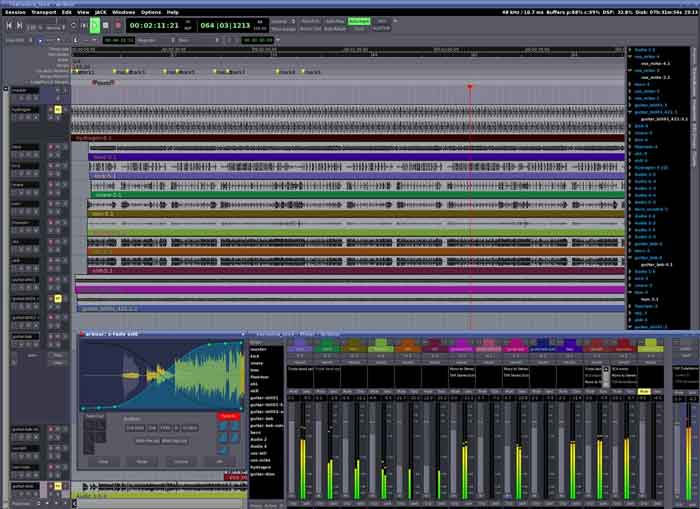 Sometimes, you need a WAV recorder with more advanced features. Does that mean you have to pay a lot of money? The answer is no, and Ardour is just the tool you need. It is a free audio recorder for PC, Linux and Mac. Some professional musicians also use it to produce albums
Pros
Equip a lot of plugins and addons.
Record voice on multiple tracks.
Edit voice recording quickly.
Perform multitrack recording.
Cons
The interface looks messy.
There are too many features for average people.
Part 3: FAQs about WAV Recorder
Does Windows 10 have a voice recorder?
Yes, Microsoft has introduced a voice recorder app into Windows 10. It is able to capture sound through the microphone and then save as M4A but not WAV. Plus, it also allows you to trim the voice recording. There is no other feature.
Is WAV better than MP3?
The answer depends on your purpose. WAV is a lossless audio format while MP3 is a compressed one. In another word, WAV will store all data when you recording the sound. It is a good pick if you want to edit it later. MP3, on the other hand, is able to produce smaller file size for delivery on the internet.
Is it legal to record online music to WAV?
There are a lot of websites to enjoy music online, such as Spotify, Apple Music, and more. However, these platforms only work through a network. It may be okay to record them for personal use. For commercial purpose, you'd better get the permission.
Conclusion
This article has identified and shared top 6 best free WAV recorders for Windows and Mac. All of them are free to use with or without limit. FVC Free Online Audio Recorder, for example, is completely free and does not have any limit on voice recording. If you have other problems, please contact us by leaving a message below.