5 Mouse and Keyboard Recorders to Save Mouse Movements and Keyboard Clicks
A mouse recorder enables you to record your mouse movements, mouse clicks, delays, and other activities. Moreover, you record the event to enables you to replay it again and again. It allows you to choose the option to add the event manually, edit or remove the event. Therefore, it is pretty useful to coordinates screen, coordinates relative to the active window, or coordinates relative to the current mouse position. This article will show you a list of top mouse recorders you should know.

Part 1: 5 Best Mouse and Keyboard Recorder
Top 1: FVC Free Screen Recorder
FVC Free Screen Recorder is a web-based screen recorder to capture the onscreen activities without any charge. It enables you to capture the mouse actions, microphone voice, system audio, as well as webcam footage. Moreover, it is an excellent free online screen recorder without registration, account, or other limits.
1. Record any actions on your screen for free.
2. Capture videos with high quality.
3. Work online and do not require installation.
4. Produce high-quality recording files automatically.
5. Compatible with all major web browsers.
How to Record Mouse and Keyboard Actions
Step 1: When you want to record mouse or keyboard activities, open your browser and go to the free online screen recorder. Then press the big Start Recording button to download the launcher. When it is done, the launcher will pop up automatically.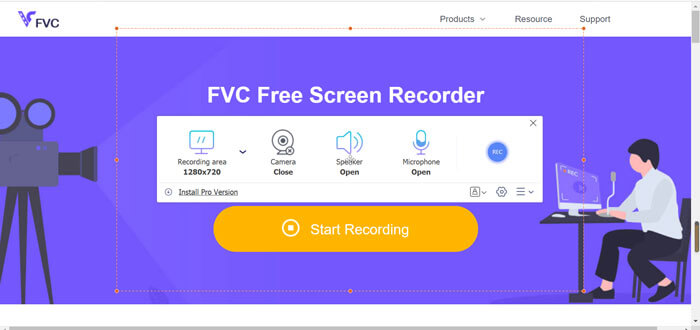 Step 2: Click the downward arrow next to the Recording area option and drag your mouse to enclose the area that you want to capture. Enable the Speaker option and adjust the volume. Moreover, you can also turn on the Camera option and the Microphone option.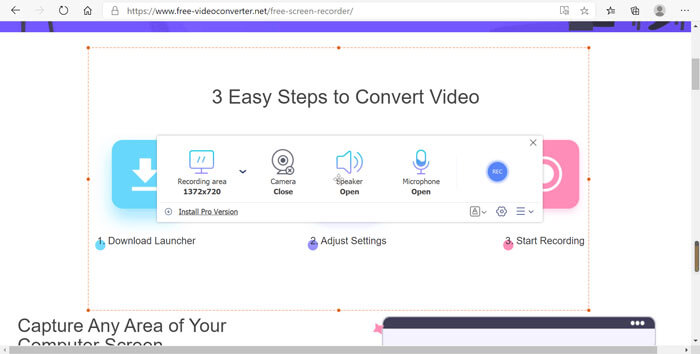 Step 3: Click the REC button to begin recording your mouse and keyboard actions. When you have captured the mouse recording, click the Stop button on the toolbar. It will save the recording to the media library, which you can delete, rename, download or share with YouTube.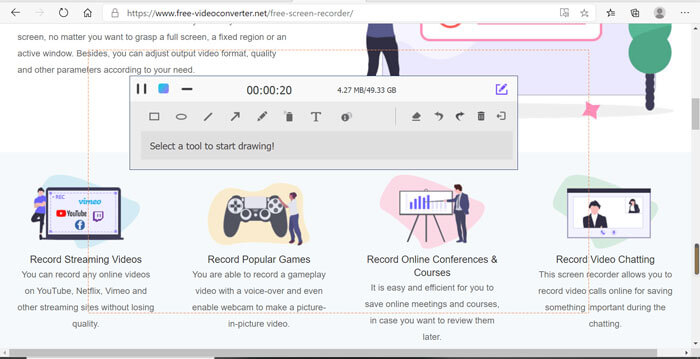 Top 2: Macro Recorder
Macro Recorder is a good mouse macro recorder that is used to automate the task. It also provides a freeware version, so that you can use it to record and replay mouse actions without paying a penny. Once you click the Insert button, you can choose the option to record a macro, perform the steps that you want to repeat. Then you can decide to either save the script or not.
Pros
1. Edit commands or add new commands.
2. Import or export macro.
3. Record keyboard, mouse clicks and movements, or time information.
4. Capture certain macro triggers
Cons
1. This mouse recorder free can only save macros in 4TW.
2. It lacks the support for Mac.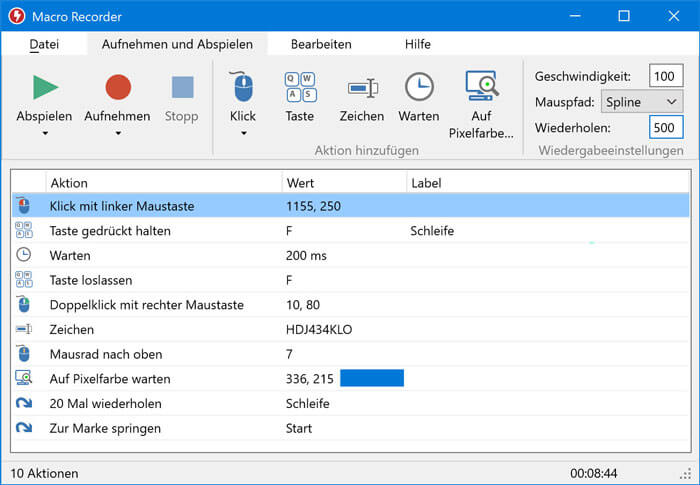 Top 3: Perfect Automation
As its name indicated, Perfect Automation is a simple application to record mouse and keyboard clicks. To successfully carry out this task, you can click the Recorder tab in the free mouse recorder and then set different record settings base on your need.
Pros
1. Recorder all or specific keyboard or mouse actions.
2. Offer absolute coordinates and relative coordinates modes.
3. Save mouse recordings as PAM, PA, or EXE.
4. Play the recorded events and adjust the playback speed.
Cons
1. The result can be only opened in this mouse and keyboard recorder.
2. The installer contains a virus if did not download from the official source.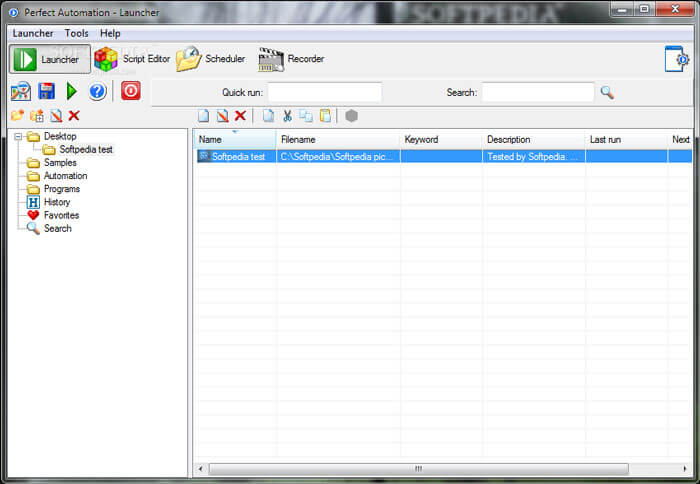 Top 4: Free Mouse and Keyboard Recorder
If you just need to record mouse and keyboard clicks, and mouse movement, Free Mouse and Keyboard Recorder should be a good choice. Though the free version has some limitations, such as let you repeat any script five times each time. It can still meet your basic requirements on mouse and keyboard recording.
Pros
1. Record mouse and keyboard clicks with hotkeys.
2. Edit the recording later.
3. Repeat playback, repeat time, and duration.
4. Easy to use.
Cons
1. This mouse and keyboard recorder may slow down your PC.
2. You cannot get the full version with freeware.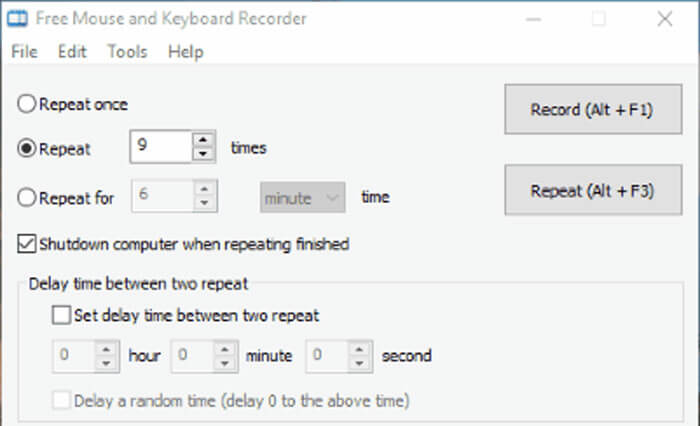 Top 5: ReMouse
ReMouse is another mouse recorder option to record and repeat keyboard and mouse actions on Windows 10/8/7. It will save the actions as script files. Moreover, you can make multiple macros with the task manager as well. It is an easy choice to capture mouse actions for the beginner.
Pros
1. Record mouse and keyboard actions easily.
2. Customize the options, such as speed.
3. Not require programming experience.
4. Offer an intuitive and clean interface.
Cons
1. It lacks an event editor.
2. You won't find any advanced features.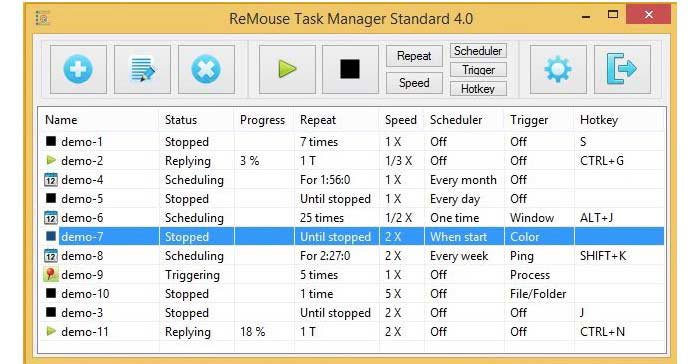 Part 2: Extended Tips about Mouse Recorder
1. Is There a Mouse Recorder for Mac?
QuickTime Player is a mouse recorder for Mac, which is the built-in app for all macOS, including the latest devices. Once you select the Show Mouse Clicks option in the Recording menu, you can capture the mouse actions accordingly.
2. Is Mouse Recorder Premium Free?
Mouse Recorder Premium is a tool to create macros from mouse and keyboard movements. Though it names with Premium, it is free of charge when making automated repetitive tasks.
3. How to Record Gameplay with Mouse Cursors?
To record gameplay with your mouse cursors, you will need a game recorder that supports mouse and keyboard clicks capture. Bandicam, OBS Studio, Game DVR, and QuickTime Player, for example, have such capacity. You can look for the proper tool base on your situation.
Conclusion
A mouse recorder or capture application allows you to record your movement with mouse and keyboard with ease. The article has listed the best free mouse recorders to help you record any event of your screen activity and save it as a video file or script file. FVC Free Screen Recorder is a smart choice to capture mouse action online for free.